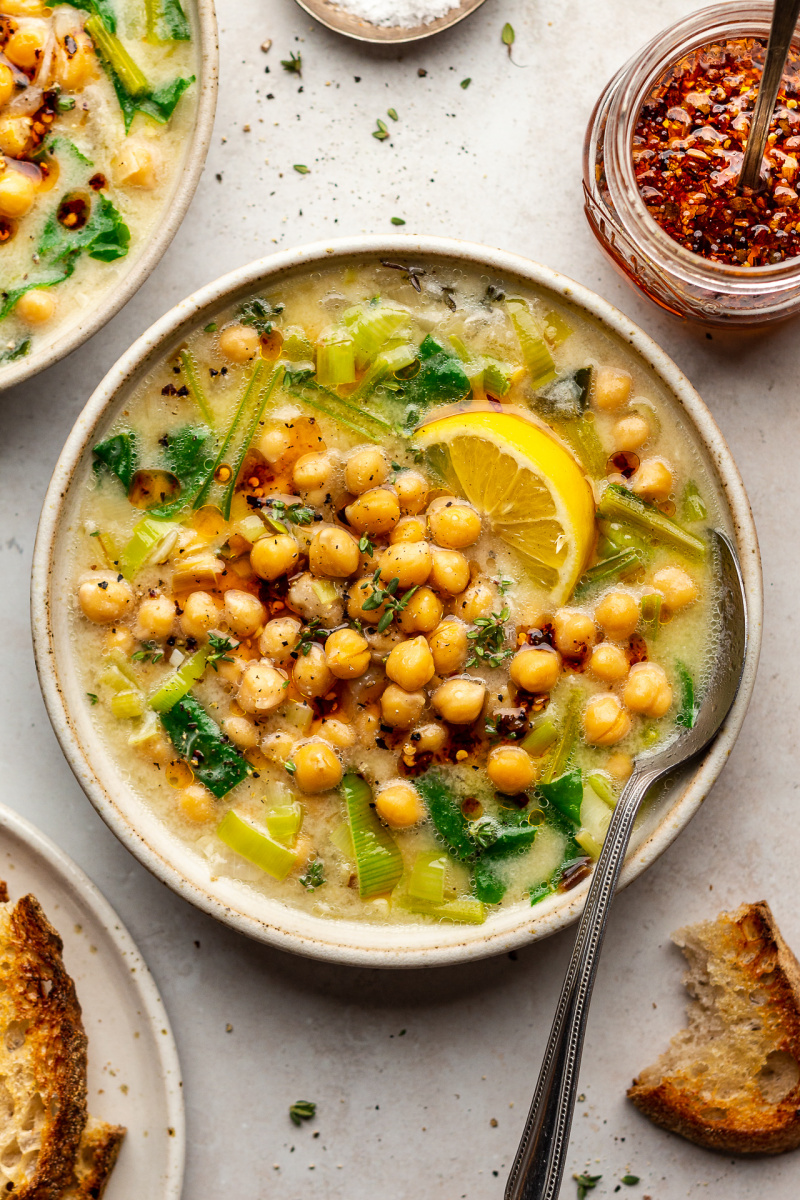 Today's recipe is my last hurrah of comfort food before we start to swelter in the heat 😉 . Looking out now (it's sunny but the wind is sooo cold) it feels like I'm tripping a little, but I live in hope that we will soon be able to leave cold weather behind for a while. This Greek inspired lemon flavoured chickpea stew is very popular in my house. Duncan is a big fan and so am I, so I make it regularly.
It's really easy to make, filling, healthy and so comforting but not too heavy. While it's akin to Greek 'revithada', I've put my own spin on it so it's not a traditional way a Greek γιαγιά or pappoús (men can and should cook too!) would typically make it. For starters many Greek cooks simmer dry chickpeas directly in the stew, but I opted to use separately cooked chickpeas instead. Firstly, it's because I know that many people use already cooked store-bought chickpeas and also because when you cook your chickpeas separately, it is much easier to skim them and because I tend to use aquafaba in many of my recipes.
My second addition was to include an entire head of roasted garlic, which may seem like a lot, but trust me its flavour is mellow and deep and it makes this stew particularly delicious and addictive. I also decided to blend a portion of the chickpeas with creamy plant milk and said garlic to add body and creaminess to the dish. If you want it even more indulgent, a couple of tablespoons of tahini is also a nice addition.
Instead of onions, I decided to use a seasonal leek as it adds a beautiful hit of sweetness and a pop of colour combined with the onion's milder cousin Madame French shallot. You can totally use an onion instead or two large shallots or two leeks. They all work well.
Finally, I've added a handful of chard at the very end to celebrate my 'chard crop'. I planted it from seed a couple of years ago and last year an army of ravenous slugs completely beat me to it. This year, because it's been unseasonably dry, the slugs have backed off and I discovered, to my great astonishment, that I have a proud bunch of chard waiting to be consumed. You can also use kale or spinach or nothing at all. Or if you are after some extra comfort, I really like adding some cubed potatoes in at the end for extra bulk and nutrition. Well, I hope you'll enjoy my take on this Greek classic as much as we do and that it will provide you with some comfort during the still cold evenings.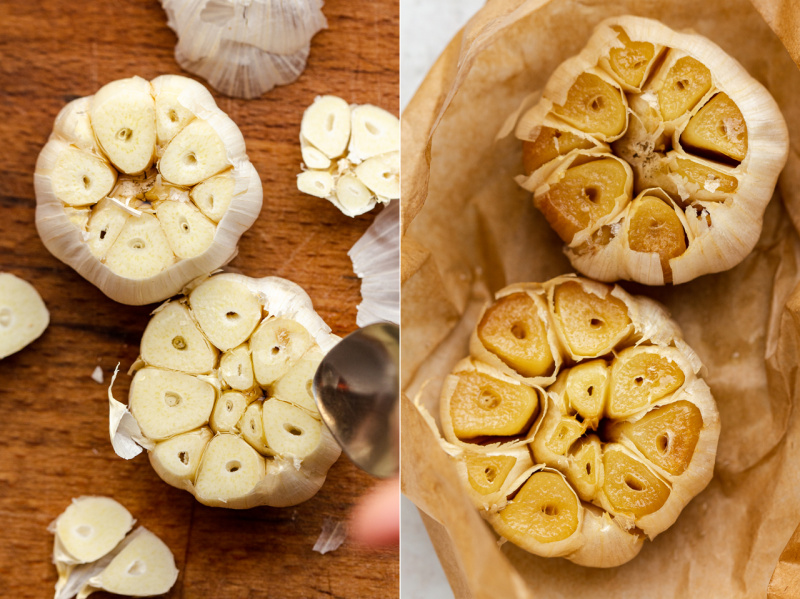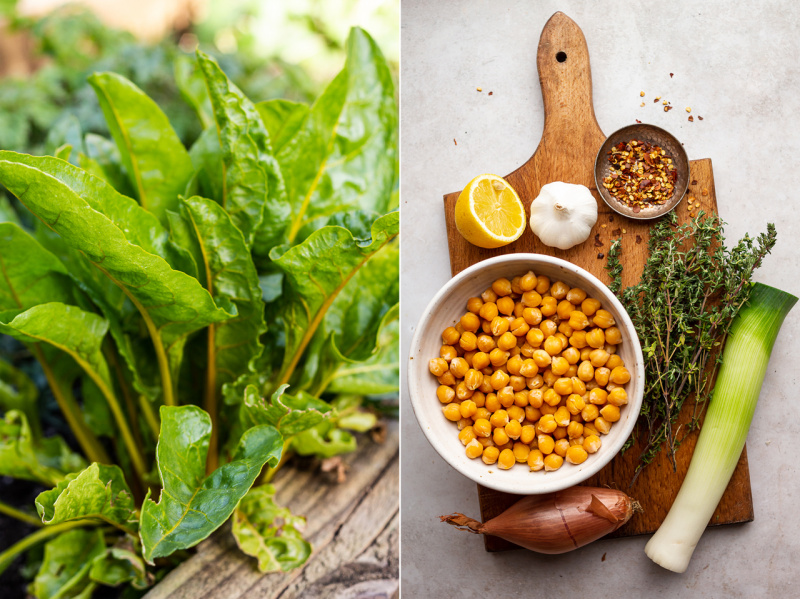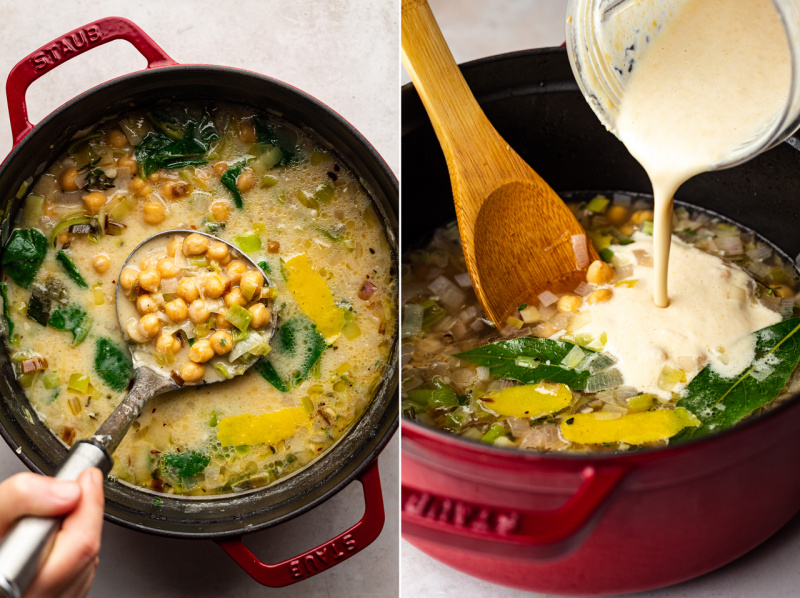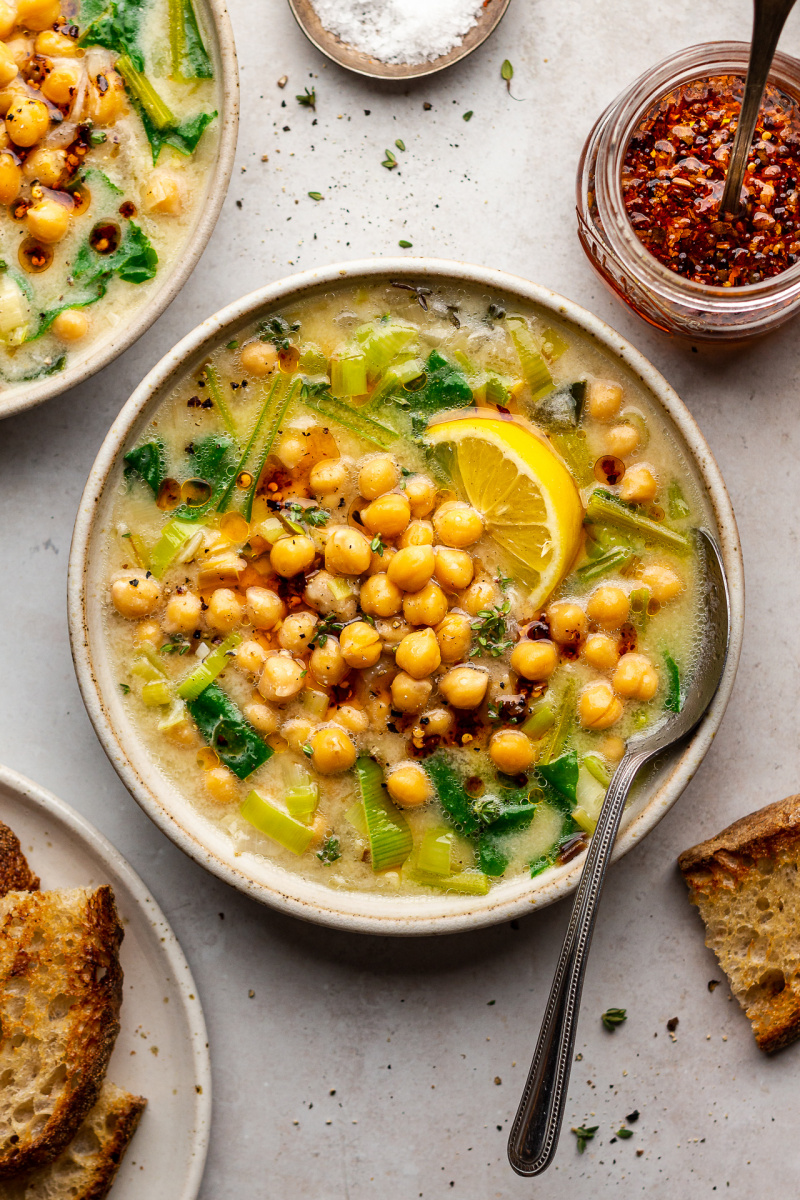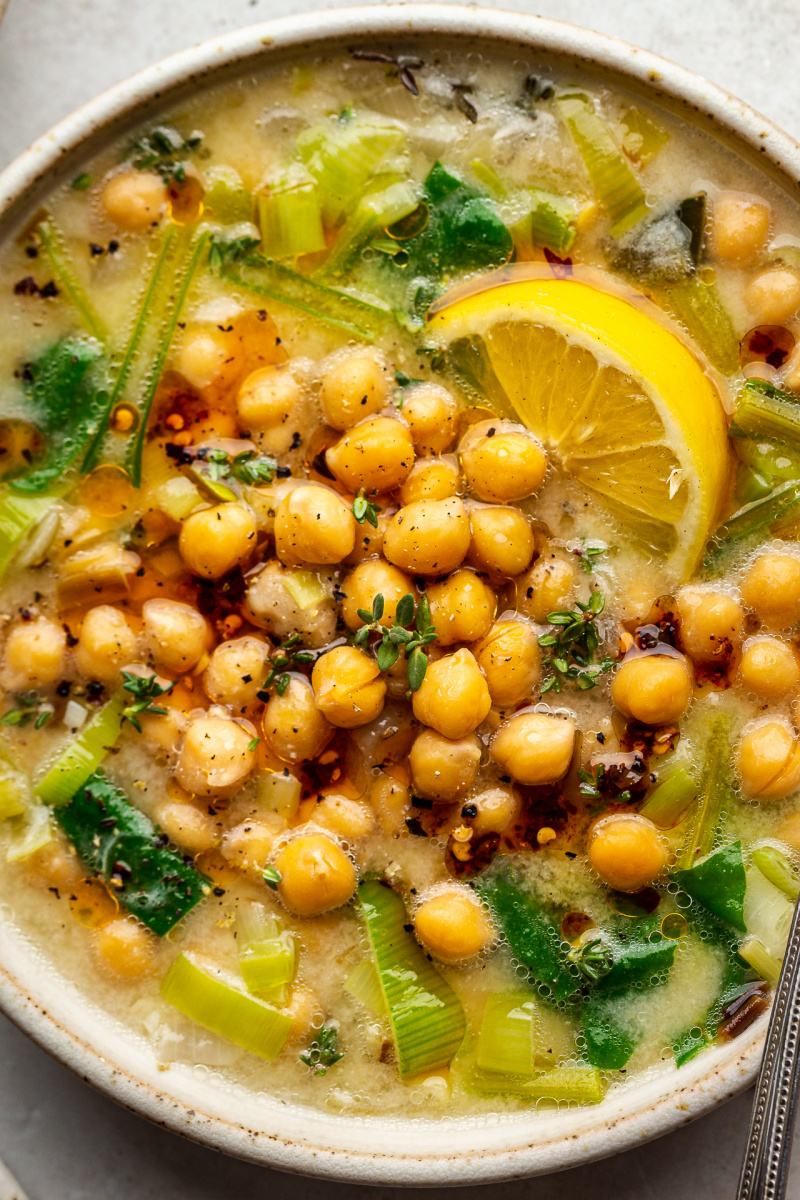 1 head of garlic + 3 large cloves, divided
3 tbsp / 45 ml extra virgin olive oil (or vegan stock for oil-free version)
1 large shallot + 1 leek (or 2 large shallots)
thyme and / or rosemary
½ tsp black pepper
chilli flakes (optional) or chilli oil to finish
1½ tsp salt, adjust to taste
2 fresh or dry bay leaves
1 unwaxed lemon, peel and juice
800 g / 5 cups cooked chickpeas (2 cups dry*)
240 ml / 1 cup creamy** almond or oat milk
2 tbsp tahini (optional)
100 g / 3½ oz kale, chard or spinach (optional) or potatoes
METHOD
Heat up the oven to 200° C / 390° F. Cut the top of the garlic head(s) off (I recommend roasting 2-3 at the same time) and drizzle the exposed cloves with a small amount of olive oil. Wrap the garlic in a piece of baking paper and then kitchen foil and bake for about 30-35 minutes, until the cloves are soft and sticky. Set aside.
Cut the green part off the leek, cut the remaining part in half lengthwise and clean off the grit hiding between layers. Chop the leek and the shallot finely.
Heat up olive oil in a heavy bottom pot. Add leek and shallot and sauté on a low medium heat until translucent, stir frequently.
Next, throw in finely chopped fresh garlic (3 cloves) and fresh thyme leaves and / or cut rosemary leaves (I use about 1 tbsp each). Sauté for another 2-3 minutes, stirring frequently.
Once the garlic is fragrant, add in pepper, a pinch of chilli flakes (if using), 1 tsp of salt (add more later), bay leaves, 2-3 strips of lemon peel, 4 cups of cooked chickpeas and about 600 ml / 2½ cups of water. Allow everything to come to a gentle simmer.
Meanwhile, blend 1 cup of chickpeas with all the roasted garlic cloves and 1 cup of plant milk. If you want extra creaminess, you could some tahini but it does introduce a sesame flavour.
Stir blended up chickpeas and roast garlic mixture to the simmering stew.
Taste, season with lemon juice (I used 4 tbsp), adjust the amount of salt to taste and you will probably want to add a bit more water to achieve the consistency you like.
Finally, if using any greens, chop them up small and allow them to simmer in the stew for 2-3 minutes (spinach and chard) and 5 minutes (kale). If you are feeling extra hungry, cubed potatoes cooked in the stew also make a great addition.
Divide between bowls and enjoy. I like to serve it with a slice of toasted sourdough and a drizzle of olive oil (or chilli oil if I have it on hand)
NOTES
HOT TIP
: Make this dish a day ahead for a better flavour and if you do, don't cook the greens until you are ready to serve.
*Traditionally, chickpeas are cooked directly in the stew, but I prefer to do that separately. My main reason is that it is way easier to skim the pot if you do and also because I like to get homemade aquafaba / chickpea brine this way. If you do cook your own chickpeas for this, you may want to add a little aquafaba / chickpea brine to the stew for a creamier / thicker result.
**I made this stew with creamy almond milk with a high percentage of almonds, other neutral flavoured creamy milks like oat, cashew or even soy milk will work well too. I would steer clear of coconut though as it's more suited to Asian-inspired stews.