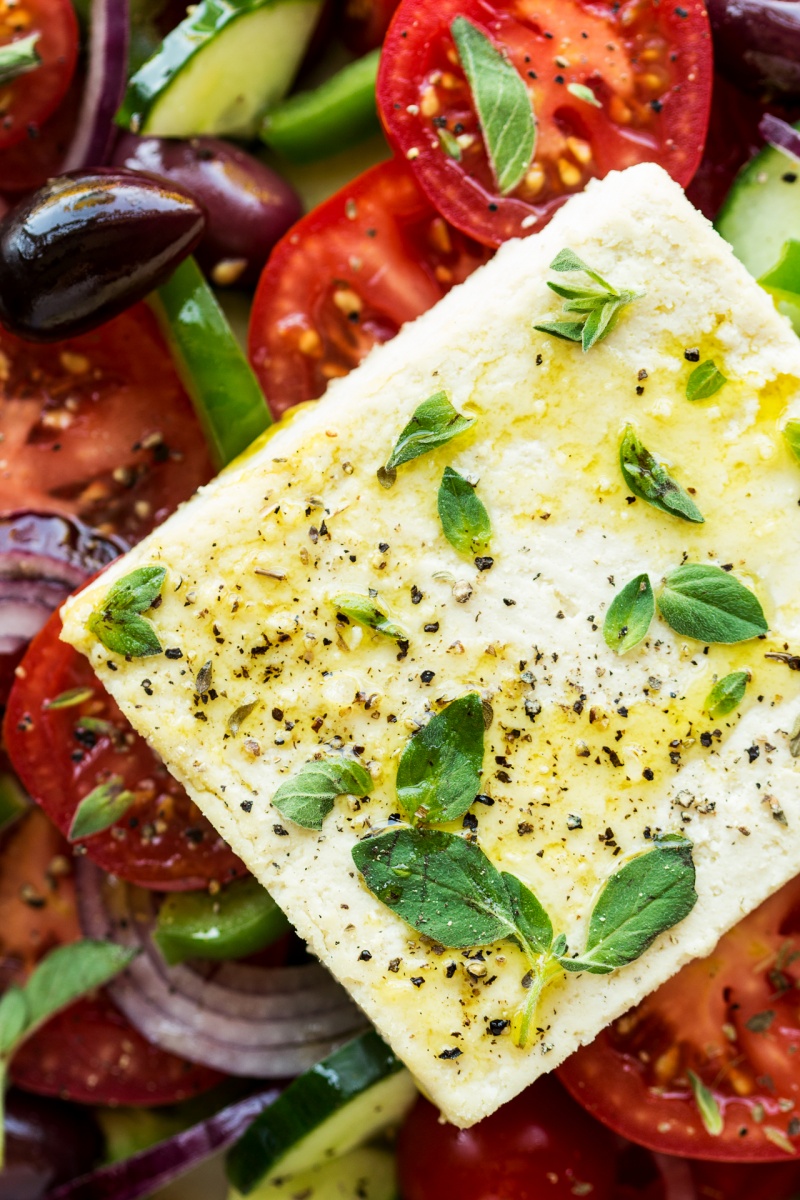 Hope you guys have enjoyed your weekend! We have, very much so! After all my moaning about the weather (which stood in a stark contrast to what we experienced in Greece just over a week ago), the UK has finally showed up. We had a glorious weekend of sun and the weather forecast promises that this will continue well into this week. I'm beyond chuffed as I find that weather massively affects my mood. I am loving this sudden injection of sunshine and making the most out of it. The world just seems like a much better place when the sun is shining you on cheerily (or cheering you on shiningly 😉 ), doesn't it?
So after you guys went nuts for my Friday moussaka recipe (we are still having it for dinner tonight…), I decided to continue with a Greek theme as Greece is almost synonymous with summer in my mind.
After the Thursday and Friday madness of two moussaka ingredients shopping trips, frantically looking for aubergines as they sold out at my local greengrocer (possibly cos I bought most of them 😛 ) and cooking two trays of moussaka on two consecutive days (don't even ask why, it's because I'm mad like the Mad Hatter), I've decided to go easy on myself this week as last week left me exhausted.
So today's recipe is pretty simple and another Greek classic – horiatiki salata (meaning village salad literally, but known to the world as a Greek salad). I made it with a homemade almond vegan feta, which although it is the most involved element of this recipe, doesn't require much active time at all. Most of it is simply waiting for things to soak, drain or dehydrate in the oven.
This vegan feta freezes well and is quite versatile. It's delicious spread on a piece of toasted sourdough, topped with ripe tomato slices and capers or crumbled onto a pizza or salad. You can either make it with olive oil for a more indulgent, creamy texture or with almond milk. I have tested them both and I actually prefer the skinnier, almond milk version (no surprises there). This dairy-free feta substitute is salty, tangy, creamy and nicely firm and while it doesn't taste like feta exactly, it does a very good job at pretending it's the real thing.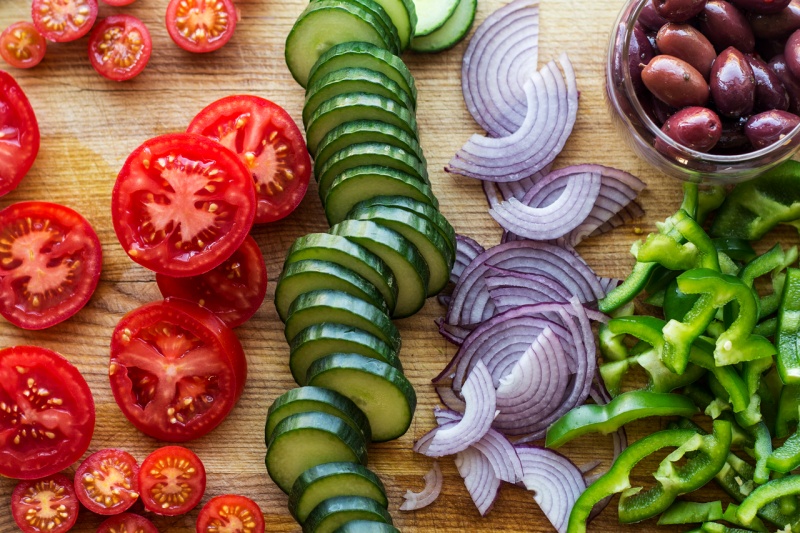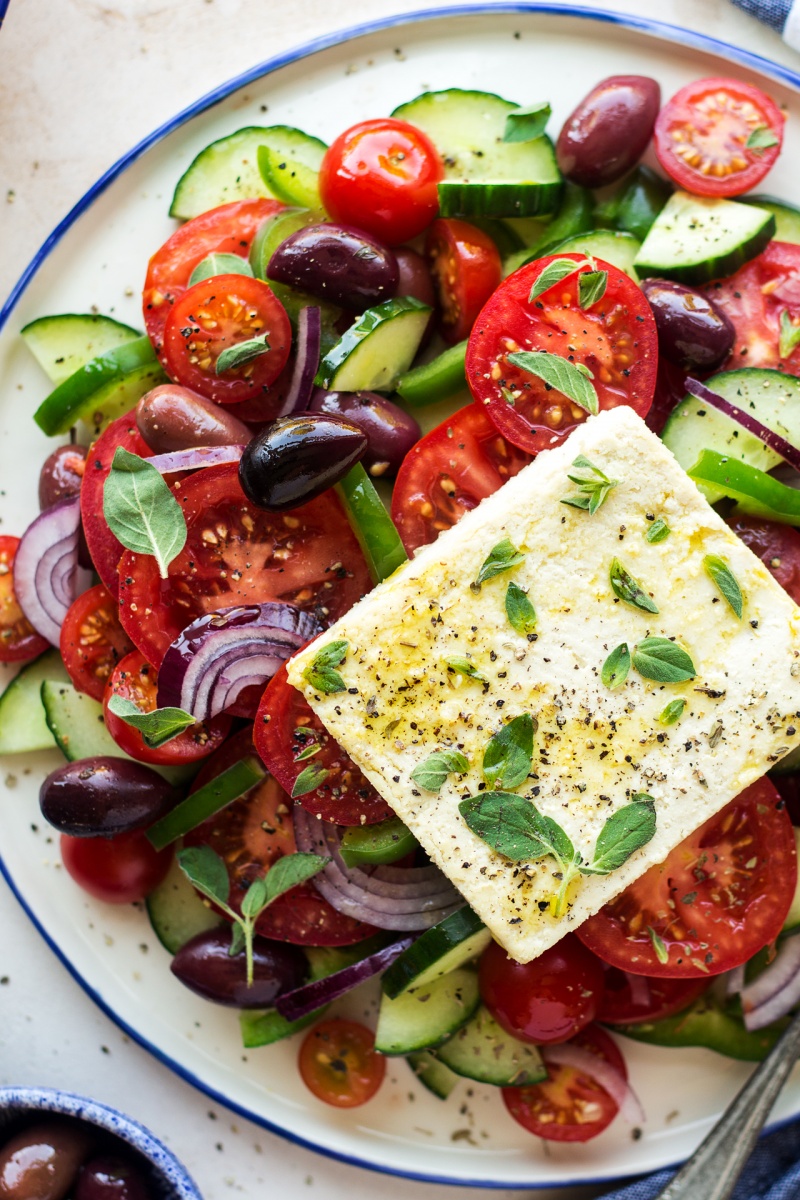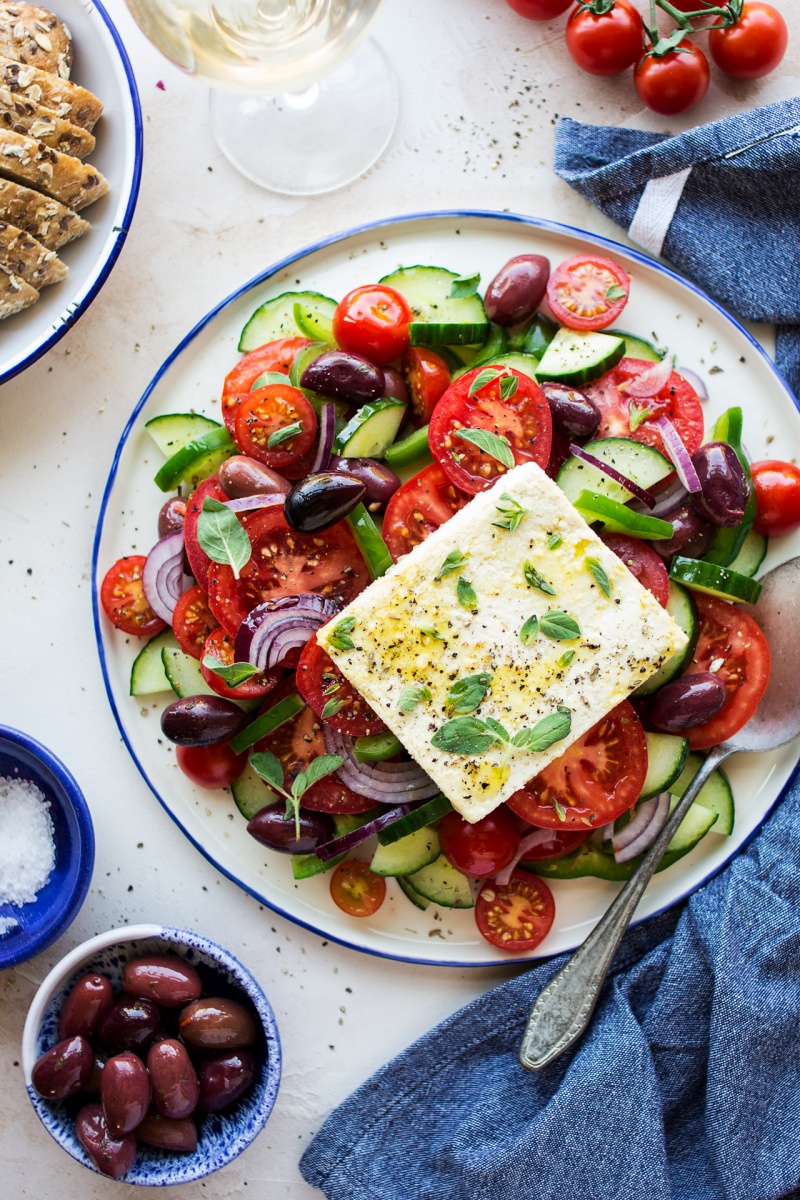 VEGAN FETA (needs to be made a day in advance)
100 g / 1 cup flaked almonds
30 ml / 2 tbsp lemon juice, adjust to taste
½ small garlic clove (optional)
60 ml / 4 tbsp unsweetened almond milk
½ tsp salt, adjust to taste
2 tsp white miso paste
2 tbsp nutritional yeast
SALAD
8 ripe tomatoes (I used different sizes)
½ long cucumber
¼-½ red onion (I used only a ¼)
1 green bell pepper
20 black olives (I used juicy Kalamata olives)
fresh or dried oregano
DRESSING
2 tbsp extra virgin olive oil
2 tbsp red wine vinegar
salt and pepper, to taste
METHOD
VEGAN FETA (needs to be made a day in advance)
Soak the almonds in boiling water for at least 30 minutes. Drain and rinse afterwards.
Place the lemon juice, garlic, almond milk, a good pinch of salt and rinsed almonds in a small blender / smoothie maker like this.
Blend until smooth, stop and use a spatula to help the process if necessary.
Taste and adjust the amount of salt and lemon juice to taste. Add miso and nutritional yeast at this point if using. Don't worry if the mixture tastes quite strong at this point, it will mellow out during the next two stages of preparation.
If you want your 'feta' to be shaped like a block, find a rectangular mould with drainage holes (I used this tofu press for this) and line it with a piece of dense cheesecloth (if the cheesecloth isn't dense enough to hold the mixture inside, double or triple layer it). Otherwise line a sieve with a piece of cheesecloth and place it over a bowl.
Place the cheese mixture inside the cheesecloth. Even out with a spatula if you are making a block, if not bring the corners of the cheesecloth together to form a ball. Fold one side of the cheesecloth over evened out feta, then place the tofu press lid on top and weigh the mixture down (block) or squeeze very gently (bundle) to allow the excess water to drip away. Place in the fridge overnight to allow the mixture to thicken and for the excess moisture to drain away. At this point the cheese will be creamy but still fairly soft / wet – perfect for spreading on a bagel, but for this application we will need to dry it out in the oven.
Gently place the drained cheese block / ball on a piece of baking, wrap it in baking paper on all sides. Bake in a 140º C (285 º F) oven for about 45 minutes, until you feel quite a bit of resistance when you try to press the cheese gently with your finger. Allow it to cool down completely and then stick into the refrigerator for a few hours before cutting or it will fall apart. After baking, this cheese has a yellow crust (more pronounced if you use olive oil), which I simply trim off with a serrated knife before placing it on the salad.
This cheese freezes well, so if you've made too much (I tend to make a double batch), freeze some for putting on a pizza or in a salad later.
SALAD AND DRESSING
Cut up your veggies the way you enjoy them. I cut my tomatoes into slices and halves (I used various sizes), chopped my cucumber into thick half-moons, sliced my red onion very finely and finally cut my peppers into half, deseeded and sliced into thin half moons.
Whisk the dressing ingredients together in a small bowl.
Combine the chopped veggies with olives in a large bowl.
Stir the dressing through just before serving. Season with salt and pepper and serve with a block of feta (or chunks of it) on top sprinkled with fresh or dry oregano.
NOTES