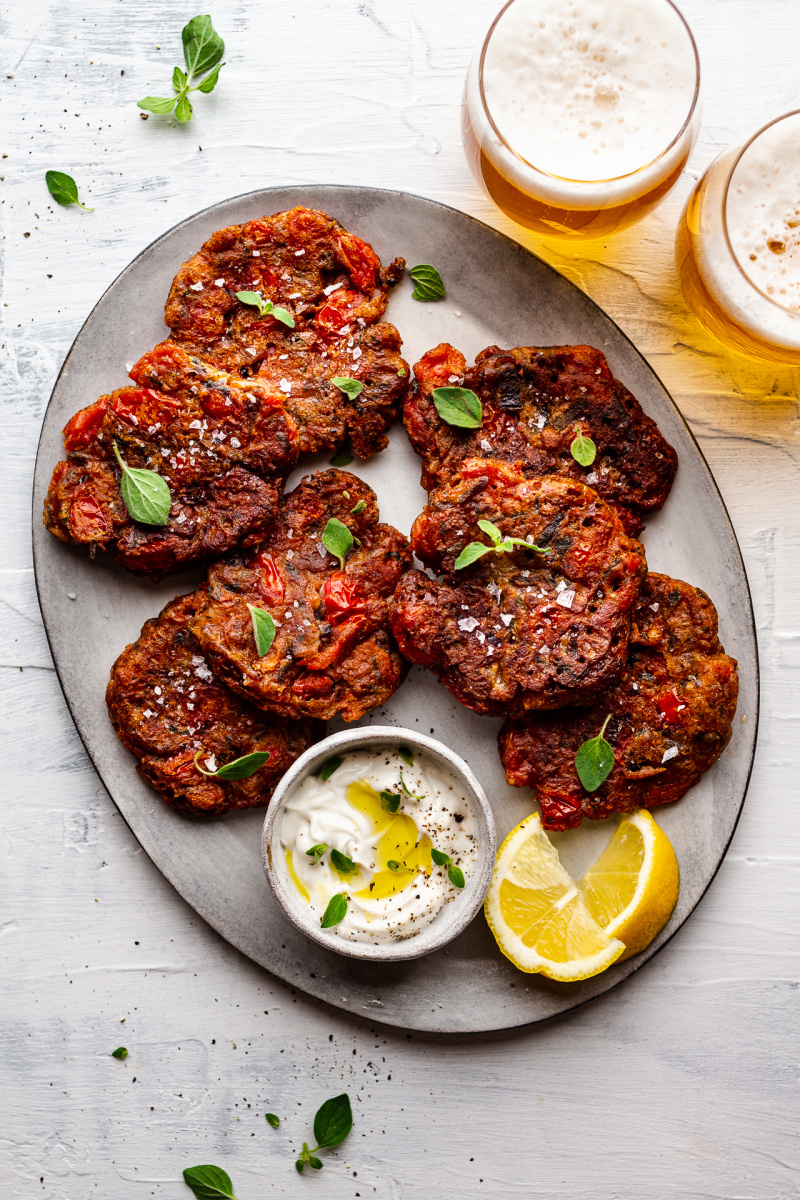 You know that feeling when you are enthusiastic about a new renovation project when it first starts but as it drags on and on, you tend to start to experience a bit of a wobble now and then? That's me right now! We've now been without a functioning bathroom for 2½ weeks and it's starting to be less and less fun and I do find myself a bit annoyed and overwhelmed at times. As there is still work to be done, we cannot take the floor coverings off and clean the rest of the house either and it feels like we are never going to stop living in dirt (I know we will, it's not the rational part of my brain that is kicking off)…
This week has seen a bit of a hiatus on the work as our bathroom fitter is away on holidays, which he had booked way before our project got derailed so badly. In a way it's lucky as we can do all the painting when the room is still fairly empty and only the floor has been tiled. Had he not gone away, we would have to paint around his work, which would have been difficult and stressful. We put the mist coat on and yesterday we returned to testing paints as our original idea to go with a cheerful (yet fairly dark) green no longer feels like the right thing to do.
We fell in love with how the space looked once the newly laid plaster dried and so we are testing a couple of paints close to that colour – including one aptly named 'setting plaster'. It's funny as this was my original idea to which Duncan said no. I conceded, I didn't want the room to look too pink either and given that he was game with peach-pink and white tiles on the floor, I didn't dare to push the point but I think we've come full circle – it would be a shame to lose all that brightness.
The room faces North-East and so it doesn't receive a lot of light apart from the sunrise – it's flooded with light at sunrise but let's face it we are hardly ever up to experience that 😉 . So we are currently thinking (I'm still toing and froing a little to Duncan's dismay) a peachy colour makes the room look more spacious yet warm and inviting. White wall tiles, white bathroom furniture and our modded rosewood Mid-Century vanity unit will stop the room from looking sickly cute, I think. I also plan to adorn the space with a selection of humidity loving ferns, which might be a pie in the sky idea given how little success I've had with numerous house plants in the past.
Recipe wise I've had this recipe tested and ready to go for over a year, but somehow dragged my feet about publishing it. As we are now firmly in the tomato season, I've decided that now is the time to share with you the joys of Greek tomato fritters if you haven't had a chance to try them yet. This summery dish comes from the Greek island of Santorini, which is famous for quite a lot of things including amazing tomatoes that thrive thanks to Santorini's volcanic soil apparently.
These fritters are easy to make and delicious. They are usually deep-fried so not the healthiest but since I don't like using so much oil I shallow fry mine. I have also tried baking them* in a hot oven and while they are not as nice as fried, I still enjoyed them so try baking them if frying isn't something you are keen on. They can be flavoured with virtually any herb you enjoy or have on hand. Traditionally, they often contain fresh mint and oregano, but I prefer basil and oregano with tomatoes so that's what I put into mine. Serve them warm with a side of something creamy like cashew sour cream or neutral (preferably not coconut) Greek-style dairy-free yoghurt and enjoy while sitting out on a sunny porch, reminiscing about your last Greek holiday.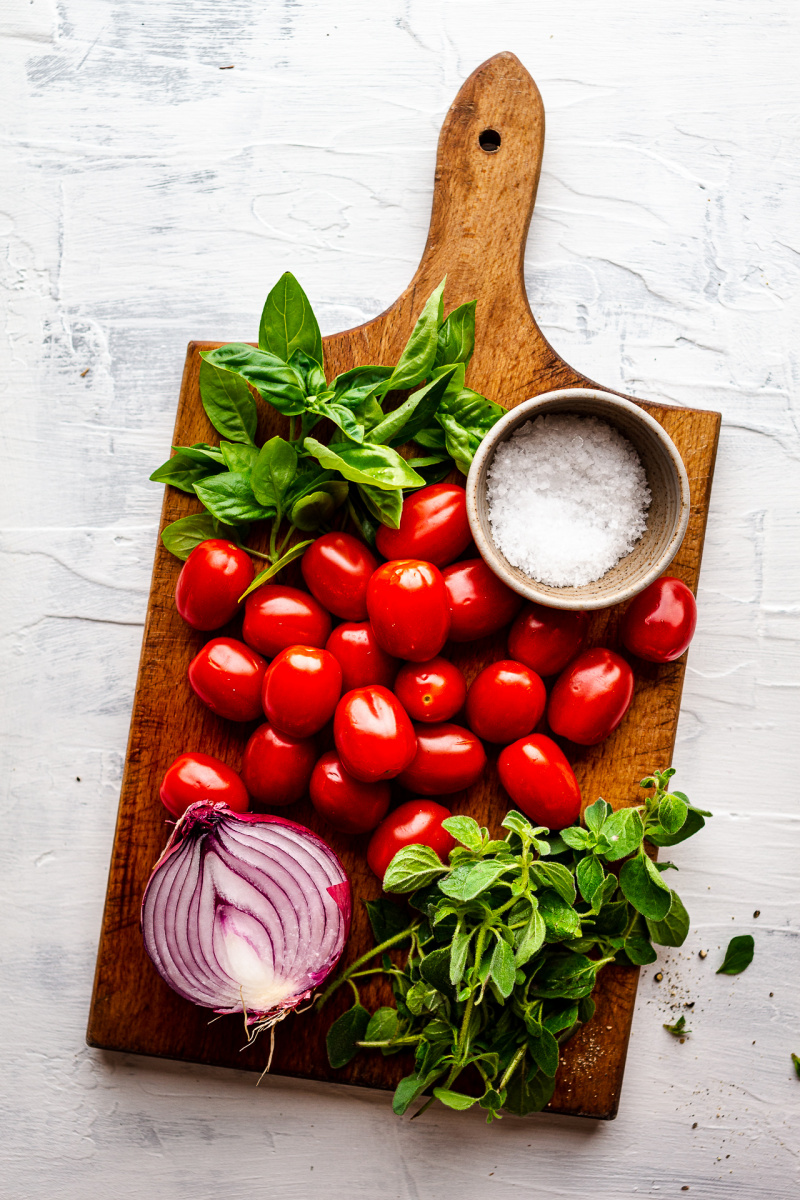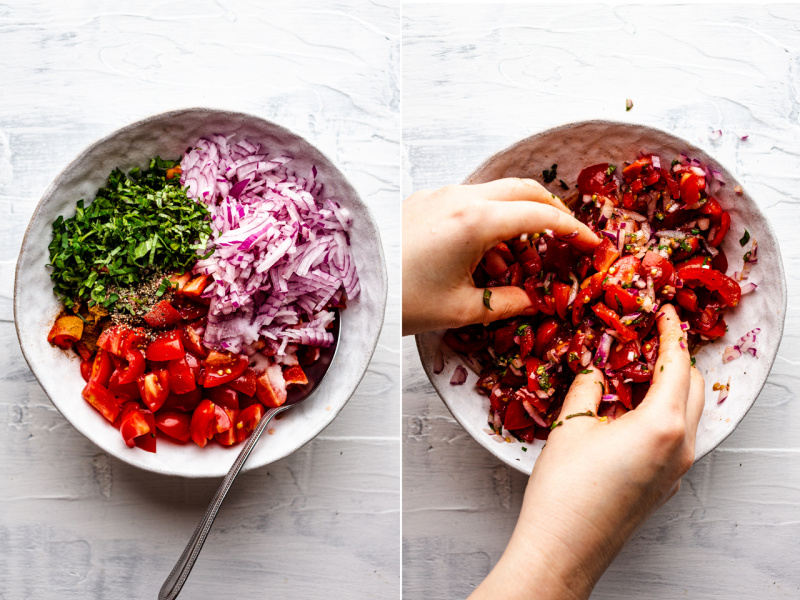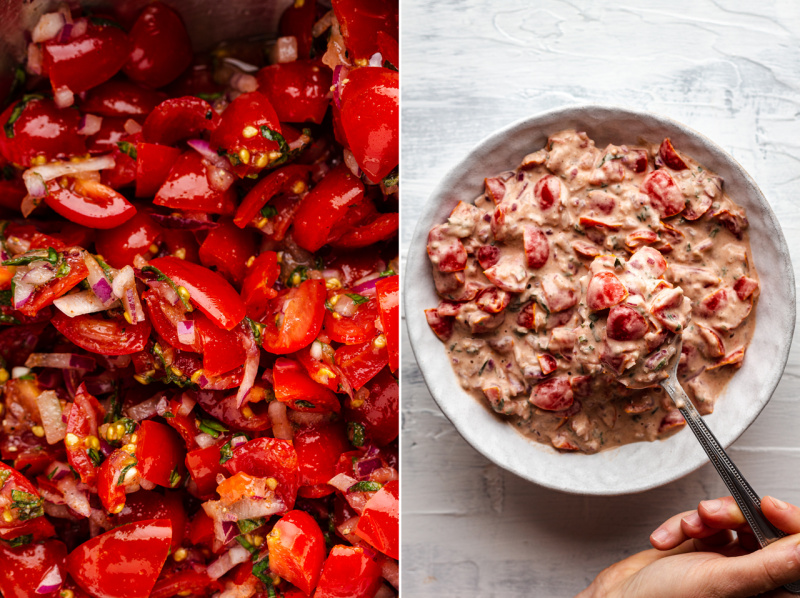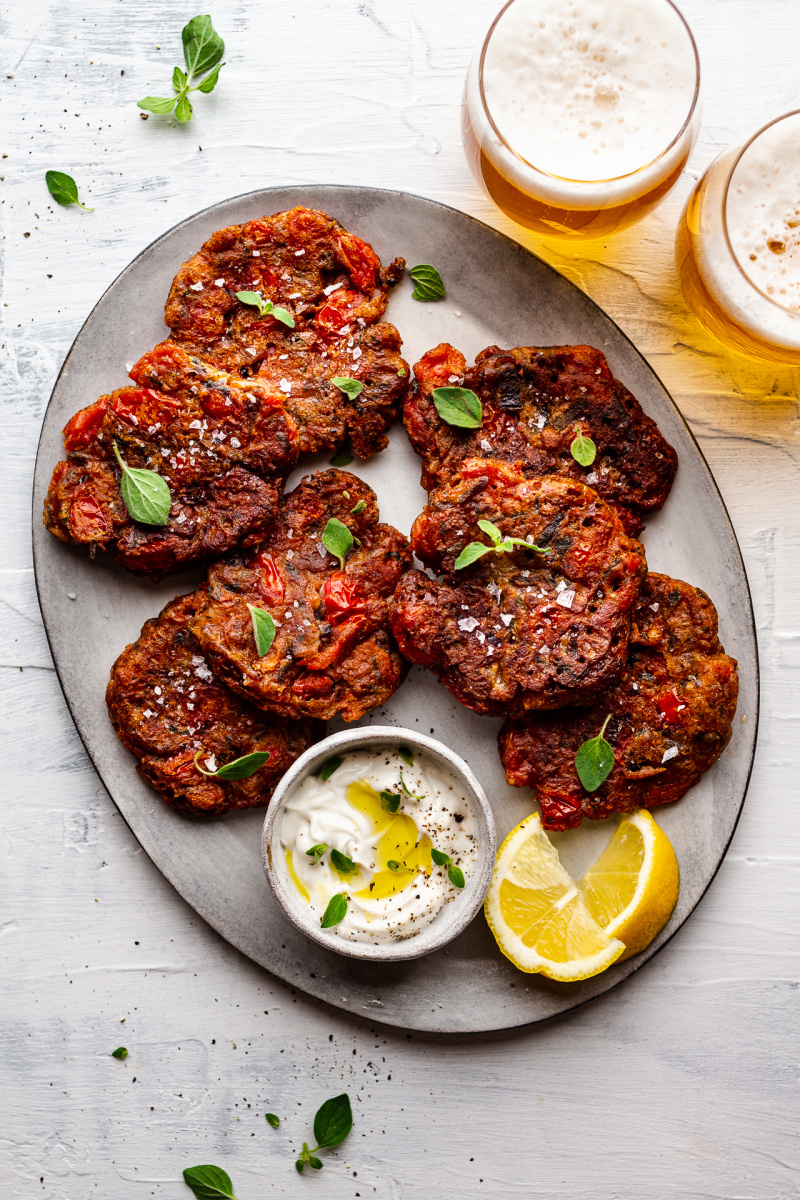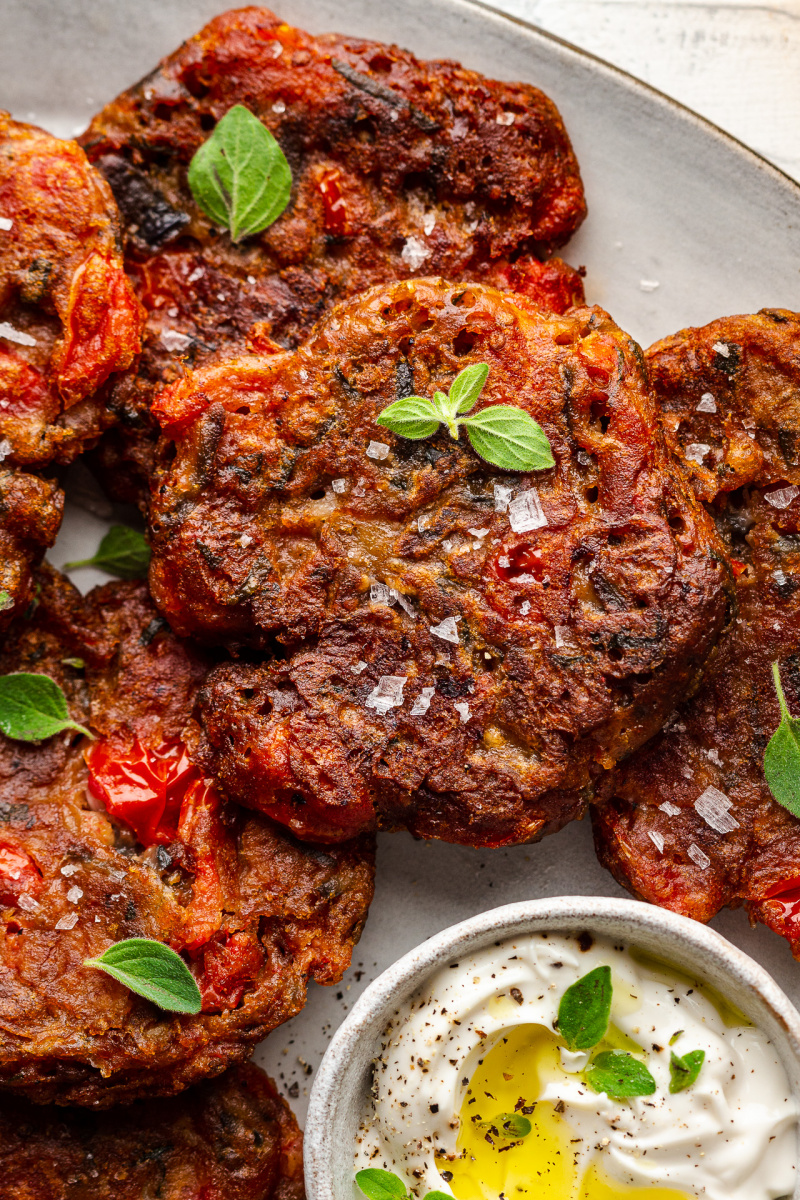 450 g / 1 lb sweet tomatoes (cherry or plum ideally)
½ small red onion or 3 spring onions
2 tbsp chopped basil or mint
1 tbsp chopped oregano
¼ tsp cinnamon
pinch of sugar
heaped ½ tsp salt and ¼ tsp pepper
approx. 160 g / 1¼ cups AP flour or gluten-free flour mix like this
½ tsp baking soda
approx. 120 ml / ½ cup vegetable oil
vegan Greek yoghurt or crème fresh, to serve
1 large garlic clove, finely grated (optional)
METHOD
Chop your tomatoes into a small / medium dice. Grate the onion or chop it very finely. If using spring onions, save the green part for garnish and chop the rest finely.
Combine chopped tomatoes, onion, herbs, cinnamon, sugar (if using), salt and pepper in a mixing bowl. Using your hands, squash and massage the tomatoes a little so that they soften and release their juices.
Next, add in flour. Add the flour gradually until you obtain a thick pancake-like batter, you may need a little more or less than what I used, it all depends on how juicy your tomatoes are.
Rest the mixture in the refrigerator for at least an hour, but overnight is best – it intensifies the flavours.
Once the mixture has been chilled, check the consistency – it should be a bit like a chunky pancake batter, if it's too runny still add a bit more flour and finally fold in baking soda just before frying.
Heat up a medium skillet or frying pan on the stove, once warm, add at least 1.25 cm / ½" of oil and allow it to come to temperature.
Place 1 tbsp of batter per fritter into the hot oil. Flatten fritters with the back of a spoon and fry, undisturbed for 2-3 minutes on one side and 2 minutes on the other side. Keep on eye on the oil temperature, if the fritters are bubbling too vigorously, decrease the heat a little or else they will end up burnt on the outside and raw on the inside. If deep-frying these, simply drop spoonfuls of the batter into the hot oil, no need to flatten.
Transfer fried fritters to a kitchen towel-lined plate to soak up excess oil. Allow them to cool down a little as they are fragile whilst hot.
Season Greek yoghurt with salt, pepper, a squeeze of lemon if liked and grated garlic (if using). Serve alongside warm fritters.
NOTES
BAKING: I've tried baking these in a 200° C / 390° F on a generously greased baking tray. They were nice but not as nice as fried, I'm afraid. It is a good healthy option though if that's what you are after.