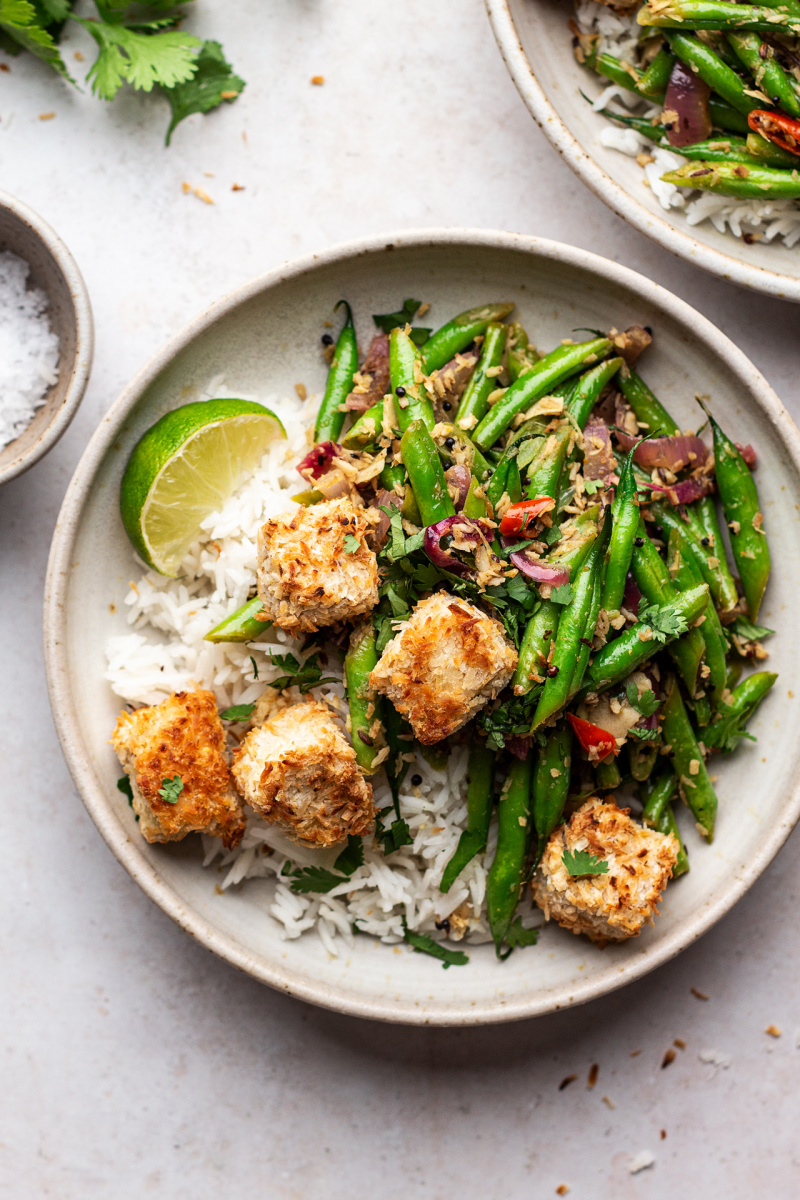 As someone whose job is to show up with two brand new food recipes that taste and look good every single week, I tend to get periodically obsessed with certain ingredients, which tend to fall out of grace as soon as I have moved on to something else. Fickle, I know. By that time I typically would have eaten (tested) so much of the ingredient in question that it doesn't even feel like much of a betrayal to be honest.
My very latest obsession, super seasonal right now in the UK, is for green beans and it's been going on for a few weeks now. I always make sure to buy UK-grown ones as, even though we are bang in the middle of the season, many supermarkets appear to be bringing them all the way from Kenya and Zimbabwe. Not cool when they grow so well here. This dish, inspired by the Sri Lankan mallung is one that we've been enjoying a lot lately. I added coconut encrusted tofu, but it is a bit of a faff to make so, if you are in a rush, feel free to skip that component and replace the tofu with toasted cashews, for example.
This simple dry curry makes for a delicious midweek dinner. It's essentially a stir-fry so it comes together really quickly. The beans get stir-fried with spices first and then finish off cooking in a little bit of liquid. For an even more pronounced coconut flavour, you are welcome to use coconut milk instead of water at the end. The dish is lightly spicy, fragrant with spices and a splash of lime juice offsets the sweetness of toasted coconut beautifully. I love serving it with plenty of chopped coriander and a handful of toasted cashews instead of chunks of tofu if I'm after a quick meal. I hope you'll enjoy this dish.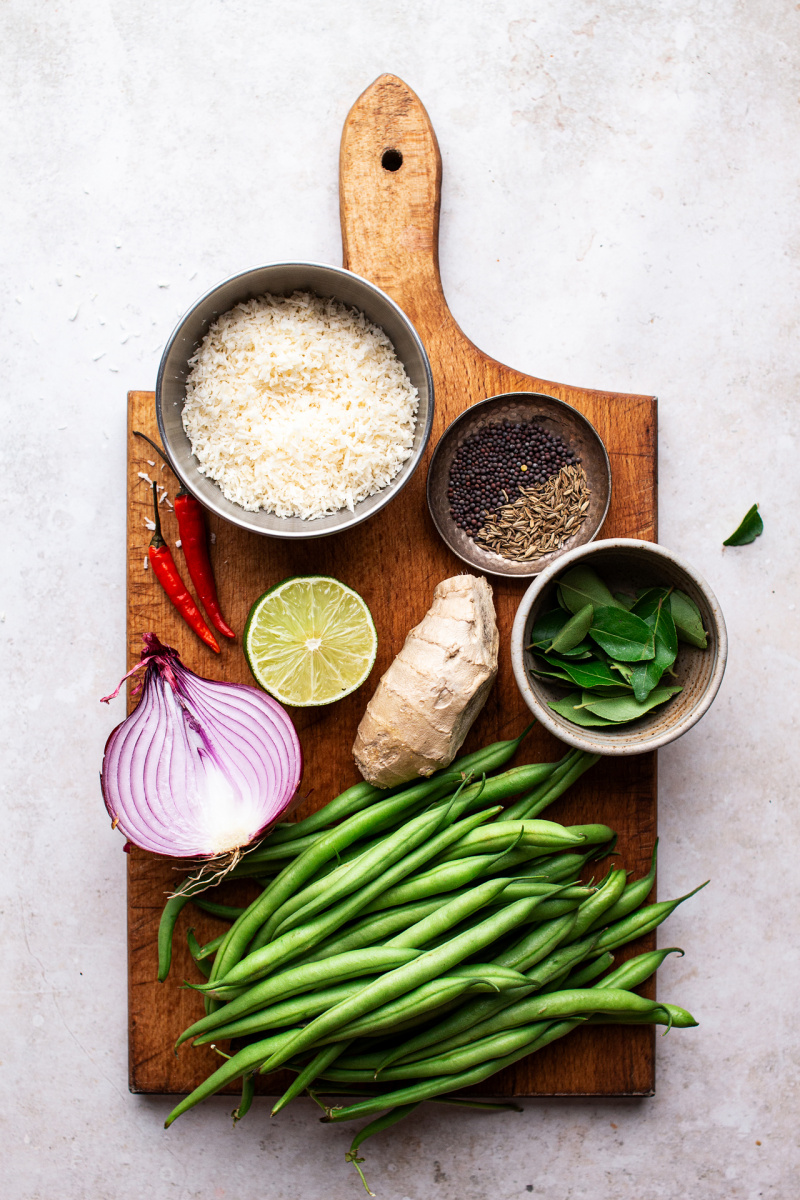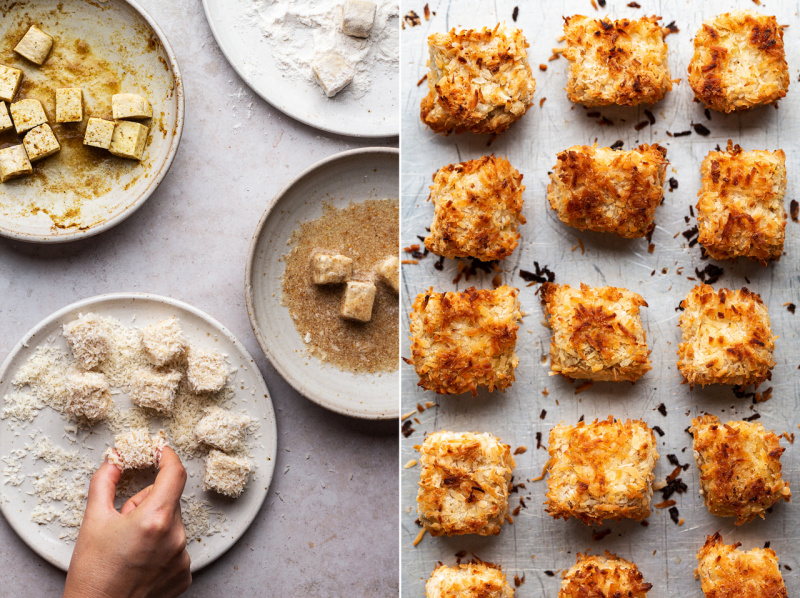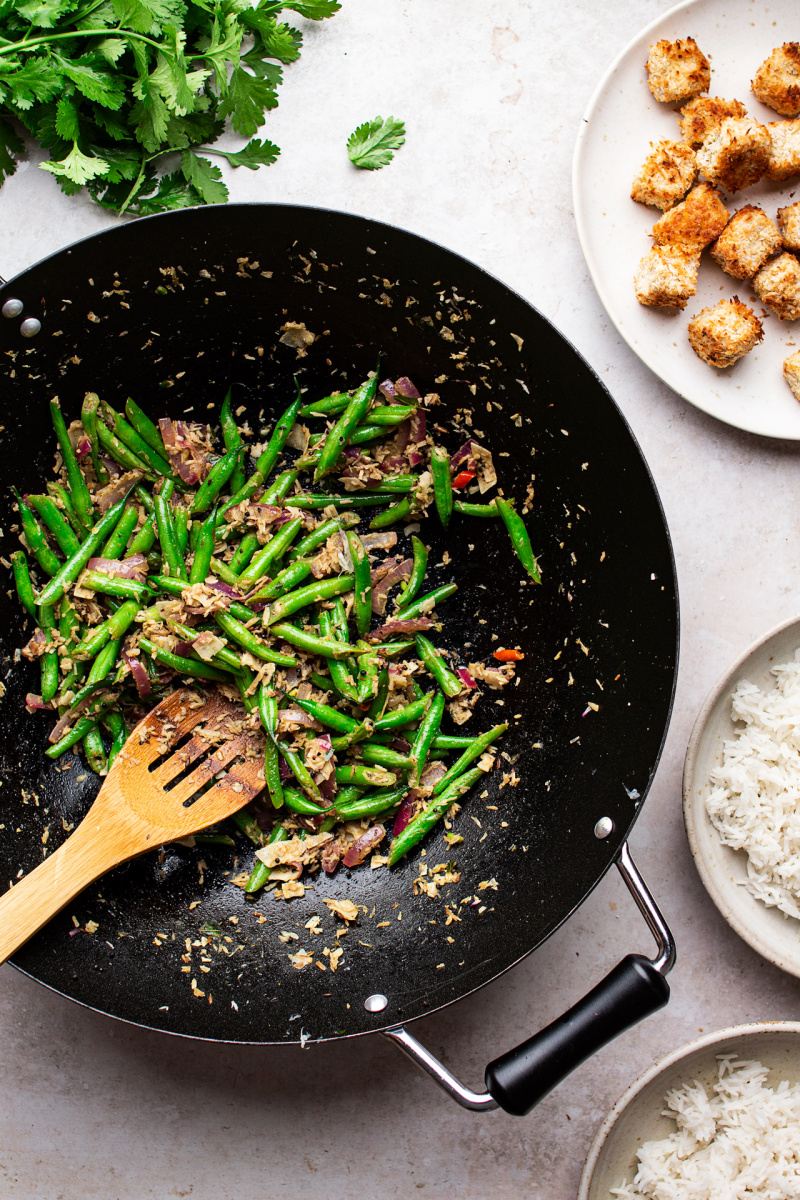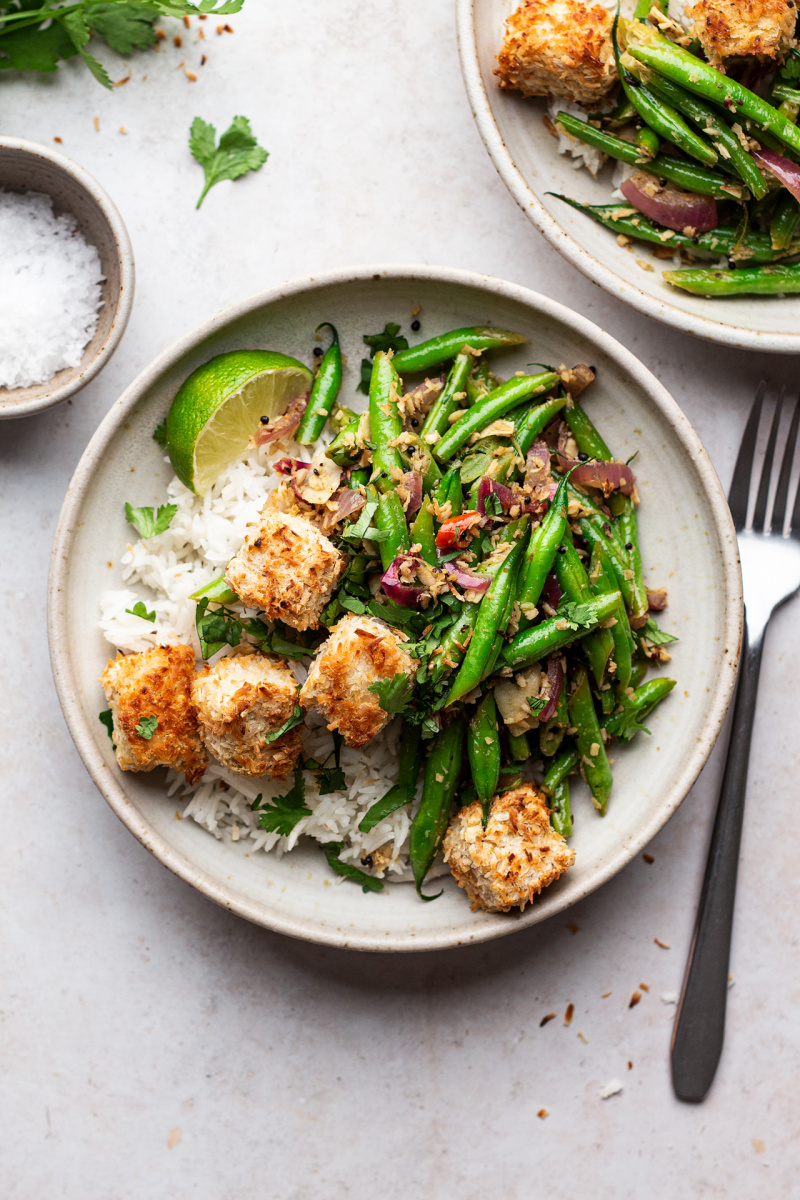 200 g / 1 cup basmati rice
15 ml / 1 tbsp high smoke point oil, I use rice bran
½ tsp black mustard seeds
½ tsp cumin seeds
8 curry leaves, fresh or dried
200 g / 7 oz green beans, cut into bite-size pieces
½ red onion, sliced
1 hot red chilli, sliced (deseeded for milder version)
salt
2 tsp finely grated ginger
50 g / ½ cup desiccated coconut (I used a mixture of flakes and desiccated)
1 tsp garam masala
lime juice
a large handful of fresh coriander, finely chopped
COCONUT TOFU
200 g / 7 oz firm tofu, pressed
2 tbsp ground flax (I used golden flax seeds) or chia seeds
2 tbsp lime juice + 2 tbsp water
2 tsp maple syrup or sugar
1 tsp finely grated ginger
1 tsp salt
1 tsp garam masala
2 tbsp rice flour, any flour
approx. 75 g / ¾ cup desiccated coconut
oil (I use rice bran), for greasing the tray
METHOD
RICE
Place rinsed rice in a medium pot you have a glass lid for and cover with 300 ml / 1¼ cup of water and heaped ½ tsp salt.
Cover with a lid and bring to the boil. Once the water comes to the boil, decrease the heat down to low and let the rice cook until it has absorbed all of the water. Once all the water has been absorbed, switch the heat off (but do not lift the lid) and let the covered pot sit on a warm hob for another 5-10 minutes to finish off cooking in its own steam.
COCONUT TOFU
Drain the tofu and press it well, until all the excess moisture is squeezed out so that it is primed for absorbing the marinade. This is the tofu press I use.
Mix ground up flax or chia seeds with 100 ml water and place in the fridge for the mixture to jellify.
Make the marinade / dressing by combining lime juice, water, maple syrup, minced ginger, salt and garam masala.
Cut the pressed tofu into small cubes and place at the bottom of a baking dish. Pour the marinade you've prepared in the previous step over the tofu and allow it to soak in.
Place flour and desiccated coconut on two plates and jellified flax in a shallow bowl.
Set the oven to 200° C / 390° F.
Lift a piece of tofu out of the marinade, press it into the flour to coat it lightly, then dip it into the flax egg (allow any excess to drip off) and finally press it into the coconut making sure the entire surface is covered with it. Place on a clean plate and proceed to coat the rest of the tofu in the same manner.
Brush a bit of oil underneath each tofu piece. Bake for about 25 minutes, flipping the pieces to the other side halfway through.
BEANS
Heat up a large wok until lightly smoking.
Add 2 tsp of oil and then mustard seeds, cumin seeds and curry leaves. Allow them to cook, stirring frequently, on a low-medium heat until mustard seeds start crackling.
Next, add in another 1 tsp of oil, followed by green beans, onion, sliced chilli and a few pinches of salt. Stir-fry for a minute, then add ginger and the coconut. Stir-fry for another 30 seconds to allow the coconut to toast.
Next stir in garam masala.
Add in approximately ½ cup (120 ml) of water. Keep on stir-frying, allow the water to cook out.
Finish off with a good squeeze of lime and extra salt (if needed).
NOTES