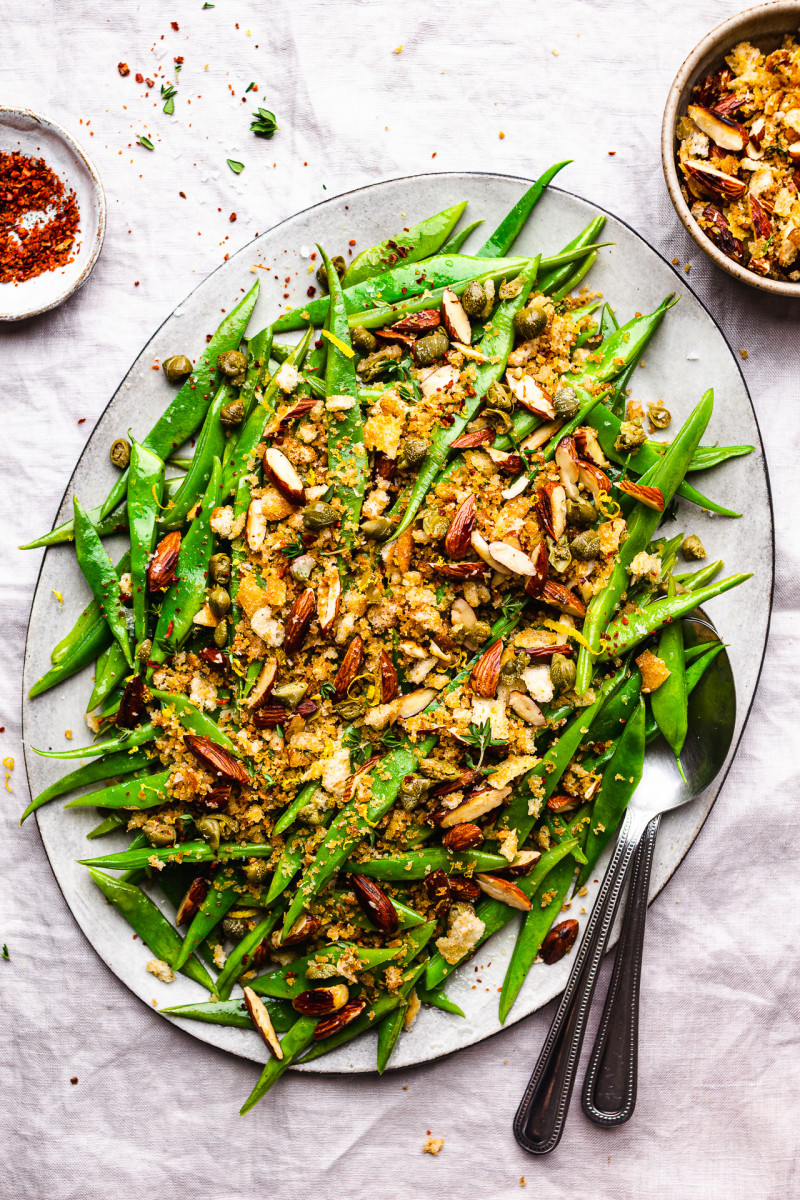 Are you all set for sides this Christmas? If you are out of ideas or are worried that you will run out of oven space, I have an exciting stove top side recipe for you today. I love green beans and have several green bean side recipes on my blog already (this one and this one), but I felt the need to come up with another. One that does not require an oven!
This dish is inspired by two classic ideas – French dish bean almondine – beans topped with almonds and an Italian tradition of adding flavoured pan grits – pangrattato – to most things to provide them with texture they would otherwise lack, this (incidentally green bean) pasta being an example of this.
Here a flavoursome topping of seasoned fried breadcrumbs and toasted almonds is employed to transform steamed green beans into something far more exciting and delicious and I dare anyone – even those whose hatred of vegetables runs deep – not to ask for seconds…
MORE ABOUT THE INGREDIENTS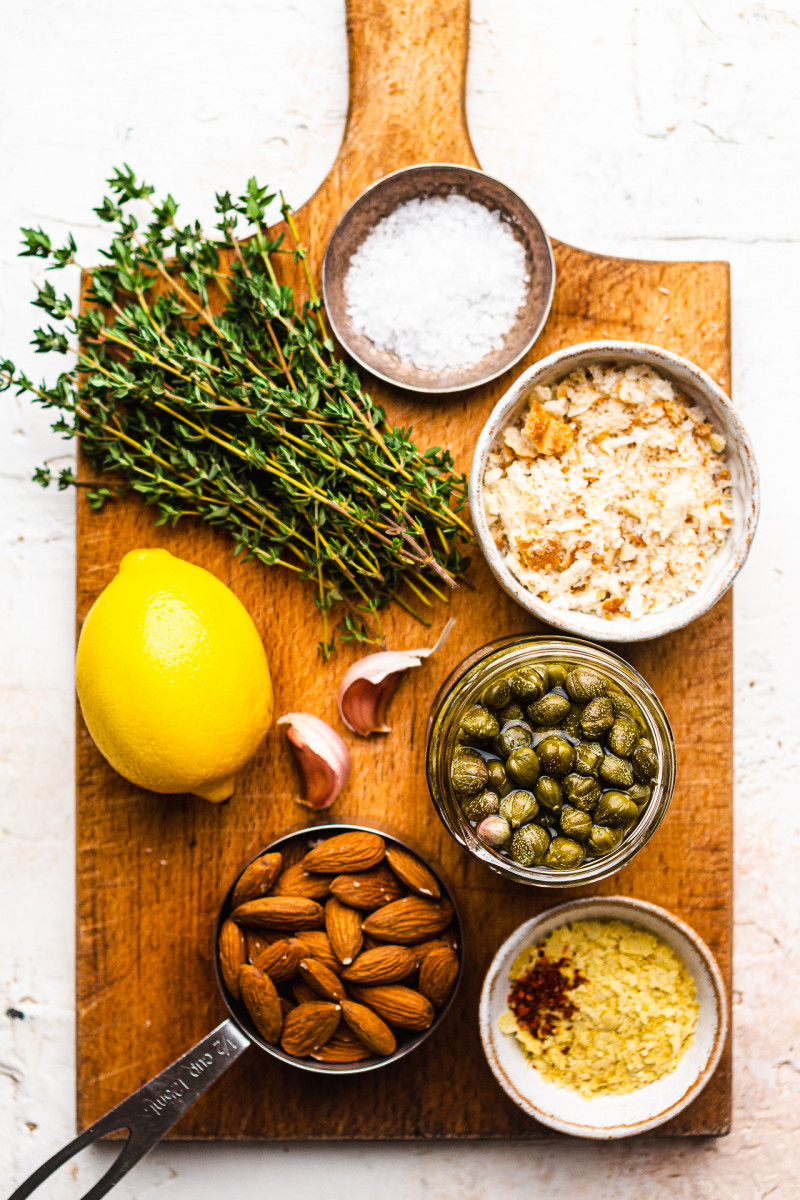 ALMONDS: Whole, lightly toasted almonds provide a lovely crunch to the tender beans. You can use other nuts if you like, hazelnuts would be my second choice, or sunflower seeds if you or one of your fellow diners has a nut allergy.
BREADCRUMBS: Coarse breadcrumbs are best here as they provide an interesting and varied texture. I make my own by air drying pieces of Turkish pide bread and crushing them roughly in my pestle and mortar once stale.
LEMON: I used a small amount of lemon juice to create a simple lemon dressing to coat the beans in and zest to add a citrusy flavour to the breadcrumb mixture.
MILD CHILLI: A small amount of fine chilli flakes is a nice touch here. I used mild Turkish chilli called pul biber, if you want a spicer chilli, Korean gochugaru will also work well. If you don't want any heat, a smidge of smoked paprika would be a nice addition instead.
THYME: Fresh thyme leaves give this simple dish a bit of freshness and aroma. If you'd rather use dried, crush them beetween your finger tips and use less as they are more potent.
GARLIC: A touch of garlic is an easy way to deepen the flavour of the breadcrumb mixture. I used a fresh clove, minced, but garlic powder is just as nice.
NUTRITIONAL YEAST: nutritional yeast is a staple vegan seasoning that adds a cheesy flavour. It is inactive yeast so don't worry if the name freaks you out – we are not adding baker's yeast to anything. If you don't have it, simply skip.
CAPERS: I love using these pickled flower buds in dishes as they contribute surpirising pops of flavour. I got hooked on capers while living in Greece as their locally grown and pickled capers are so flavoursome. If you are not a fan, how about chopped up green olives?
GREEN BEANS: I used runner beans in this recipe, cut into 1 cm / 0.4 inch strips. If can use any fresh beans you like but just remember that their cooking time may be a little different.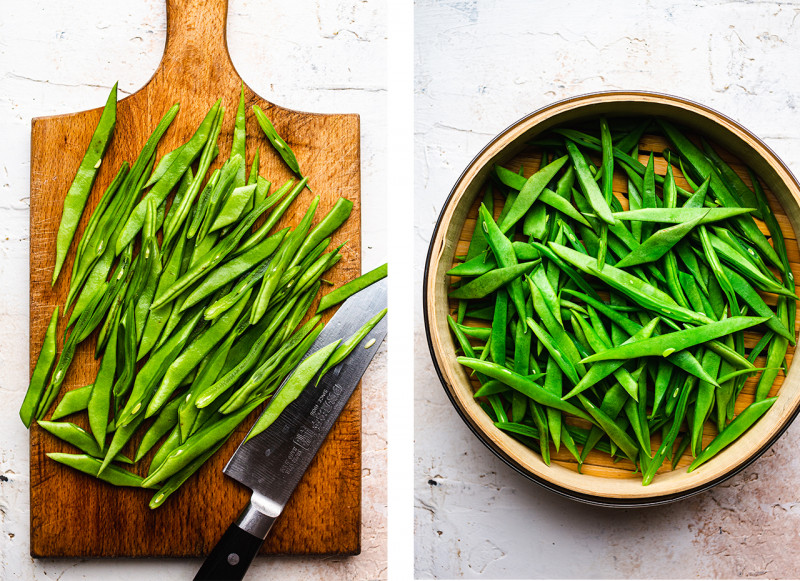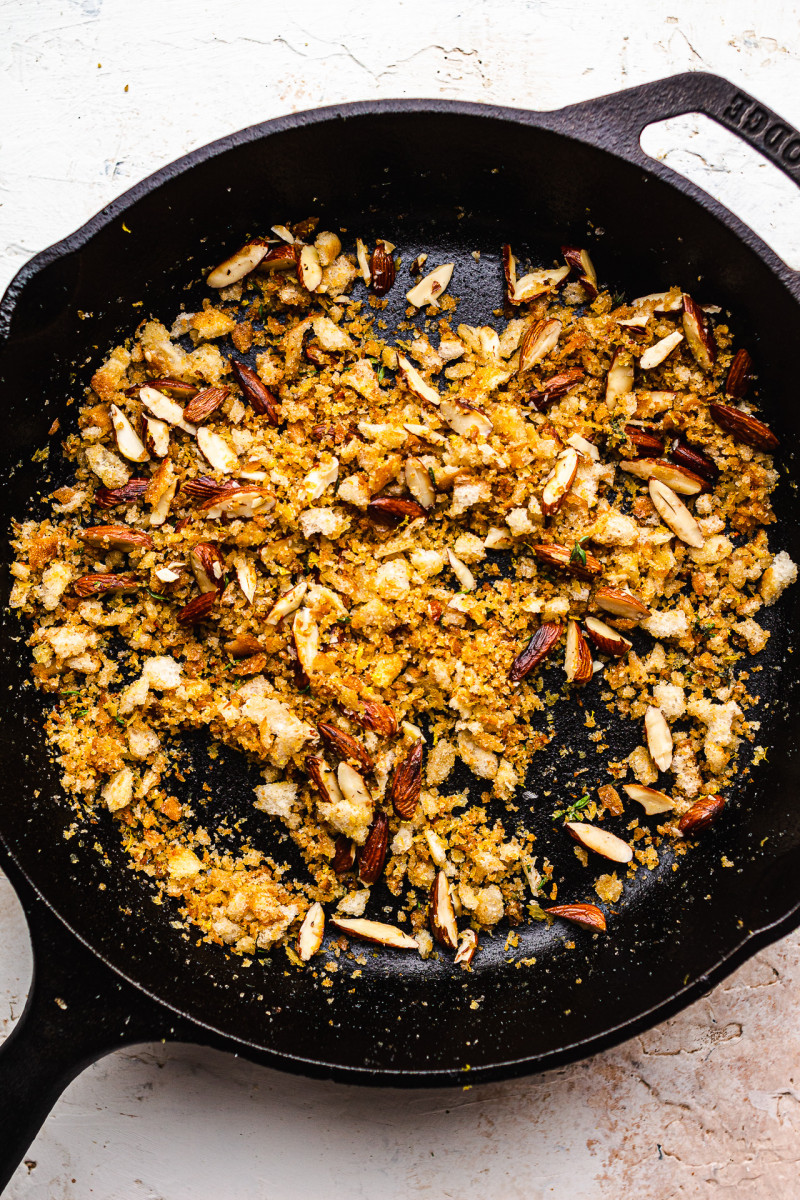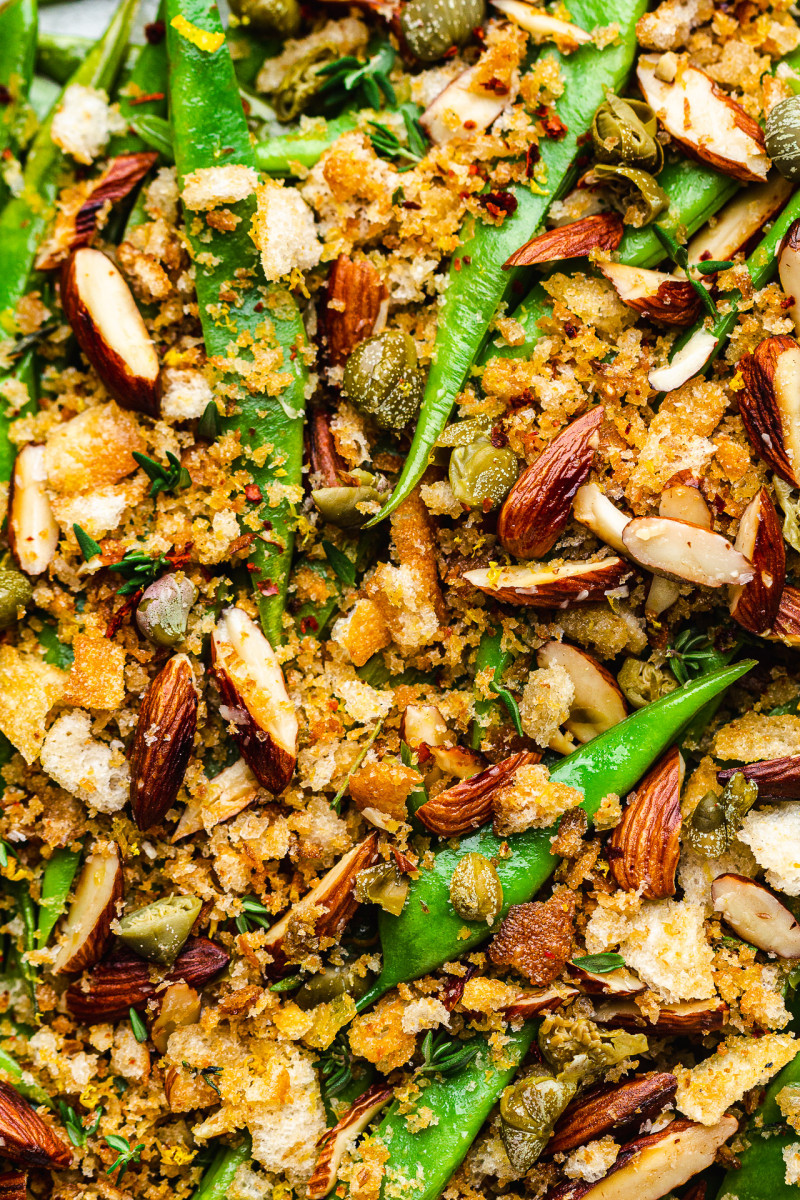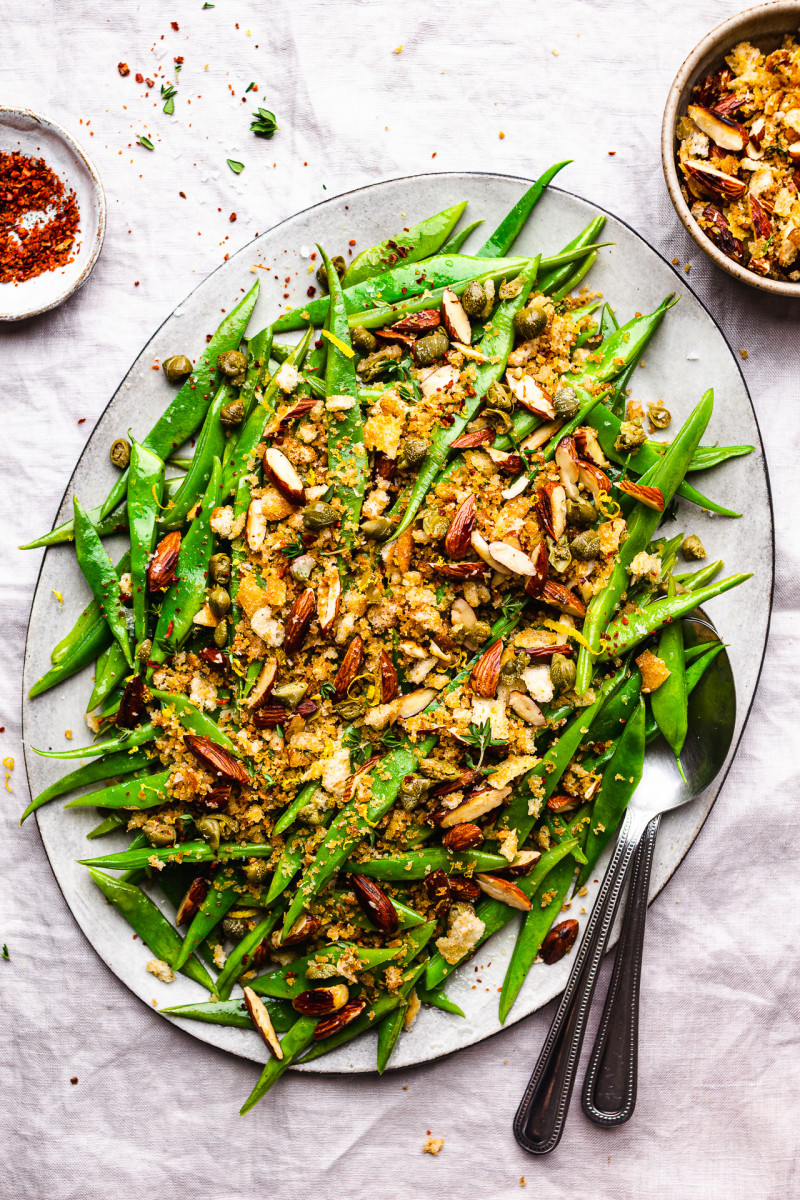 FRIED BREADCRUMBS
60 g / ½ cup almonds
40 ml / 2½ tbsp olive oil, divided
40 g / ¾ cup coarse breadcrumbs (GF if needed)
1 large garlic clove, grated (or ½ tsp garlic powder)
½ tsp flaky salt, more to taste
1 tbsp nutritional yeast
½ tsp mild chilli flakes (I use pul biber), optional
2 tsp thyme leaves (about 3 sprigs)
zest of 1 small lemon
GREEN BEANS
450 g / 15.8 oz runner beans
15 ml / 1 tbsp extra virgin olive oil
15 ml / 1 tbsp lemon juice
7 ml / ½ tbsp maple syrup
2 tbsp capers, drained and roughly chopped (optional)
METHOD
FRIED BREADCRUMBS
Chop almonds on the diagonal, then place in a dry skillet (cast iron skillet works well) and toast on low heat until fragrant and charred in places.
Add half a tablespoon of olive oil, coat the almonds in the oil and season with a few pinches of salt. Remove from the skillet and set aside.
Wipe the skillet with a paper towel, then add 2 tbsp (30 ml) of olive oil to the pan.
Once the oil has warmed up, add breadcrumbs, garlic and salt crushed between your fingers.
Fry the breadcrumb mixture on low heat until golden, stirring the whole time.
Add in nutritional yeast, chilli (or smoked paprika!), thyme leaves, lemon zest and fried almonds. Mix everything well and switch of the heat. Set aside (keep away from moisture) until ready to serve.
GREEN BEANS
Tail the beans and cut them into 1 cm / 0.4 inch pieces on the diagonal.
Place half of the beans in a large steamer over a pot of simmering water. Steam for about 6-7 minutes from the moment the water starts simmering – you want them tender but with a bit of a bite left.
Remove the beans from the steamer and steam the other half of the beans for 6-7 minutes. Remove from the steamer and set aside.
Mix olive oil, lemon juice and maple syrup in a small bowl. Season to taste. Pour over the beans just before serving, then top with chopped capers and fried breadcrumb mixture.
NOTES
NUTRITIONAL INFO
*per 1 out of 10 servings