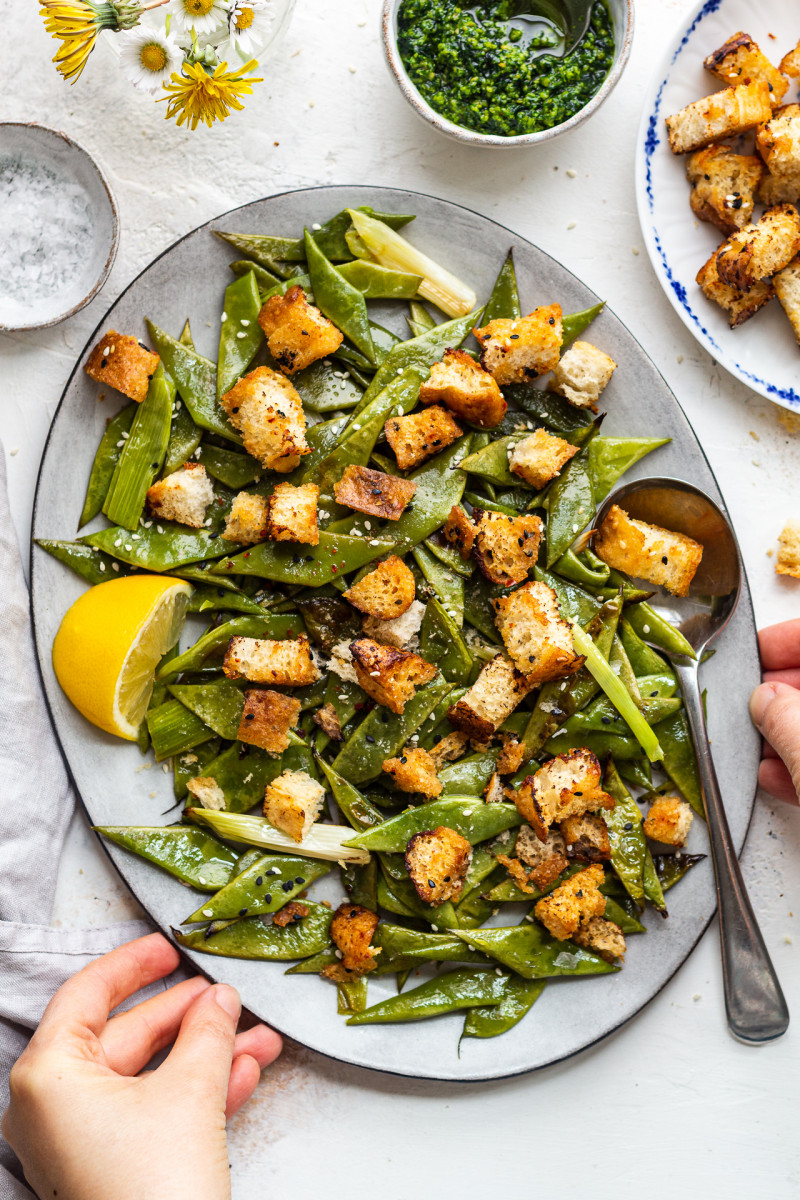 While I am working away on a big Spring-inspired dessert, which hopefully will be with you this Saturday, today I thought I would share a simple vegetable side. I made a plate of blistered green beans adorned with miso croutons – not your typical Easter meal side but delicious all the same and so easy to make too.
I am a big fan of green beans in almost any shape or form – as long as they are treated properly, not boiled to within an inch of their lives – but I wanted to create a plate of beans that is difficult to put away. Addictive green beans, if you like…as soon as I finished shooting this recipe, I demolished half of this plate so I guess I succeeded.
This recipe is as simple as they come. All you need is some stale bread – I used stale Turkish pide as I buy it on a regular basis – quality green beans and a bunch of cupboard staples. I dice my bread and lay it out on a baking tray. I dry it out in a medium hot oven until it's golden brown and firm so that it doesn't get too soggy from the marinade.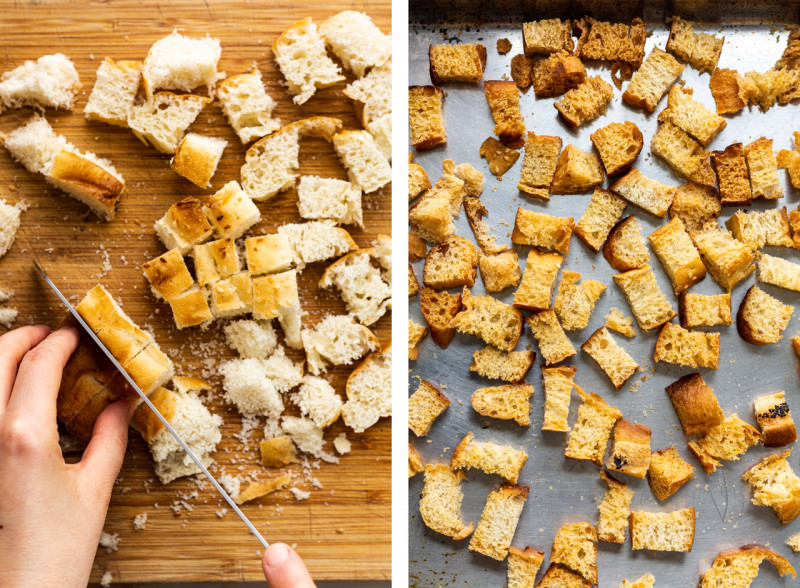 While the bread is in the oven, I quickly knock together a simple miso marinade, which I then coat my pre-baked croutons in. I return the tray to the oven just to get the marinade baked on and maybe tiny bit charred in places. You need to be careful at this stage as this marinade will burn easily due to the fact it contains sugars.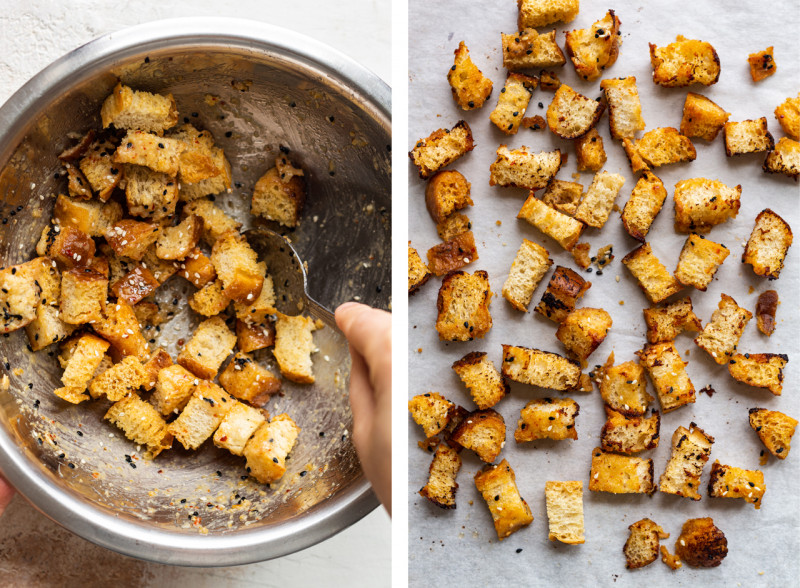 Wash your beans well, dry them and slice the ends off.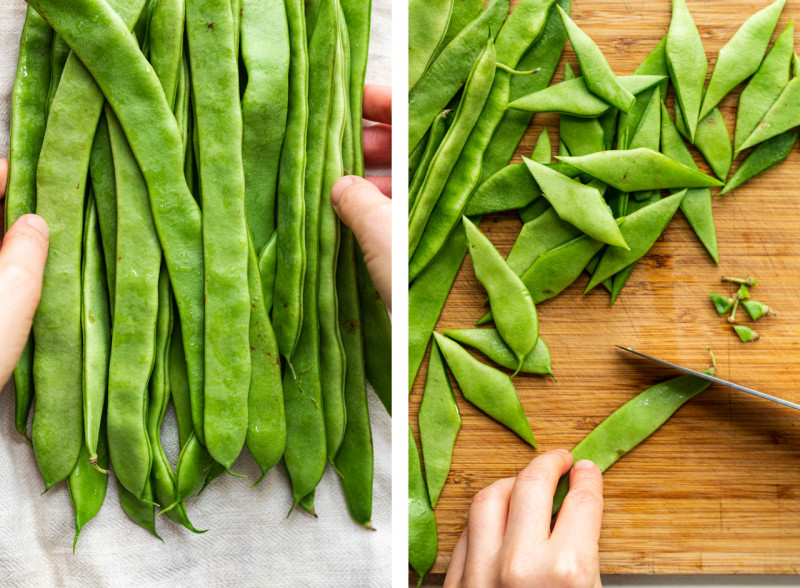 Slice the beans on the diagonal, add spring onions if liked, coat in a bit of oil and bake until tender and blistered in places. Combine the two on a large platter, crush some of the croutons a little to get some variance in texture and enjoy!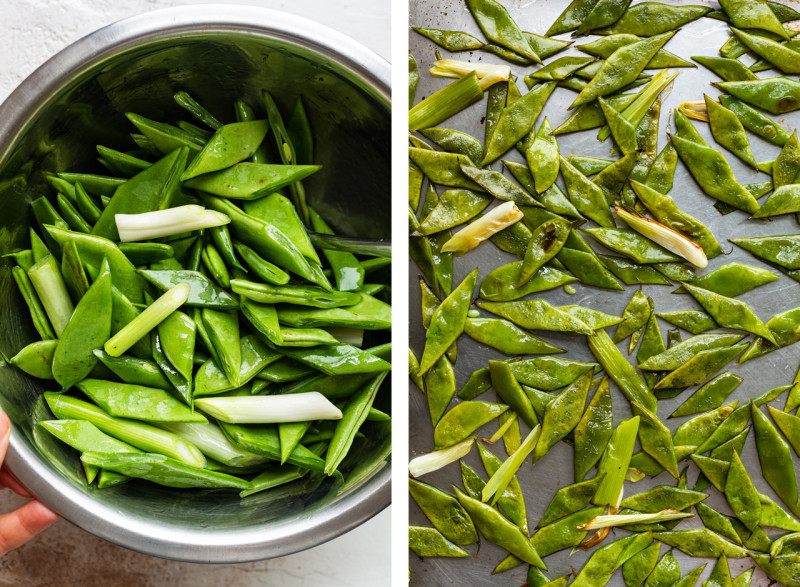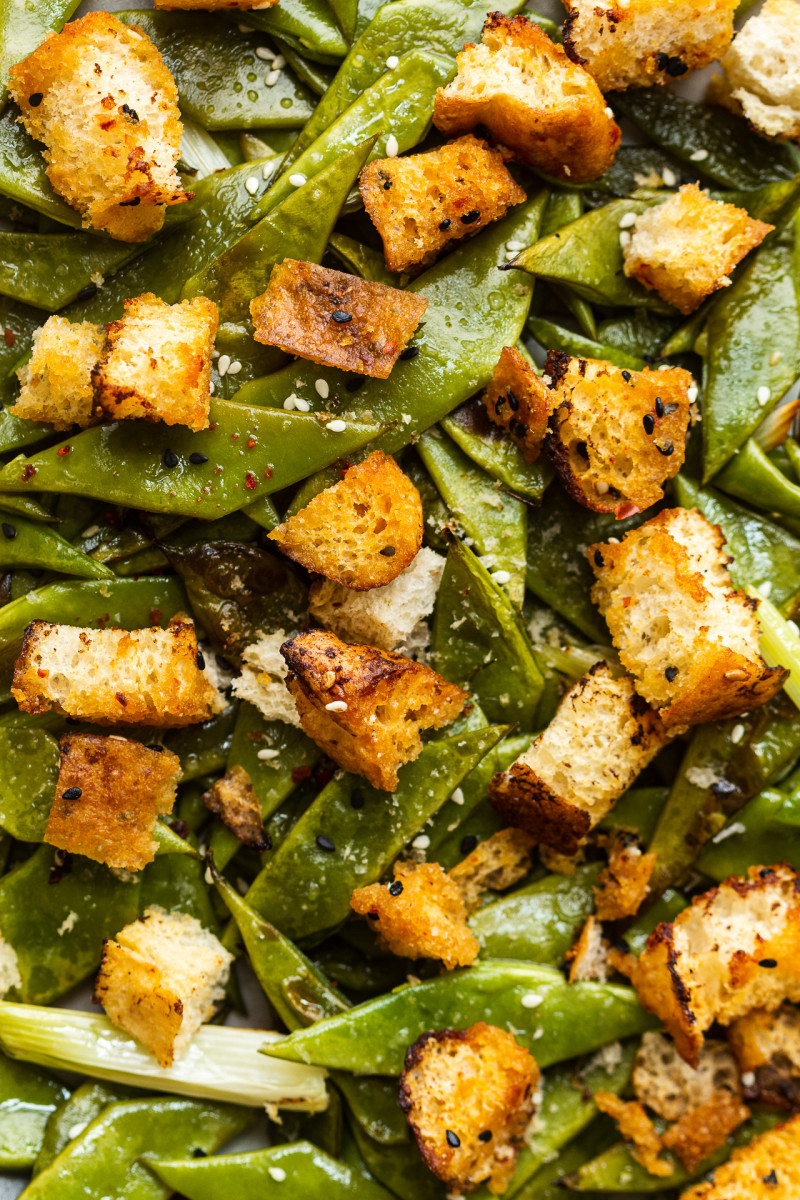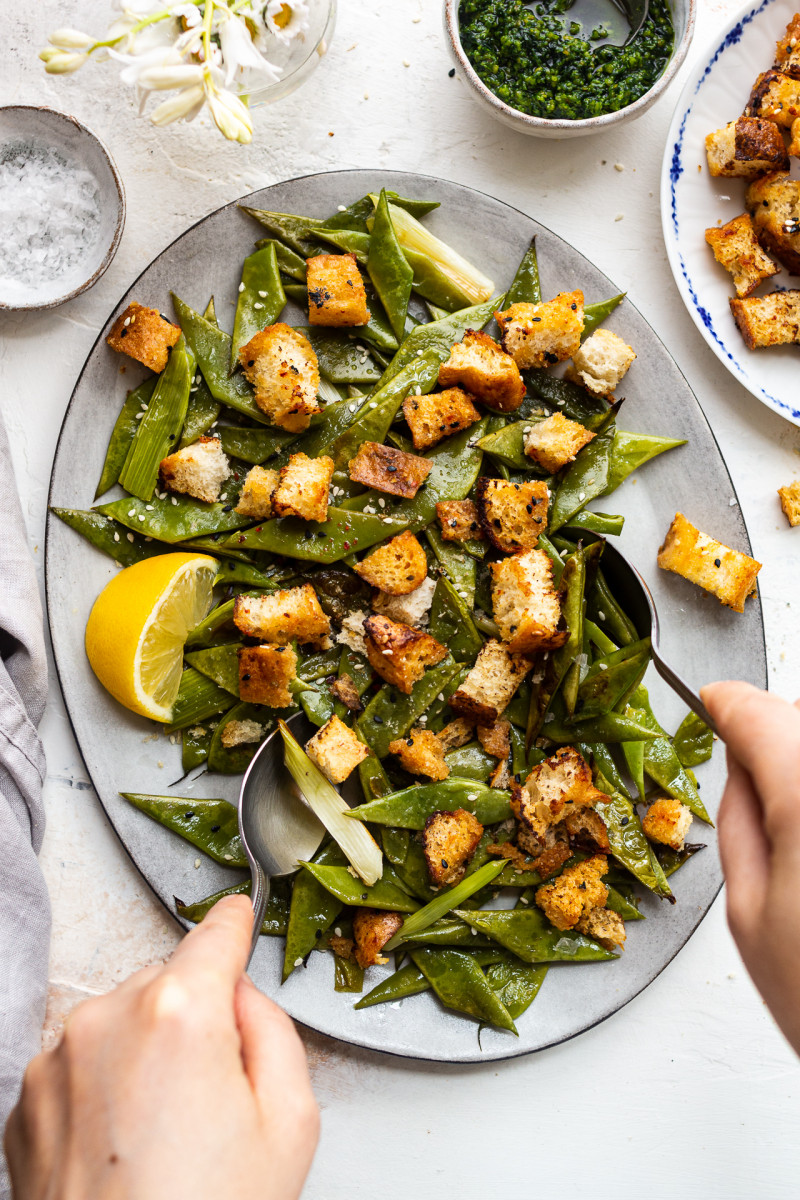 CROUTONS
75 g / 2.5 oz stale soft bread (I used shop-bought Turkish pide) or sourdough
30 ml / 2 tbsp olive oil
2 tsp shiro / white miso paste
5 ml / 1 tsp maple syrup
10 ml / 2 tsp lemon juice
1 tsp sesame seeds
½ tsp mild chilli flakes (optional)
REMAINING INGREDIENTS
350 g / 12½ oz runner or green beans
4 small spring onions / scallions, white & light green part only (optional)
15 ml / 1 tbsp olive oil
salt and pepper
METHOD
CROUTONS
Pre-heat the oven to 180° C / 355° F and grab a large baking tray.
Cut the bread up into 1.25 cm / 0.5″ dice. If using sourdough, you may want to cut off the crusts off.
Spread cut up bread on the baking tray and bake until crispy and golden – about 10-12 minutes (but this depends on how stale your bread is to begin with so keep an eye on it).
While the bread is in the oven, combine the remaining ingredients in mixing bowl until you get a smooth marinade.
Quickly toss the bread in the marinade to coat and return the croutons to the baking tray, for another 5 minutes. Keep an eye on them as sugars in this marinade make it burn easily.
Remove from the oven and allow them to cool.
BEANS
Heat up the oven to 225° C / 435° F (regular setting, no fan). Top, tail and de-string (unless your beans are stringless like mine) the beans. If using runner beans, cut them into thick strips on the diagonal. Cut cleaned spring onions into into 5 cm / 2″ segments.
Toss the beans and spring onions in olive oil, season lightly and spread them on a large baking tray. Roast them for about 12-15 minutes (or a couple of minutes less if using green as opposed to runner beans), giving them a good stir halfway through the baking time.
ASSEMBLY
Place seasoned beans on a large platter and sprinkle with smashed croutons and serve.
NOTES
If you want to use less oil, why not STEAM the beans instead? Pop them into a steaming basket (I like using a bamboo steamer) over a pot of simmering water for 5-7 minutes (depending how fresh your beans are). Test one to be sure, it should be tender but with a little bit of resistance (al dente).