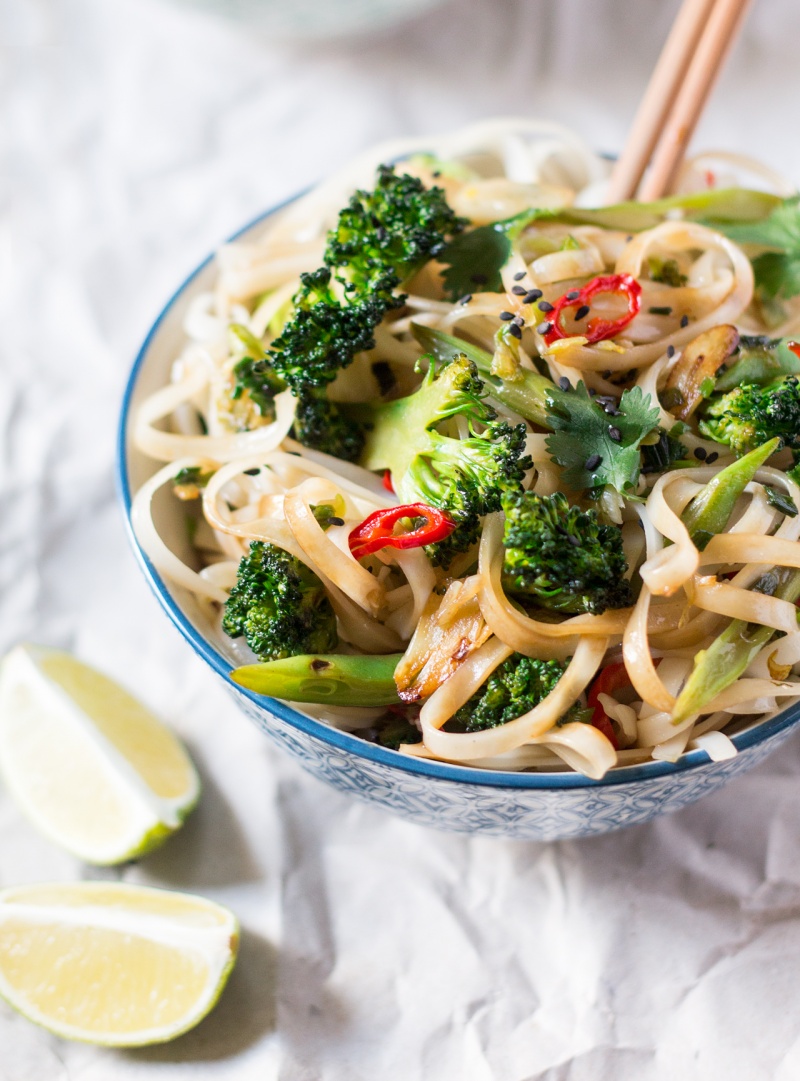 Happy New Year, guys! Have you made any resolution yet for 2016? My food-related resolution this year is to curb my sweet tooth. I intend to give up sweet treats for January, which means you won't find any desserts on the blog for a month, but I can promise you plenty of healthy food ideas instead. If you are on a similar health kick, stay tuned. If you are like 'sod resolutions, fat keeps me warm in winter', look up my sweets section – it should provide you with plenty of inspiration.
Today's dish of green detox noodles is the first in my series of healthy January dishes. If you happen to nurse a bit of a hangover from last night, a bowl of spicy rice noodles with oodles of vegetables will put you right. It's a pretty simple dish that you can adapt according to what is in your fridge. I went for a superfood medley of broccoli, beans, ginger, spring onions and plenty of garlic. If you are feeling extra hungry, you can always add some pan-fried tofu. Drain it, marinate in soy sauce for a while, coat in cornflour and fry in your wok in some peanut oil. It's so simple yet so tasty. Enjoy!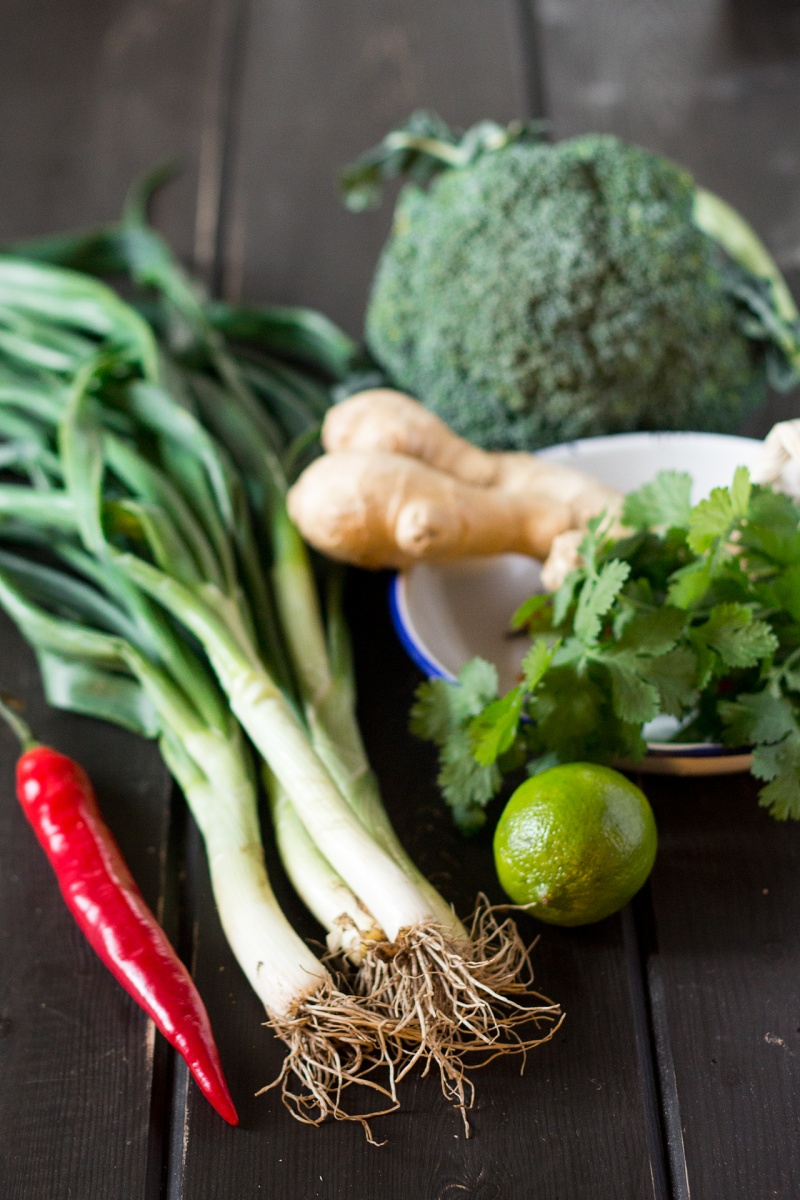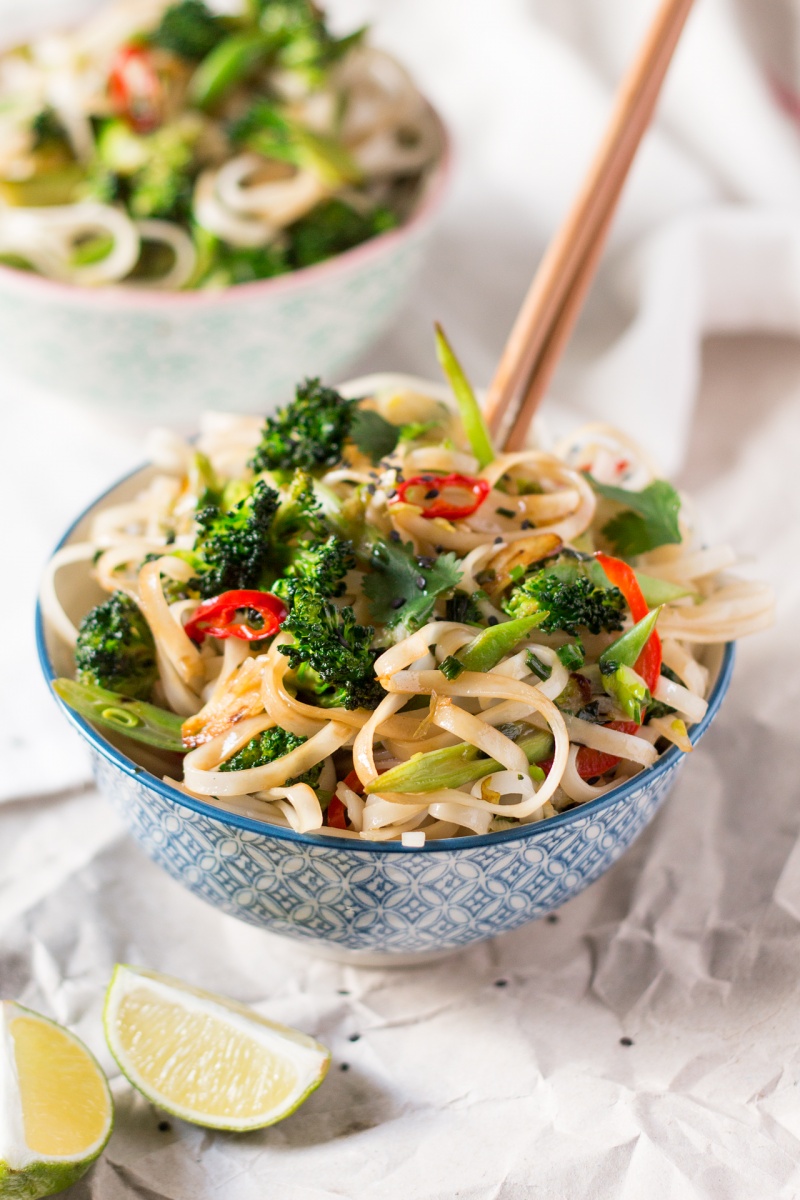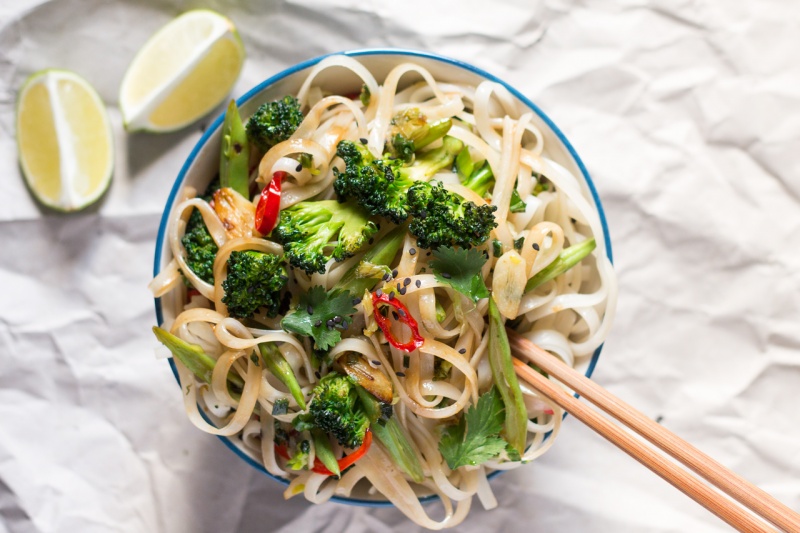 200 g flat rice noodles
a large handful / 150 g green flat beans, sliced diagonally
small broccoli head, chopped into small pieces
4 large spring onions, sliced
½ red chilli, sliced thinly or ½ tsp hot chilli flakes
3 garlic cloves, sliced thinly
1 tbsp oil with high smoke point (I used peanut oil)
lime wedges, to serve
fresh coriander, to garnish
SAUCE
1 tbsp of oil (I used peanut oil)
2 tsp sesame oil (for flavour)
1½ tbsp soft brown sugar or maple syrup
1½ tbsp rice vinegar or lime juice
3 tbsp tamari (for gluten-free version) or soy sauce
2 tsp finely grated ginger
METHOD
Prepare rice noodles according to instructions. Make sure you do not cook them fully though as you will want to warm them up in a pan later, which will cook them for further minute or so. I immersed mine in boiling water for 8 minutes although the packet said 10 mins for al dente. To minimise clumping, put your noodles into the pan a few at a time and stir them once or twice once they soften. After soaking run some cold tap water through them, then spread on a large plate/tray and mix a little bit of oil through them to keep them separate.
Mix all sauce ingredients (apart from 1 tbsp of oil) together in a bowl.
Heat up a wok or a large frying pan on a medium heat. Once hot, add in oil and swirl it around so that it coats the wok  evenly. Add in garlic slices and fry for a minute or two to brown a little. Stir constantly to make sure it does not burn. Add in spring onions and chilli and stir fry until softened. Remove from the pan and set aside.
Increase the heat to high. Add in chopped broccoli and stir fry for a minute or two. Then add sliced flat beans. Continue stir-frying until both vegetables are cooked but still crunchy. Empty them onto a plate to make the sauce.
Lower the heat back to medium. Pour 1 tbsp of oil onto the wok to heat it up. Now add in all sauce ingredients and cook for 5 seconds stirring constantly. Add all the vegetables back in, noodles and spring onion, garlic and chilli mixture. Warm it all through and taste, add more soy sauce if required. Serve immediately, sprinkled with fresh coriander and with a wedge of lime on the side.