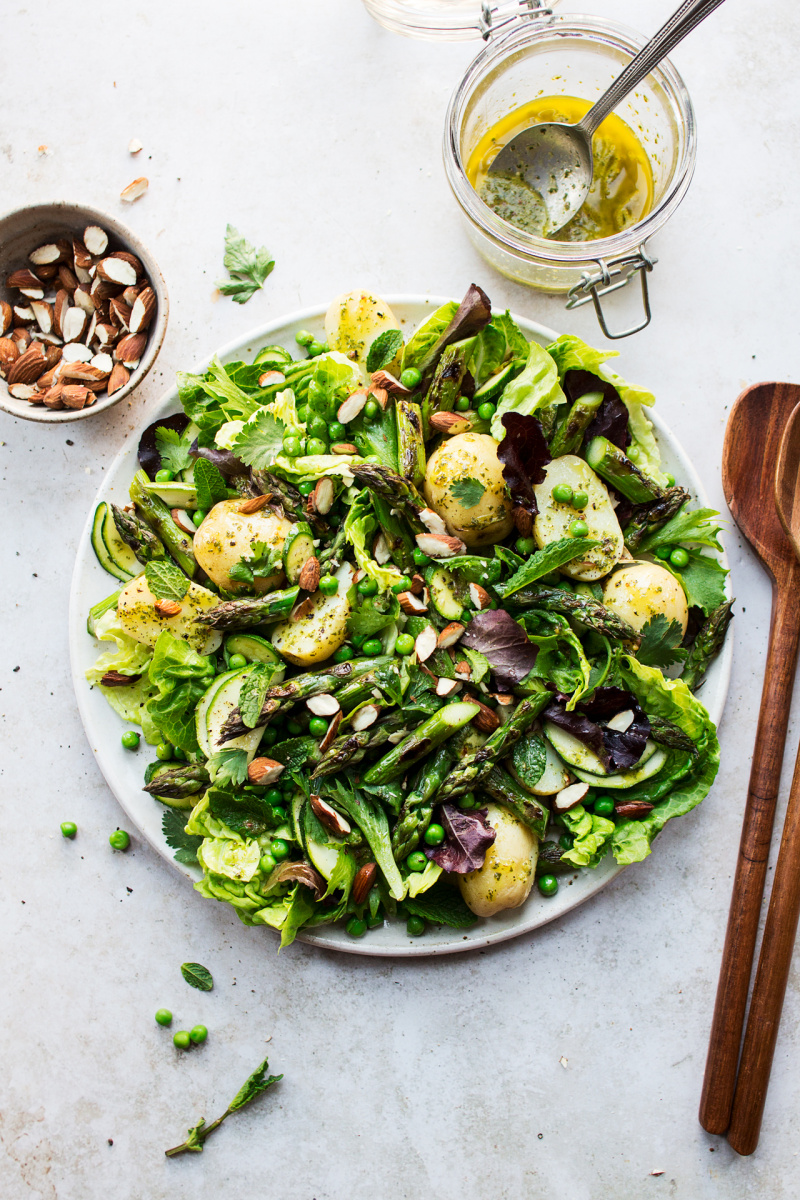 Hope your weekend is peachy, guys! We could not have better weather. The UK has really pulled it out of a bag this bank holiday, as the entire long weekend is beautifully sunny and warm. This is a miracle, good weather hardly ever coincides with bank holidays! We've spent many of them trudging around, in St Ives for example, in the rain. It saddens us that we are not able to enjoy much of this sunshine as we are spending the entire weekend on ladders, with protective masks and goggles on, patching up the ceiling cracks, sanding, priming and painting. I won't bore you with details…but you get the gist.
Still, all this warmth is inspiring me to go back to eating more salads and this simple green number is what I dreamt up while sanding 😛 . It is inspired by our beautiful garden that we are lucky to have inherited from the house's previous owners. While it doesn't appear that they were fans of DIY, they certainly knew a thing or two about gardening. We have inherited a beautiful herb garden – how lucky, right – which we promised ourselves to look after well, a pear and an apple tree, some gooseberry bushes, tomatoes and strawberries.
Now that the spring is finally settling in and everything is in bloom we are feeling very grateful for this beautiful green oasis in the middle of town. Tina is also loving it. She bounces around like a mini cheetah. We are so happy to see her this happy!!
So mint is one of the herbs that we currently have in abundance and I've decided to use some in this spring-inspired green salad. New potatoes, peas, asparagus and mint are such a classic combo that I could not help myself. This salad is delicious, very seasonally appropriate and easy to make, so if you haven't yet made a salad for your impending family gathering or a BBQ, I implore you to make this one, pronto!!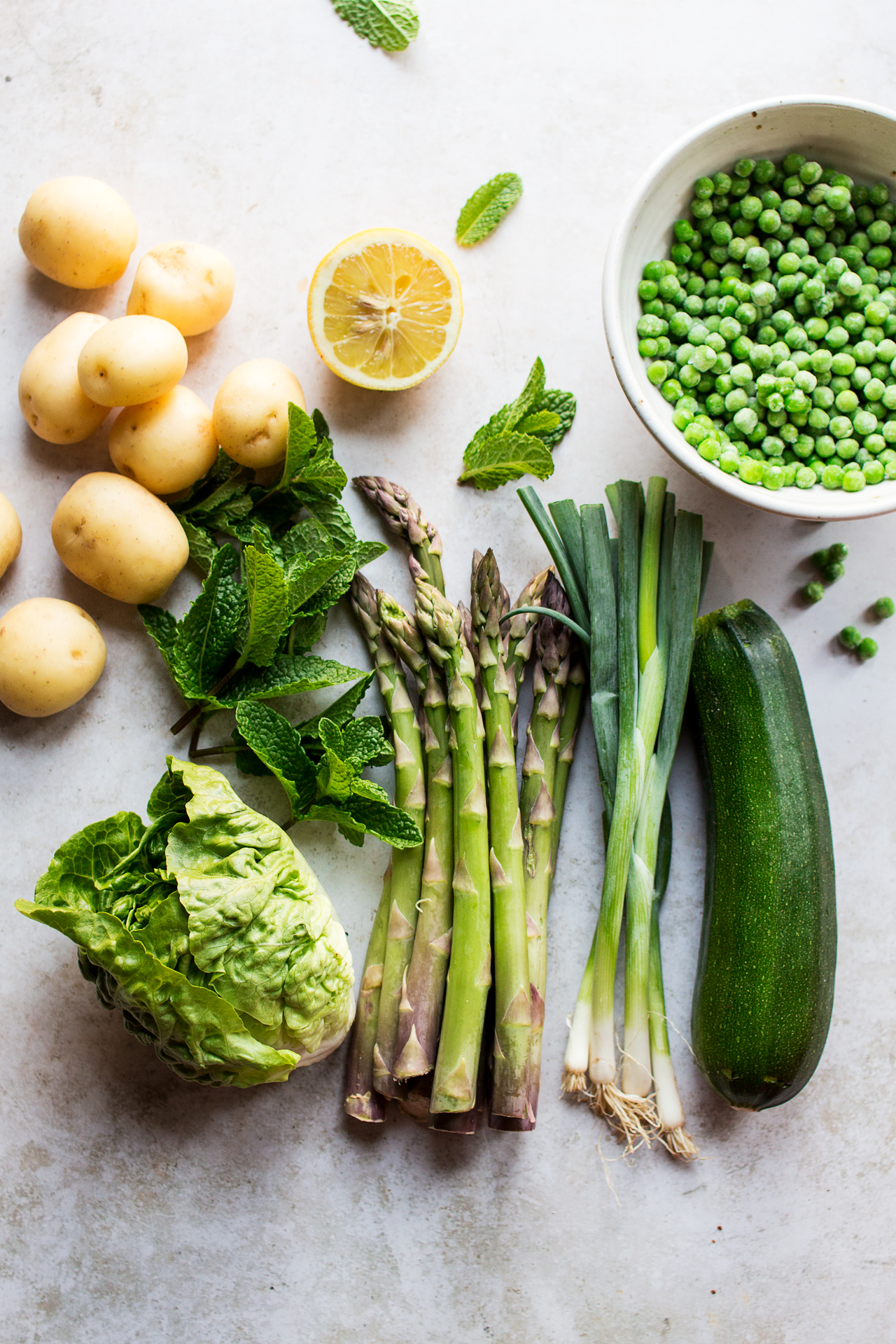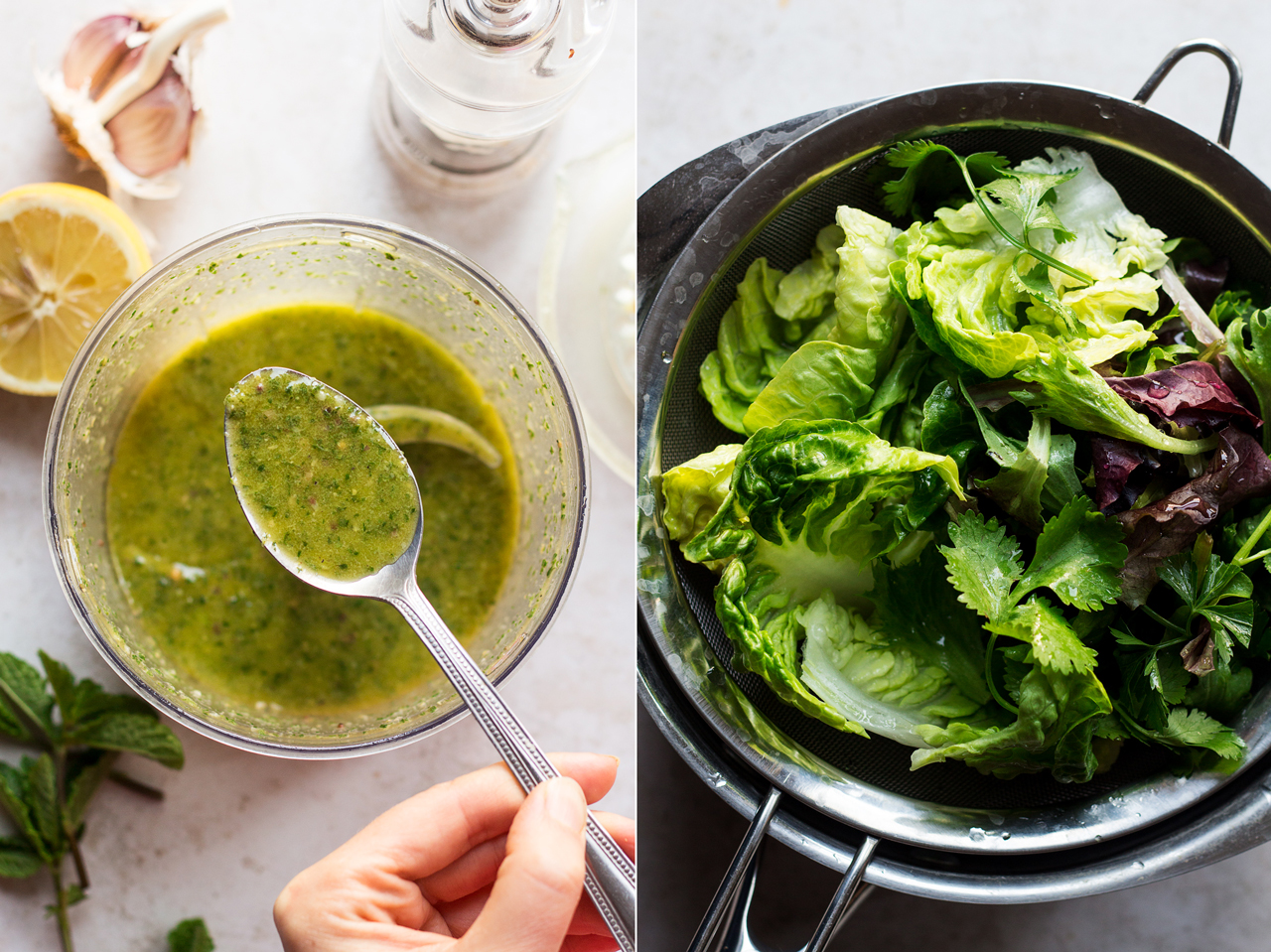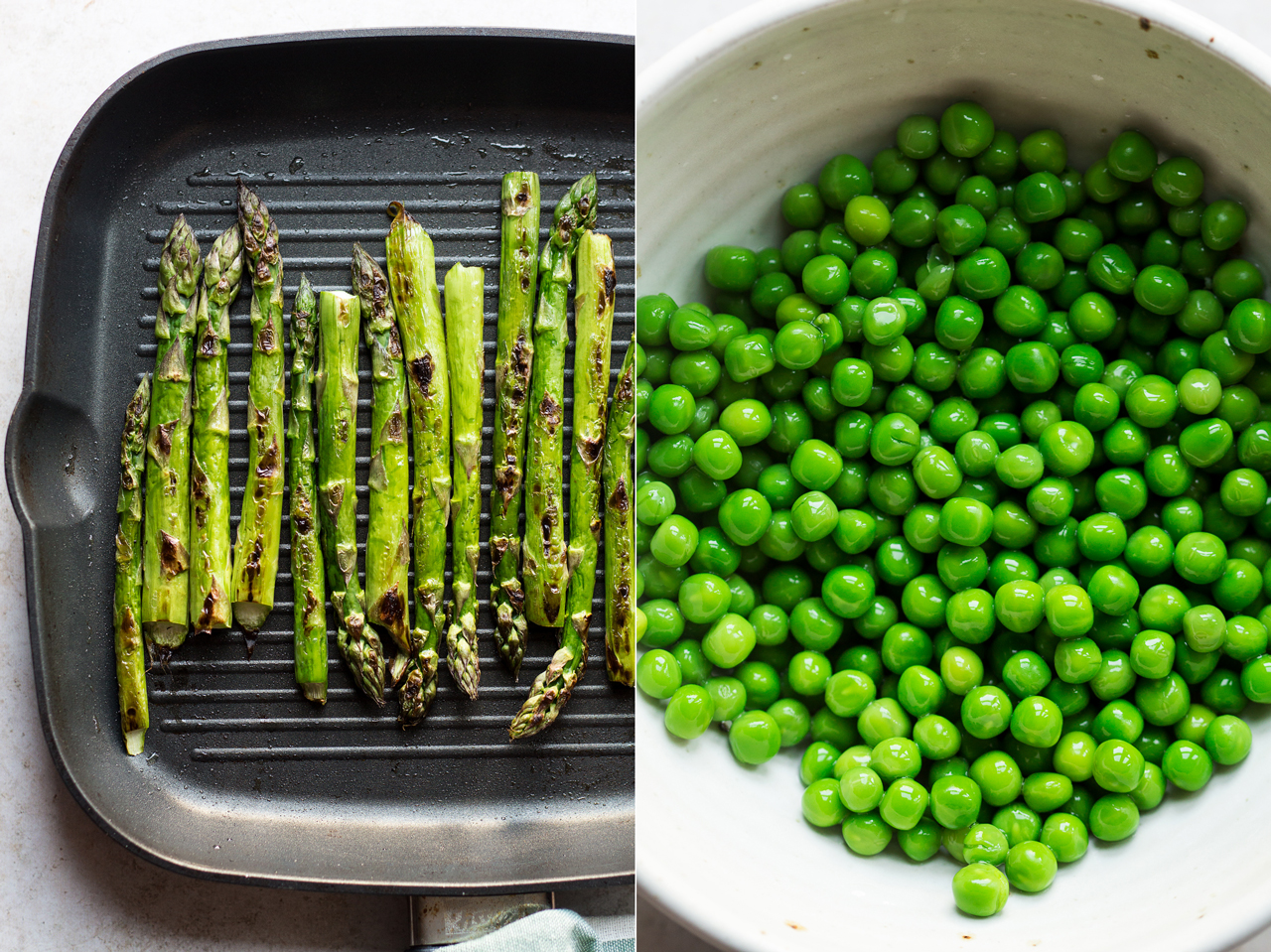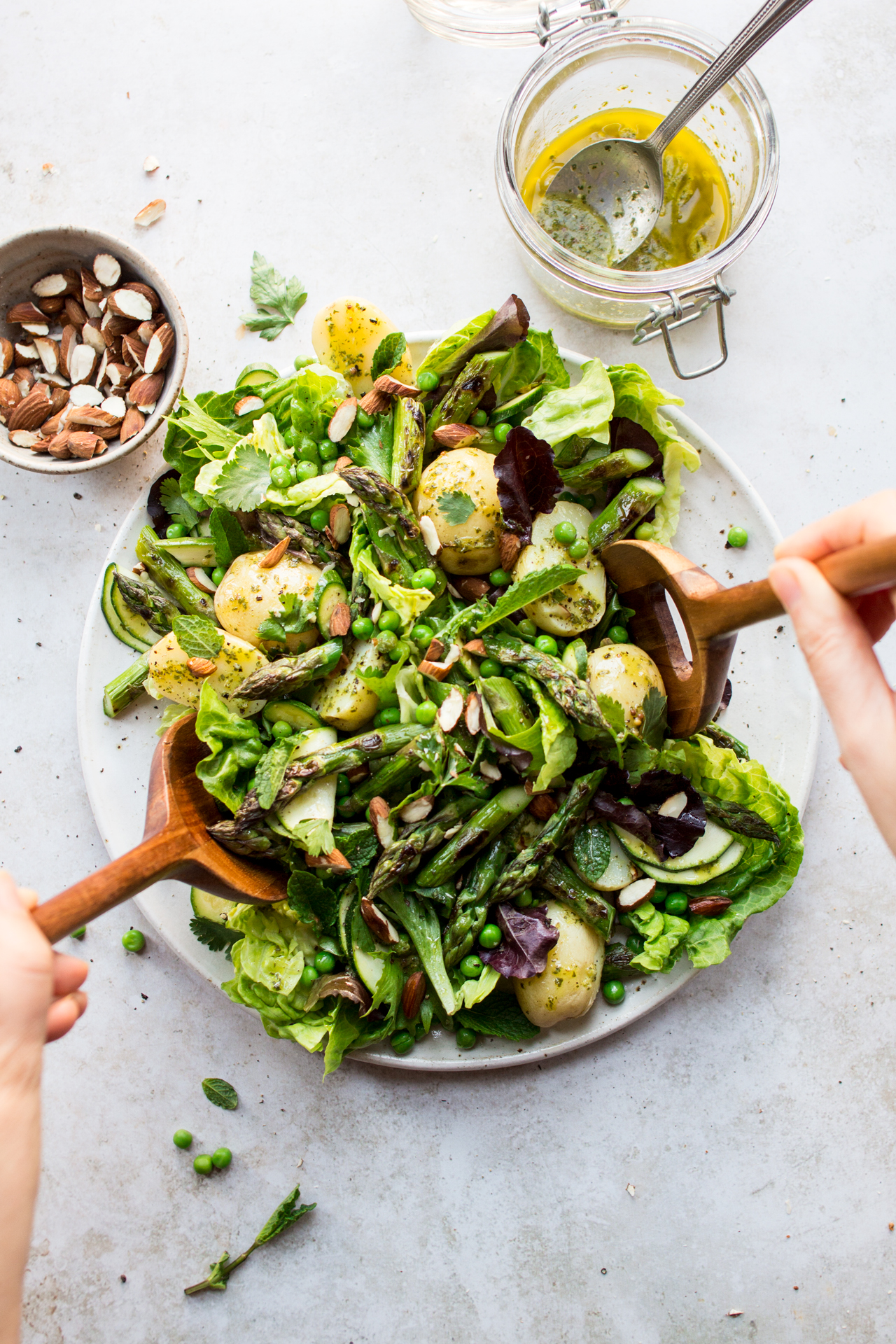 MINT DRESSING
60 ml / ¼ cup extra virgin olive oil
30 ml / 2 tbsp lemon juice, adjust to taste
a handful of fresh mint leaves (approx. 7 g / 0.25 oz), adjust to taste
1 tsp vegan wholegrain mustard
½ small garlic clove
¼ tsp salt, to taste
black pepper, to taste
½ tsp maple syrup or sugar
SALAD
2 tbsp almonds
250 g / 0.5 lb small new potatoes
½ cup frozen petit pois (small peas)
2 tsp olive oil
200 g / 7 oz asparagus, wooden ends cut off
1 small zucchini, super thinly sliced
50 g / 2 oz assorted salad leaves
1 baby gem lettuce, leaves torn
METHOD
Place the first five dressing ingredients in a small blender and process until emulsified and everything is blitzed well. Taste and season with the salt, pepper and sugar, adjusting the seasoning to your preference.
Toast almonds on a dry frying pan, moving them around the pan from time to time so that they don't burn. Chop roughly and set aside.
Boil or steam the potatoes. Allow them to cool before adding to the salad.
Boil or steam the peas. Plunge them in ice cold water straight after draining so that they retain their vibrant colour.
Heat up a griddle pan or a heavy skillet on a medium heat and coat it with a little olive oil. Once hot, place the asparagus on the pan in a single layer. Allow it to char on one side before turning to the other side. Keep an eye on it so that it doesn't cook for too long as it will become limp. Season with fine sea salt and cut into segments.
Combine cooled potatoes, peas, asparagus and zucchini slices with salad leaves in a large bowl or on a big sharing plate.
Just before serving, drizzle some of the dressing on top and scatter with chopped almonds.