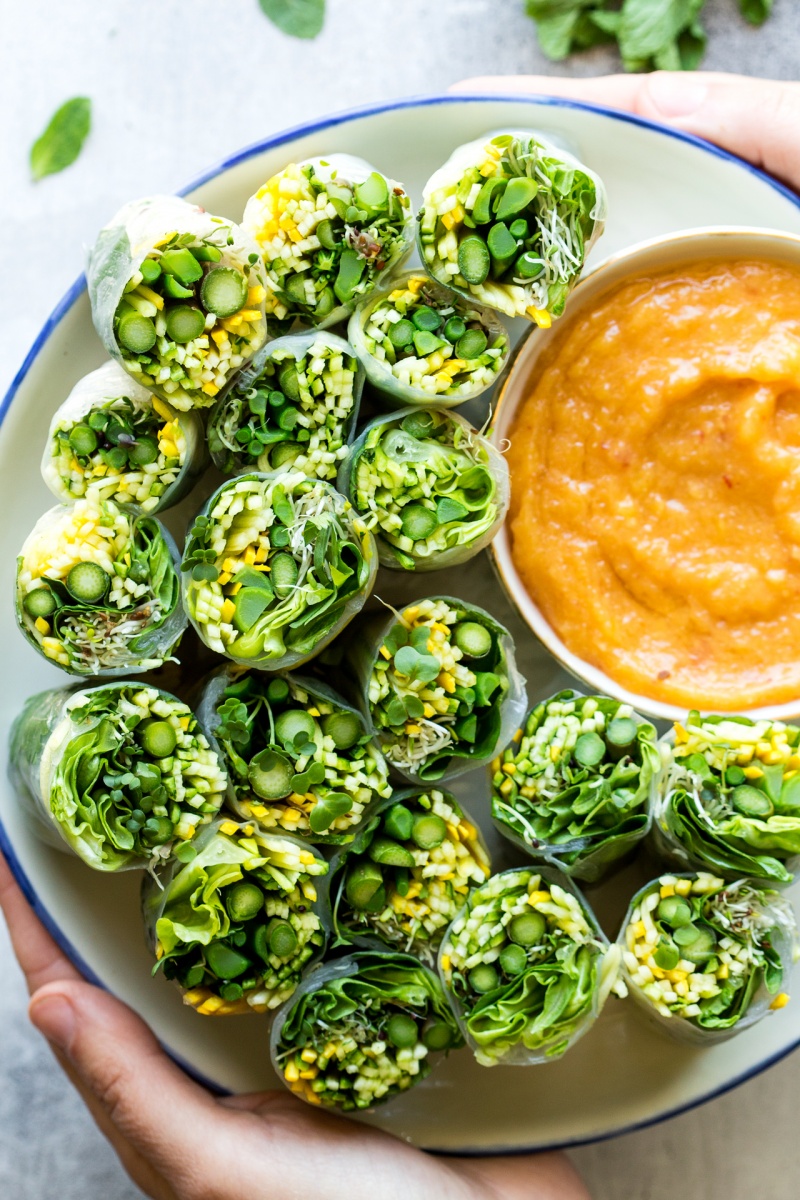 Greetings from beautifully sunny Crete, guys! We arrived here on Sunday morning and immediately upon landing had a strange mix of feelings. On the one hand, coming back to Greece feels like a homecoming, on the other it feels like we are just tourists on a holiday again. We like to think of ourselves as Greece aficionados.
All the familiar smells – jasmine flowers on the way to our apartment, mountain tea that our hosts left for us to enjoy and cooking smells from the nearby tavernas – immediately bring us back to our 4 years on Paros.
As well as local colours and textures, people's mannerisms and familiar Greek phrases, which are slowly coming back. All the sights are different, yet familiar at the same time. It's a strange yet enjoyable feeling and we are glad to be back.
We are staying near Chania for the first 4 days, then renting a car and driving south and staying in a coastal beach town. For the time being, we are very excited at the prospect of eating sun-ripened tomatoes, plump and salty olives and capers, sweet peppers and juicy peaches.
I have a feeling that after 2 weeks, I will be craving Asian flavours, but for now, I'm having fun improvising some super simple meals using minimal kitchen equipment and simple local produce. Tomorrow, we plan on exploring what Chania has to offer. Cannot wait!
Meanwhile, here are some warm weather appropriate (aptly named) summer rolls filled with all the green (and a bit of yellow) produce I could find and dipped in a mango miso dipping sauce. They aren't difficult to make, if a little time consuming, and make for delicious picnic (or beach) food.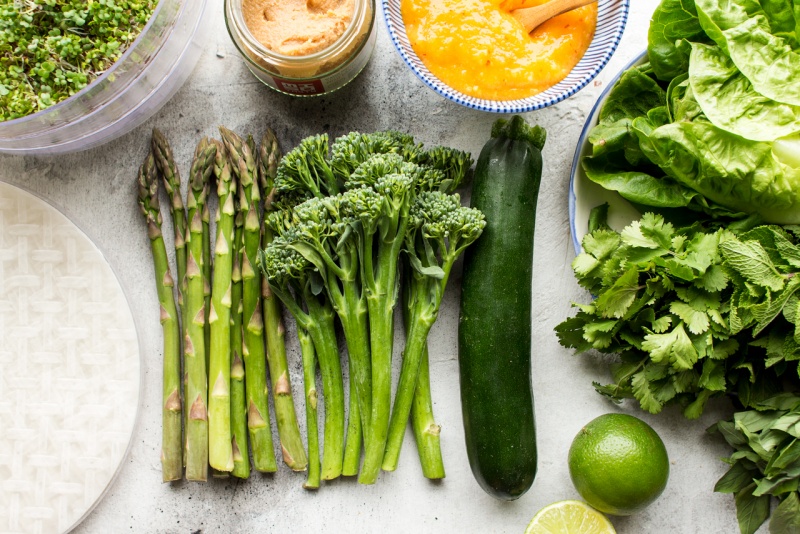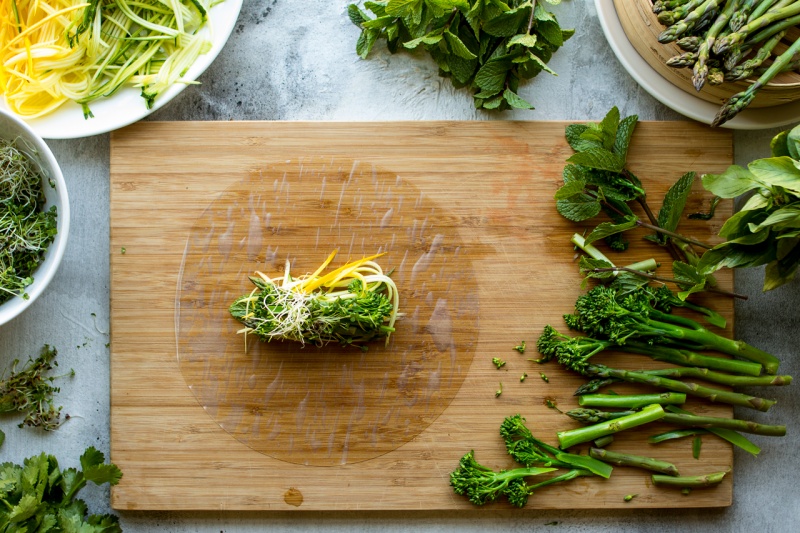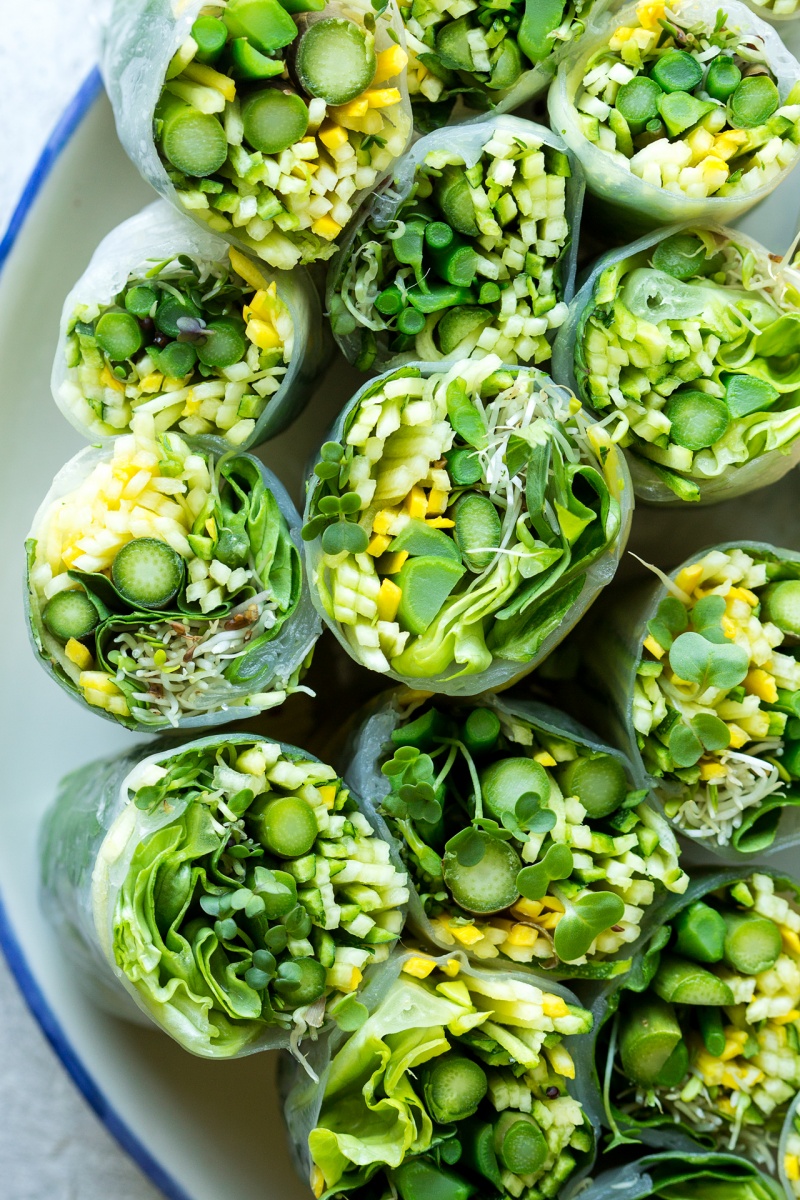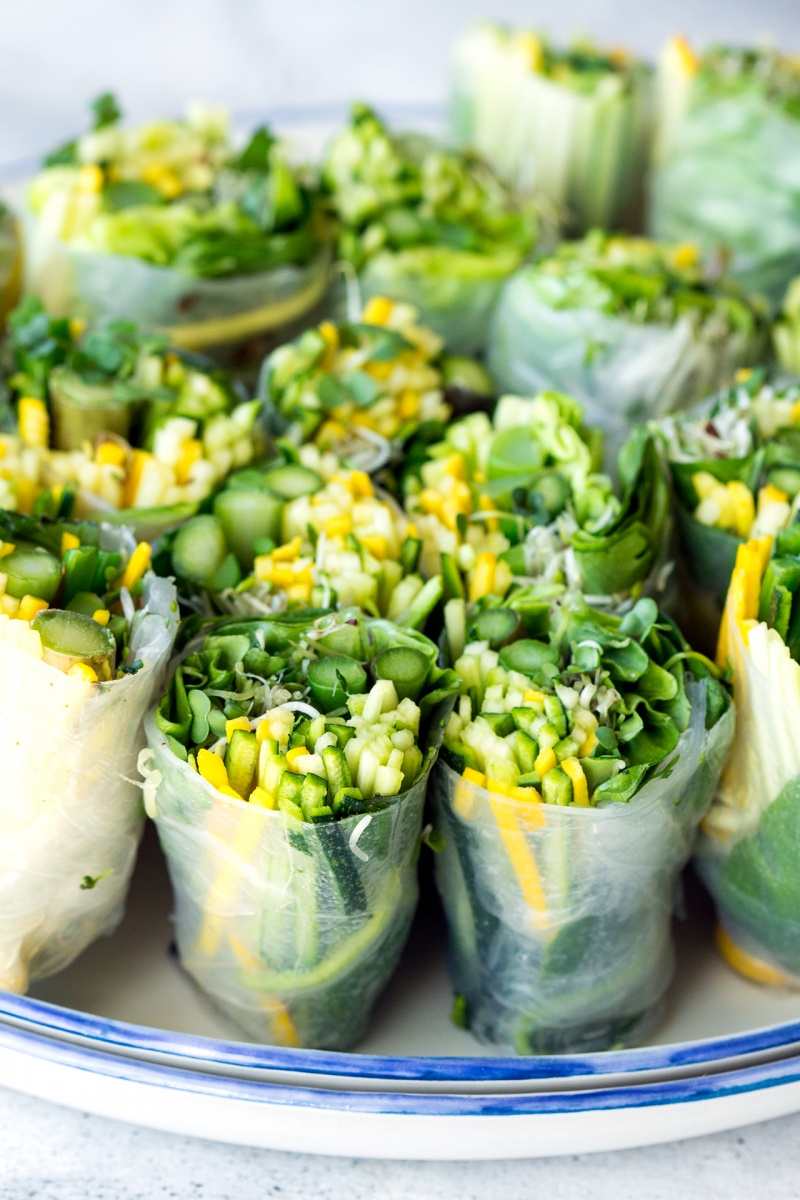 2-3 small zucchinis / courgettes
100 g / 3.5 oz tenderstem broccoli
200 g / 7 oz asparagus
15 rice paper wrappers (mine were 22 cm diameter)
a small bunch of fresh mint or thai basil
a small bunch of fresh coriander
fresh sprouts, I used broccoli and alfalfa
1-2 little gem lettuces, divided into leaves
DIPPING SAUCE
METHOD
Prepare the dipping sauce by blending all of the ingredients together in a food processor. Adjust the seasoning to your taste and the consistency to your liking by adding a touch of water if needed.
Shave the zucchini into zoodles using a julienne vegetable peeler. Cut the broccoli and asparagus spears (snap the wooden ends off them first) into pieces that match the length of your rolls. Cut the broccoli spears across vertically to thin them out a little bit.
Bring a pot of water to boil. Place a bamboo steamer on the pot of water and steam the broccoli and asparagus until it is cooked but still a little crunchy. Depending on the size of your steamer, you may need to do this in batches. The broccoli takes about 5 minutes and the asparagus 3 minutes. Remove them from the steamer and allow them to cool.
Prepare the rice wrappers, one at a time, according to the instructions on the packet (see NOTES). Place on a clean bamboo cutting board or clean work surface.
Place two to three mint or thai basil leaves at the bottom of each roll, in the middle of the rehydrated rice paper (see photo above). Follow by a small clump of zoodles first, steamed broccoli or asparagus, fresh coriander, sprouts and a half of a lettuce leaf. Take care not to overfill.
Once you finish with the filling, start rolling each summer roll like a burrito. Fold the sides over and start rolling from the bottom, making sure you keep on wrapping the rice paper over the filling tightly with your other hand. It takes a few goes to get the knack of it.
Repeat steps 4, 5 and 6 until you've run out of your filling and / or wrappers.
Cut the rolls in half and enjoy them fresh, dipped in the prepared dipping sauce.
NOTES
A handy tip from me is to not keep the rice wrapper in the water for too long, until it becomes very fragile and starts sticking to your fingers and itself. Take it out when it is no longer hard but still retains its shape as it continues to soften even once out of the water.