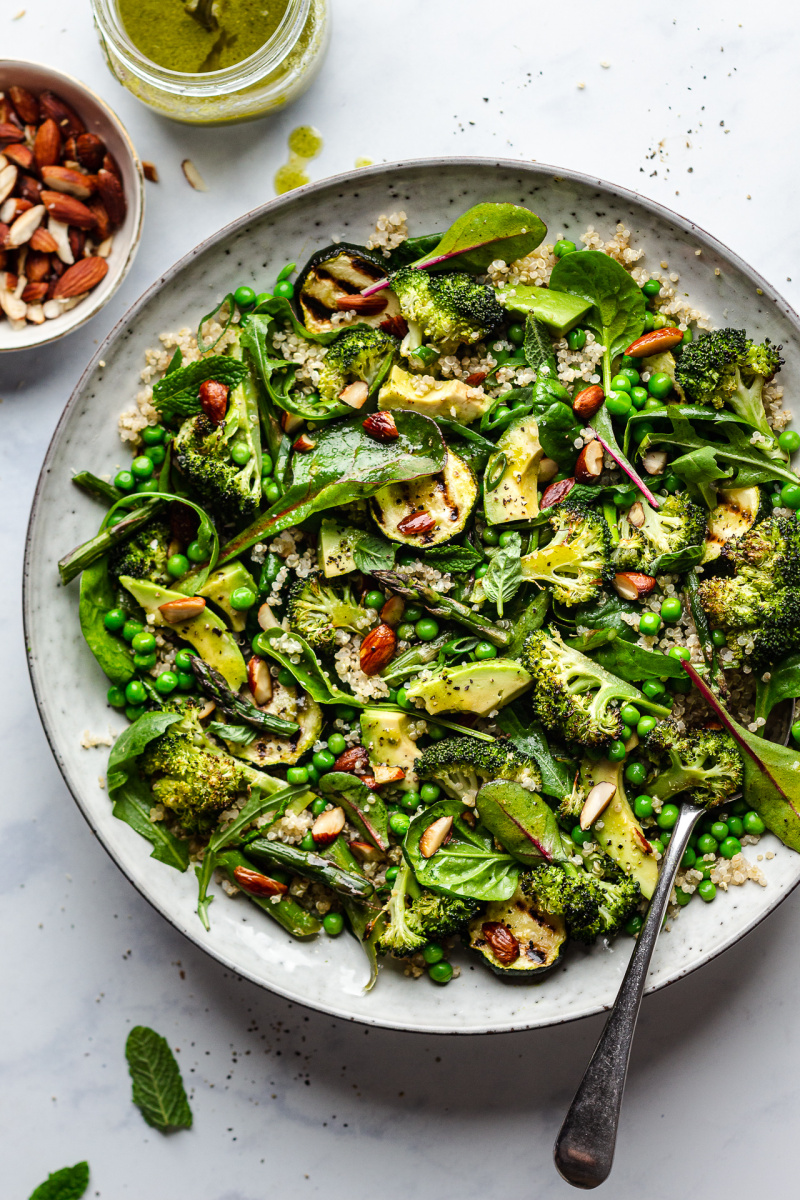 What's up with the weather lately? We are nearing the end of May so it's not crazy to expect some proper sunshine and warmth at this stage, surely? Instead, it's windy and cold and the sun, while glorious when it lasts, never hangs around for very long.
I am desperately awaiting the time when I can swing in my hammock, iced coffee in hand and a punnet of strawberries by my side with my cat, Tina, running up and down the garden excitedly cos we are both out and she is a bit like a dog sometimes – excited to hang with her 'tribe'.
Well for now all we can do is dream and whenever the sun does make an appearance embrace it by slowly transitioning to lighter and more summer-appropriate meals. Like this intensely green salad, packed with an array of seasonal green produce, bulked with quinoa and served with a lemony and herby vinaigrette. It's delicious, easy to make and will keep you full for ages as it's packed with fibre.
There are a number of ways you can go about making it too. If you are after maximizing flavour, I recommend roasting or charring the first three vegetables on a gridle pan. If you'd rather go for a healthier option, steaming or boiling is your friend but the key thing is not to overcook the vegetables or else you'll end up with an uninspiring soggy mess. You want both the broccoli and the asparagus to have a bit of a bite left in them – not only will it preserve more of their nutritional value, it will also make them more satisfying to eat.
I bulked this salad up with some quinoa to keep it gluten-free, but small pasta like orzo or a chewy grain like freekah would also work really well. We've enjoyed this fresh tasting (yet filling) dish for lunch and I hope you will too.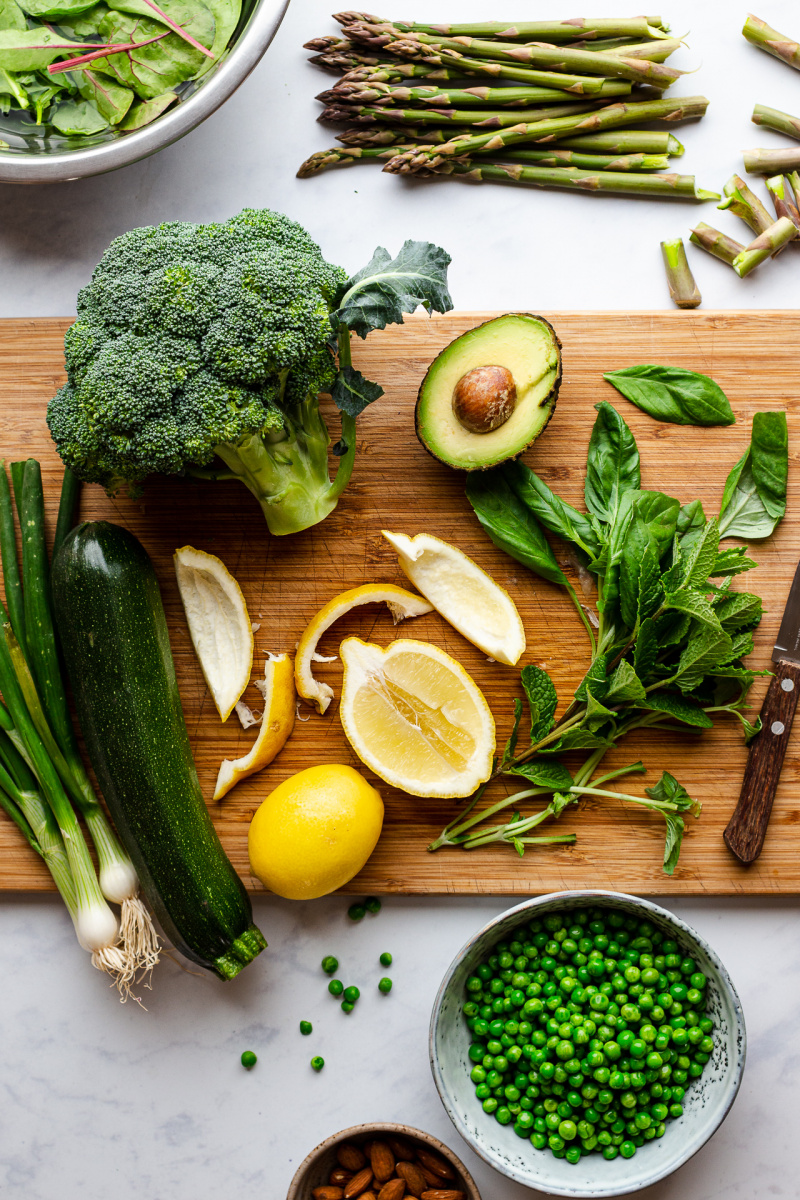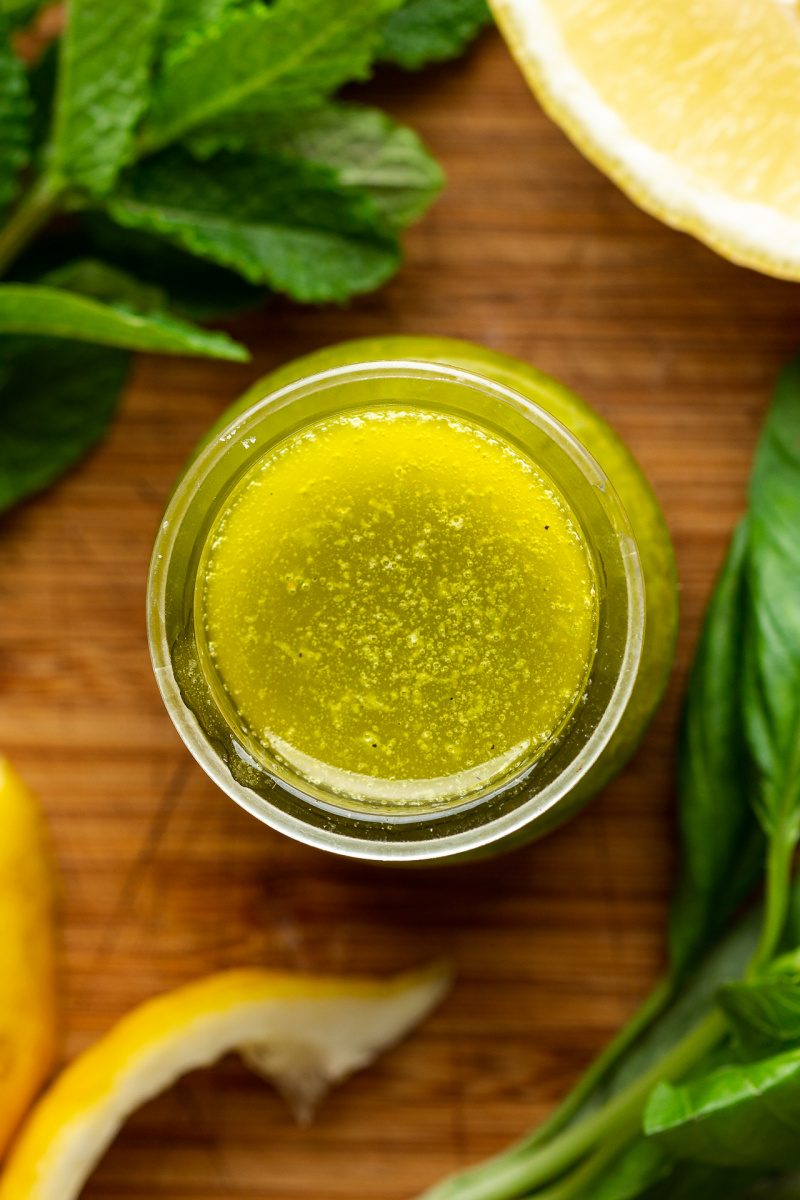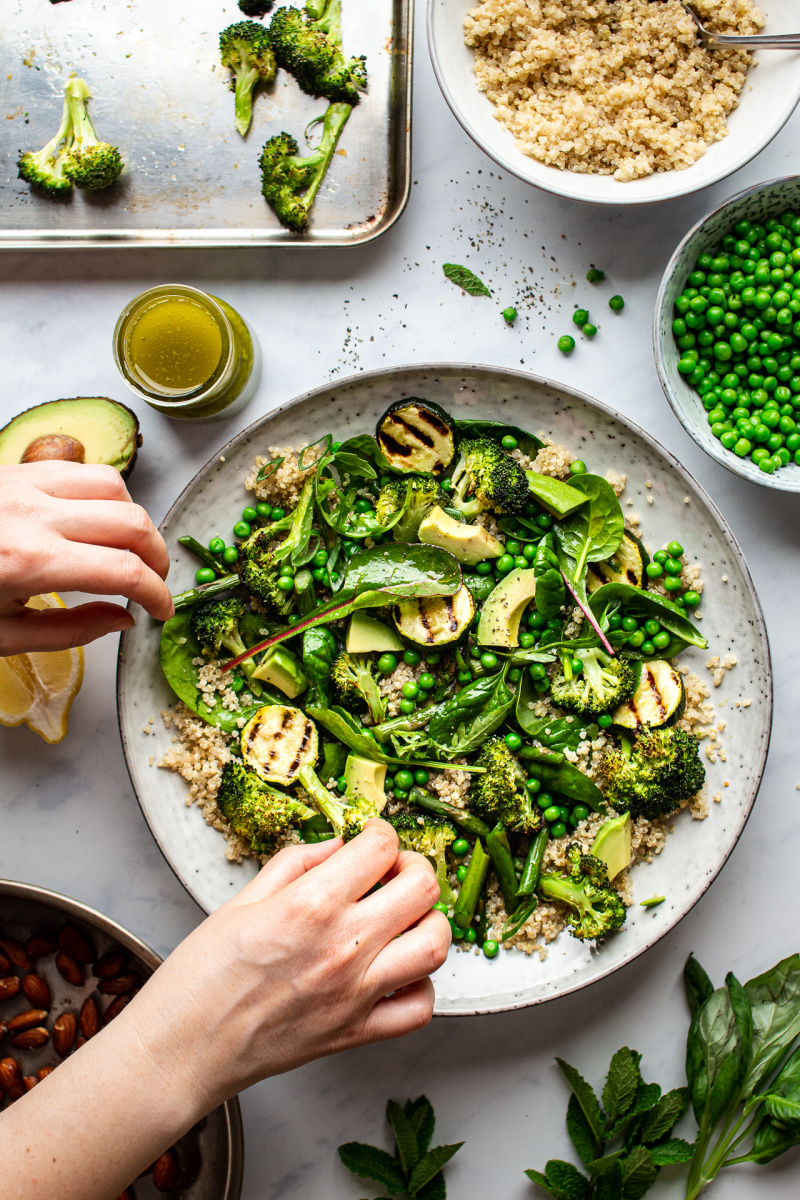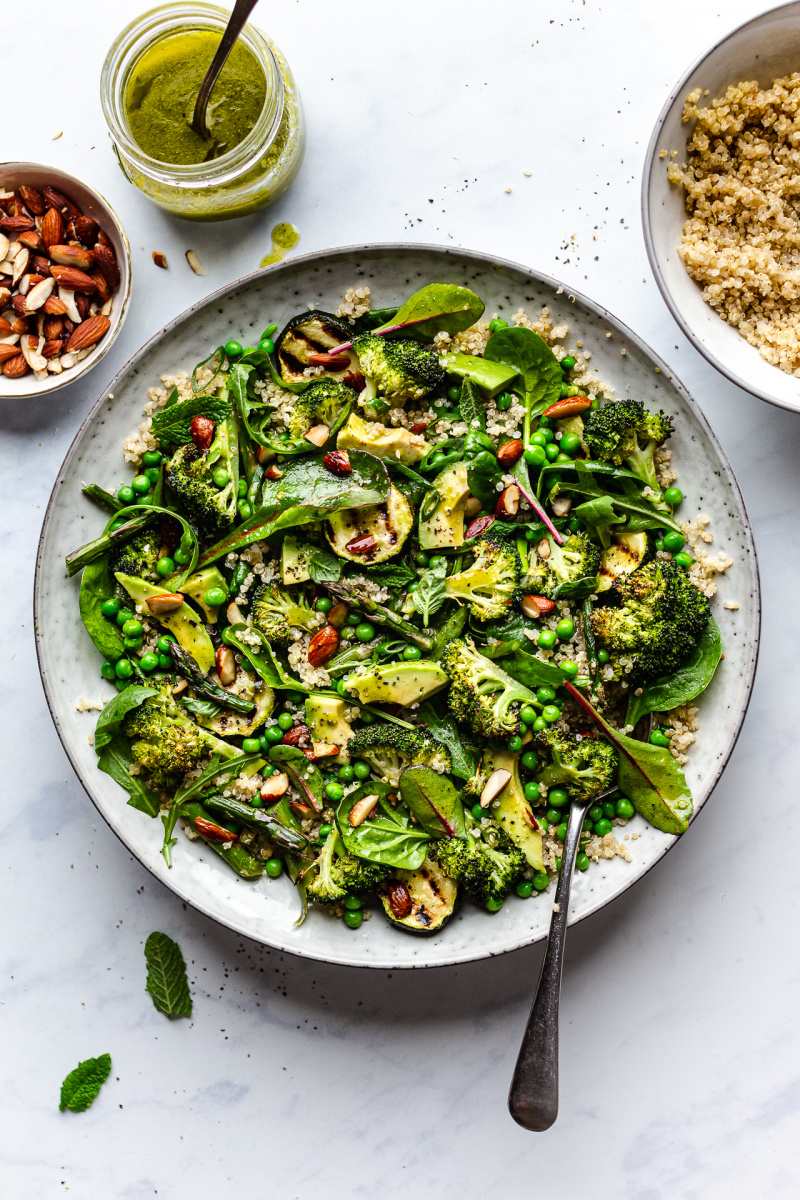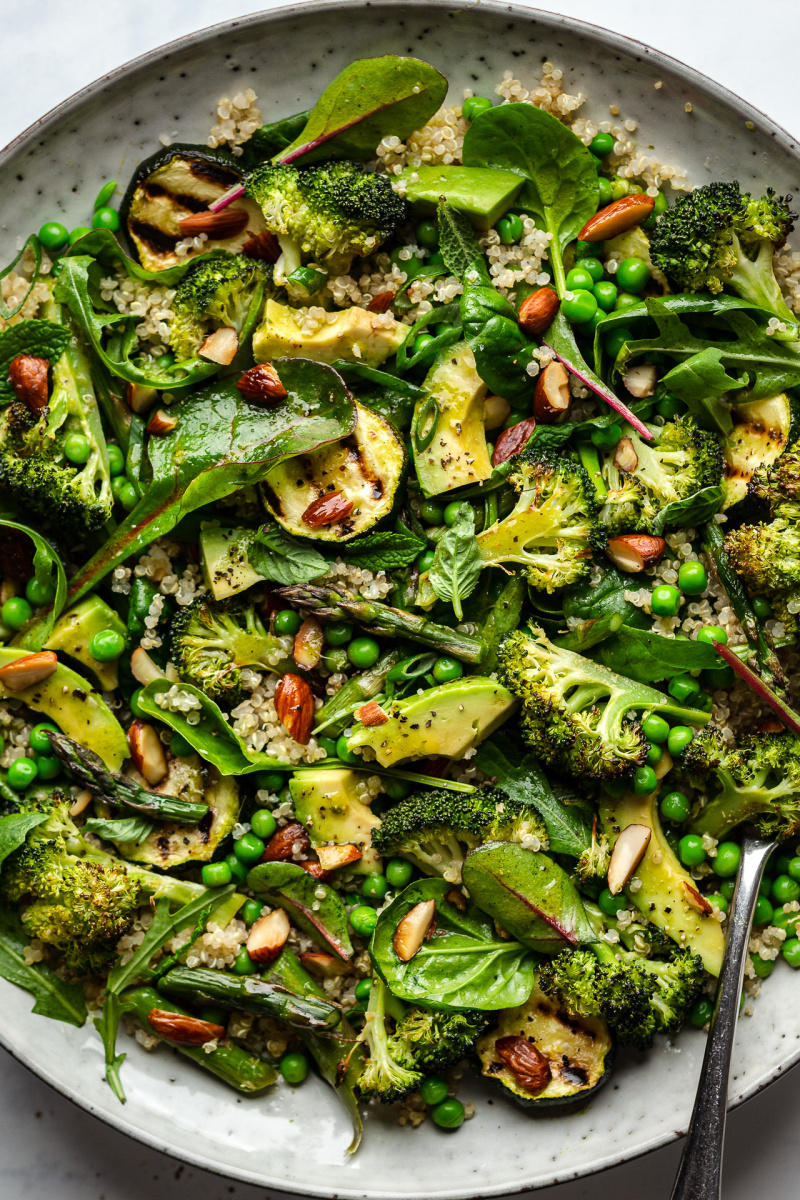 100 g / ½ cup quinoa*
250 g / 8¾ oz broccoli (½ medium)
100 g / 3½ oz asparagus
1 medium courgette / zucchini
65 g / ½ cup frozen peas or petit pois
100 g / 3½ oz mixed salad leaves
75 g / ½ cup almonds
1 small avocado, sliced
green part of 2 spring onions / scallions, sliced thinly
DRESSING (makes double)
80 ml / 1/3 cup olive oil
flesh and zest half a lemon
15 g / ½ oz basil, mint or both
1 garlic clove
salt and pepper, to taste
METHOD
Rinse quinoa well and place it in a small pot that you have a glass lid for. Add a few pinches of salt and 180 ml / ¾ cup of water, cover with a lid and bring to the boil. Once the water boils, decrease the heat to low-medium and let the quinoa simmer until all the water has been absorbed. To check, tilt the pot slightly, keeping the lid firmly on. If you see no water seeping out from under the grain, switch off the heat and let the quinoa sit (with the lid firmly on) for another 5-10 min to finish off cooking in its own steam. Cool it down completely.
Divide broccoli into small florets, snap wooden ends off the asparagus and cut zucchini into 0.5 cm / ¼" slices.
ROAST: Preheat the oven to 220° C / 428° F. Coat broccoli florets in 2 tsp of olive oil and season. Arrange on a large baking tray. Brush zucchini slices with olive oil on both sides, season and arrange on the same tray. Coat asparagus spears in 1 tsp of oil, season and place on the baking tray. Roast for about 8 minutes, take the asparagus off the tray if ready, carry on roasting broccoli and zucchini for another 5-7 minutes, until cooked through. Alternatively, you could use a griddle pan if you prefer.
STEAM: Bring a large pot of water to the boil and grab a steaming basket. Once the water comes to the boil, steam broccoli for about 5-6 minutes, zucchini slices for about 3 minutes, asparagus for about 3-5 minutes and peas for about 3 minutes. You will need to do the steaming in batches.
If you roasted your vegetables, bring a small pot of water to the boil, cook frozen petit pois or peas for about 3 minutes, drain and immediately refresh it under a cold tap to preserve the colour.
Heat up 1 tsp of oil in a small frying pan, once warm add almonds. Toast them for a few minutes until golden and slightly plump, moving them around the pan frequently. Sprinkle with flaky salt before removing from the pan. Allow to cool down and chop roughly.
Put all the dressing ingredients in a small blender (I used Ninja blender for this). Make sure the lemon flesh does not include the bitter pith. Blend until smooth, adjust seasoning to taste.
Arrange all of the salad elements on a large platter, dress with approximately half of the dressing (keep the rest in the fridge, use up in the next few days) and sprinkle with toasted almonds at the end. Pieces of soft vegan cheese, like this almond feta, scattered on top are also a nice addition.
NOTES
*small pasta, like orzo, or chewy grain would work well too.