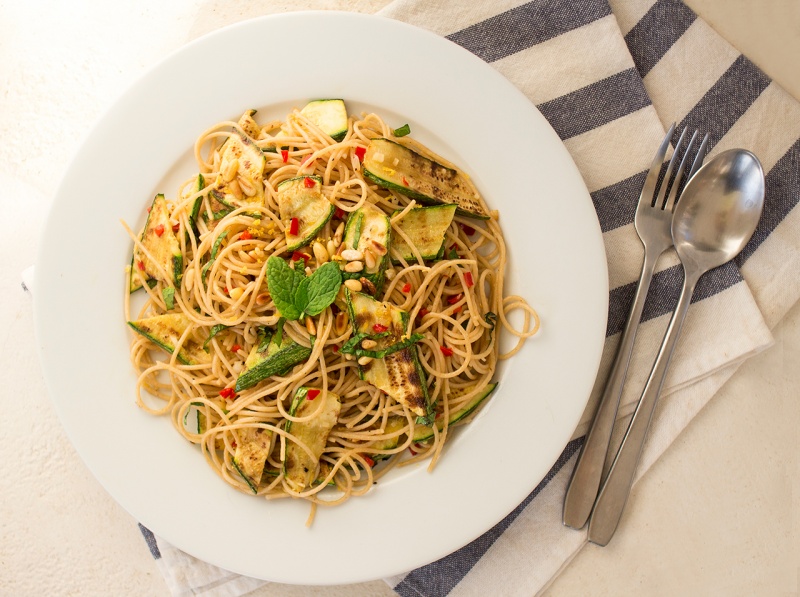 This light pasta dish has been inspired by Greek generosity and my budding plant growing potential. Allow me to explain. Whenever we go shopping for vegetables here, we always end up with more than we were planning to buy. I admit, I'm partly to blame because a well-stocked greengrocers is to me what a candy shop is to a kid. I go crazy ignoring Duncan's persistent eye rolling and sighing. Lately, I got into the habit of making a vegetable and fruit juice for us in the morning to have with our breakfast. Because of this we now buy so many carrots, beetroots, apples etc.  that Duncan feels compelled to explain to the lady who runs the shop that we do not, in fact, own a horse (I wish we did! – Duncan). Given that we only speak very, very basic Greek, Duncan suddenly turning up and saying to her in perfect Greek: "We don't have a horse", and then nothing else, was more than a little confusing. But I'm pretty sure she has already guessed that we are not normal…
Anyway, so apart from me being addicted to veg, we also usually get given free vegetables too. They usually give them to you at the end of your shopping so sometimes I end up buying something only to be given the very same vegetable for free at the end. It's such a lovely gesture though. Even though the crisis has been tough for this country, Greeks remain as generous as we remember them from our holidays before we moved here. During our recent shopping trip, I got given a few baby courgettes and I already had loads at home so I ended up with lots of courgettes to use up. In this dish, courgettes get a helping hand from lemon, chilli and my very own home-grown mint (photo below). It may sound stupid to most of you capable gardeners out there, but I'm insanely proud of the fact that for the first time ever I've actually managed to grow something. It did not, like it predecessors, die of unexplained causes within a week of me looking after it. So that's really how the dish came about: an abundance of courgettes and an excuse to use my mint. It's light and fresh, perfect for this time of the year and comes together really quite quickly.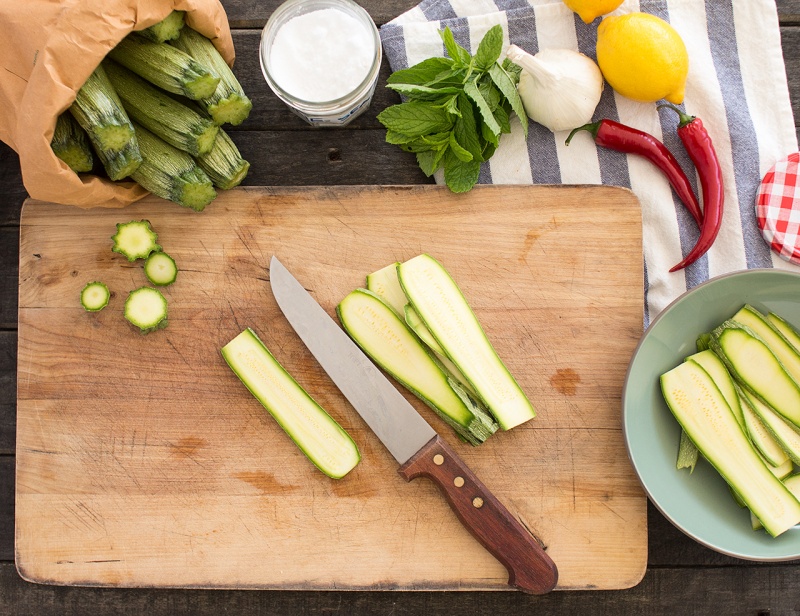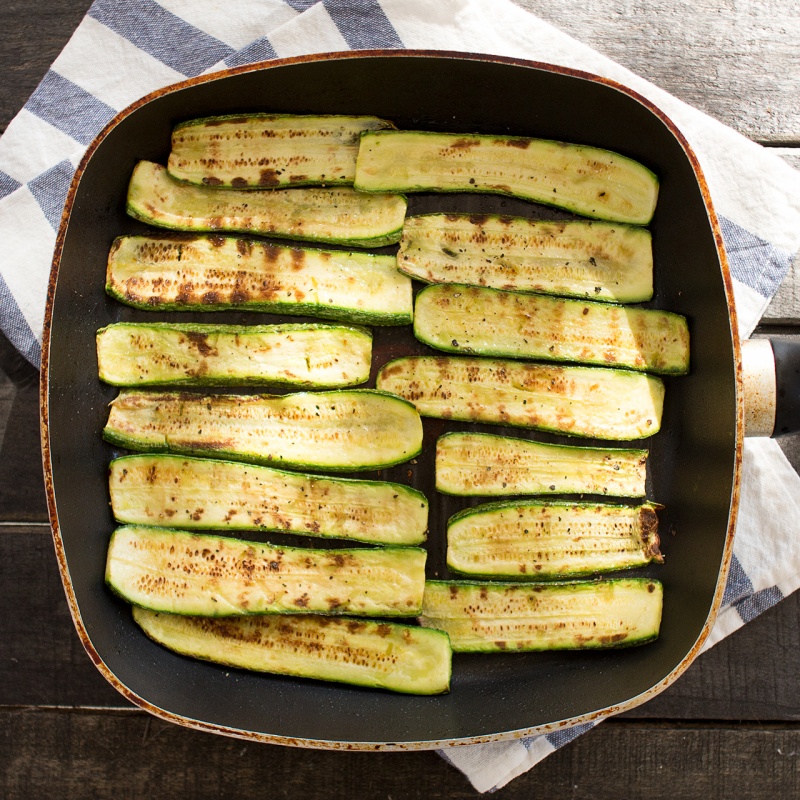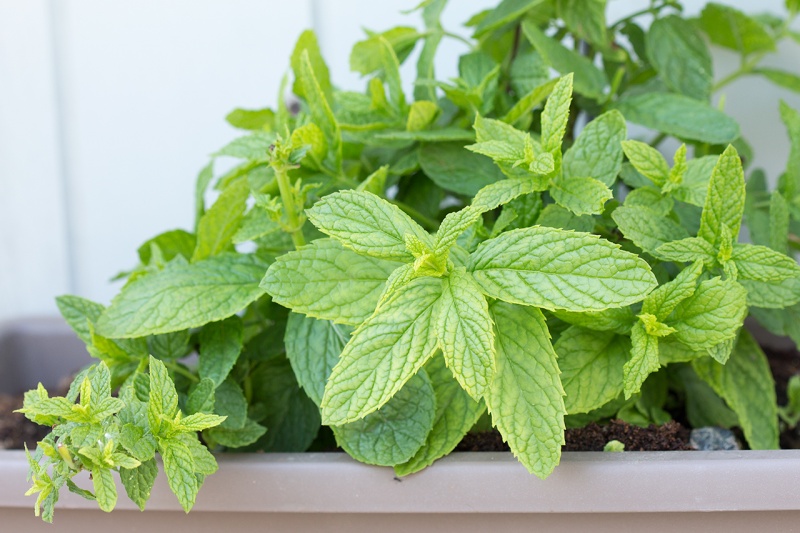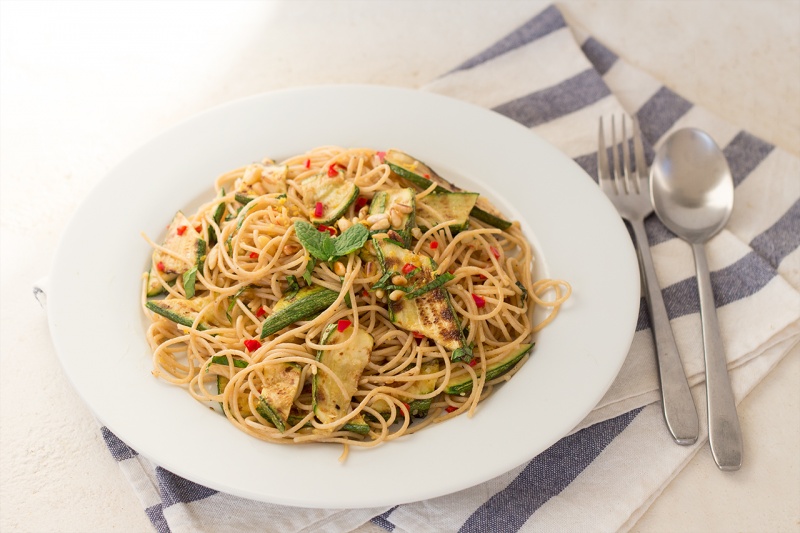 200 g spaghetti (I used wholemeal)
5 baby courgettes
2 garlic cloves, finely chopped
½ hot chilli, finely chopped
zest and juice from 1 small lemon
handful of mint, chopped
3 tbsp olive oil
2 tbsp pine nuts
salt, to taste
pepper
METHOD
Heat up a dry griddle pan. Slice courgettes lengthwise into ½ cm strips. You can brush courgette slices with a bit of olive oil if you like, but I find that it isn't necessary. Put courgette slices onto the hot griddle pan and fry until lightly charred on both sides. Season, chop into smaller pieces and set aside.
Heat up a large pan to roast pine nuts. Once the pan is hot, add your pine nuts and roast them gently (stirring or tossing them frequently) until they have a nice brown colour and release a beautiful aroma. Set aside. Don't put the pan in the sink as you'll need it in step 4.
Cook your pasta al dente.
While pasta is cooking, heat up 3 tbsp of olive oil in the pan you used for roasting your pine nuts. Add in garlic and chilli and fry gently on a medium heat, stirring frequently so that they don't burn.
Add drained pasta into the garlic and chilli-infused olive oil. Add lemon juice and zest. Mix it around. Add charred courgette pieces just to warm them up. Season well. Serve sprinkled with golden pine nuts and fresh mint.