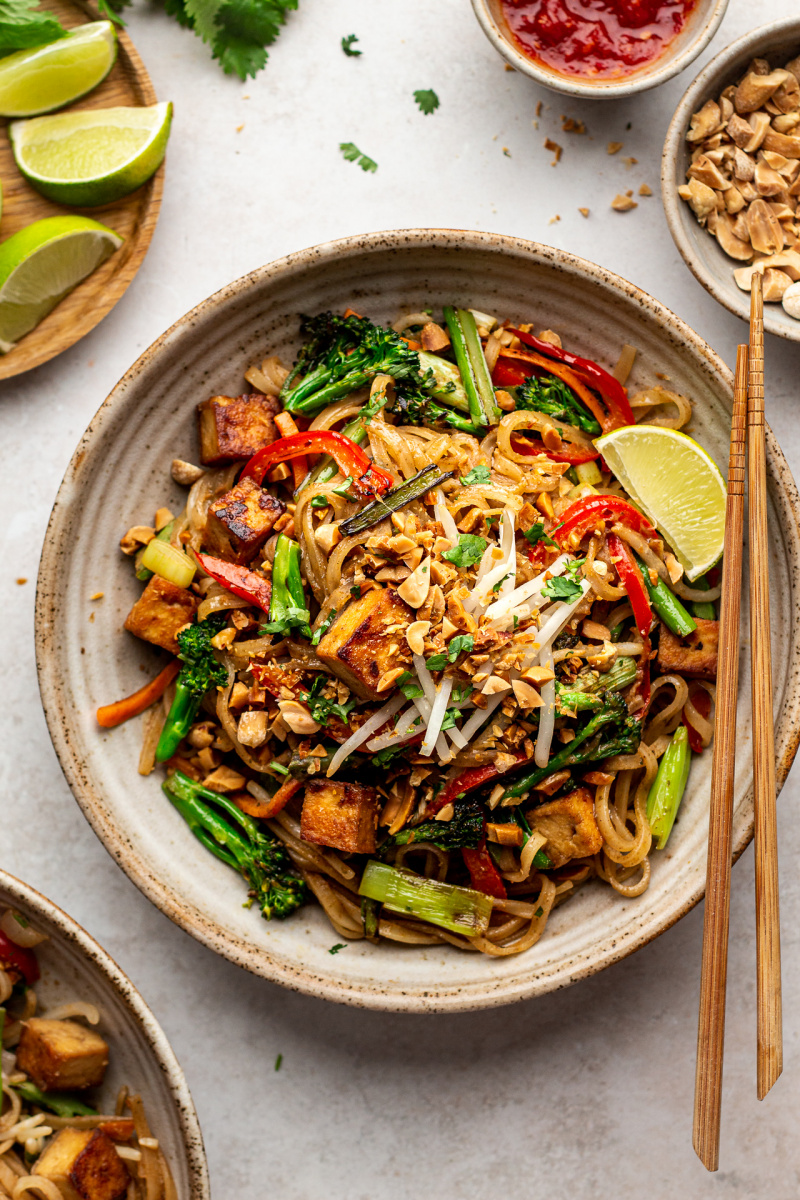 Pad thai, who hasn't yet fallen head over heels for this addictive concoction of flavours that triggers all the pleasure centres in the brain? I am a huge fan of this dish and have already attempted a vegan version years ago, but I realised that the reason I don't make it often is because the sauce tends to include more sugar than my occasional morning stack of pancakes and while I love sugar, it somehow felt too indulgent for a regular midweek meal.
Since that realisation, I have been experimenting with replacing the sugar a traditional pad thai calls for with dates (and yes, I know they still contain sugar but it's arguably better for you as it comes packaged up in an actual fruit, as nature intended it). If you are someone who won't even have dates, then while I secretly admire your resolve, I'm sorry to say that there is no pad thai for you as pad thai rests on a beautiful interplay of sweet, sour and salty, which cannot be achieved if any of these three basic flavour components are missing.
My initial attempts at a date sweetened pad thai sauce were a bit underwhelming texturewise, until I decided to add a healthy dollop of peanut butter. Although it is by no means a traditional ingredient, it improves the texture of the sauce hugely and does not detract from the dish's signature flavours, especially that pad thai is served with lashings of roasted peanuts anyway.
I further tried to add a bit more umami to this sauce, which is typically derived from fish sauce, so I've incorporated some aromatics, a touch of spice, a bit of mushroom powder (which is essentially dry shitake mushrooms ground up in my coffee grinder and sifted) and a bit of toasted seaweed (nori) for fishiness, but it's okay if you don't have any of these ingredients or are not a fan.
Other than the sauce, pad thai is essentially a stir-fry. It's a little component heavy so if you want to reduce your workload, make a big batch of the sauce in advance, portion it and freeze it for future use, use your favourite shop-bought tofu that has already been marinated and whack it in the oven instead of faffing over the skillet or simply increase the amount of veggies instead. We really enjoyed this dish and I hope you will too.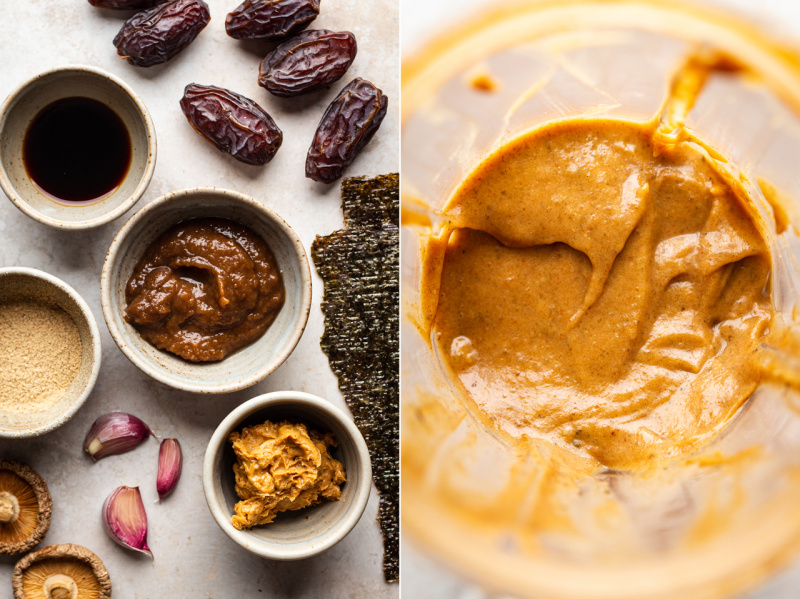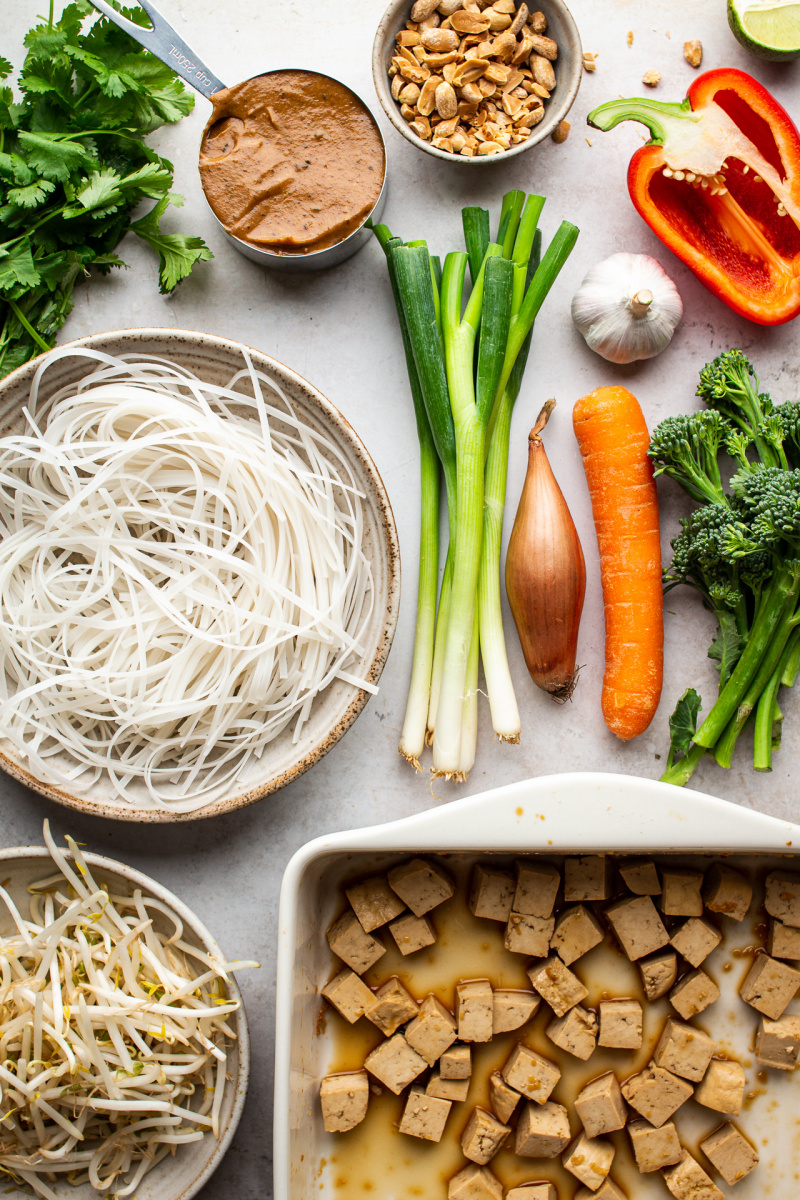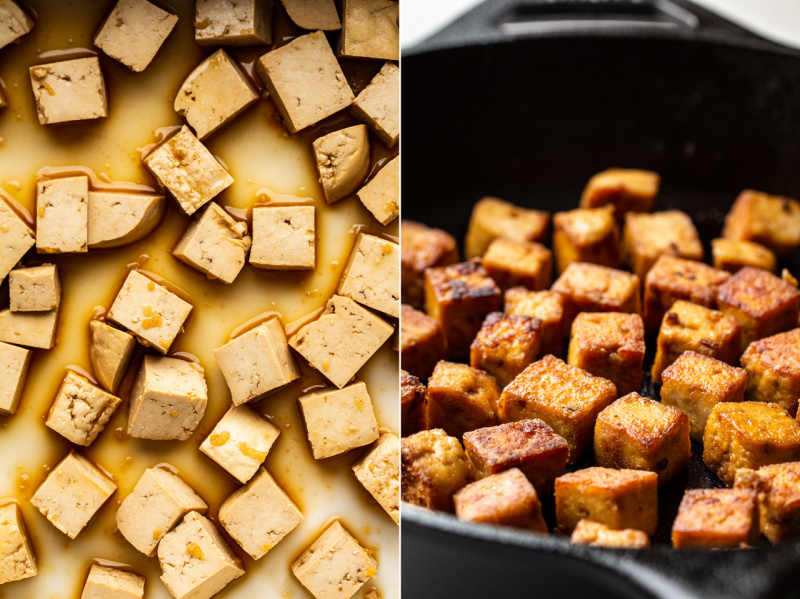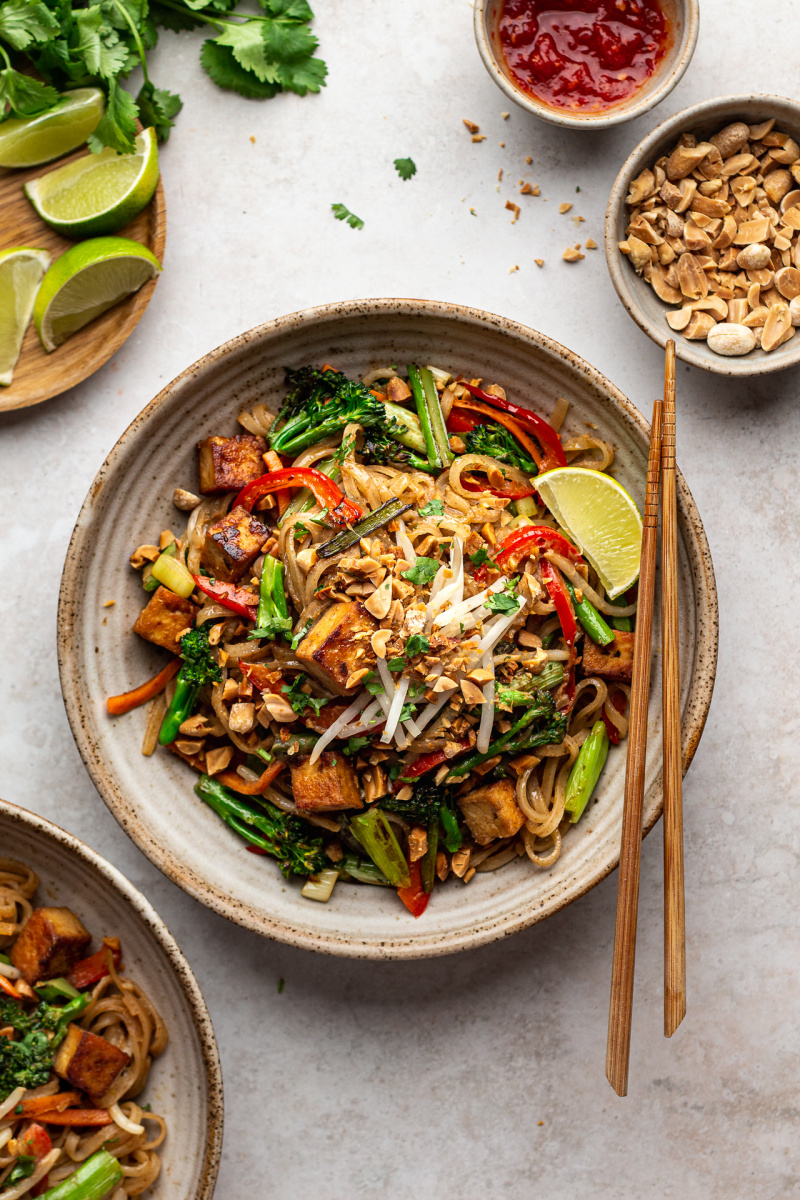 PAD THAI SAUCE (makes 1 cup / 240 ml)
115 g / 4 oz (7-8) Medjool dates OR maple syrup / sugar (SEE NOTES)
25 g / 2 tbsp peanut butter*
45 ml / 3 tbsp soy sauce or tamari
3 tbsp tamarind concentrate**
½ garlic clove
1 cm / 0.4″ fresh ginger (optional)
1 tsp Sriracha (optional)
1 tsp mushroom powder (optional)
½-1 nori sheet (optional)
STIR-FRY
200 g / 7 oz 3 mm flat rice noodles (medium size)
2 tbsp / 30 ml stir-frying oil (I use rice bran)
100 g / 3½ oz tenderstem or regular broccoli, cut small
1 carrot, cut into matchsticks or sliced
½ red pepper, sliced thinly
1 shallot, diced finely
3 spring onions, white part sliced thinly and green part sliced into 2.5 cm / 1″ segments
3 garlic cloves, diced finely
100 g / 1 cup bean sprouts, cleaned
200 g / 7 oz fried / baked tofu, shop-bought or see below
2 tbsp crushed roasted peanuts
fresh lime, to serve
fresh coriander, to serve
TOFU (or use more veggies)
METHOD
PAD THAI SAUCE
Soak pitted dates in boiling water for 15-30 minutes to soften. If using sugar or maple syrup, see the recipe NOTES.
Put softened dates, peanut butter, soy sauce / tamari, half of the tamarind concentrate and 90 ml / 6 tbsp of water in a blender. Blend until smooth. Taste and
add more tamarind according to your taste and the strength of your tamarind. You want a good balance of sweet, salty and sour. The sauce is meant to be intense at this point as it will flavour the rest of the dish.
Optionally, give the sauce more umami by blending in some garlic, ginger, Sriracha, mushroom powder and nori if you have them. Make sure the sauce is silky smooth – add another tablespoon of water if needed. This sauce can be made a few days in advance and refrigerated.
STIR-FRY
Precook the noodles according to the instructions on the packet (mine needed simmering for 5 minutes), refresh under a cold tap and set aside.
Heat up a wok until smoking lightly, add approx. 10 ml / 2 tsp of oil. Once hot, add broccoli, stir-fry for 1 minute, followed by carrot and red pepper, stir-fry for 1 minute.
Remove vegetables from the wok, heat up a bit more oil and fry shallot, spring onions until lightly charred, add garlic and bean sprouts for the last 60 seconds. Remove from the wok.
Now add in pad thai sauce, followed by the pre-cooked noodles. If you prepared your noodles by soaking them in water for 1 hr instead of simmering, you will certainly need to add more water (about ¼-½ cup) to the wok as your noodles still need to rehydrate a lot before they soften.
Stir-fry the noodles in the sauce until fully softened (try one to make sure), add fried tofu and all of the veggies back into the wok, stir-fry for another 30 seconds to heat up.
Divide between plates, serve with crushed peanuts, fresh lime and a smattering of coriander if liked.
TOFU
Mix all of the marinade ingredients in a shallow baking dish.
Cut pressed tofu into same size cubes – I went for 1 cm / 0.4″ cubes and sit them in the marinade for as long as you can (minimum 1 hr), flipping them to the other side now and again .
Take out of the marinade, dust with cornflour or place in a zip lock bag with cornflour and shake to coat.
Fry in a pre-heated skillet (or wok), in about 15 ml / 1 tbsp (15 ml of oil), flipping the pieces regularly to make sure they brown evenly. You can also bake it in a 180° C / 355° F oven for about 20-25 minutes, turning the pieces over once halfway through the baking time.
NOTES
*Although peanut butter isn't traditionally used in pad thai, I found that peanut butter improves the texture of the sauce made with dates by adding a bit of fat, so please do not skip if making the date version, although you can of course sub with almond or cashew butter.
**Tamarind products (which come labelled as tamarind concentrate, paste, water) vary in strength and at their highest concentrations they can be very sour so please tread carefully and start off with half the amount and add more if desired. The flavour you want is a good balance of sweet, sour and salty.
TRADITIONALLY palm sugar is used to sweeten pad thai. If using any sugar or maple syrup, feel free to skip the peanut butter and water to keep things more authentic but that means you'll need to increase the amount of ingredients to create enough sauce for 200 g / 7 oz of noodles. My suggestion is ¼ cup / 4 tbsp sugar (needs to be melted into the other two ingredients), 5-6 tbsp tamarind concentrate and ¼ cup / 4 tbsp soy sauce.