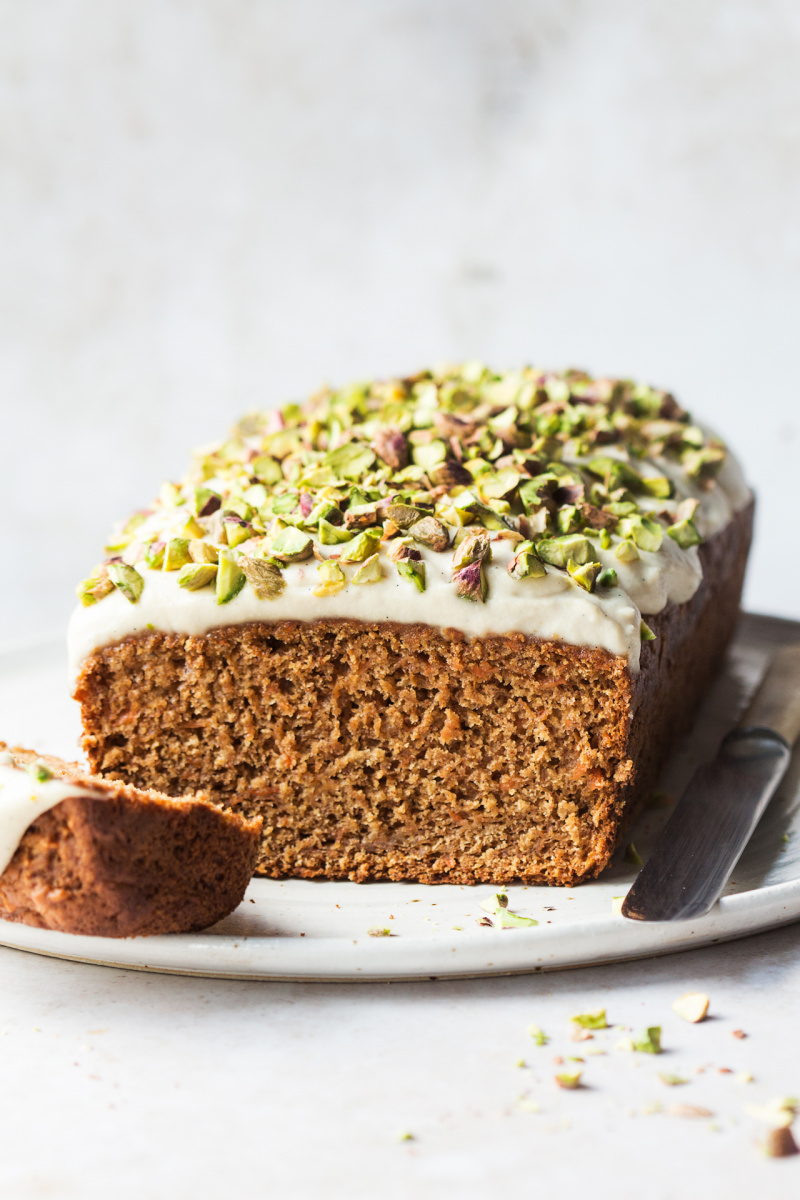 Happy weekend, guys! Hope you have some good things planned? We are having our guest bedroom floor sanded on Saturday, whoop whoop. From 8 am in the morning though so that's less cool, but we are very excited as it means that we will soon have at least one room that's completely renovated and we will be able to assemble our bed and no longer have to sleep on the floor. Exciting! We will move into the guest bedroom for the time being until we have the energy and money (let's be real) to renovate the main bedroom.
At the beginning of a new project, I tend to get really enthusiastic and 'burn bright', as Duncan lovingly puts it (what he really means is that I am being annoying 😛 ) and this house malarkey was no different. I definitely had an unrealistic expectation as to how quickly we will be able to put our own stamp on this place. In practice, everything is taking ages and with the roof needing an essential and expensive (I'm still mourning this) repair, I am learning to appreciate what every long-time house owner has said to me over the years – taking care of a house is a lifelong project.
So there won't be new kitchen (or the kitchen extension that I was dreaming of) happening any time soon and I am okay with that. In fact, I am exploring how to turn the existing kitchen (which is perfectly functional) into something I actually like and I have lots of ideas already. It will certainly be more cost-effective, satisfying and environmentally friendly so I am down with all of that.
Although our weekend looks to be fairly uneventful, I've baked a cake to celebrate two days off work. Duncan has been working really hard lately so we will probably just sleep in, chill, assemble a bed and go for a run. This is a carrot cake, but with a difference. It's a deliciously moist and fragrant with spices carrot cake, yet it is oil-free and contains no refined sugar either, which I know that some of you will appreciate. I tested it last weekend on our friends, Melanie and Josh, and while it was a touch dry then (the temperature indicators on my oven have worn out) and the coconut frosting I attempted was not as smooth and creamy as I was hoping – they put brave faces on and hoovered it up.
Now that I finally bit the bullet and put new temperature stickers on my oven (Melanie empowered me with a great tip to wet the surface before applying the sticker so that you can re-position it easily), I did another test and this time the cake was a success – moist, with a good crumb, fragrant with cinnamon and cardamon and topped with a thick and creamy cashew frosting. It's easy to make and a crowd pleaser so I do hope you'll make and enjoy it too! x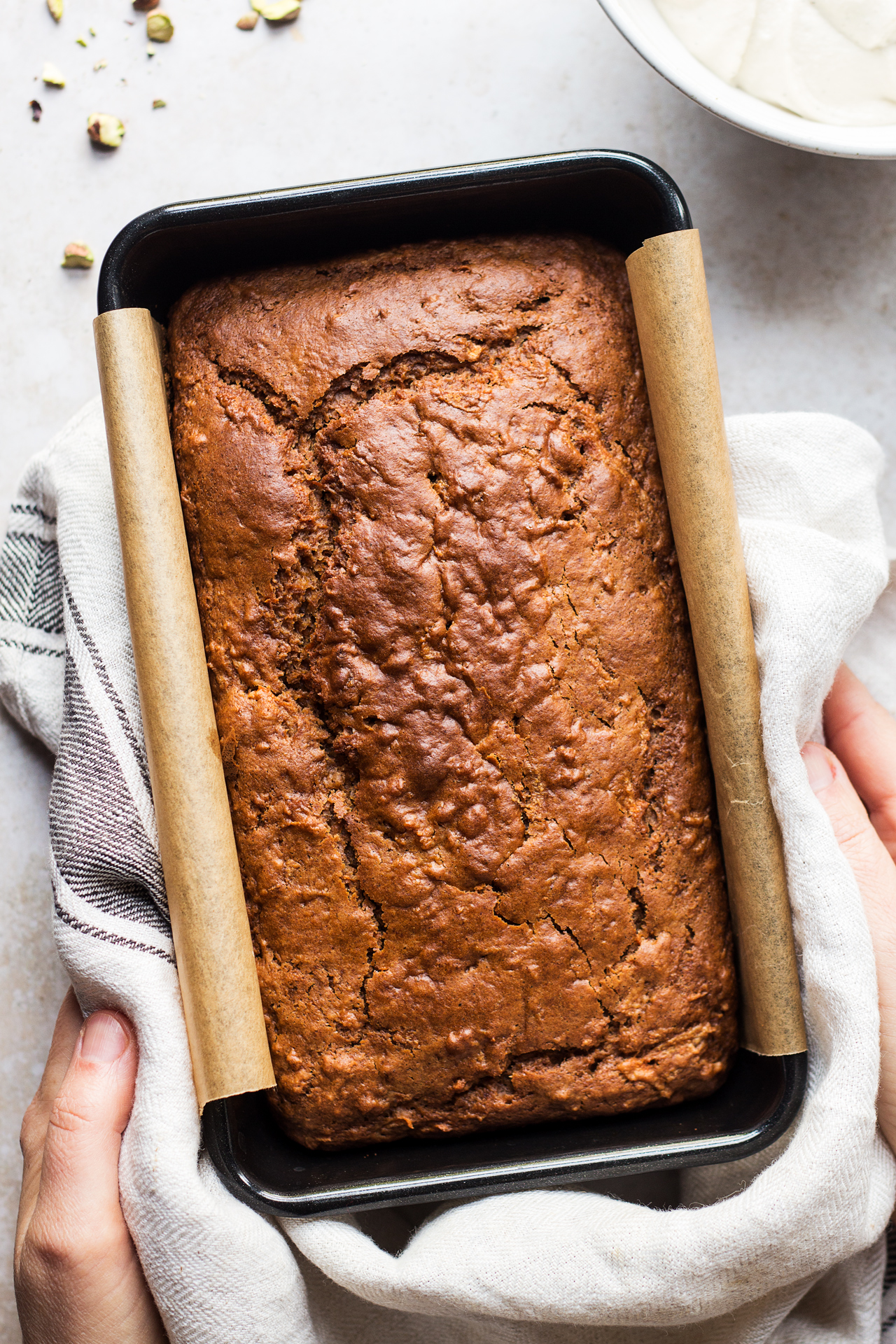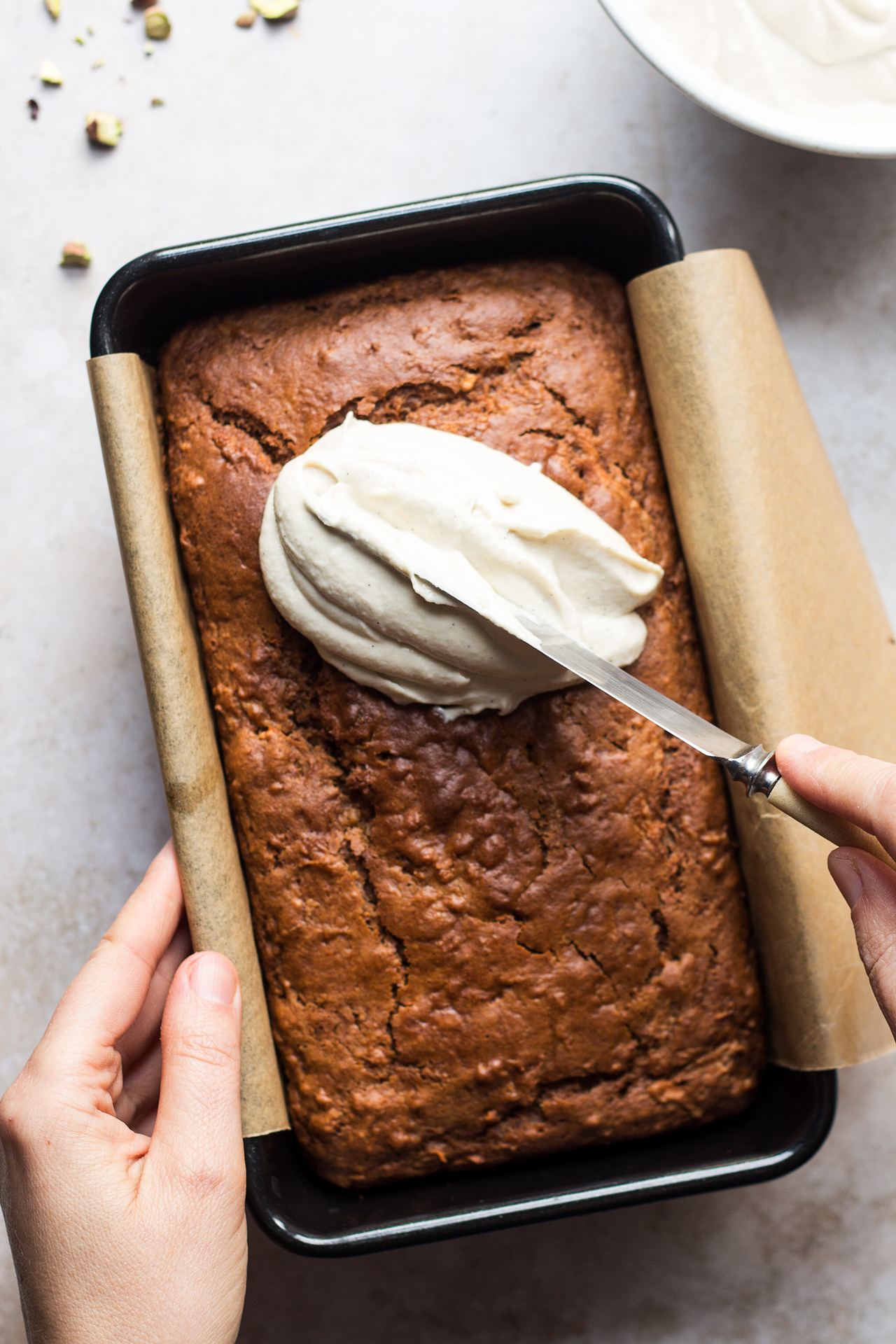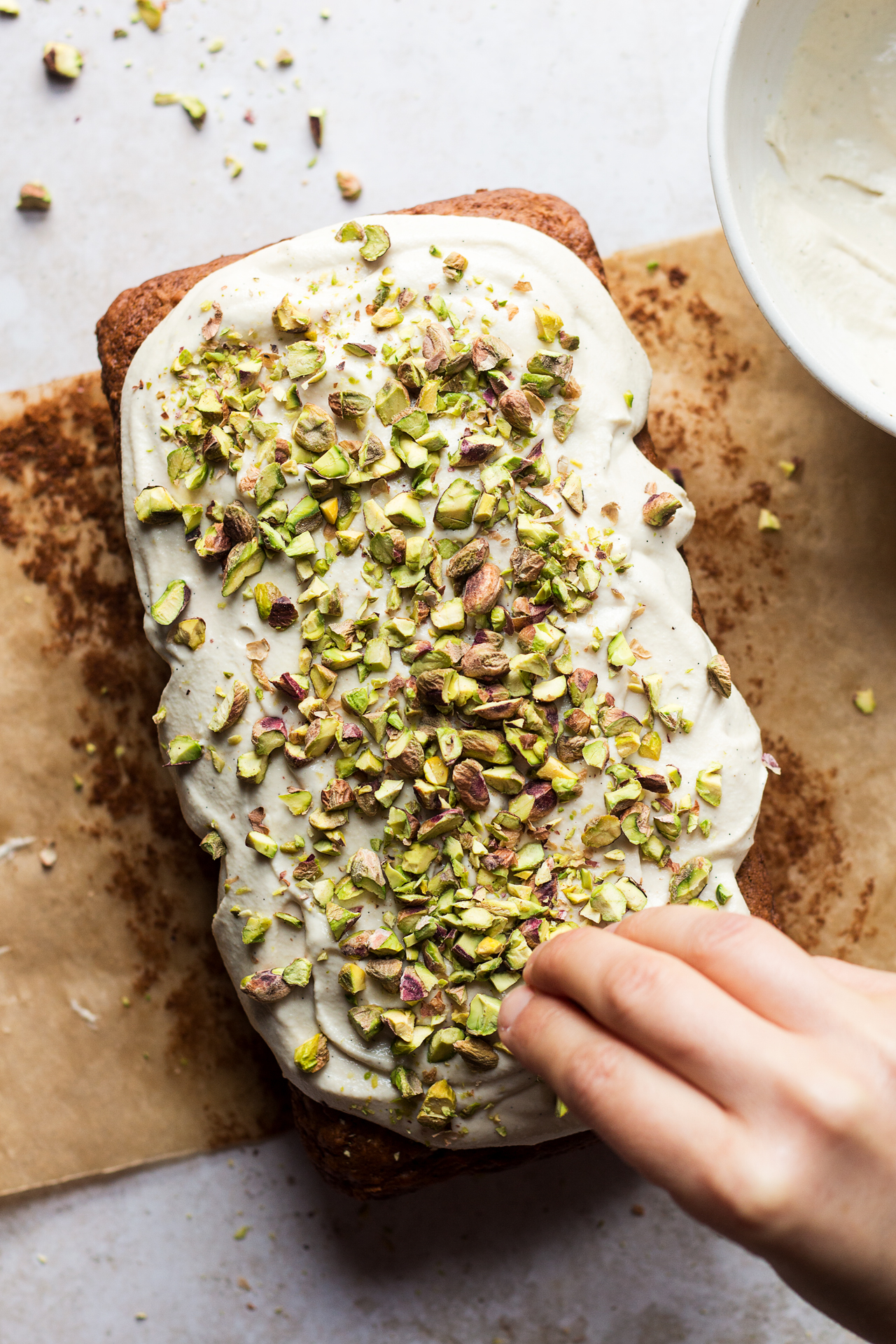 CARROT CAKE
WET INGREDIENTS
DRY INGREDIENTS
210 g / 1¾ cup all purpose flour or GF all purpose flour mix (I use this one)
¾ tsp baking soda
1¼ tsp baking powder
1½ tsp cinnamon + 1/3 tsp cardamom (5 pods) OR 2 tsp cinnamon
pinch of salt
CASHEW FROSTING (makes 1½ cups)
30-45 ml / 2-3 tbsp coconut milk (I use this brand) or thin plant milk
4 tbsp maple syrup, adjust to taste
3 tbsp lemon juice
1 tsp vanilla extract
195 g / 1½ cups raw cashews, soaked in boiling water for 20 minutes
chopped nuts, for decoration
METHOD
CAKE
Set the oven to 180° C / 355° F. Grease a 1kg / 2lb cake tin with a bit of oil or line it with a piece of baking paper.
In a large bowl mix together maple syrup and almond butter until smooth. Mix in apple sauce (if using chunky, shop-bought apple sauce, I recommend blending it smooth first).
Next, mix in grated carrots.
Place a sieve over the bowl with wet ingredients and sift all dry ingredients through it. Fold the dry ingredients into the wet ones using a spatula and a gentle clockwise folding motion until no flour pockets remain. If you use wheat flour, be careful not to over mix.
Transfer the batter into the baking tin. Bake for 45 mins (depending on your oven). It's done when a toothpick comes out fairly clean. Let it cool down completely before removing from the tin and icing.
Once cool, remove from the tin and decorate with chilled frosting and chopped nuts.
CASHEW FROSTING (I recommend making the day ahead!)
Place all the liquids at the bottom of your blender. Start off with 2 tbsp of plant milk, add the 3rd one later (if needed).
Add about half of the drained and rinsed cashews. Blend until smooth, adding more cashews as the mixture gets thicker and thicker.
At some point, the mixture will become very thick and heavy and your blender may struggle to turn. To remedy this, start making circles on the surface of your mixture (in the direction of the turning blades) with a spatula to prevent air pockets forming under the mixture's surface. Be careful not to dip the spatula in too deep as you don't want to accidentally touch the turning blades. If you follow the technique I've described above, there is enough moisture in this recipe not to have to use any more liquid, which means you'll end up with a smooth, creamy and thick frosting.
Place the mixture in the refrigerator (or freezer for 30 mins or so if in a rush) for a few hours to firm up.