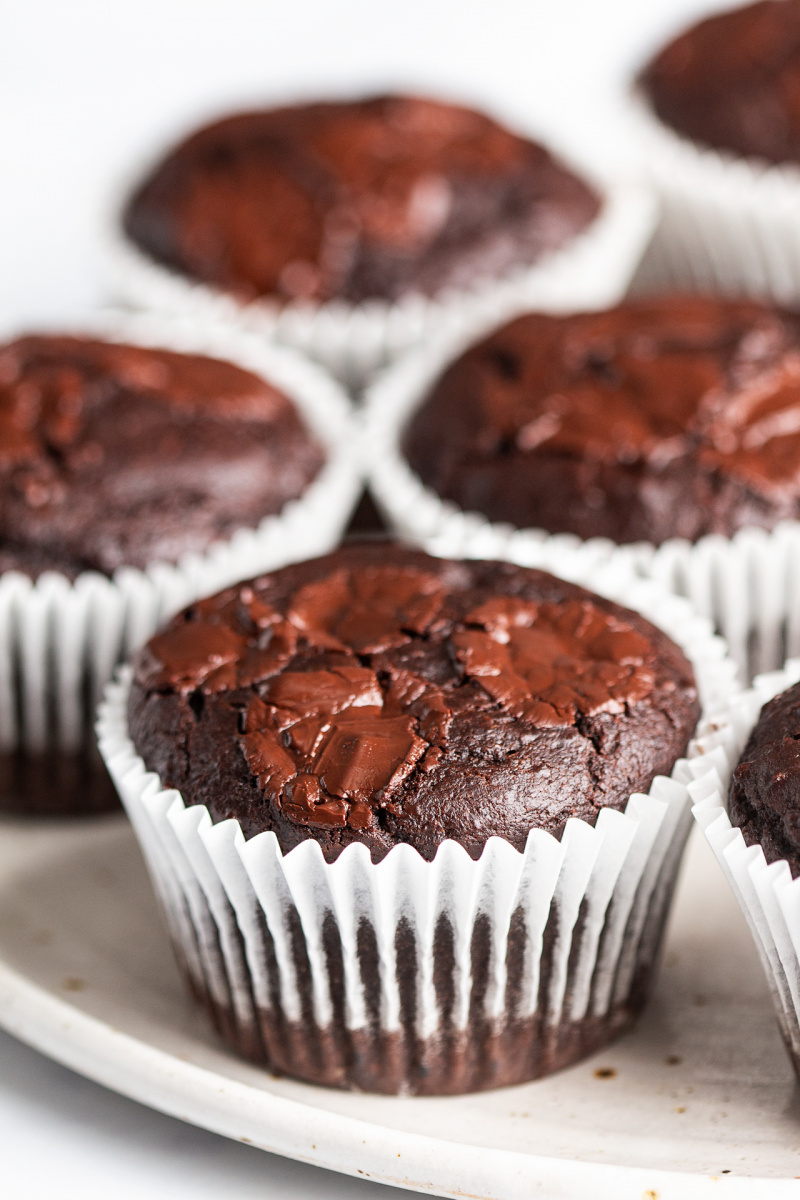 Ever since the lockdown started, I seem to be unable (except for when I was really poorly, in bed) to go a few days without baking something and since I am not able to give any of my baked goods away, my consumption of sweet stuff is really getting out of control… I guess I should not be surprised, I have always been an emotional eater and these are challenging times. I really look forward to feeling well enough to run again to be able to mitigate this not-so-healthy baking obsession, which is showing no signs of waning.
I've been making (or recipe testing as I tend to call it as a justification 😉 ) these healthier muffins almost every day for a week now. They started their lives as banana chocolate muffins, as banana bread fever (this recipe is insanely popular right now as eggs are in short supply apparently) appears to be sweeping through the lockdown nation. But later, as I ran out of bananas, I've morphed them into these sweet potato chocolate muffins and haven't looked back!
I sent Duncan shopping at some point and told him to buy a few sweet potatoes (meaning 2-3) and he took this mission so seriously that he came back with 10, so that's how sweet potato found its way into my new muffins. I actually prefer them to the banana version as they taste purely of chocolate, there is no aftertaste whatsoever. They are really easy to make, intensely chocolatey and studded with delicious chunks of dark chocolate, which you are welcome to skip but I strongly advise against this folly – they make these especially divine. Enjoy, stay well and keep on baking vegan!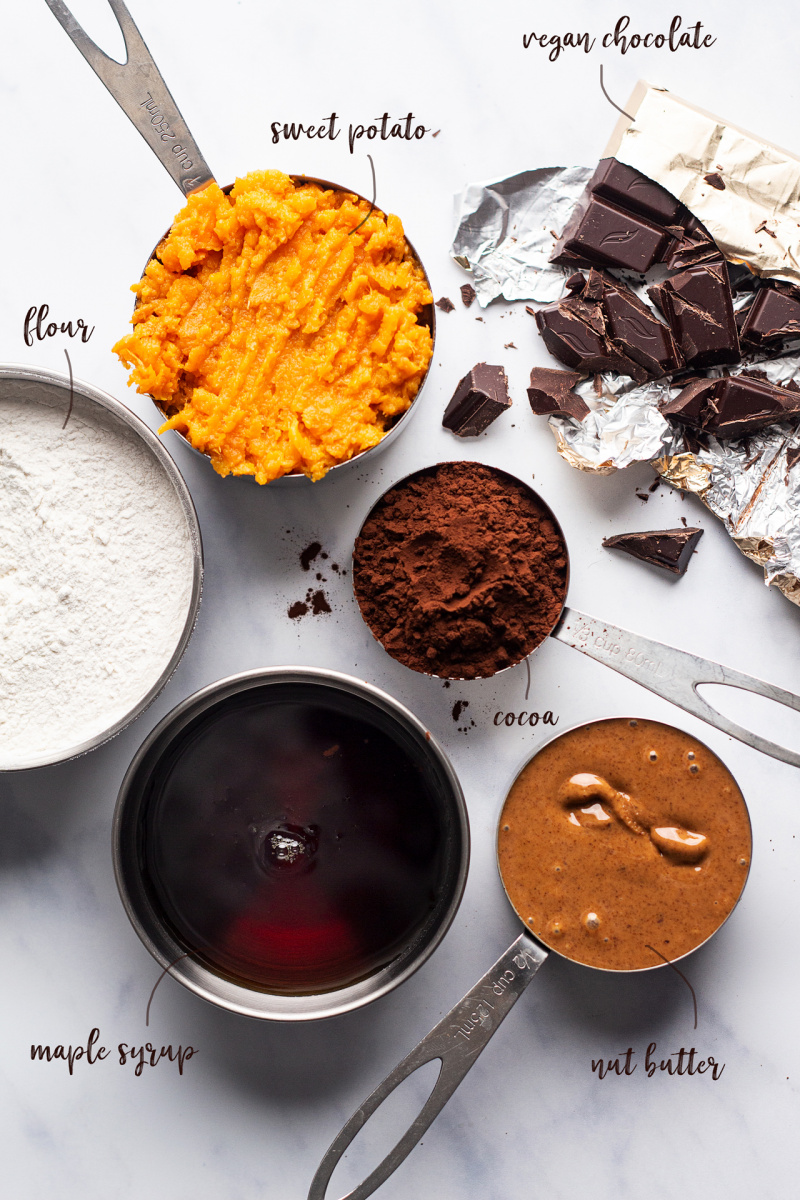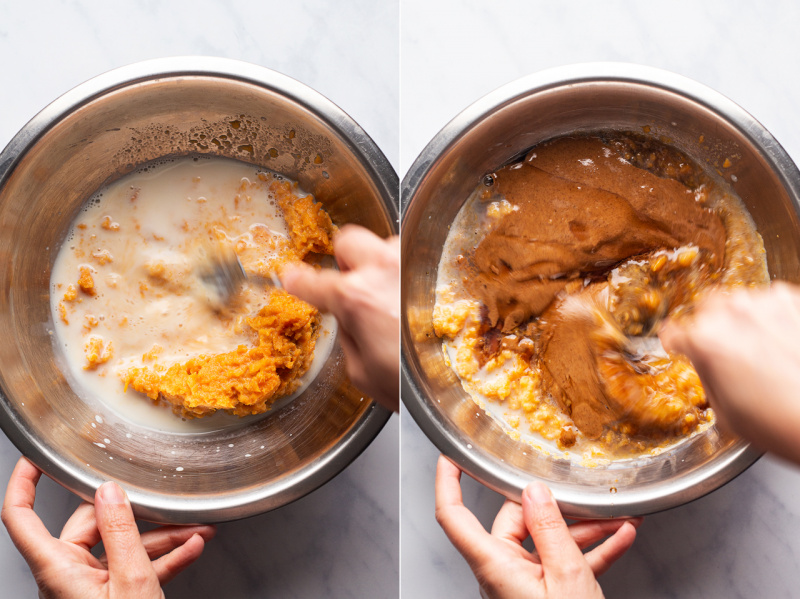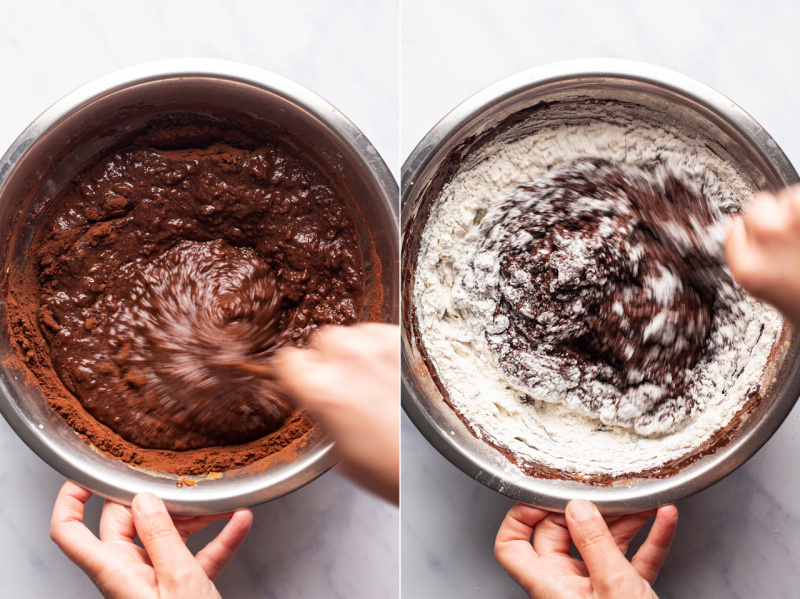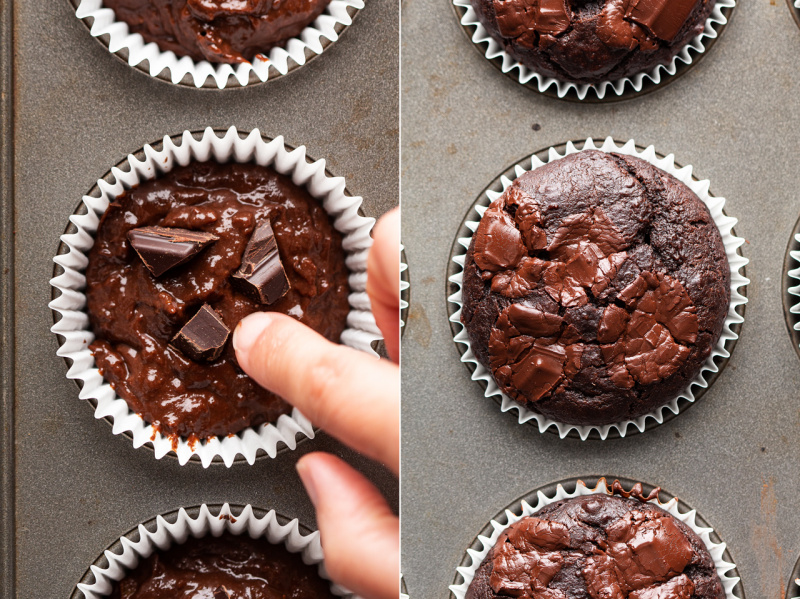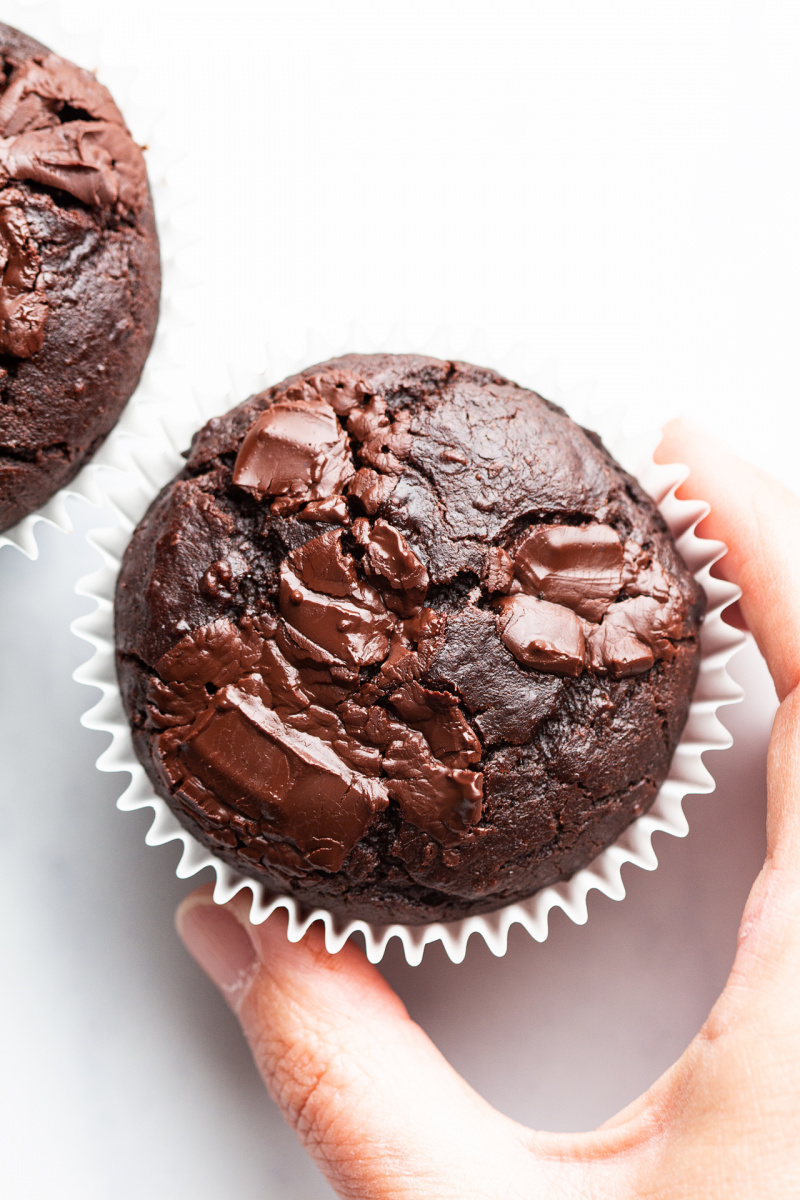 WET INGREDIENTS
225 g / 1 cup mashed baked sweet potato*, cold
150 ml / ½ cup + 2 tbsp any plant milk (if using thick coconut milk, water it down 50%)
120 g / ½ cup smooth hazelnut or almond butter or peanut butter (any natural nut or seed butter works!)
150 ml / ½ cup + 2 tbsp maple syrup
DRY INGREDIENTS
50 g / ½ cup cocoa powder
¼ tsp fine sea salt
1½ tsp baking powder
¾ tsp baking soda
120 g / 1 cup all purpose wheat flour or GF all purpose flour mix (I use this one)
150 g / 5¼ oz chopped vegan chocolate or chocolate chips (optional but recommended!)
METHOD
Warm up the oven to 180° C / 355° F and line a muffin tray with paper liners or grease it well.
You could do this step in a food processor or blender if you wish, but I tend to use a fork myself for a less fussy prep. Combine mashed sweet potato with plant milk by adding the milk gradually and mashing the potato flesh well with a fork. Add nut butter and maple syrup and stir thoroughly to combine.
Next, fold in cocoa powder, salt, baking powder and baking soda.
Finally fold in flour and most of the chopped chocolate or chocolate chips (leave some for decoration). If using wheat flour, be careful not to overmix – fold the flour in gently only until there are no flour pockets left.
Distribute the batter between 12 muffins, decorate with chocolate chunks / chips and bake for 21-22 minutes, or until a toothpick comes out clean. Remove from the oven and allow them to cool down completely before eating.
NOTES
*This recipe requires just over 400 g / 14 oz of raw sweet potato. To bake the potatoes, set the oven to 200° C / 390° F and grab a small baking tray / dish. Pierce the potatoes with a sharp knife or a skewer in several places and place them on the baking tray. Bake for about 40-50 minutes (depending on their size), until the knife slides right in.
If you would like to add a frosting, I recommend this one.
I also tested freezing these and they freeze really well. The texture or flavour isn't affected by freezing and defrosting. I recommend freezing them in an air-tight container though.
This recipe is adapted from two of my earlier recipes, this one and this one.