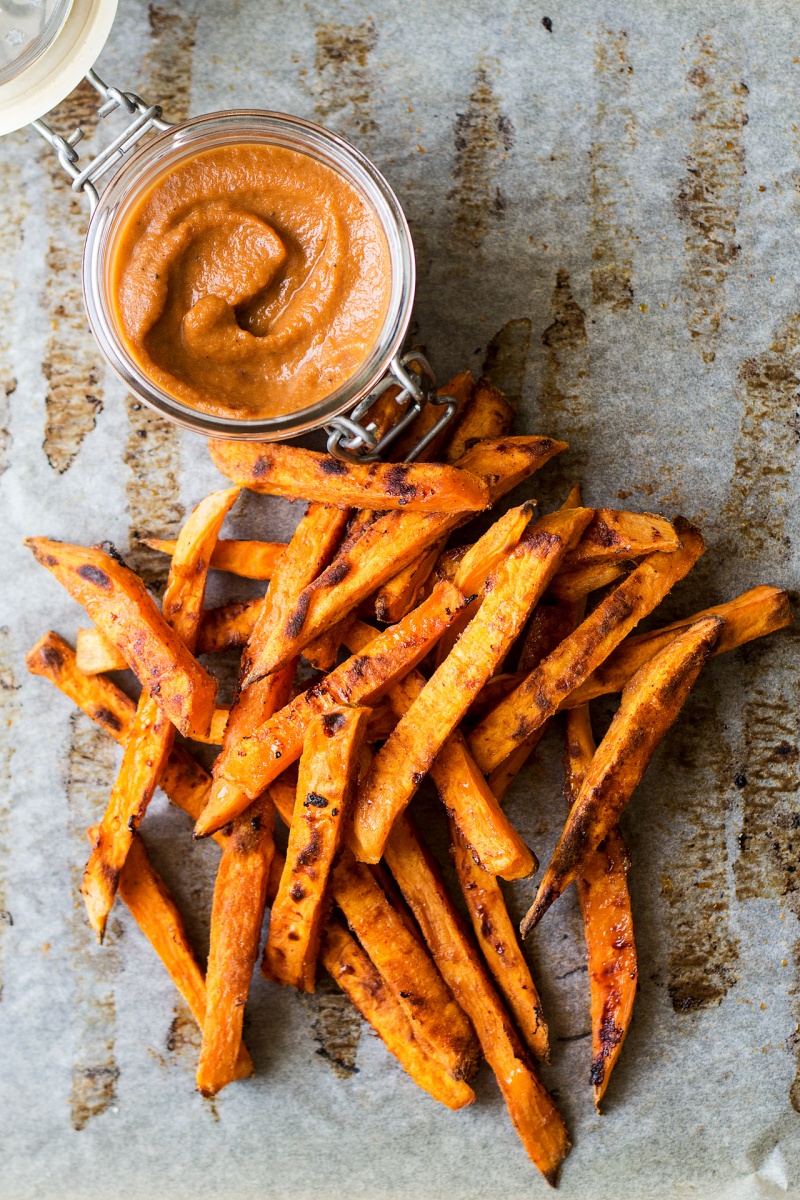 As we are wandering through Athens, basking in the early spring sunshine and getting stuffed on amazing Athenian falafels (I know falafels aren't Greek, but after many months on Paros we are craving non-Greek food for a change). I've decided to leave you with a simple and very minimalist recipe today.
It is crispy sweet potato fries dipped in a jar of homemade vegan BBQ sauce. An easy and wholesome snack. The sauce's base is a sour apple and a ripe tomato, sweetened with molasses and maple syrup and seasoned with chilli and cloves.
As the fries are naturally sweet, the sauce is smokey, slightly spicy (you can skip the chilli if you like, but I think it adds a depth of flavour) and tangy to offer a satisfying balance.
I imagine this sauce would go well with a lot of things but sweet potato fries coated in spices seemed like a good match for it so that's what I went with. It's pretty addictive stuff so you may want to double up the fries just in case your family members suddenly flock to your side trying to steal your goods at the pretence of just 'trying' them. Call me paranoid, but this happens here all the time (looking at you, Duncan 😉 )!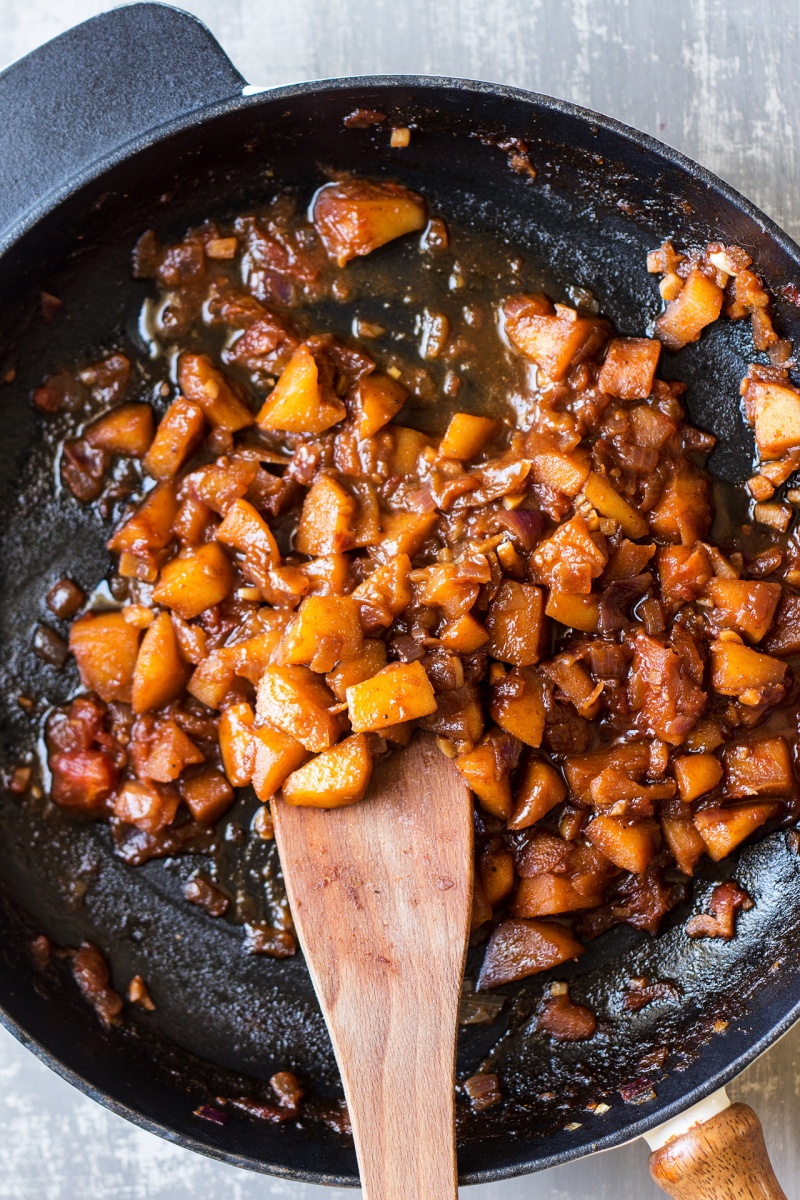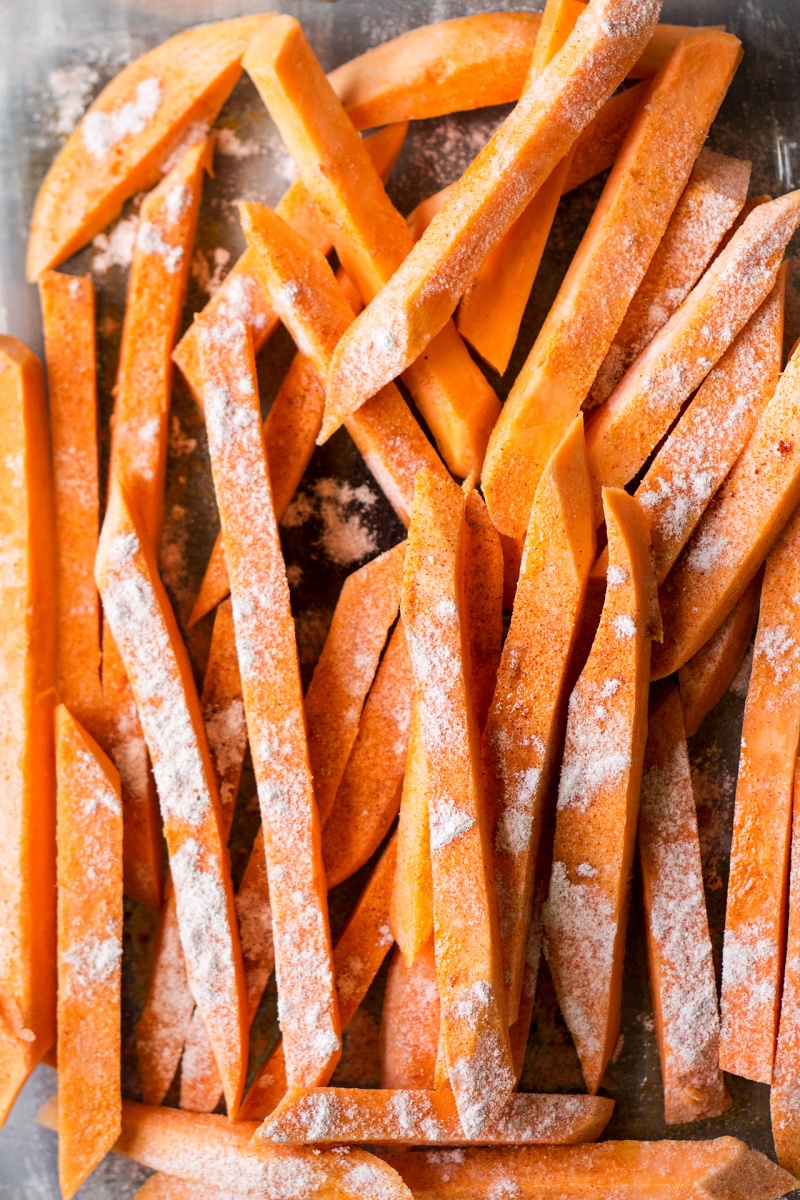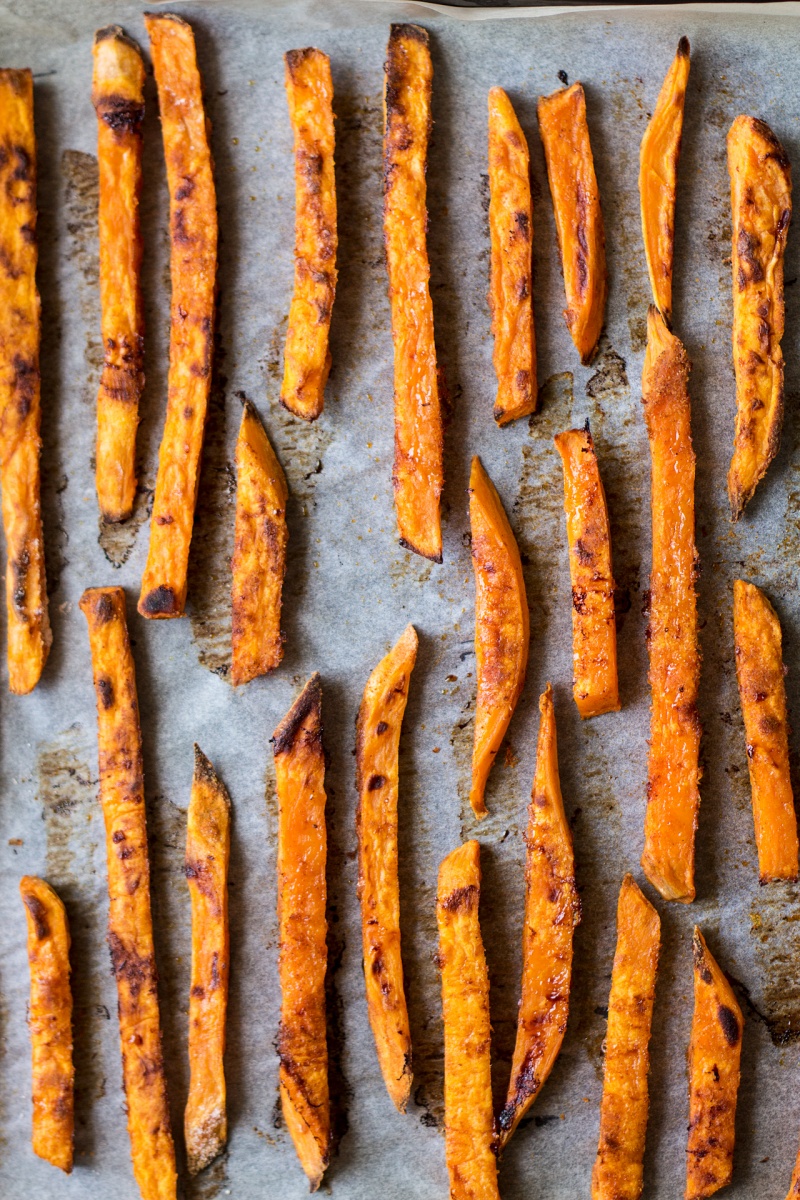 VEGAN BBQ SAUCE
2-4 tbsp olive oil
1 small red onion, finely diced
3 small garlic cloves, finely diced
½ tsp ground hot chilli
½ tsp ground coriander seeds
¼ tsp ground cloves
1 ripe tomato, peeled and diced
1 sour apple (I used Granny Smith), peeled and diced
2 tbsp tamari OR soy sauce
2 tbsp apple vinegar
2 tbsp sugarcane molasses
1 tbsp maple syrup
¾-1 tsp liquid smoke*
black pepper, to taste
SWEET POTATO FRIES
1 large / about 500 g of orange sweet potatoes
1½ tbsp cornflour (AKA cornstarch)
2 tbsp rapeseed / canola or other vegetable oil (olive oil will make them less crispy)
½ tsp ground cumin
½ tsp ground hot chilli
½ tsp ground smoked paprika
¼ tsp ground cinnamon
about ½ tsp fine sea salt
METHOD
VEGAN BBQ SAUCE
Heat up 2 tbsp of olive oil in a medium, heavy-bottomed frying pan. Add chopped onion and fry on a low heat until almost translucent, stirring from time to time.
Add chopped garlic. Keep on stirring frequently until the onion is translucent and the garlic softens completely and releases its beautiful aroma.
Stir in the hot chilli powder, ground coriander and cloves into the onion and garlic mixture. Fry off gently for a minute or so.
Add in the chopped tomato and chopped apple and stir around. Add soy sauce, apple vinegar, sugarcane molasses, maple syrup and liquid smoke. Cook on a low heat until the apple chunks get cooked through (about 20-30 min). Add a splash of water from time to time if the pan looks dry.
Once the apple is soft, transfer to a blender and add a trickle of water while blending to achieve ketchup consistency. Taste and sweeten with a touch more maple syrup if needed, but remember that the fries are quite sweet so a bit of sourness is desired. You may also want to add another 2 tbsp of olive oil for the sauce to get a nice shine and a richer texture.
SWEET POTATO FRIES
Peel the potato and cut in half lengthwise. Cut it into long ½ cm / 0.2″ wide matchsticks. Try to make them as even as possible so that they cook evenly.
Plunge the matchsticks into a bowl of cold water and let them sit in it while you mix your spices.
Mix all the spices with cornflower, but do not add salt at this stage yet.
Take the potato matchsticks out of the water, rinse them and blot them dry with a kitchen towel.
Place the dry potato matchsticks in a rectangular dish. Drizzle with 2 tablespoons of oil and use your hands to ensure that all matchsticks have been coated in oil.
Pre-heat the oven to 225° C / 435° F and line a baking tray with a piece of baking paper.
Using a small sieve sprinkle a thin amount of cornflour-spices mixture over the greased matchsticks. Make sure all sides are covered.
Place the potato matchsticks on the baking tray in a single layer and make sure fries do not touch each other as otherwise they will end up soggy. The more space they have around them the crispier they will turn out.
Bake for about 30-35 minutes. 20 minutes in, gently turn the fries to the other side. If you have some small fries in between larger ones, they will be done sooner so you may want to take them out a bit earlier. Sprinkle with salt once done – adding salt to the spices and cornflour mixture stops the fries from crisping up. Serve with vegan BBQ sauce on the side.
NOTES
*You could replace with smoked paprika but it will alter the flavour a bit.