Hazelnut chocolate has a special place in my heart. It's a bit of a fond childhood memory and so I've always loved it. It is difficult to get quality dairy-free hazelnut chocolate that doesn't skimp on hazelnuts and so I've decided to make one myself, especially as I had a big bag of cocoa butter in my pantry that needed using up pronto.
This homemade chocolate is really easy to make and the only thing you need to be careful of is not to overheat the cocoa butter as it doesn't cope well with excess heat. This recipe is a simplified chocolate recipe in that it doesn't require tempering (I am not even sure if it is possible to achieve temper given the addition of hazelnut butter) and so because it isn't tempered and because I've added hazelnut butter, it doesn't have that shop-bought chocolate bar snap, in case you were wondering. I have been making it on repeat for over a week and there have been no complaints – obscene quantities of it seem to disappear into our gobs despite our best efforts to be restrained about its consumption 😉 .
It's kinda funny cos it coincided with Duncan treating himself to a luxurious giant vegan chocolate egg this year, the arrival of which he announced to me in a TESCO carpark making it abundantly clear that it is HIS chocolate egg and not OURS. I was like, 'whatever dude' and eye rolled a bit as I'm pretty sure it was him who poo pooed the idea of getting one last year. The magnificent egg, clad in gold, arrived in the post and Duncan decided that despite it not yet being Easter, he wants to know what the fuss is all about. I was 'egging' him on too, I'll admit, as I was dying to know what flavour and mouthfeel can be expected for this kind of price tag.
Well, I am possibly a massive philistine, but apart from two pralines that were part of the said egg inventory, I found the flavour to be rather disappointing. Do these people think that vegans don't consume sugar? It was pretty savoury and tasted like wine, but maybe it's just my unrefined palate. Duncan says it's growing on him but in a moment of weakness, he admitted to me that he prefers my homespun hazelnut chocolate bars to this hyped up egg so not sure he will be rushing to buy one again next year.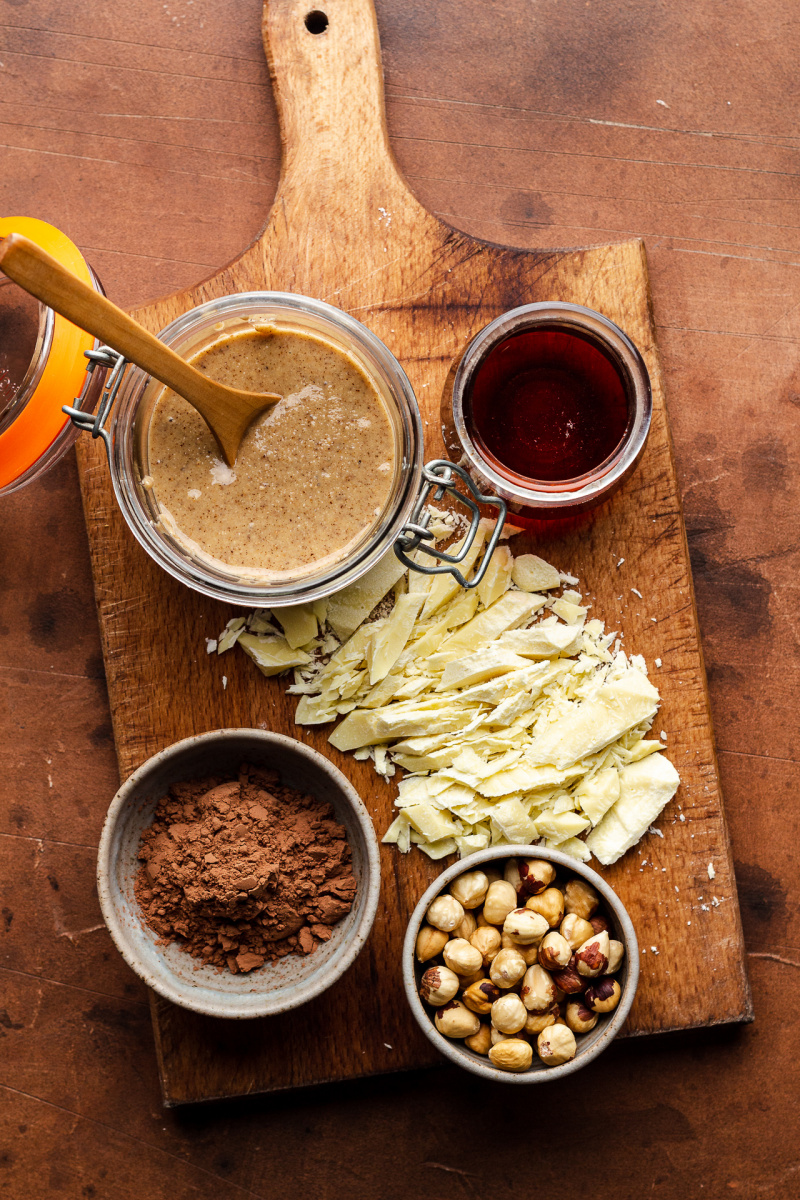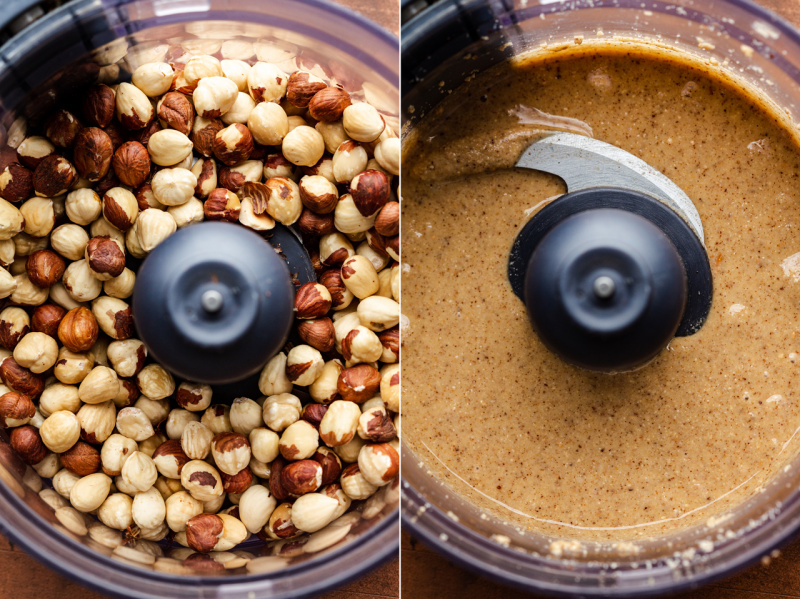 <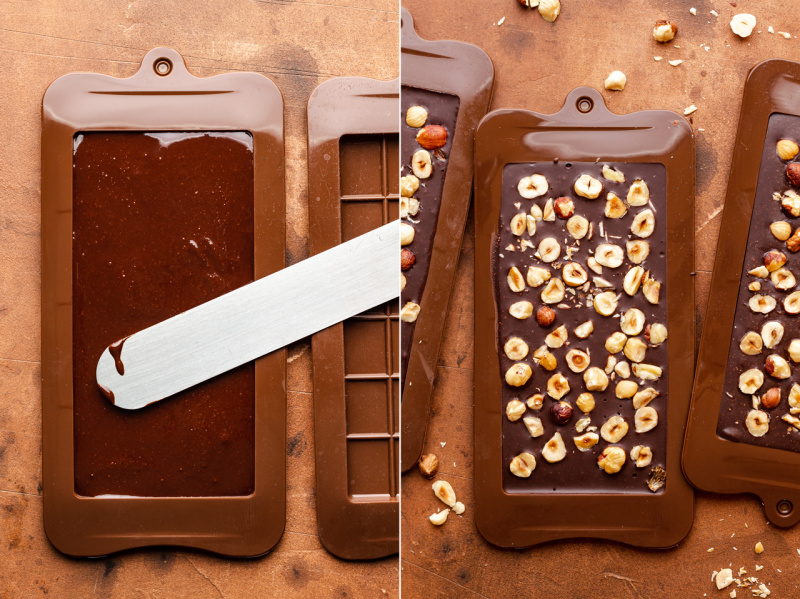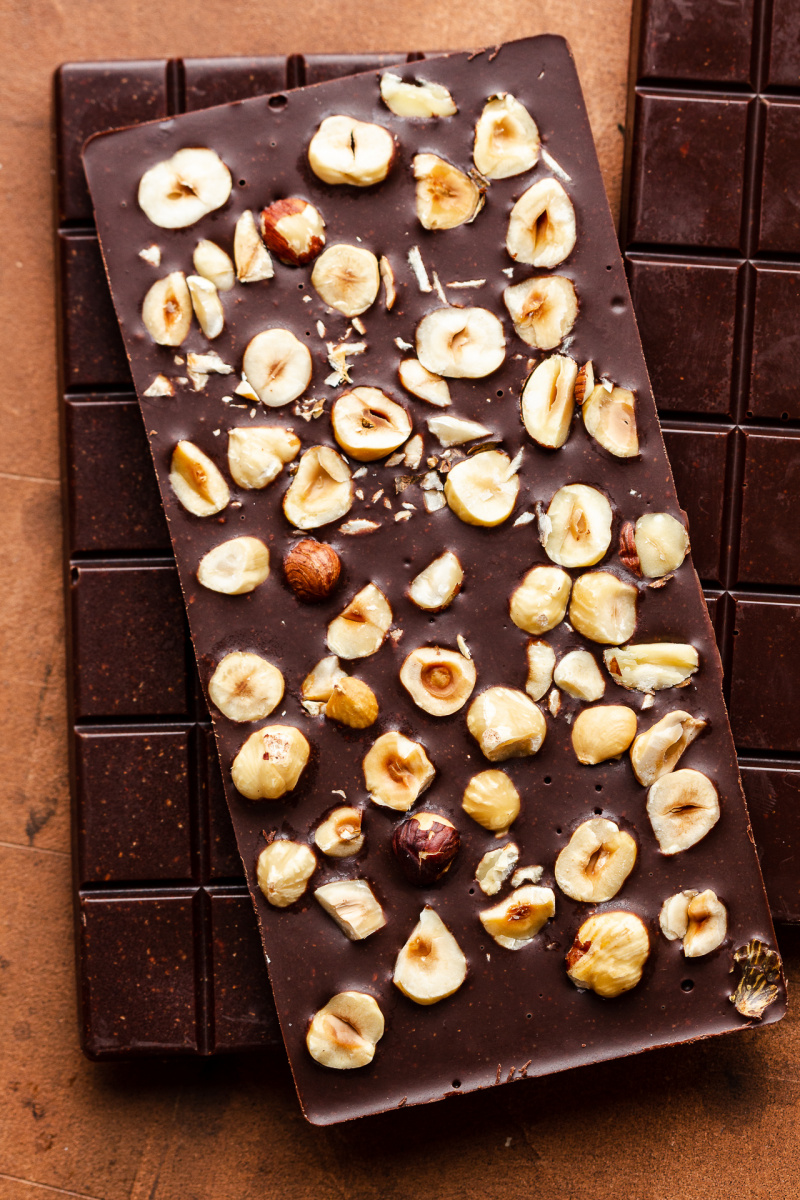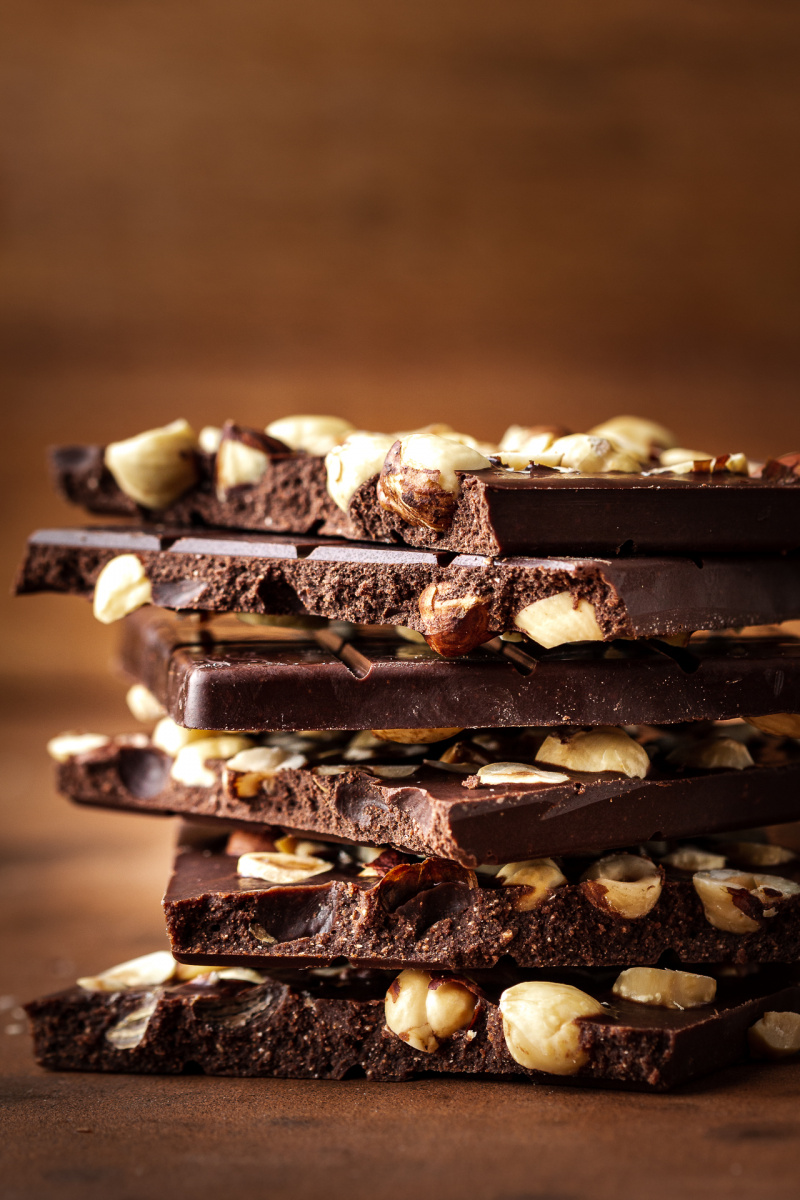 400 g / 3 cups hazelnuts
50 g / 1¾ oz cacao butter
50 g / ¼ cup icing sugar OR 45 ml / 3 tbsp maple syrup*
40 g / 1/3 cup unsweetened cacao powder
pinch of fine sea salt
METHOD
Preheat the oven to 180° C / 355° F (no fan).
Place hazelnuts on a large baking tray and roast in the preheated oven for about 10-12 minutes, until golden.
Place roasted hazelnuts in the middle of a kitchen towel and rub between the palms of your hands until you've loosened up the skins. Allow the nuts to cool down.
Transfer 2/3 (2 cups) hazelnuts into a food processor and process, for about 10-15 minutes, scraping down the sides of the food processor, until you obtain a smooth hazelnut butter.
If it comes in big chunks, chop your cacao butter up small and melt it slowly over a double boiler, making sure the bowl with the cacao butter does not touch the water underneath. Use a low heat to make sure the butter does not overheat.
Once melted, whisk in icing sugar (or maple syrup), cacao powder and sea salt. Whisk until well incorporated.
Next, stir in 50 g / ¼ cup of the hazelnut butter you made earlier. Stir with a spatula until completely incorporated.
Pour melted chocolate into clean (and dry!) moulds. Top with roughly chopped and whole hazelnuts and place in the fridge to set.
NOTES
*I don't recommend using sugar that comes in crystals as the chocolate cannot quite reach the temperature needed to melt the sugar and so your chocolate will be gritty.
Maple syrup
(or other liquid sweetener) works well but the chocolate is a touch softer than if you were to use icing sugar.
This recipe creates 2 x 100 g / 3.5 oz chocolate bars. These are the moulds I use.