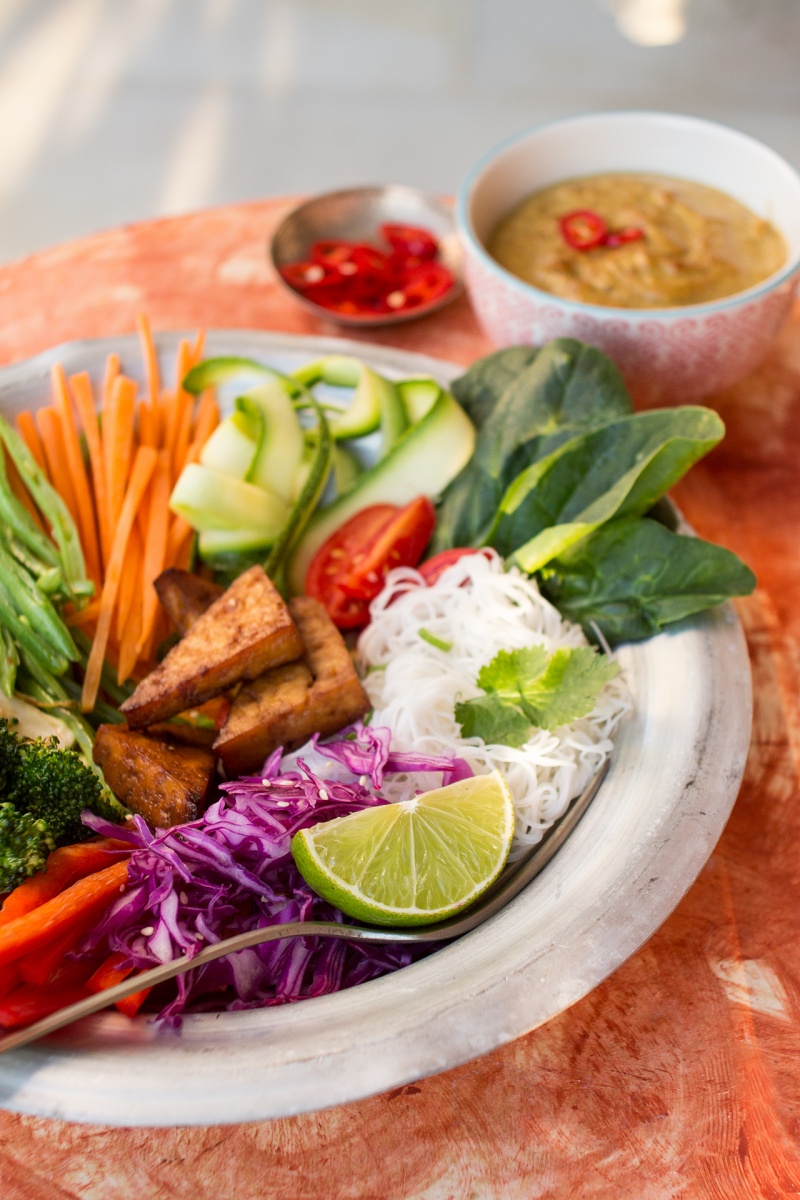 Let me introduce to you the famous Indonesian gado-gado salad. Some of you may be thinking 'isn't it a bit too cold for a salad?' Well, depends on the salad and where you live, of course.
Despite it being the second half of November, Greece has been pulling beautifully still, sunny, 20º C days out of the bag this week and we are in heaven. However, if your local weather pattern hasn't been that kind to you, you can always treat this recipe as a stir-fry and serve it warm with lashings of spicy peanut sauce on top.
Traditionally, Indonesian gado-gado salad is often served with a hard-boiled egg, which I subbed for some vermicelli noodles to make it a bit more substantial. The beauty of this salad is that it isn't at all fussy. In fact, its ingredients vary enormously from place to place and season to season as the idea is to simply use what is available at any given time.
I had it quite few times during my time in Bali and no two versions were identical. I like the seasonality and versatility of it, plus it holds a special place in my heart as it reminds me of my amazing Bali holiday, which I am dying to repeat. Sadly, no holidays on the cards anytime soon so having a plate of colourful Indonesian salad on my terrace, in the autumn sun will have to suffice for now. Given the recent weather, I can settle for that.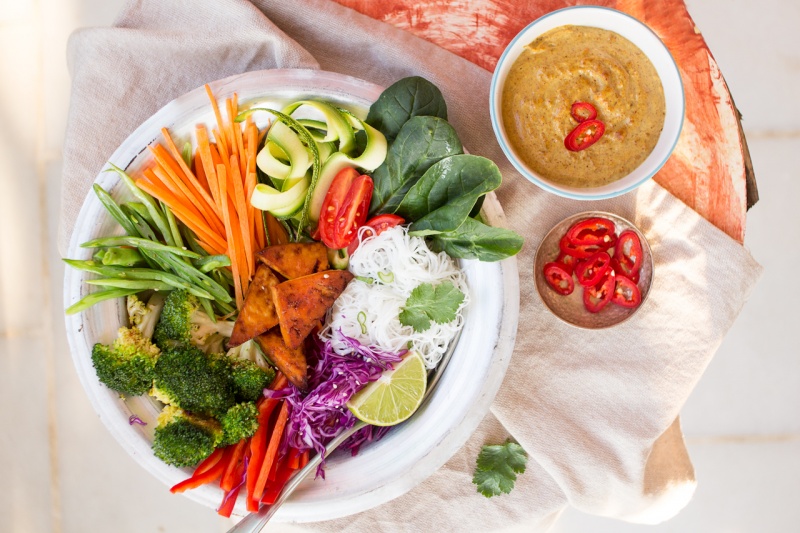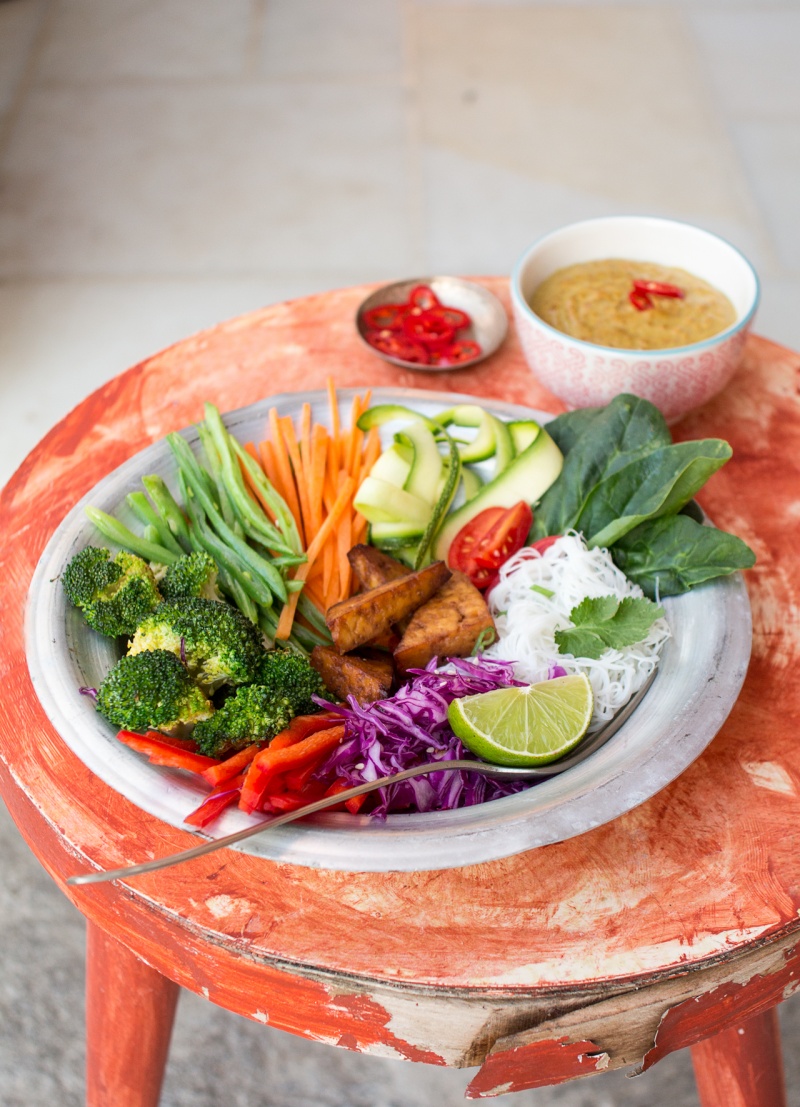 SALAD
1 carrot, julienned
1 red pepper, julienned
1 small courgette, shaved into ribbons with speed peeler
wedge of cabbage, shredded finely
a few cherry tomatoes
handful of spinach
handful of flat beans, cut into strips
½ small broccoli, divided into florets
100 g firm tofu, drained*
100 g vermicelli rice noodles (optional)
handful of fresh coriander (optional)
hot red chilli, finely sliced (optional)
2 wedges of lime
TOFU MARINADE
4 tbsp tamari (for GF version) or soy sauce
2 tbsp rice vinegar
2 tsp brown sugar
1 tsp sesame oil
1 garlic clove, minced
2 tsp grated ginger
PEANUT SAUCE
125 g / ½ cup crunchy 100% natural peanut butter**
¼ cup / 60 ml coconut milk
approx. ¼ cup / 60 ml water
1 tbsp tamari (for GF version) or soy sauce
½ tsp ground turmeric
½-¾ tsp hot ground chilli
1 garlic clove, minced
2 tsp grated ginger
1 tsp maple syrup or sugar
1½ tbsp tamarind purée (or lime juice)
METHOD
In a mixing bowl, mix the ingredients for tofu marinade together. Cut tofu into triangles (or cubes) and place tofu in the marinade, turn it over at least once. The longer it marinades the better.
Set the oven to 180º C / 360º F. Place marinated tofu cubes on a paper-lined baking tray and bake for 25 mins, flipping the cubes once with a pair of tongs 15 mins in.
Prepare rice noodles according to the instructions on the packet.
Heat up 1 tbsp of oil in a wok or a large frying pan. Stir fry broccoli florets and then add sliced beans for the last 30 seconds. You can also blanch them if you prefer.
If your peanut butter has gone lumpy, add a few splashes of hot water to it and keep on stirring to get a smooth consistency back. Add coconut milk, soy sauce and enough water (I added ¼ cup / 60 ml of water in total) to achieve the consistency you like.
Season with the remaining ingredients and warm it up gently before serving.
Assemble all veg, vermicelli and tofu on two plates, serve with a warm peanut sauce, a wedge of lime, sprinkle of fresh coriander and some chilli slices if you like it spicy.
NOTES
*To drain a block of tofu, wrap it in two layers of a kitchen roll. Place it on a plate and put something heavy on top, like a tin of coconut milk. The paper towel will soak up excess moisture. Every 30 mins or so, swap wet kitchen towel for a new one. Repeat a few times.
**I recommend using all natural peanut butter (100% nuts). You can also make it easily yourself at home following
this recipe
. If you are using processed peanut butter, adjust sugar and salt amount specified in the recipe.