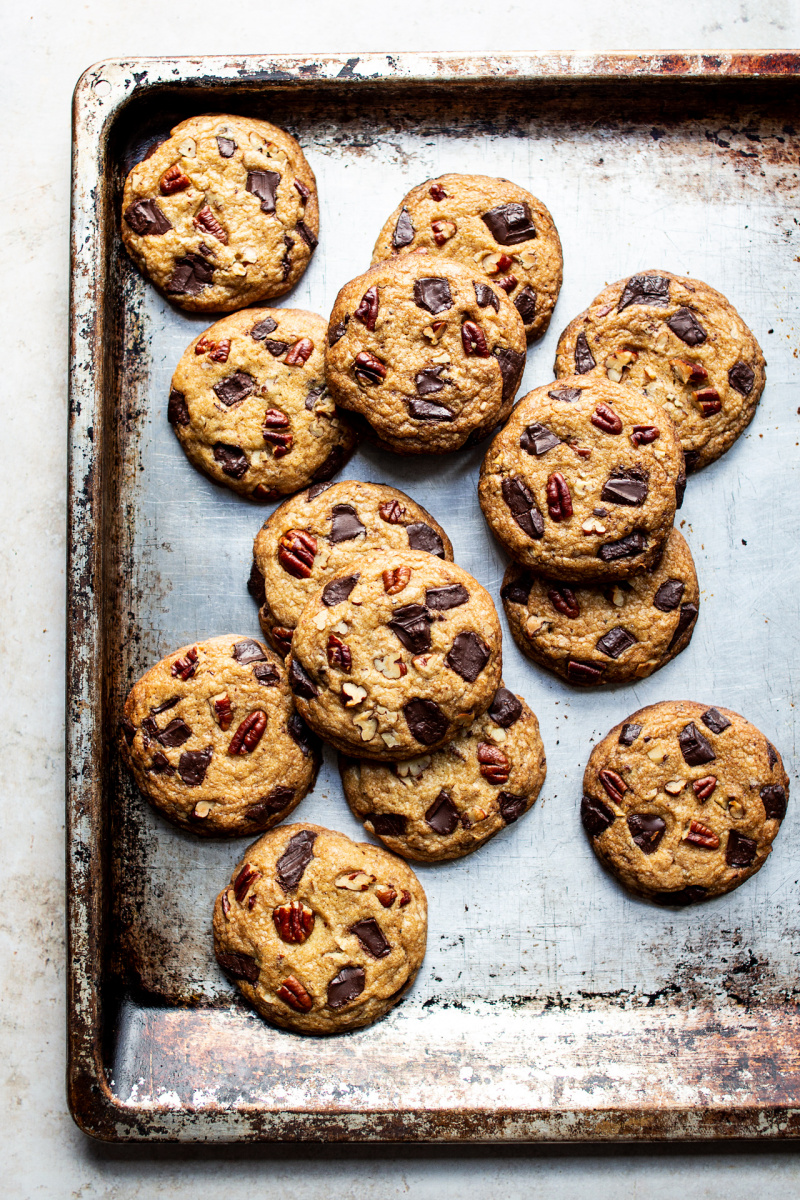 Happy September, guys or, as Greeks tend to wish each other at the beginning of each new month, kalo mina! – meaning happy (new) month. It's a charming custom, I find. I bring it up cos we are just over a week away from going to Greece and we cannot wait, we both need this holiday, badly. It should still be nice and hot, but not oppressively so and since we are going at the end of the season, it will also be far less busy and much more chilled. Just the way we like it!
This year, we will tour the East side of Crete (we did the West side last year), moving to a new place every 2-4 days. This way we get to see much more of the island and we never get bored. As usual, we plan to self-cater for most of the trip, apart from a few meals in the places that inspire confidence when it comes to their vegan offering. I don't really mind as the produce is amazing and I always go for really easy stuff with just a few basic ingredients, so it's not too taxing – I find that scarcity of kitchen equipment and ingredients forces you to be more creative so it's fun in a way. And there is always watermelon if it's hot and I'm feeling uninspired…
I am bringing my trusted chilli flakes to season our mains and a bag of ground up chia seeds as our plan for breakfast is to have a version of this cold porridge with beautiful Greek fruit – peaches, nectarines, plums and figs. It really hits the spot in the heat. Other than that it's pastas, stews and giant salads with typical late summer Greek produce: peppers, tomatoes, olives, capers, zucchini, eggplants, sun-dried tomatoes, oregano and thyme.
While I am slowly packing my suitcase with summer gear, the weather in the UK has taken a bit of a chilly turn and you can feel autumn is here. On the one hand, I am like yay! Cos pumpkins! And on the other hand I am sad that summer, this highly anticipated and treasured British commodity, has been so brief again. Oh well. England does do cosy very well so I am excited about the joys of autumn, rustling leaves underfoot, cat being less of a stranger (curled up in a pretzel and happy to receive cuddles) and baking! I love baking and autumn feels like cookies so that's what I have made for today.
This recipe goes a little against my grain as I naturally tend to gravitate towards healthier options and I am a bit uneasy about using lots of fat and sugar in my recipes. Well, Duncan – who is so devoted to leading an active lifestyle that there is not an ounce of fat on him – could not care less and while he happily puts away huge veggie-packed bowls that I set in front of him daily, he is also quite excited about having something indulgent and not healthy now and again.
He gave me a thumbs up and a 'hell yeah!!' when I said that I'm working on an unapologetically naughty cookie recipe and he urged me not to try and make it healthier this time. So here it is, an indulgent chocolate chip cookie that is oozing with melted pools of chocolate, the flavour of which gets reinforced with salt and a touch of cardamom and packed with crunchy nuts. The cookie is crispy on the outside and gooey on the inside and if I hadn't just told you, you would have no idea that it is vegan. There! I did it and I'd better sign off now before I change my mind 😛 . Enjoy!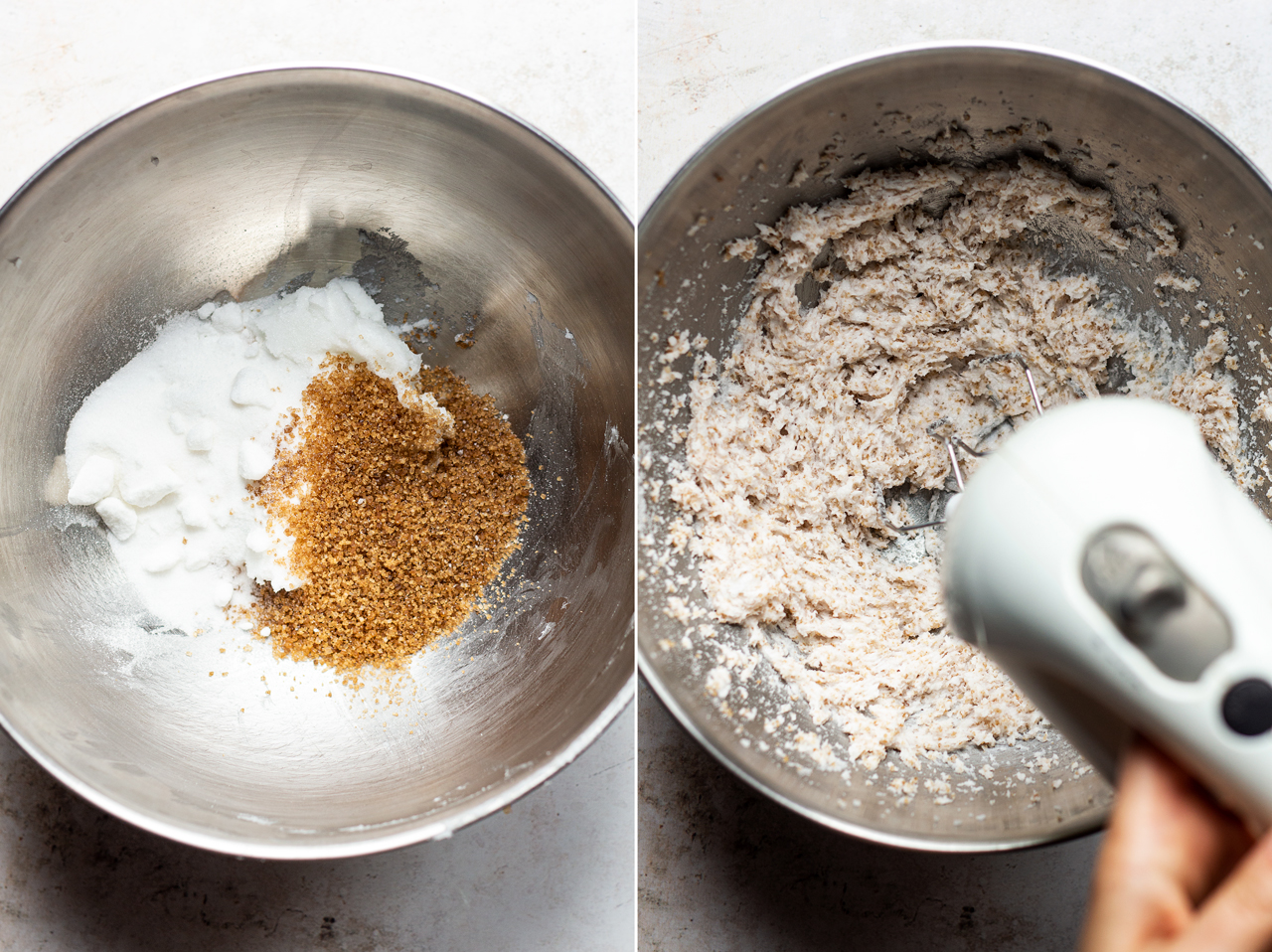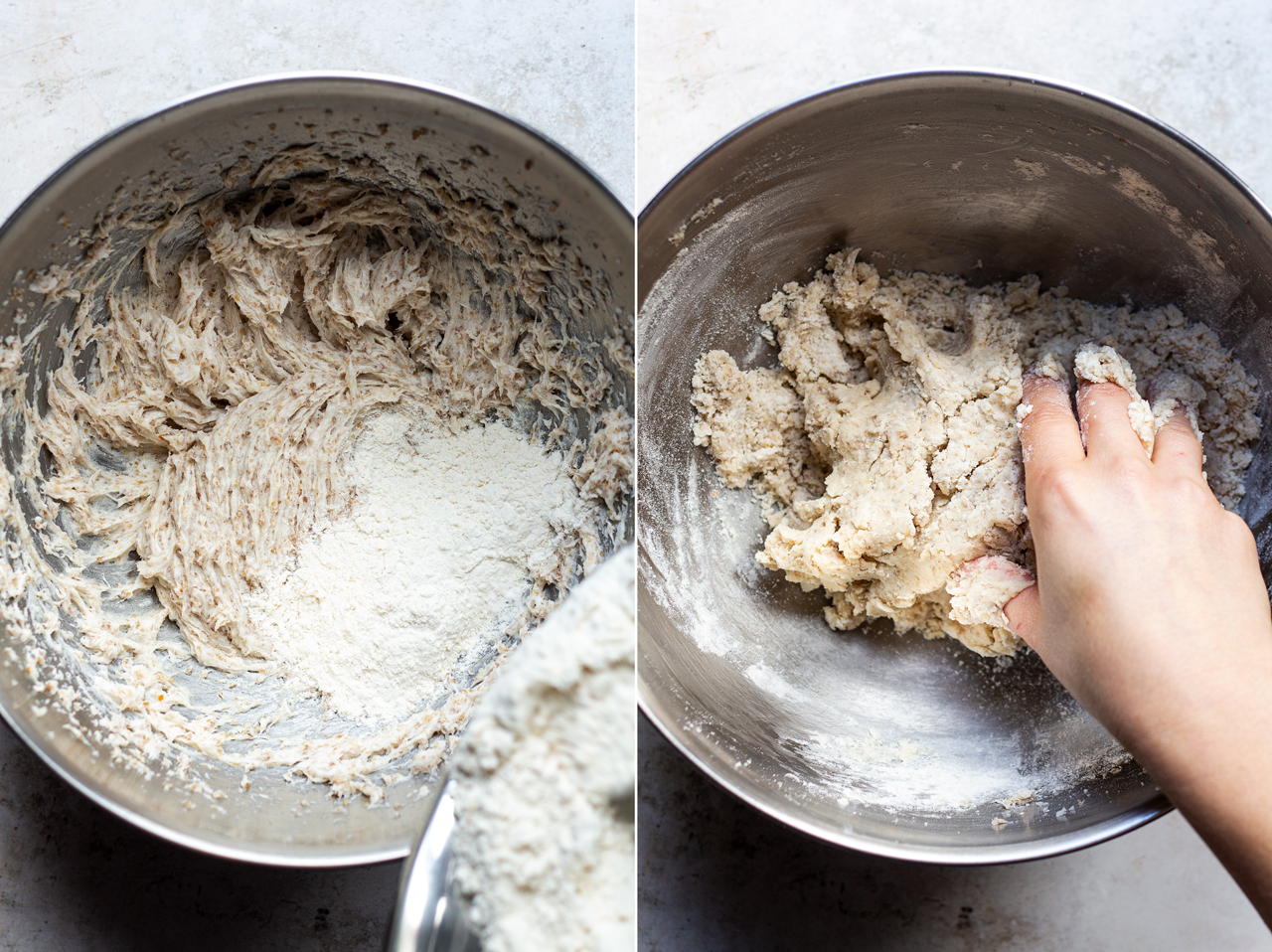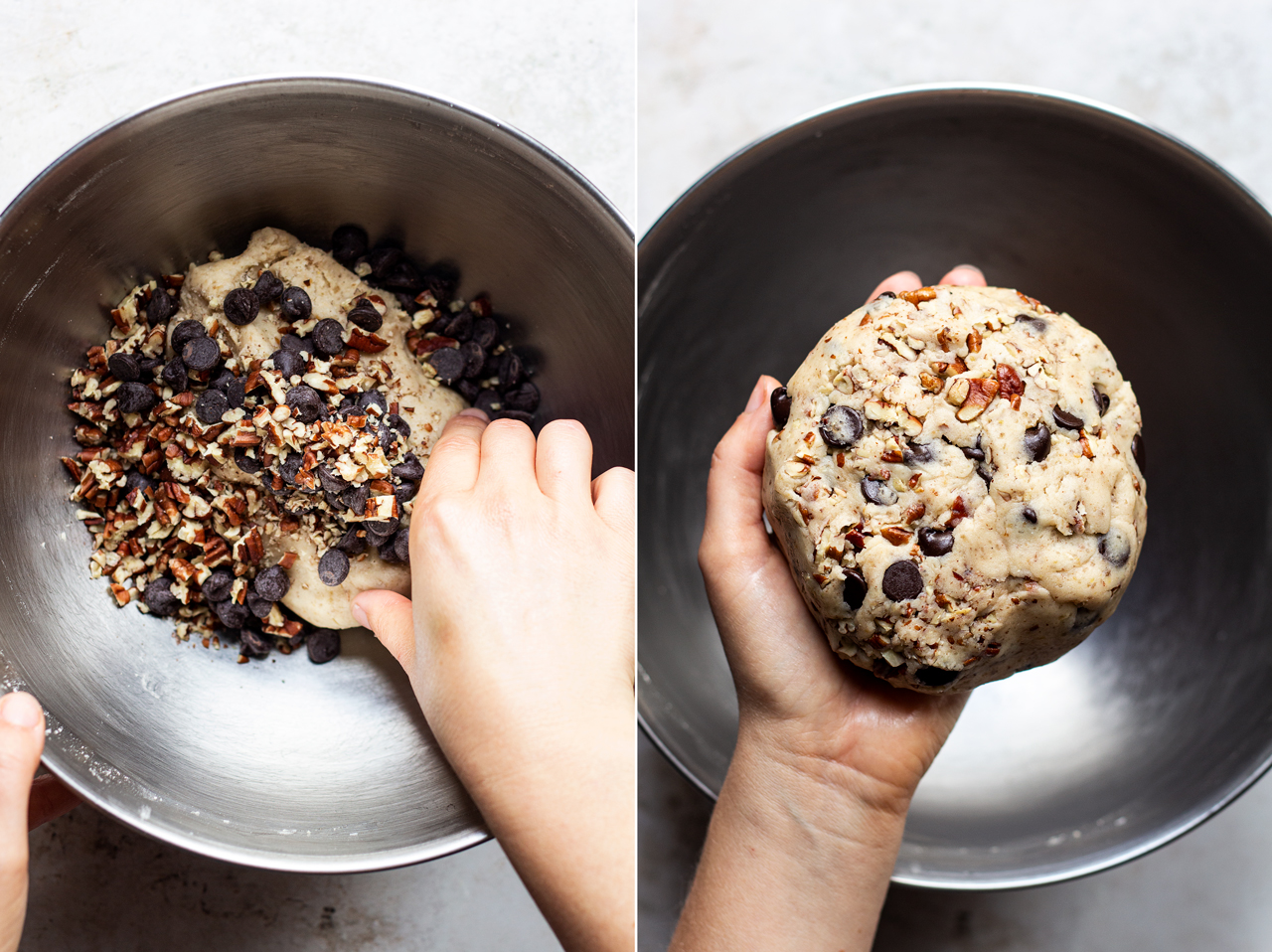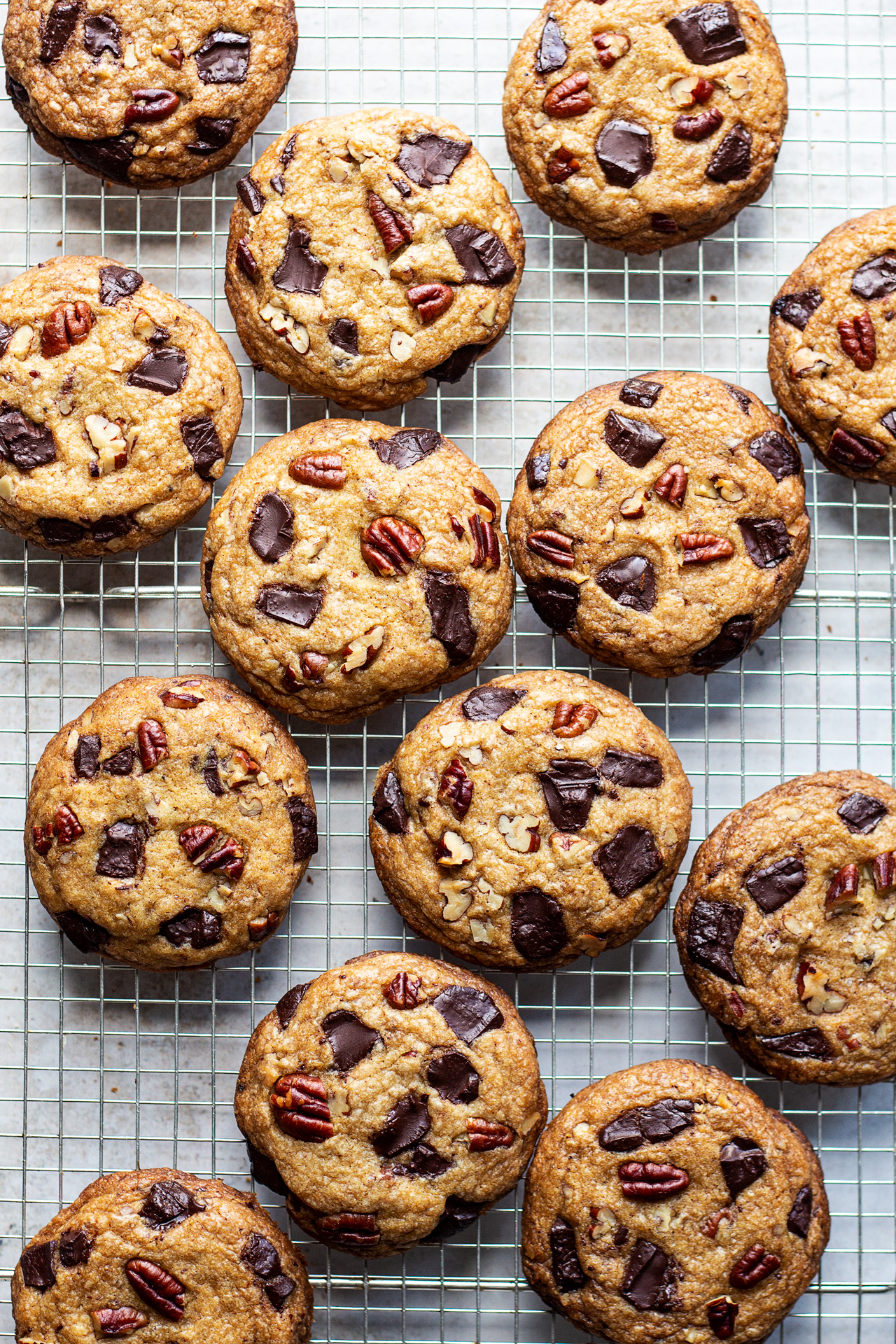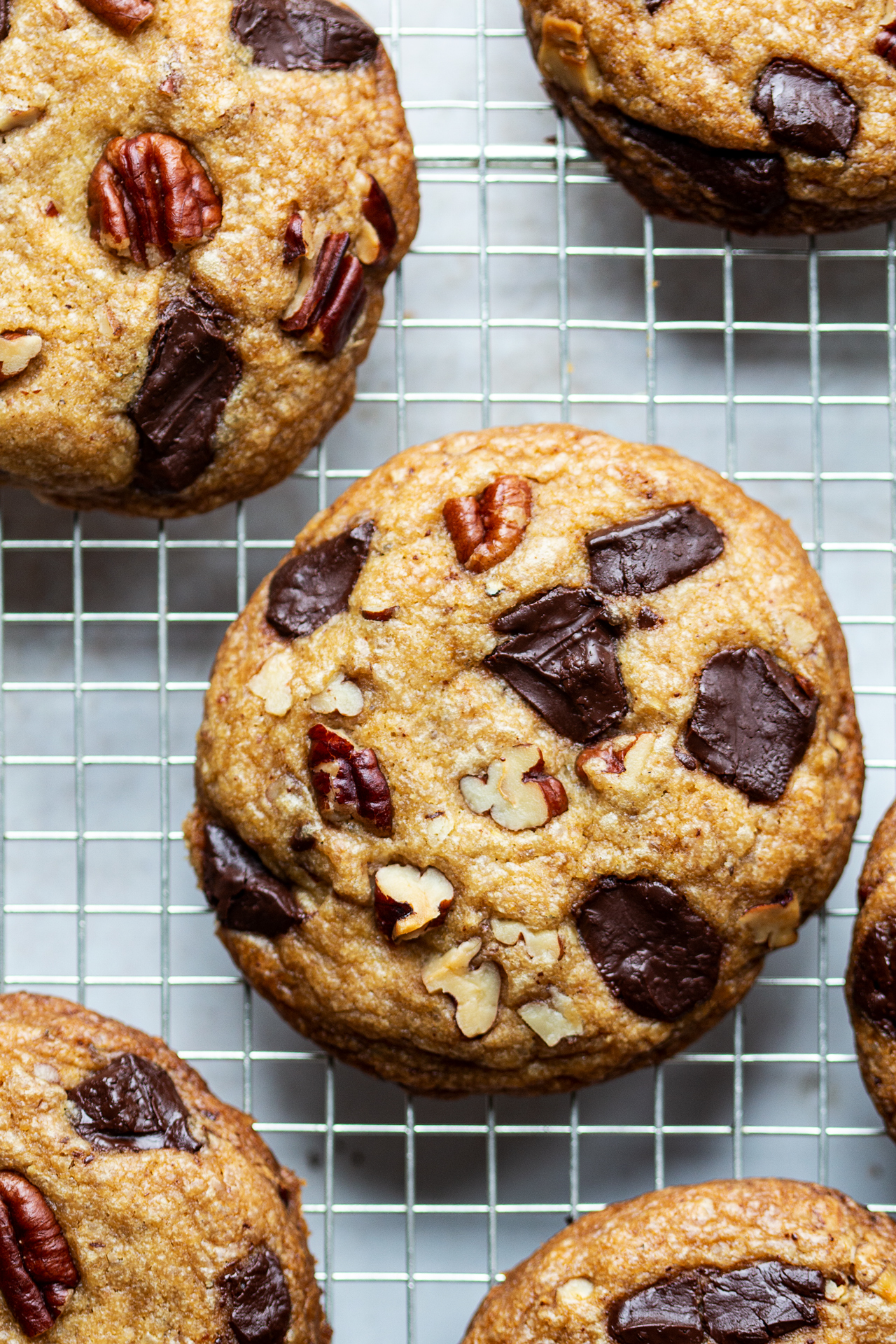 WET INGREDIENTS
DRY INGREDIENTS
180 g / 1½ cups all purpose flour or GF plain flour mix)
½ tsp baking soda (GF certified if needed)
½ tsp salt
½ tsp ground cardamom (optional)
75 g / scant ½ cup vegan chocolate chips or chocolate, diced small
50 g / scant ½ cup chopped pecans or walnuts
METHOD
In a large and tall mixing bowl, place softened coconut oil and both sugars.
Whisk using an electric hand whisk or a standing mixer until well combined.
Add thickened flax or chia gel and vanilla essence and whisk until homogenous.
Add all of the dry ingredients (apart from the chocolate and nuts) in 3 batches. Fold the dry ingredients into the wet ones using a silicone spatula first and later your hands. If using gluten flour, be gentle and do not overwork the dough as you do not want the gluten to develop.
Add chocolate chips (or chopped chocolate) and chopped nuts and mix them into the dough with your hands. The dough should be soft and pliable.
Rest the dough in the fridge for at least 1 hour before baking, overnight chilling renders even better results. If using coconut oil, rest the dough on the kitchen counter until pliable again.
Set the oven to 200° C / 390° F.
Divide the dough into 14 equal portions. I recommend baking these cookies in two batches to get nicely browned edges and a slightly chewy middle. Leave plenty of space between each cookie when placing them on the baking tray. Bake for 12 minutes or a little longer (14-16 minutes) if you want the cookies crispy throughout. Allow them to cool on the tray for 5 minutes after removing from the oven and then transfer to a wire rack for them to cool off completely before eating. Keep in an air-tight container.
NOTES
You can sub both types of sugar with
coconut sugar
for the refined sugar free version but be aware that the texture of these cookies will be altered a little,
coconut sugar
doesn't yield as much of a satisfying crunch as the refined sugar does, unfortunately.