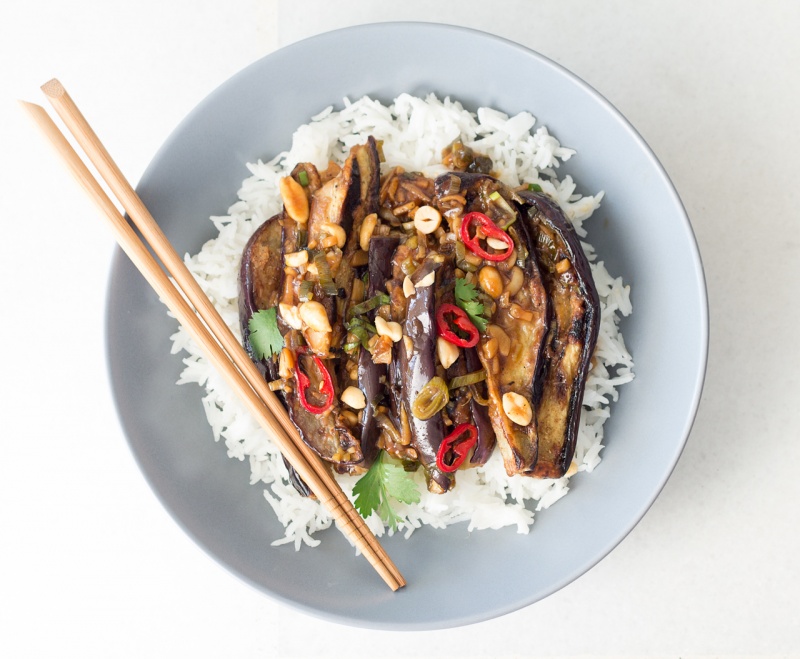 Today's dish is a vegan version of Jamie Oliver's creation – Kung Pao Chicken. Jamie seems like a great guy and, as people who are passionate about good food, we are grateful to him for all the excitement and enthusiasm he has instilled into the world of home cooking.
Having lived in the UK for over 10 years, we have seen how much positive influence he has had on the UK food scene. We admire his constant fight for real, home cooked food and his tireless passion for educating people, especially kids, about the importance of having a varied and nutritionally-rich diet.
We've always liked the guy, but his recent, very informal, interview with his vegan mate, freerunner Timothy Shief, has gained him even more respect in our eyes. Jamie acknowledged that veganism is a growing trend and revealed his open-mindedness about it. This inspired us to make our own adaption: vegan Kung Pao chicken.
It is very rare among professional, omnivorous chefs to have that sort of attitude. I don't know why vegetables are hardly ever considered a nutritious AND satisfying meal in their own right. My impression is that there is this misconception that eating meat is essential for strength (which is often equated with masculinity) and since cheffing is still a very male-dominated profession vegetables are hardly ever are the star on the plate.
The irony of it is that you don't get more manly than, say Frank Medrano, and he runs completely on plants. It is so refreshing to see guys like Jamie and Timothy spread the vegan message and show that caring about your health, animal welfare and the planet we all live on isn't at odds with masculinity at all.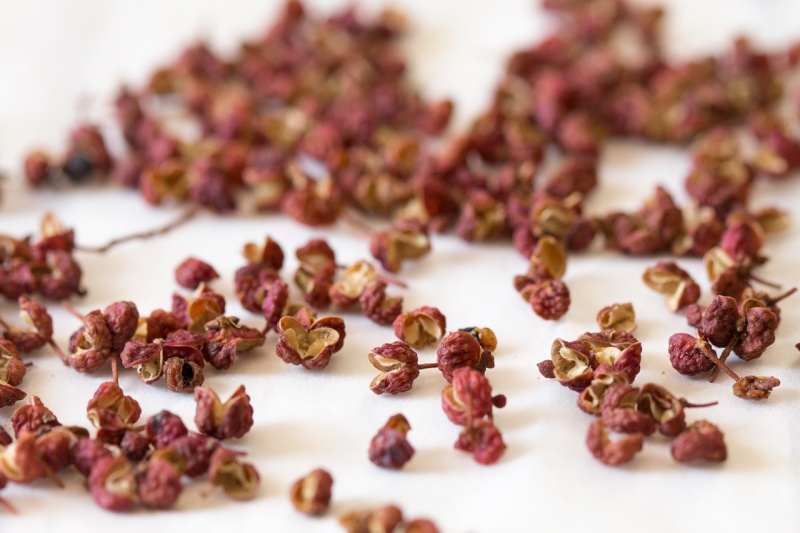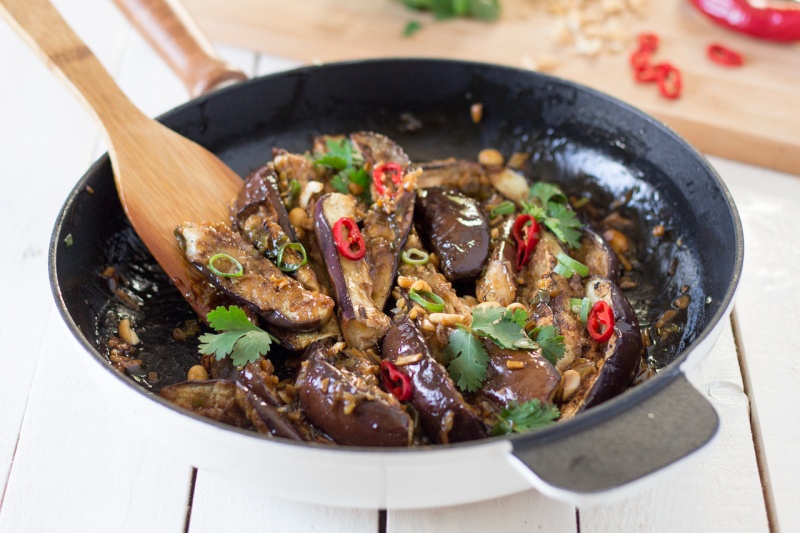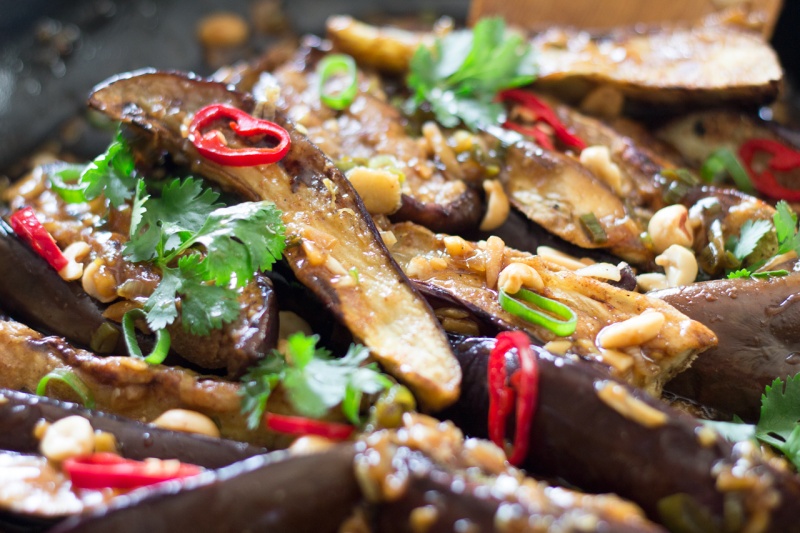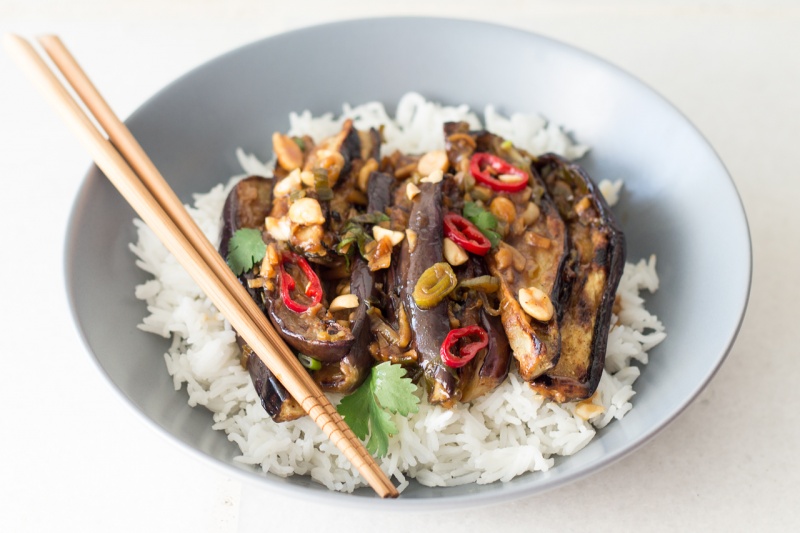 1 tbsp Szechuan peppercorns
2 tbsp cornflour
2 aubergines
2 tbsp olive oil
4 small garlic cloves, chopped thinly
thumb-size knob of fresh ginger, chopped thinly
2 spring onions, sliced thinly
½-1 tsp hot chilli flakes
fresh coriander, to garnish
SAUCE
3 tbsp / 45 ml tamari (for gluten-free version) or soy sauce
1 (scant) tbsp rice wine vinegar
1 and ½ tbsp maple syrup
½ tbsp cornflour
water
METHOD
Cut aubergines into thick wedges lengthwise.
OPTIONAL: Place aubergines in a colander over a deep plate. Sprinkle liberally with table salt and set aside for 30 mins to drain. After 30 mins, wash the salt off and blot aubergine dry with a piece of kitchen towel.
In a pan, dry-roast Szechuan peppercorns on a low-medium heat for a couple of minutes. They will start releasing an incredible aroma.
Using pestle and mortar or a coffee grinder grind roasted Szechuan peppercorns to fine powder. Sift it through a small sieve to get rid of larger bits.
Mix ground Szechuan peppercorns with 2 tbsp of cornflour. Brush fleshy parts of the aubergine wedges with a bit of olive oil and then coat them in cornflour mix.
Heat up a griddle pan and grill aubergine wedges on it until soft and browned on both sides**. You may need to fry aubergine in batches if your griddle pan is small. Once ready, set aside.
In a bowl, combine ½ tbsp cornflour with 2 tbsp of water. Add in tamari or soy sauce, rice wine vinegar and maple syrup.
Heat up 2 tbsp of oil in a pan. Add ginger and garlic and fry gently until fragrant and lightly golden. Add in spring onions and hot chilli flakes and fry for another minute.
Pour the sauce you made in step 7 into the pan with spring onions. Bring it to a gentle boil and allow to thicken slightly.
Stir in grilled aubergine to warm it up gently. Serve over a bowl of steaming hot rice.
NOTES
*This recipe is an adaptation of
Jamie Oliver's Kung Pao Chicken recipe
.
** In his recipe, Jamie Oliver fries chicken in 2 cm of oil. You can do the same with aubergine if you like too. You may want to chop it into large cubes if treating it that way so that it fries at the same speed.