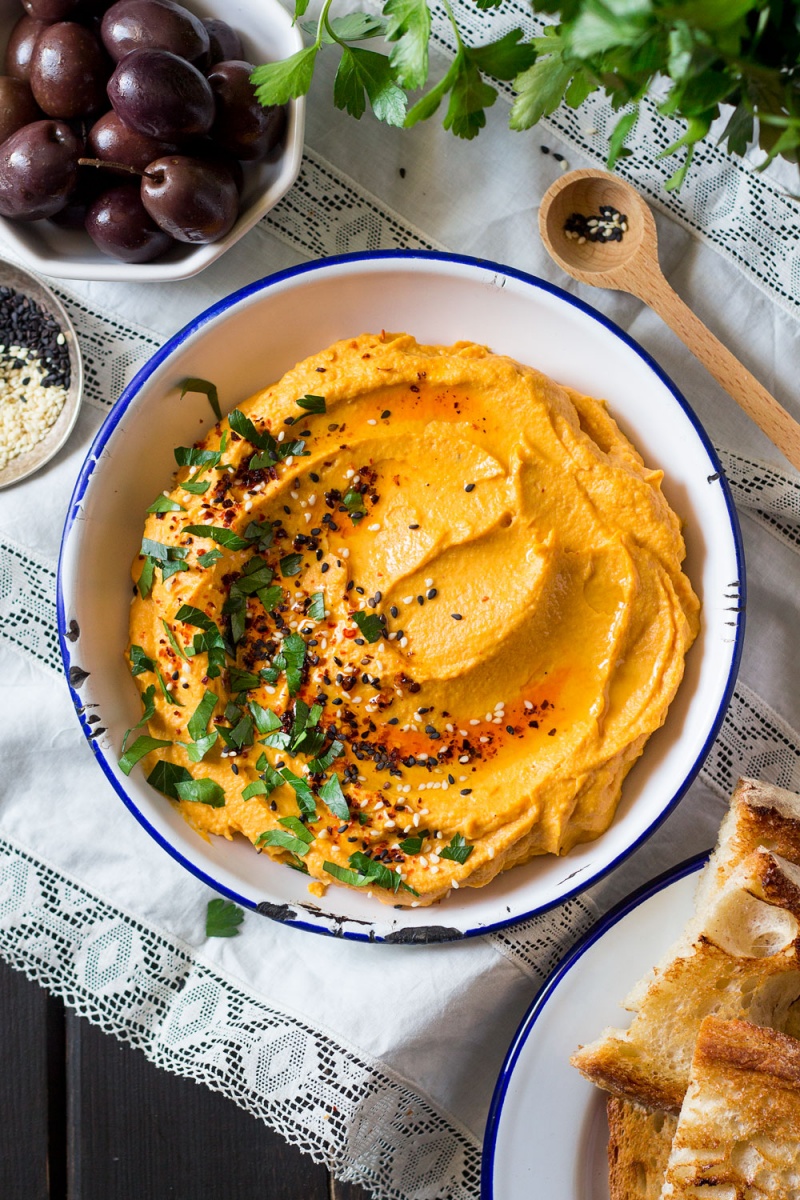 As the recipe title suggests, the idea for this vibrant pumpkin hummus hails from Lebanon. In fact, the Lebanese (along with the Egyptians and Palestinians) argue that classic hummus, which we have come to associate with Israel is also their invention and they are outraged that Israel markets hummus as their national dish.
To be honest, I'm not surprised that everyone seems to want a slice of the pie. Whoever has come up with the idea to transform humble chickpeas into a bowl of dreamy creamy awesomeness deserves a medal.
Although today's pumpkin hummus does not contain chickpeas, it does have all other classic hummus ingredients: tahini, lemon and garlic so I've taken the liberty of calling it a hummus too.
This pumpkin hummus is actually way less fussy to make than the classic one as there is absolutely no soaking, peeling or coaxing your blender involved. Despite much less effort, this beautiful dip is absolutely to die for. It's creamy and extremely addictive.
As far as I can tell, it typically does not feature chilli, but as I'm a chilli fiend, I've added a little kick to mine. I think that it complements  the pumpkin's the sweetness and the tahini's nuttiness so well. Now excuse me, while I dive my toasted sourdough into my creamy creation.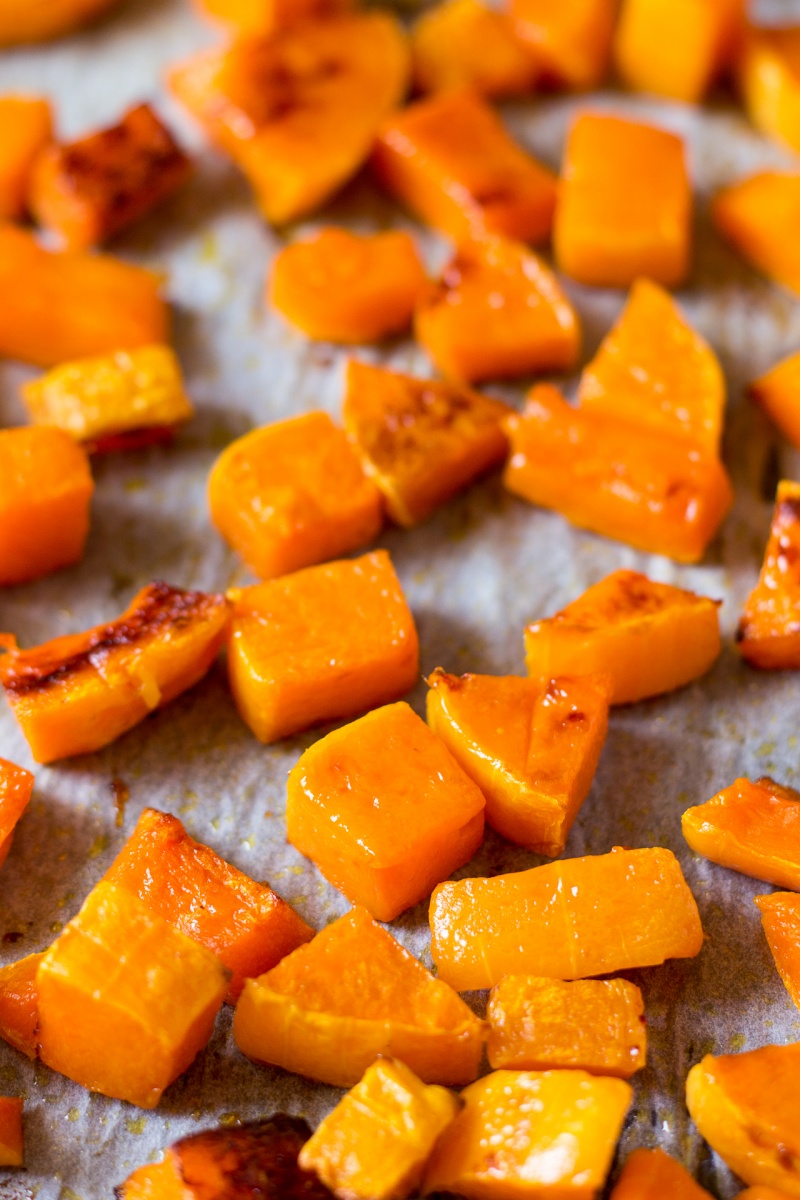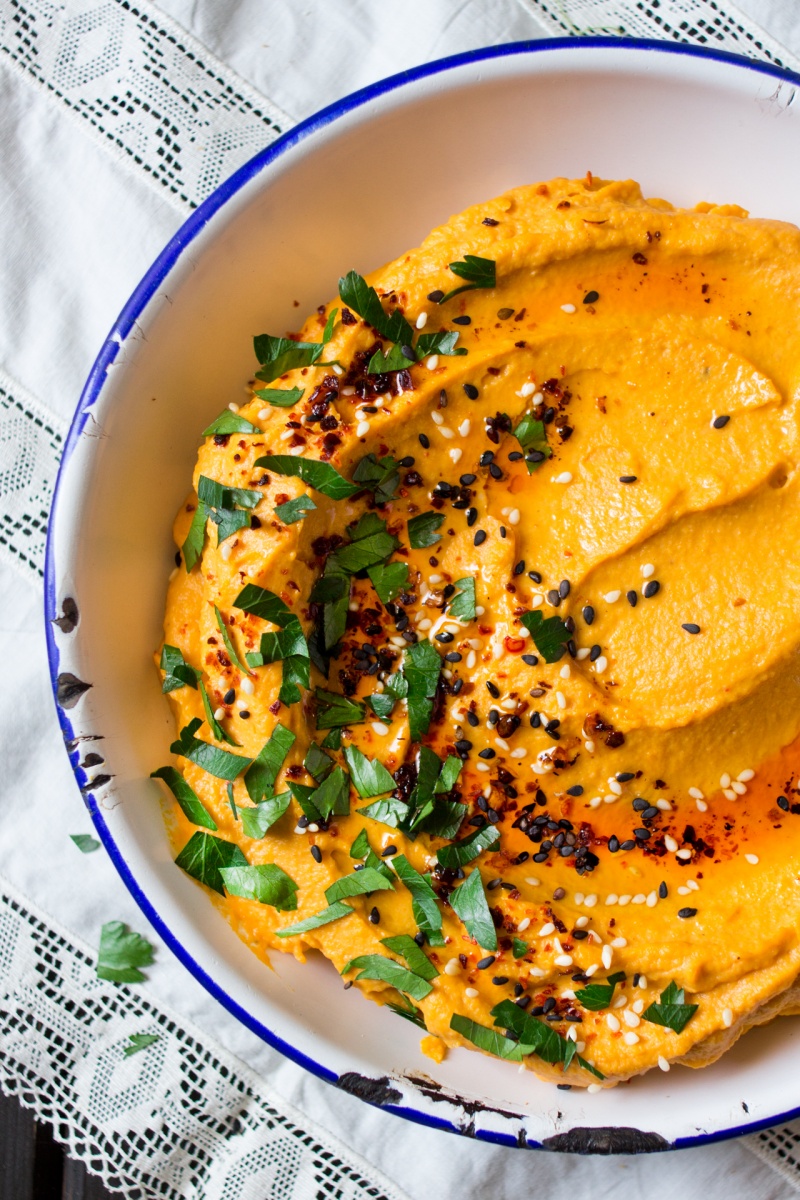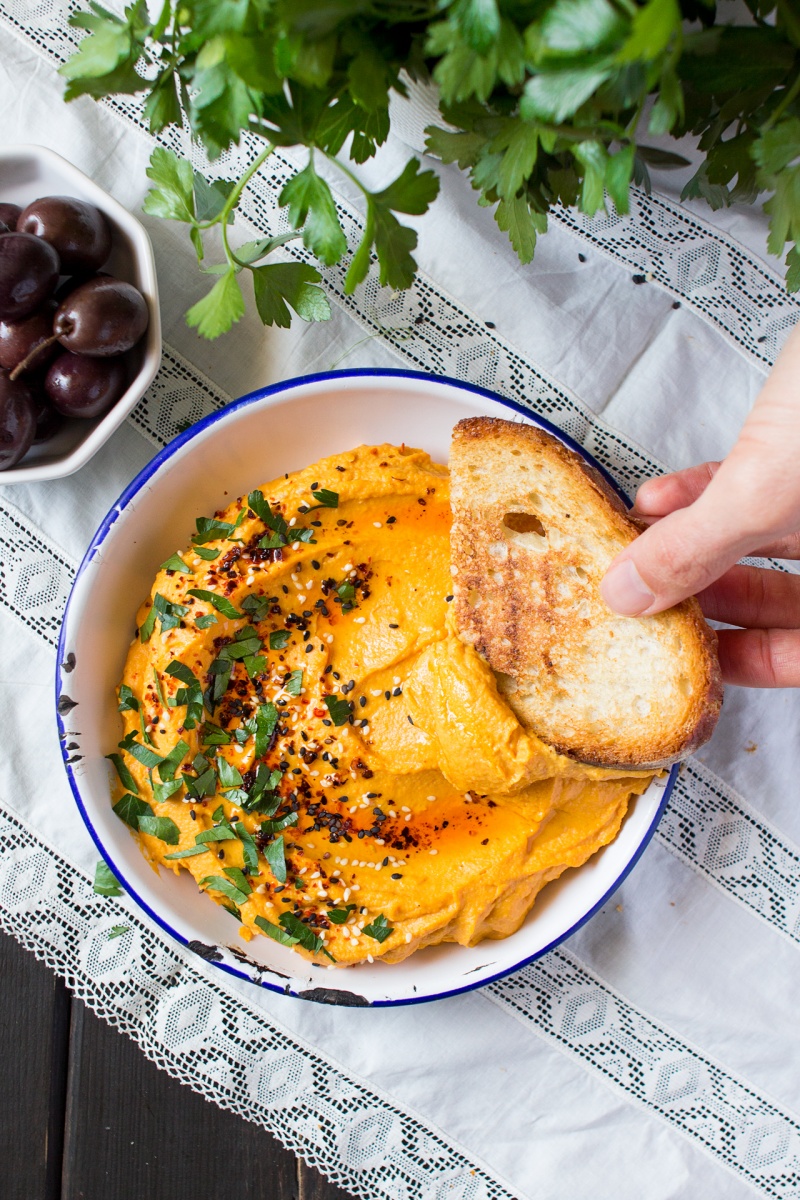 HUMMUS
1 small firm* pumpkin (700 g of peeled and cored), I used butternut pumpkin / squash
2-4 tbsp / 1/8-¼ cup lemon juice (depending on the sweetness of your pumpkin)
1 garlic clove, pressed
5 tbsp / ¼ cup + 1 tbsp tahini, hulled
½ tsp salt, more to taste
¼ tsp hot chilli powder (optional)
olive oil, for roasting
fresh parsley or coriander, to garnish
black and white sesame seeds, to garnish
2 tsp chilli oil or extra virgin olive oil, to garnish
METHOD
Heat up the oven to 220° C / 425° F and line a baking tray with a piece of baking paper. Cut your pumpkin into evenly sized pieces and coat in a little olive oil. Bake for about 30 minutes – until soft and lightly caramelised. Alternatively, you can steam your pumpkin instead.
Transfer pumpkin to a food processor (as opposed to the traditional hummus, a food processor works much better here than an upright blender). Add tahini, pressed garlic, salt, chilli, and lemon juice to taste. Whiz until smooth. If the paste is too thick, trickle in 1-2 tbsp of water to thin it out.
Transfer the hummus onto a plate, smooth it with the back of a spoon. Drizzle with extra virgin olive oil or chilli oil and sprinkle with sesame seeds and fresh herbs. Serve with toasted pita or sourdough bread and a selection of mezze dishes.
NOTES
*Choose a firmer and less watery pumpkin variety for this dip. For that reason, I used butternut pumpkin also known as butternut squash.