This is a season to be cosy. It's so cold and blustery out that all I want to do is dive into a cosy dish headfirst and alternate between eating and sleeping until Spring. Who is with me? Even if you embrace the cold a bit more enthusiastically than I do, I am sure that when it comes to cold winter days you cannot resist the call of a cosy dish either. This is where this delightfully simple yet super comforting leek gratin comes in.
Vegetables au gratin – largely meaning covered with a browned curst – is what winter is for. My leek gratin is where I take a bunch of leeks, char them to perfection and then let them stew in plenty of savoury bechamel sauce, until sweet and creamy. At the very end, I top the dish with a simple topping made up of coarse breadcrumbs (I make mine in a pestle & mortar from leftover Turkish pide) and hazelnuts, which gets beautifully browned and crusty in the oven and provides a beautiful textural contrast.
While typical gratin is made with prolific amount of milk, butter and cheese, it's a dish that is really quite easy to make it vegan. I replaced cow's milk with almond milk as that's what I had in my fridge, but soy milk or creamy oat milk work just as well. I replaced butter with olive oil and vegan butter, although if you can't find the latter, simply use olive oil for the entire dish. To give the dish cheesy flavour, I used a generous amount of nutritional yeast and some miso paste. You can also use grated vegan cheese if you found a brand you enjoy (Violife mature cheddar and Applewood smoky cheese are probably the two that come the closest for me), but I am not super fond of eating hard vegan cheese in its melted form so I flavour the sauce with some miso and nutritional yeast instead.
This dish is beautiful alongside some toasted sourdough, or you could make it a little more substantial by adding drained cannellini beans, al dente (I like wholemeal) pasta or yesterday's potatoes instead of some of the leeks. If you enjoyed this dish, you will probably enjoy thesebaked gnocchi with Brussel sprouts and leeks that I published last year too.
MORE ABOUT THE INGREDIENTS
LEEKS: Leeks are seasonal winter vegetables here in the UK. Their flavour is milder than that of onions and their flesh gets beautifully creamy once baked. Use only wild and light green part of the leeks for this vegetable and save the dark green tops for stock or discard. Be sure to clean leeks well and their nestled layers are notorious for harbouring soil.
FLOUR: Flour needs no introduction, it is used to create a roux (thickened creamy sauce). I use all purpose flour, but if you are gluten-free, chickpea flour (besan/gram flour) works well too.
PLANT MILK: Any plant milk will work here. I used almond, but I often make it with soy or oat milk. Use whatever plant milk you like the taste of, apart from coconut milk – that would be weird, I think…
THYME: A bit of fresh thyme adds flavour here. Rosemary would make for a nice substitute. If using dried herbs, crush them between your fingers well and use sparingly as they are more potent than fresh (provided they have not gone stale, of course).
MISO: White miso paste, which is a less assertive cousin of red miso paste, is used here to add umami and savouriness to the sauce. It is widely available these days, but you can skip it if you don't have it. If you are making this dish gluten-free, look for miso that is based on chickpeas, brown rice, millet etc., rather than wheat.
MUSTARD: I used wholegrain mustard to the sauce to cut through its richness. You can use Dijon mustard if you prefer and adjust the amount to your taste.
NUTRITIONAL YEAST: Nutritional yeast, which is a staple vegan seasoning made out of inactive yeast, gives the sauce a hint of depth and cheese-like flavour.
LEMON: I am a fan of adding a bit of zing to creamy sauces so I appreciate how a squeeze of lemon cuts through the richness of the sauce, but give it a taste first before you decide if any acidity is actually needed. Lemon zest is a beautiful addition for the crunchy topping or you can incorporate into the sauce too.
HAZELNUTS: I love nuts, hazelnuts especially, so I added them to the topping for a lovely crunch at the end. Pine nuts, walnuts or almonds would also work.
BREADCRUMBS: Coarse breadcrumbs are another textural element that I add at the end. I make mine from stale Turkish pide bread by pounding it roughly in a pestle and mortar, but you can simply tear or chop pretty much any stale bread into bite size chunks instead.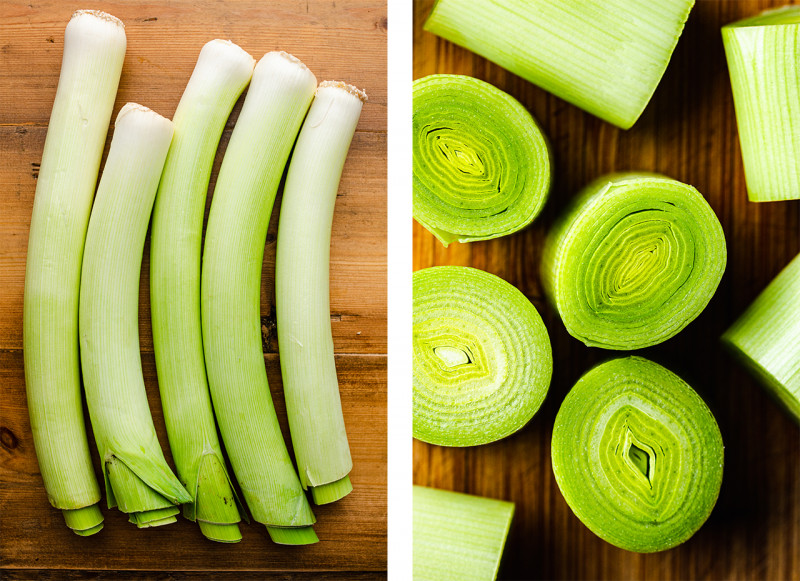 Cut the dark green part of the leeks off (I bought mine trimmed already) and cut the white and light green part into small segments. Make sure you inspect the segments for dirt. If you see any dirt lurking, you may need to cut into middle of the concentric circles, clean the dirt off and put the layers back together.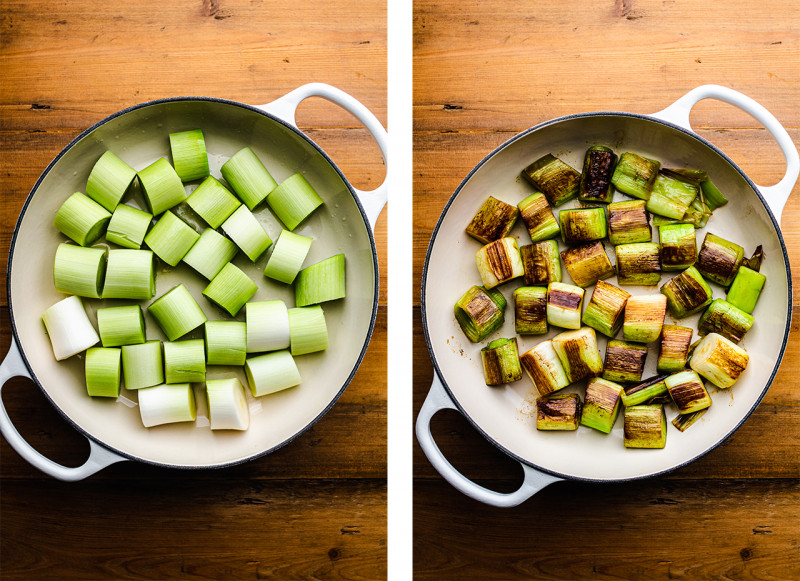 Pre-heat an oven proof casserole dish on low-medium heat, add some oil to the pan and arrange leek segments on top (side down) in a single layer. Allow the leeks to char on both sides, moving them around the pan frequently. If your pan is burnt, clean it before proceeding. If it's only just a little bit browned, that's ok – it will add flavour to the dish.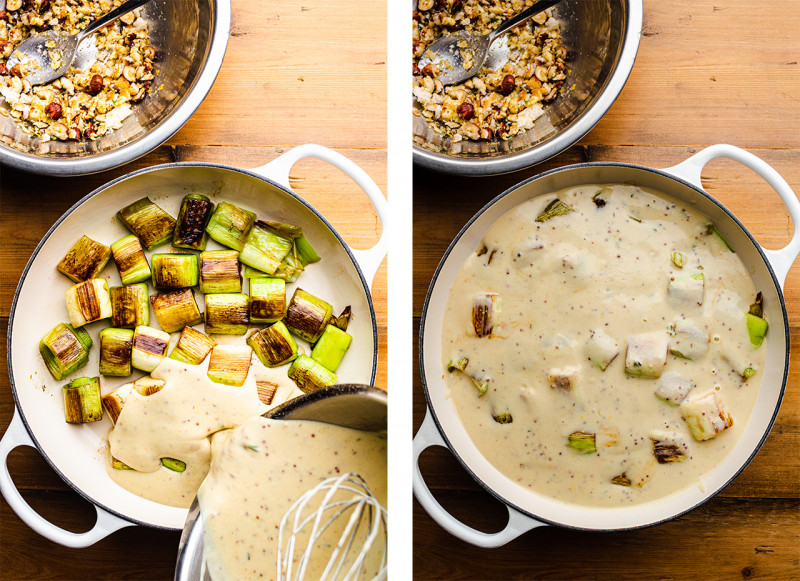 Prepare bechamel sauce in a separate pot by following the instructions in the recipe method. Once ready, pour the bechamel over the charred leeks, cover the pot with a lid and place in a preheated oven.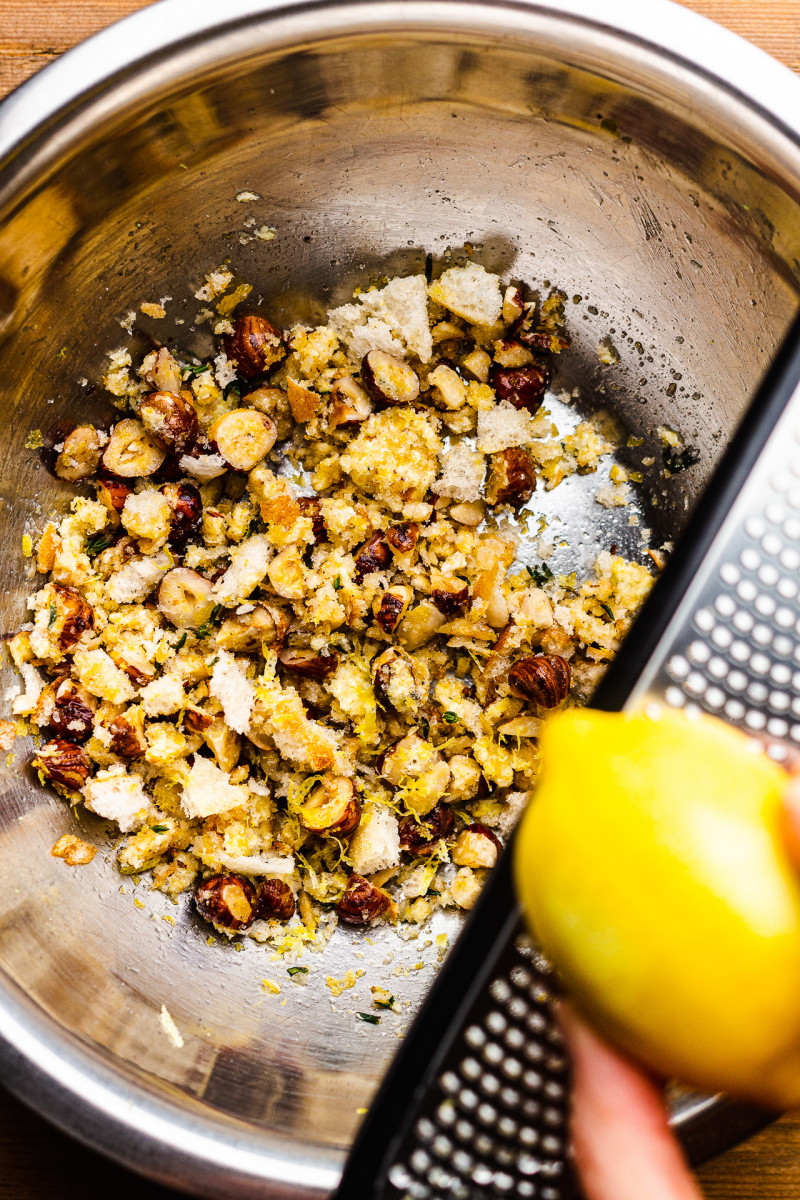 While the leeks are baking, prepare the topping by mixing all of the ingredients in a small mixing bowl. Scatter the topping on top of the bake for the last 5 minutes of the baking time.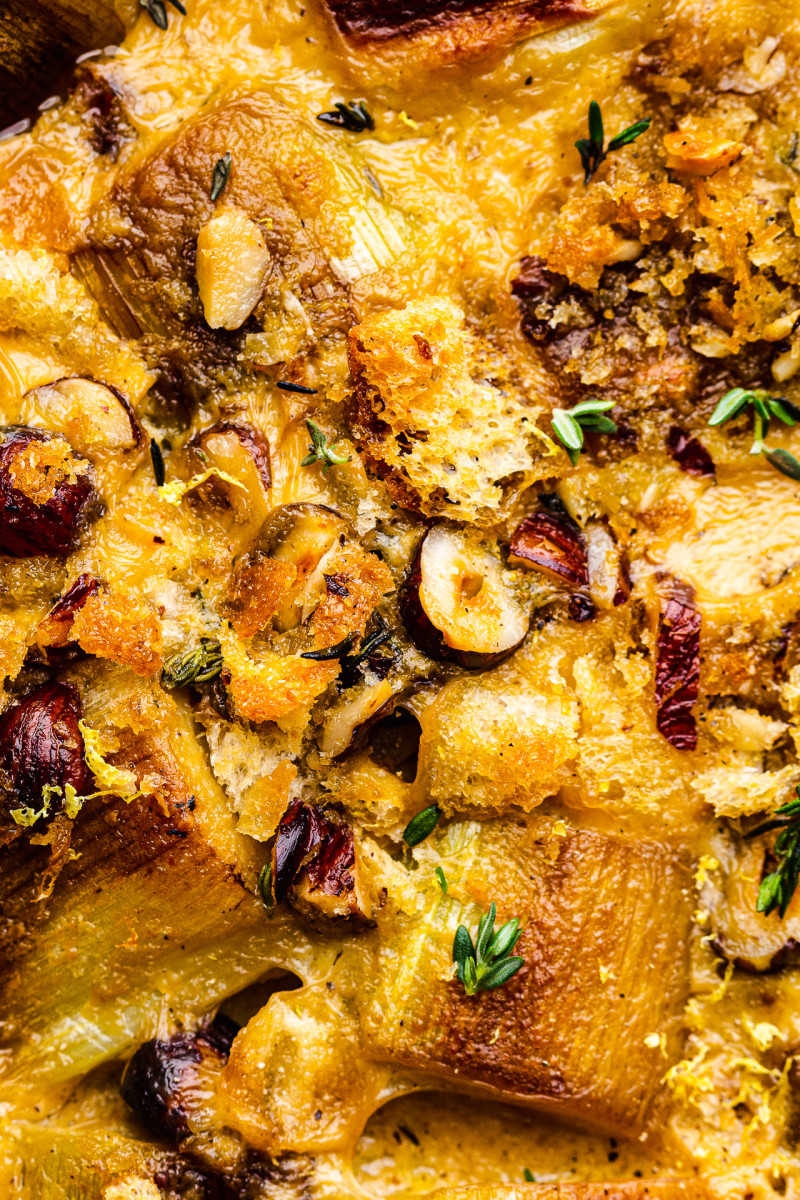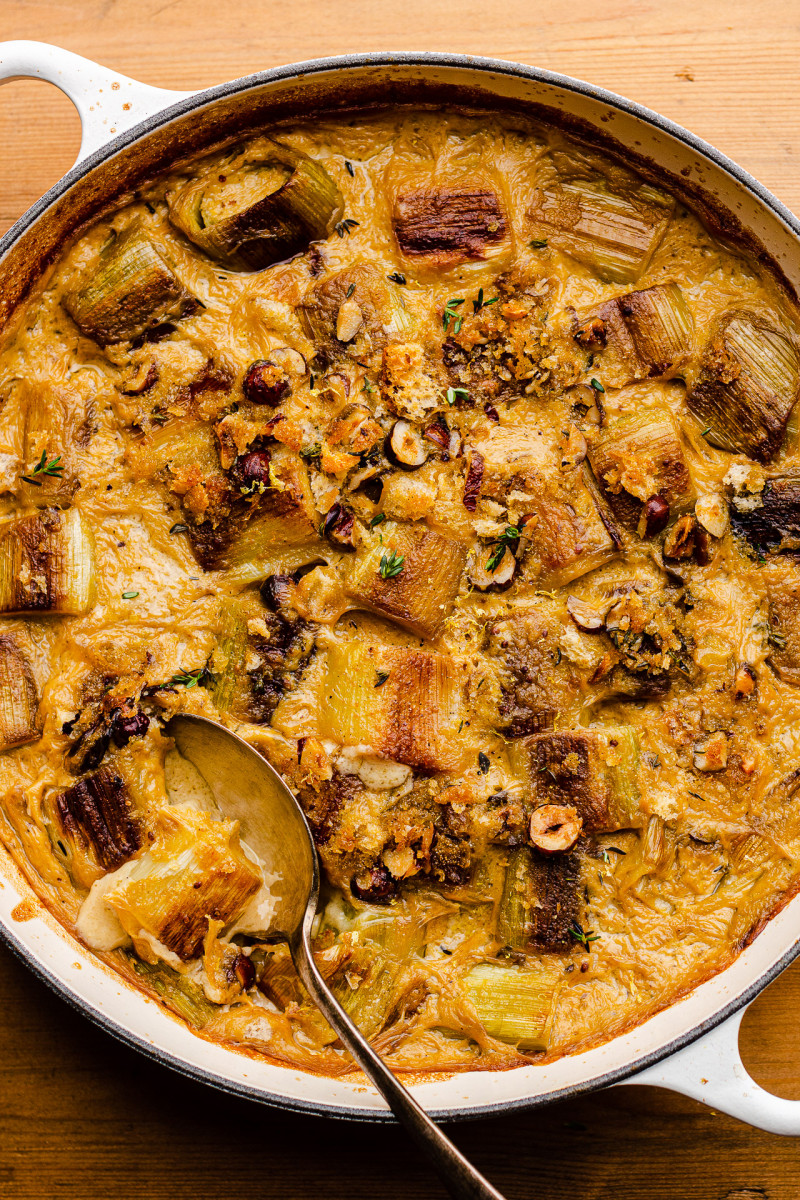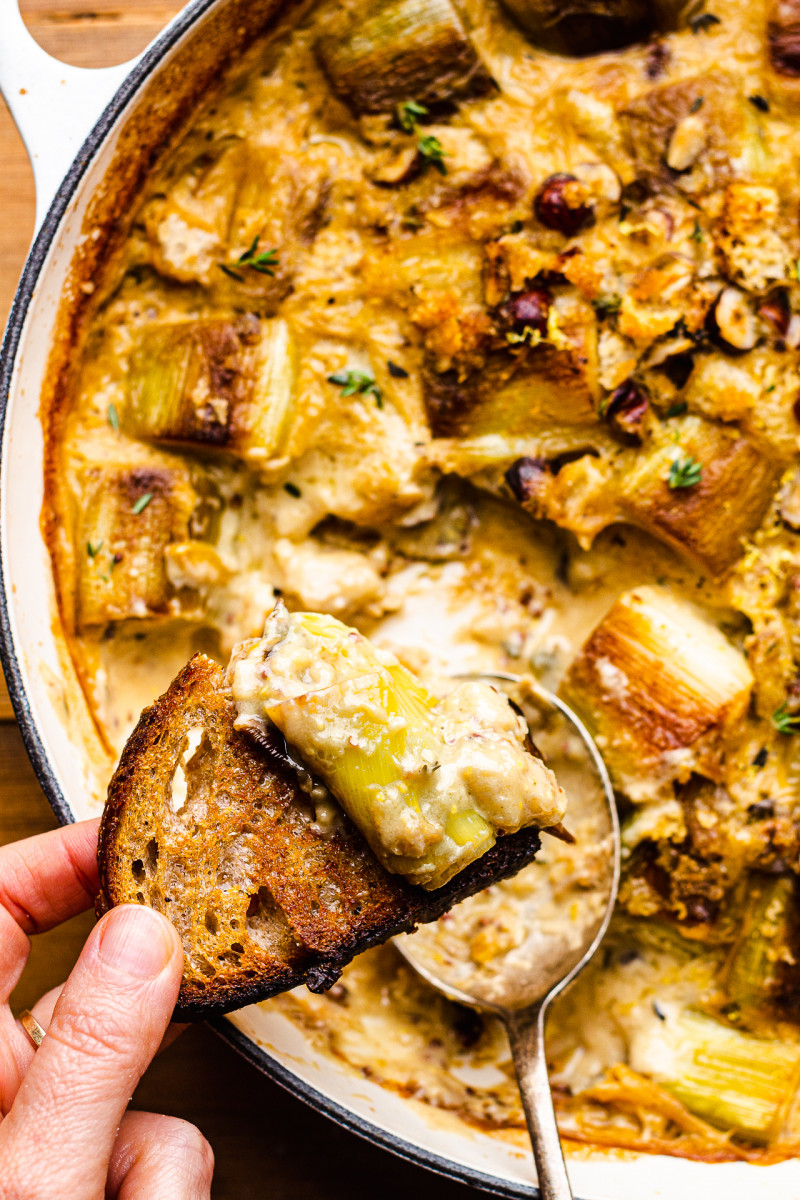 LEEKS & BECHAMEL
60 ml / ¼ cup olive oil, divided
800 g / 28 oz trimmed leeks* (approx. 4 leeks)
25 g / 3 tbsp all purpose flour (or chickpea flour for GF version)
500 ml / 2 cups plant milk (I used almond)
10 g / 2 tsp white miso paste*
1 tbsp wholegrain mustard, adjust to taste
4 tbsp nutritional yeast*
approx. 2 tsp fresh thyme leaves (or rosemary leaves, chopped)
a squeeze of lemon (zest for the topping)
salt and pepper to taste
grated (or ground) nutmeg to taste
TOPPING (optional)
65 g / ½ cup hazelnuts, chopped
25 g / ½ cup coarse breadcrumbs (GF if needed)
zest of half a lemon
a good pinch of salt and pepper
25 g / 2 tbsp vegan butter (or olive oil)
METHOD
LEEKS
Cut dark green parts of the leeks off and discard (or use to make stock). Clean the leeks (removing the outer layer if needed), dry well and cut into 2.5 cm / 1 inch segments.
Preheat a medium ovenproof dish (I used a 26 cm / 10.2″ cast iron casserole dish) on the stovetop, on low-medium heat.
Add 1 tbsp of olive oil and once it heats up, arrange leeks on top. Allow them to char gently on both sides. Set aside (if the bottom of your dish is badly burnt, clean it but if it's only just caramelised a little, don't worry).
BECHAMEL
Preheat the oven to 200° C / 390° F. Dilute miso in a splash of plant milk in a bowl.
Heat the remaining olive oil in a medium size pot, then add flour. Whisk flour and oil together to form a loose paste. Allow it to cook on low heat for a minute whisking frequently. Do not let it brown, we only just want to cook off the raw flour taste.
Gradually add in plant milk then diluted miso paste, mustard and nutritional yeast while whisking the whole time. Allow the mixture to simmer gently until it visibly thickens.
Season salt, pepper, a good grating of nutmeg and thyme leaves. I also like a squeeze of lemon, but that's optional. Taste and adjust the seasoning remembering that the leeks go in unseasoned.
TOPPING
Mix all of the dry ingredients in a bowl, then rub softened butter into them with your fingers or a flexible spatula.
ASSEMBLY
Pour the bechamel into the dish with charred leeks – it should just to cover them.
Cover the dish with a lid (or tightly with a piece of kitchen foil) and bake for 15 minutes.
After 15 minutes, uncover and bake for a further 10-15, then scatter the topping on top and bake for further 5 (or so minutes until everything is beautifully browned.
Divide between bowls and enjoy as a vibrant side or alongside some crusty sourdough bread.
NOTES
*MISO: If wanting to keep this dish gluten-free, make sure to use a gluten-free miso paste – made with chickpeas, rice, millet, amaranth or quinoa instead of wheat, barley or rye.
*NUTRITIONAL YEAST: it gives the sauce cheesy flavour, but if you do have a vegan hard cheese you enjoy eating melted – you may want to grate some of it into the sauce instead. I would go for about 100 g / 3.5 oz.
Add a can of drained cannellini beans, al dente wholemeal pasta or yesterday's cubed potatoes instead of a couple of leeks for a more substantial dish.