Today's recipe features fresh artichokes, which is a vegetable I used to be scared off for a long time. If you haven't grown up eating them, I think it's a pretty common reaction as even though they are beautiful, they also look a bit menacing, don't they? They remind me of a cactus (some of them have sharp prongs at the top of their leaves) and, in fact, apparently the cactus family is where they were thought to have come from. Later on, it turned out that they are distant relatives of thistles, phew! I have eaten artichokes before, but all I had to do was open a jar I got from an Italian deli, I never tackled them myself. I do like their unique taste so when I saw them popping up in green grocers all over the island, I got a bit curious.
We have this tiny vegetable stall by the road to our house, which is run by a lovely Greek lady and her son and they sell locally grown (literally 500 meters away) produce. We stopped there to buy some broccoli and saw that they had fresh artichokes that day. The lady owner must have seen me looking at them with a mix of trepidation and curiosity and she simply took one out and showed me, step by step, how to prepare it for cooking. Even though communication was difficult as my Greek is nowhere near where it should be and her English is basic, it was so lovely of her and I cooked them according to her instructions as soon as I got home. They were delicious and tasted so much nicer than the ones you get in a jar and now I keep on going back for more. So, if you are feeling adventurous, try to find fresh artichokes for this salad, otherwise visiting your local Italian deli should do the trick too.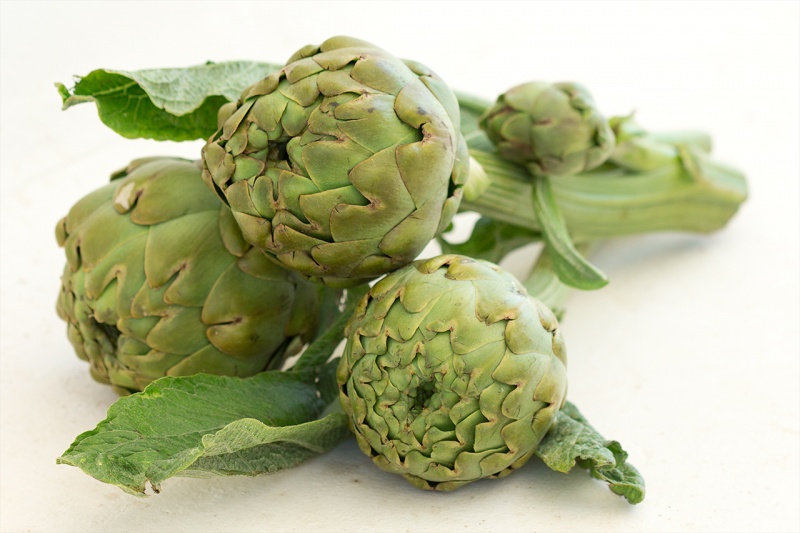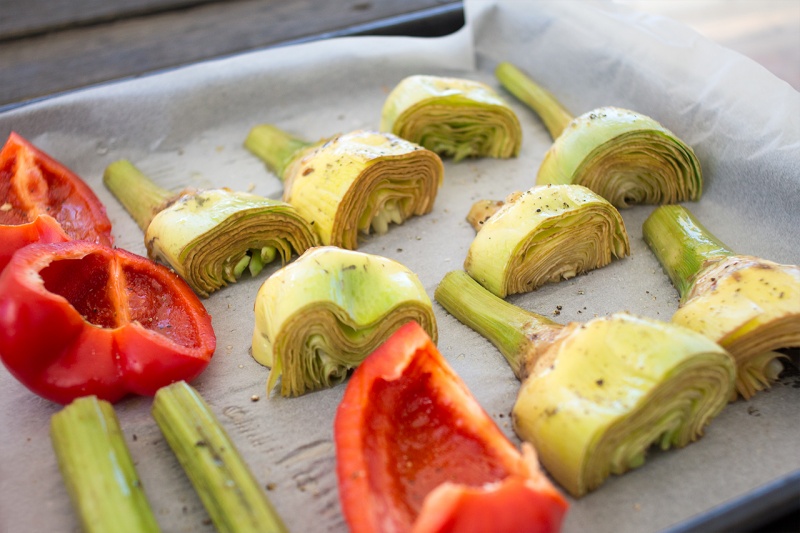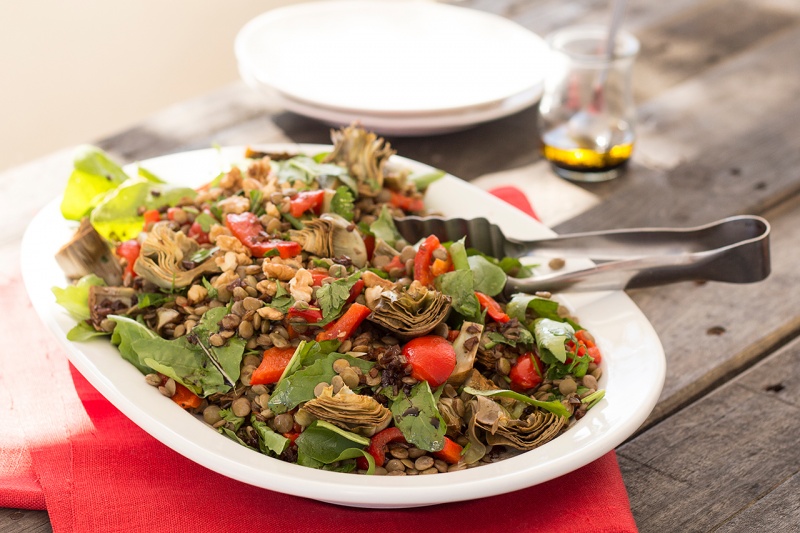 2 cups of (dry) lentils (I used green)
3 fresh artichokes* + 1 lemon
3 red peppers
small bunch of rocket, chopped
handful of parsley, finely chopped
handful of walnuts, chopped
4 tbsp balsamic vinegar
4 tbsp olive oil + more for roasting
2 cloves garlic, finely diced
salt
black pepper
METHOD
Pre-heat the oven to 200° C / 400° F.
Prepare a bowl of cold water with juice of ½ lemon and keep the other half a lemon at hand. Start preparing the artichokes* following the steps below:
STEP 1 Cut off about 1/3 off the head and discard. If your artichokes have spikes, cut off top part of the leaves with kitchen scissors.
STEP 2 Rub a bit of lemon into any newly exposed flesh moving onward (this slows down the oxidisation process).
STEP 3 Pluck off all of the tough outer leaves – keep on plucking until you get to the young, tender leaves. Tidy up the left over bits of the leaves with a knife.
STEP 4 Using a speed-peeler (or a pairing knife), peel the outer tough skin off the stem, the soft inside is edible and tasty.
STEP 5 Cut the artichoke in half to reveal the inedible part, called 'the choke'. It is a hairy bit growing out of a moon-shaped base.
STEP 6 Using a teaspoon and/or a pairing knife, remove the choke completely and discard. Plunge the cleaned-up artichoke and its stem in a bowl of lemon water.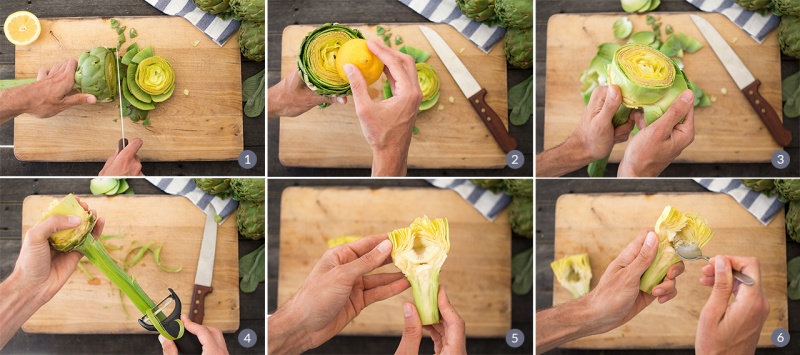 Wash, halve and deseed the red peppers. Brush them and the prepared artichokes with olive olive and sprinkle with salt and pepper.
Put artichokes (inside down) and peppers (inside up) on a paper lined baking tray. Bake the artichokes for about 20 minutes, turning them over half way through and peppers for 30 mins, turning them over 20 mins in (when you remove the artichokes).
Rinse the lentils and cook them in salted water according to the packet instructions, but don't let them turn into mush, you want them to hold their shape. Drain and set aside to cool down.
Once you remove the peppers from the oven, put them into a bowl and wrap kitchen foil over the top. Let them sweat for a few minutes (this will make them easier to peel). Peel them once cool enough to handle and cut into small chunks.
Heat up 4 tbsp of olive oil in a pan and lightly fry up chopped-up garlic. Be careful not to burn it (stir often and use low-medium heat).
Add 4 tbsp of balsamic vinegar into the olive oil and let it simmer on low heat for a few minutes. Add a pinch of salt and a sprinkling of pepper.
Combine lentils, rocket, roast peppers and artichokes together. Pour warm dressing over the top. Adjust the seasoning and sprinkle with fresh parsley and walnuts before serving.
NOTES
* I only used artichoke hearts (the most tender part) in this recipe, but meaty part of the discarded leaves is also edible so you may find that some people prep artichokes differently.