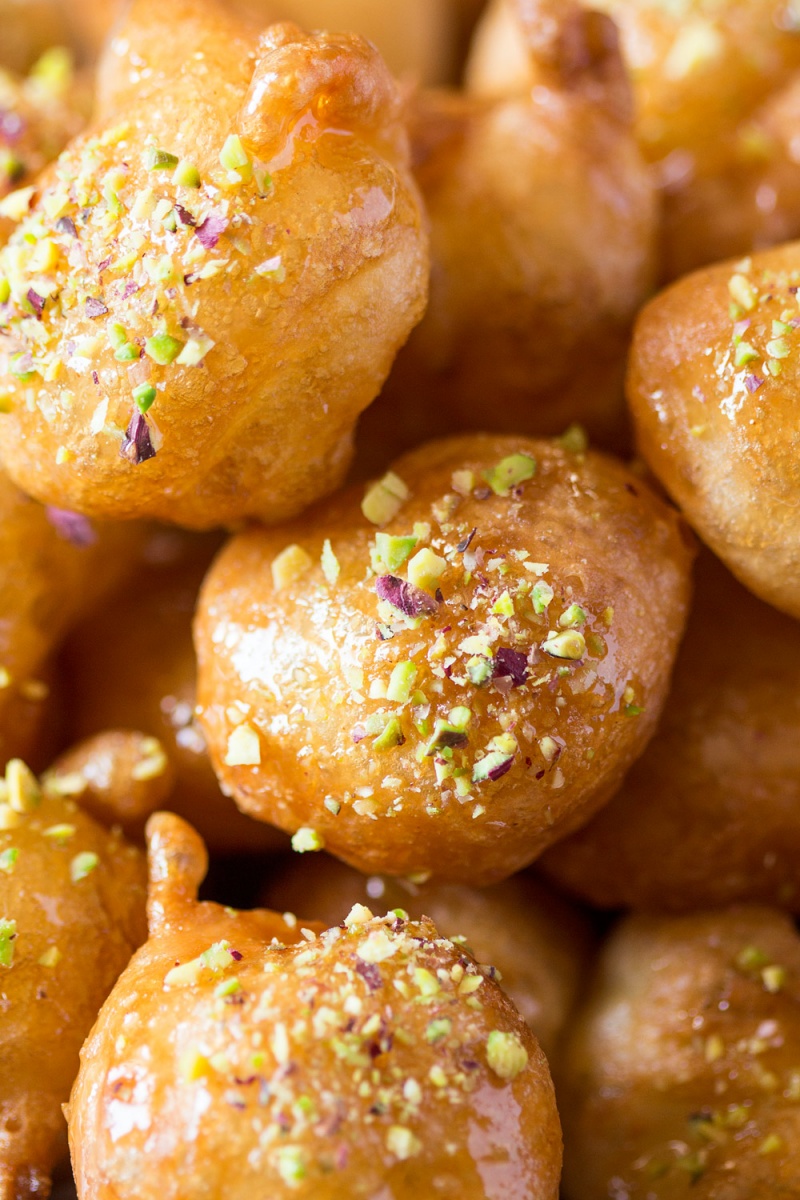 We have a real treat for you today – delicious dough puffs drizzled in an aromatic syrup and sprinkled with finely chopped nuts.
These delicacies are loukoumades, Greek doughnuts, which taste similar to doughnuts yet they are so much easier to make. They make fantastic coffee or tea companions. I can guarantee you that despite your best efforts, you will find it a challenge to stop at just one or two as they are completely addictive.
I know what I'm talking about. On the day of the photoshoot, every time I passed by the plate with loukoumades, I had to have one. By the end of the day I made a quick calculation and realised that I must have hoovered up at least a dozen of these golden brown beauties.
My advice to you is invite some friends over before you set the pot on the stove. I don't know anyone who would say 'no' to a freshly fried, homemade doughnut. Failing that, line up some hard exercise sessions for the next day;). They are so worth it!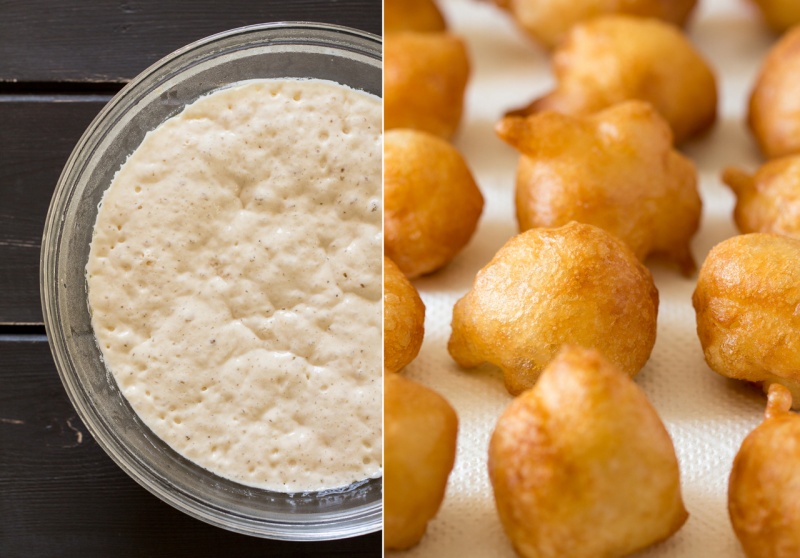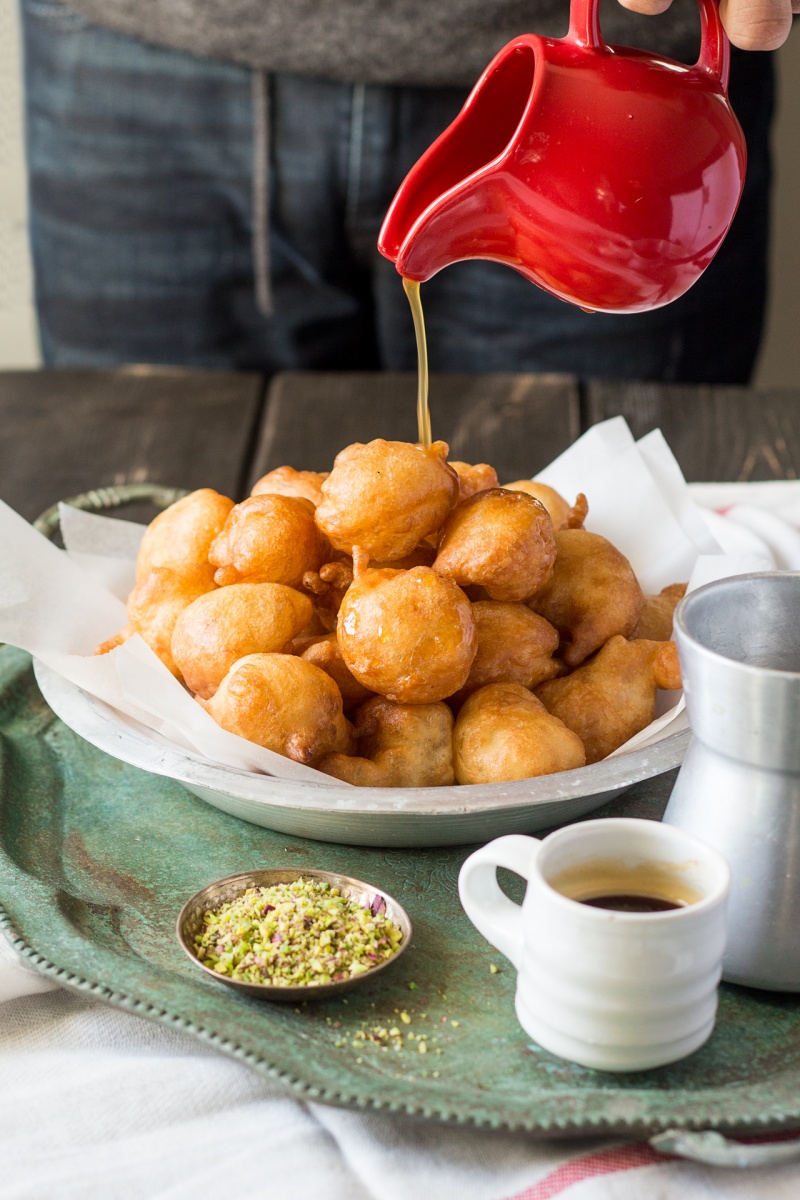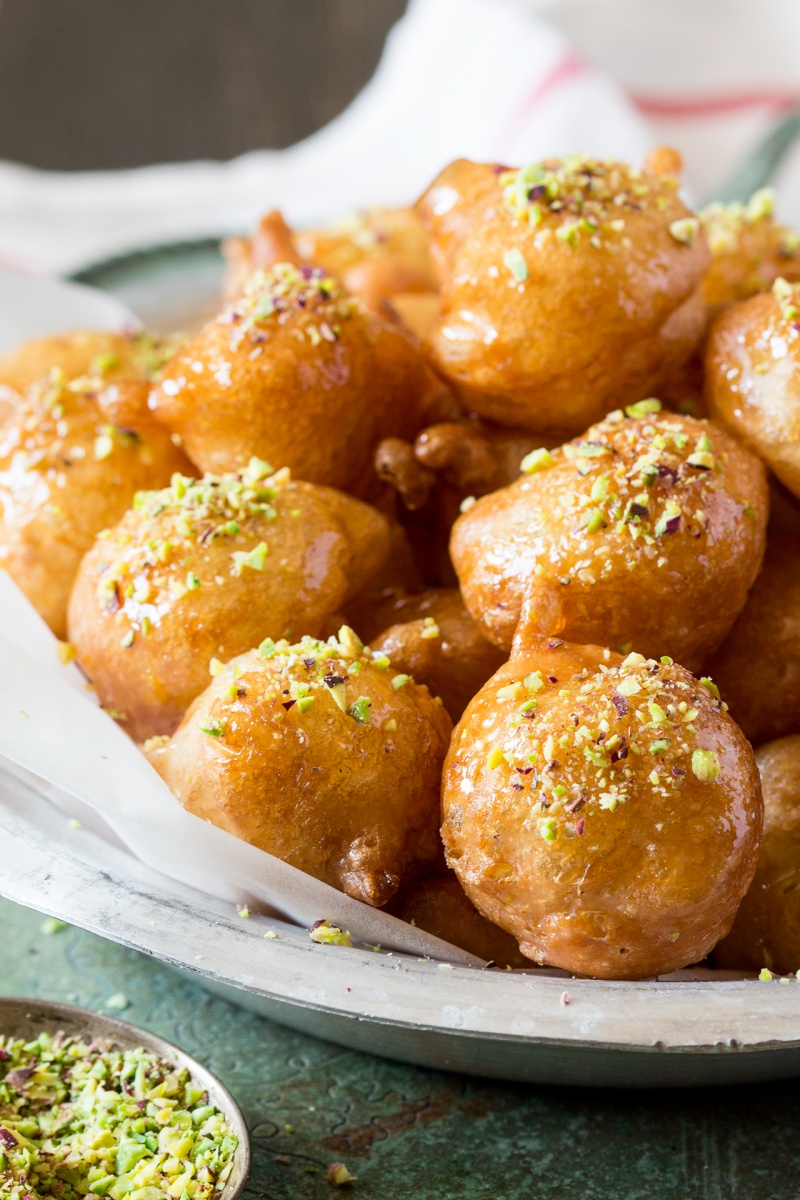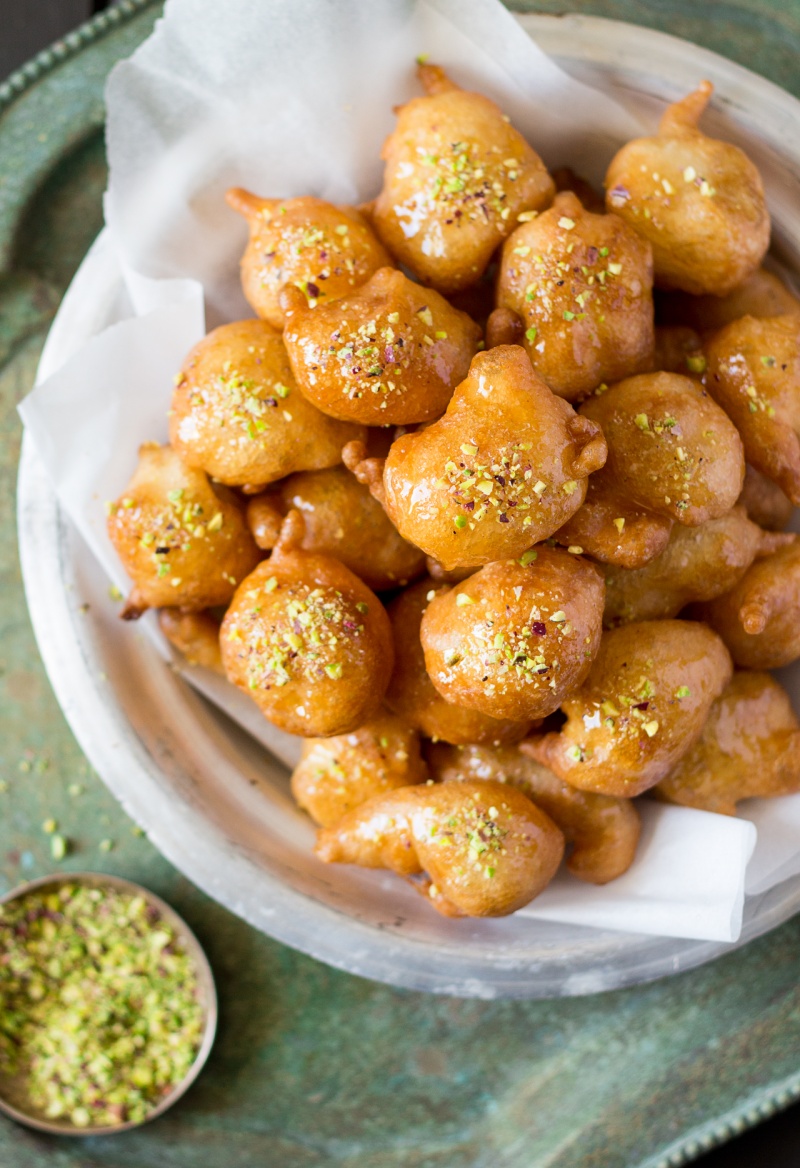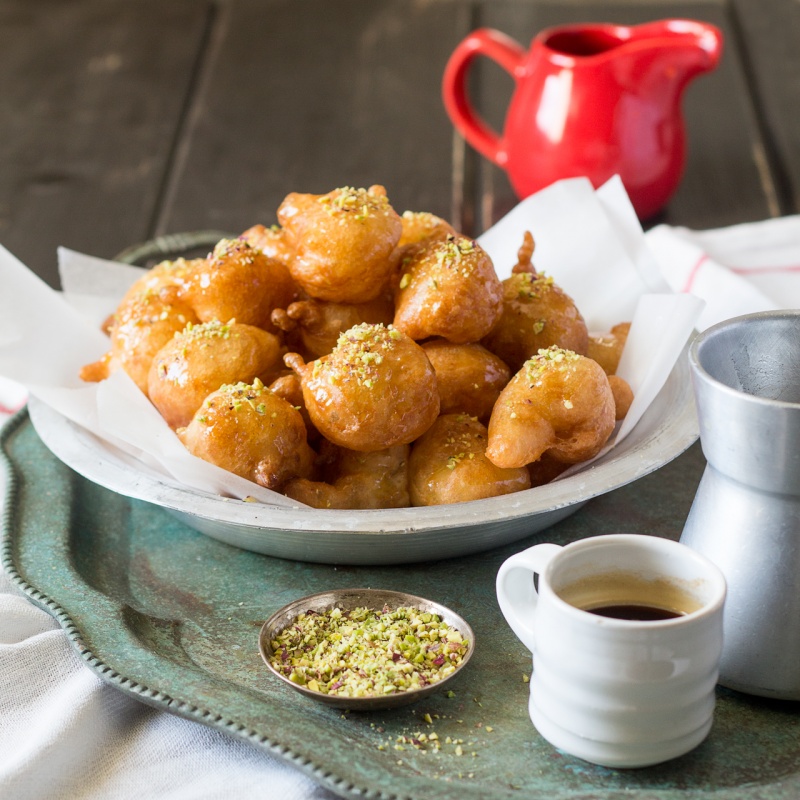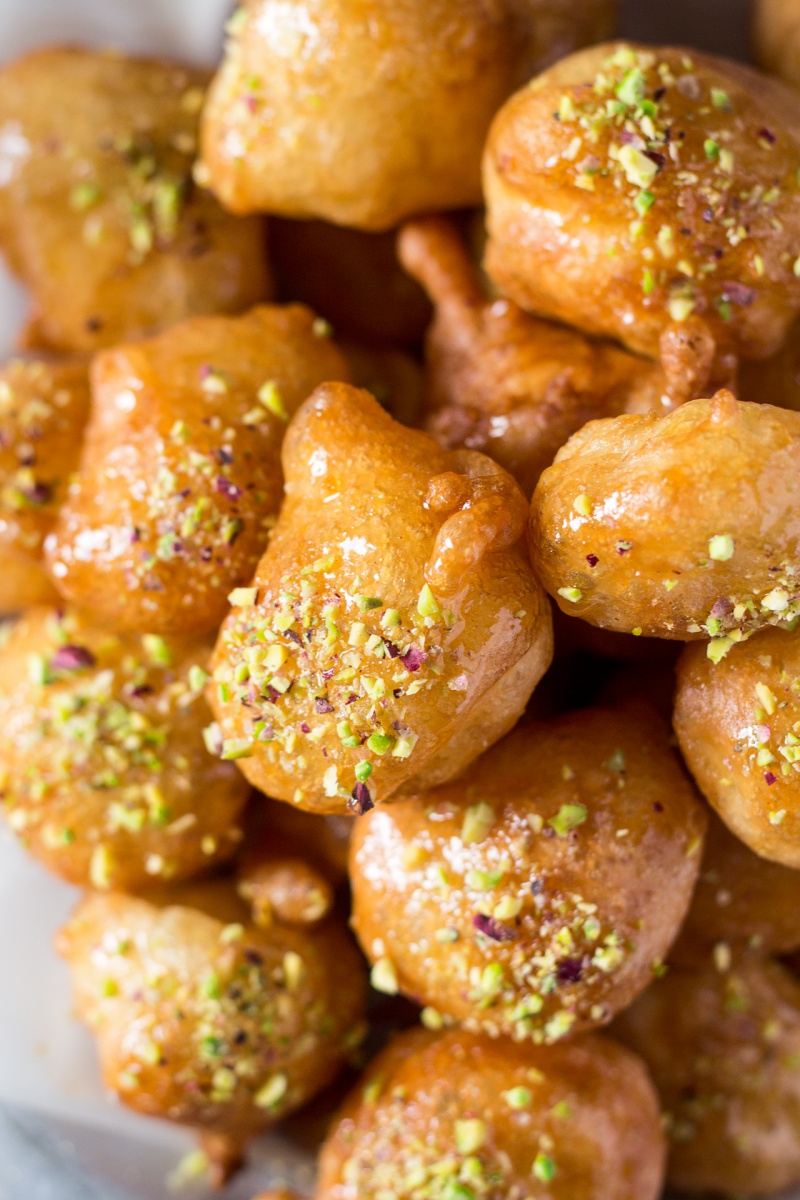 DOUGH
2 cups of white all-purpose flour
1 cup / 240 ml lukewarm water
½ cup lukewarm almond milk
1 sachet (7 g) dry instant yeast
1 tbsp sugar
pinch of salt
1 tbsp oil + more for frying
SYRUP & GARNISH
½ cup / 120 ml maple syrup**
1 orange (¼ cup / 60 ml orange juice + orange and zest)
a quill of cinnamon
handful of pistachios or walnuts, very finely chopped
METHOD
LOUKOUMADES
Mix all the dry ingredients together including yeast. Then add lukewarm water and milk and mix well until you get a runny batter similar to pancake batter.
Cover with a piece of cling film and rest it for about 1-2 hours (in warm weather it will take less time), until dough triples in size and there are lots of air bubbles visible (see photo).
Once the dough is ready, heat up a small pot with oil on the stove. Once the oil is hot, dip a teaspoon in it and then scoop a teaspoon of the dough and gently drop it into hot oil. Give the dough a good stir in between batches.
Fry about 4 loukoumades at one time. As the dough is very puffy / airy, they have a tendency to float, make sure you flip them now and again to be sure they are cooked evenly.
Once your loukoumades are golden brown all over, fish them out of the oil with a fork or a slotted spoon and place them on a few layers of kitchen roll to get rid of excess oil.
Pour hot (that's important!) syrup over your loukoumades and sprinkle some finely chopped pistachios and optionally some orange zest. Serve immediately.
SYRUP
Put maple syrup, 60 ml of orange juice and cinnamon quill in a small saucepan.
Bring the mixture to boil and then simmer very gently for 10-15 minutes until the syrup thickens a little.
Fish out cinnamon quill and pour hot syrup over hot loukoumades.
NOTES
* The dough recipe has been adapted from
this recipe
** You can also make a simple sugar syrup if you don't have maple syrup.