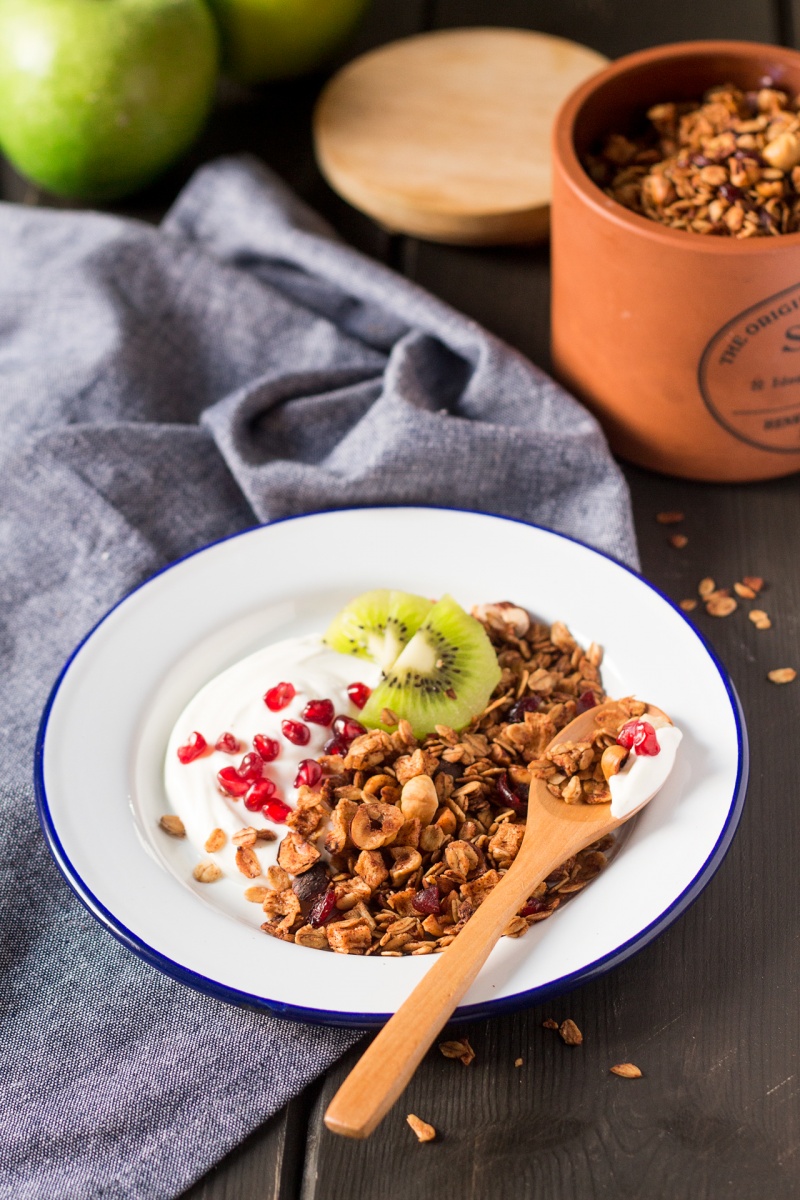 It's been a while since we published a breakfast recipe so let me introduce our latest breakfast obsession to you – a delicious low-fat apple granola. It's dead easy to make and while the oven is doing its magic, your house fills with the most amazing autumn smell. This granola makes a fabulous quick and healthy breakfast, be it at home or at work. Traditional granolas use oil or a combination of oil and egg whites to make the oats nice and crunchy. The success I've had of replacing egg whites with aquafaba in cookies has inspired me to add some chickpea brine to my granola instead of egg whites and see what happens. I was a tad nervous, but the replacement was a success. Aquafaba gave my granola a lovely crunch and halved the amount of oil I've had to use so it was a win/win. If you are not concerned about your oil consumption, feel free to simply double the amount of oil in this recipe. Whichever way you make it, this granola comes out so delicious that it will be a real challenge to save it just for breakfasts.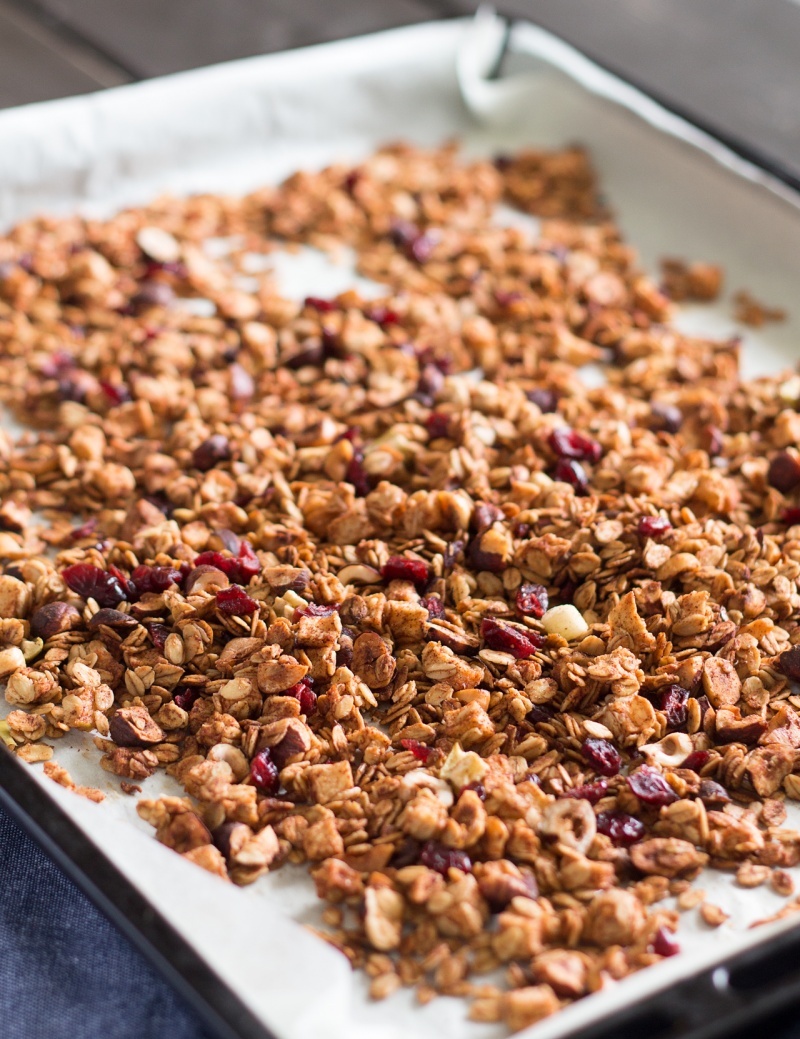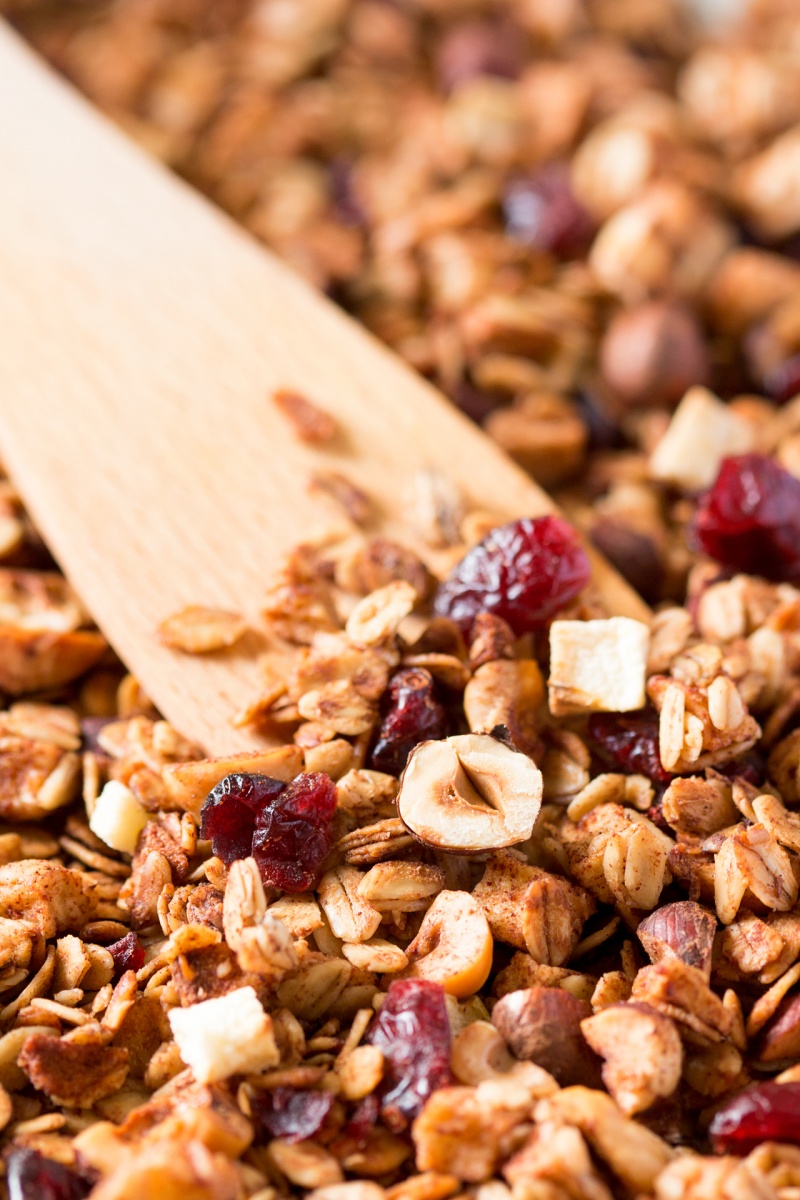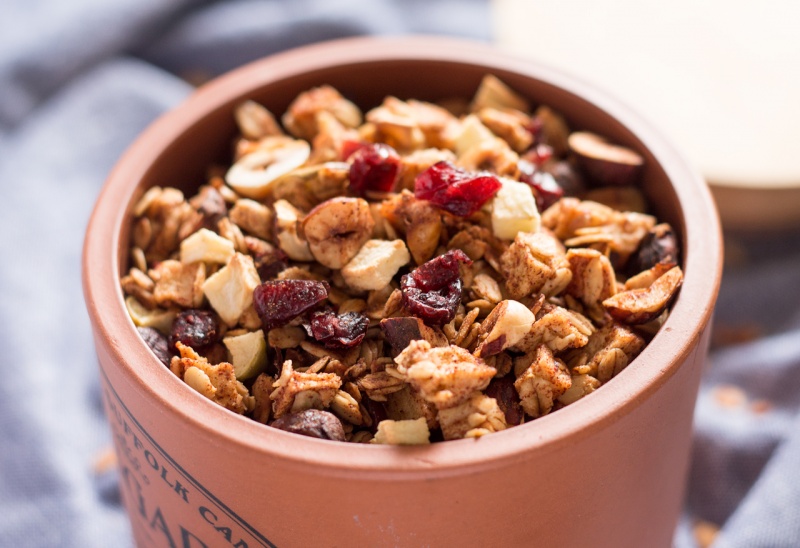 1½ cups rolled oats (gluten-free for GF version)
1 Granny Smith apple, peeled and cubed
60 g hazelnuts, chopped
30 g cranberries, chopped
1½ tsp cinnamon
2 tbsp / 30 ml aquafaba*
2 tbsp / 30 ml olive oil (or 4 tbsp if not using aquafaba)
4 tbsp / 60 ml maple syrup
METHOD
In a large bowl, mix oats, cinnamon, chopped hazelnuts and cubed apple.
In another bowl, mix maple syrup and olive oil.
Beat aquafaba with a hand whisk until you get soft peaks.
Add maple syrup and oil mixture to the dry ingredients and incorporate them well using your hands. Now mix in beaten aquafaba.
Preheat the oven to 150° C / 300° F. Spread granola mixture on a parchment-lined baking tray and bake for about 30-40 minutes (stirring it every 15 minutes) until it gets crispy and golden brown.
Once ready, take the granola out of the oven and mixed in chopped cranberries – if you add them in with other ingredients they will end up burnt and hard.
Store in an airtight container. Use within 2 weeks.
*Aquafaba is chickpea brine obtained from a tin of chickpeas (or you can make your own). When making your own, soak chickpeas in lots of water overnight, rinse and put in a large pot with lots of water. Bring to the boil and simmer for about 1 hour (until beans are soft). Remove cooked chickpeas with a slotted spoon and what's left in your pot is aquafaba. If it is too runny (ideally it should resemble egg whites), you can concentrate it a bit by simmering it on a low heat (without a lid) until it reaches the desired consistency. Cool it down before using.