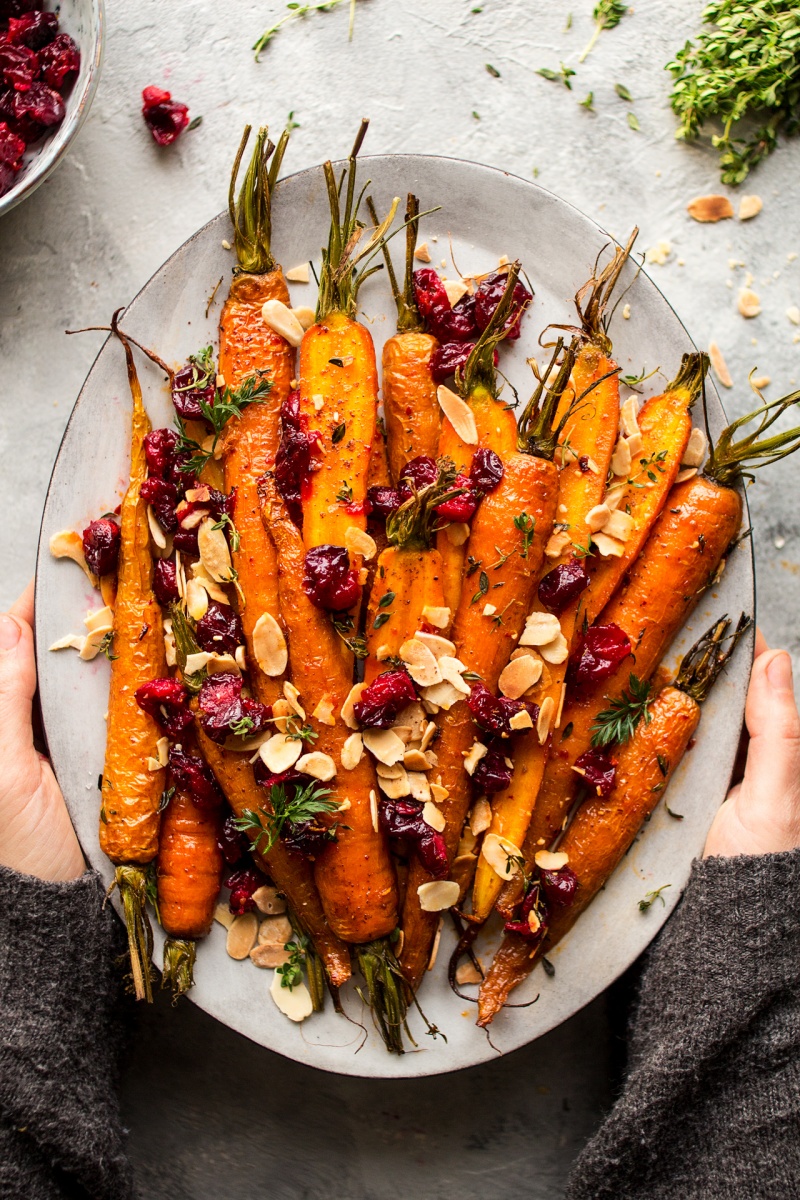 Happy mid-week, guys! After a week in sunny Poland, I am back to playing hide and seek with the sun in Bristol. The days are short and often grey, which poses a massive challenge as far as natural light photography is concerned. This week is supposed to be fairly bright and sunny for the first 3 days so I am running around like crazy doing final recipe testing, purchasing the ingredients and shooting both recipes by Wednesday as Thursday and Friday are meant to be dark and cloudy so I won't get anything done.
My resolve not to use artificial light is eroding slowly. As much as I don't want to give in, I also feel that the stress of sudden light changes is a bit too much on some days. Like today, the sun was out while I was doing the process shots, the moment I plated and styled the dish a big grey cloud came out of nowhere and sat there in front of my window laughing me in the face.
The colours and aromas of today's dish of orange zest and thyme made me realise how close it is till Xmas. While we don't celebrate Thanksgiving here, I am well aware that next week is going to be all about Thanksgiving for a lot of you, guys. I know from personal experience that being vegan at times when meat is an absolute must on most people's tables can be particularly difficult and alienating so I thought I would come to your rescue with a few Thanksgiving-friendly vegan dishes.
First up is a colourful side of maple and harissa glazed carrots studded with jammy cranberries and toasted almonds for much needed flavour and texture contrast. This dish is low on effort and easy to make. If you are not a fan of harissa or it's too untraditional for you, feel free to skip it or swap it out for a range of dry spices like cumin, cinnamon, coriander, paprika or chilli. They all work with carrots, maple syrup and cranberries rather well too.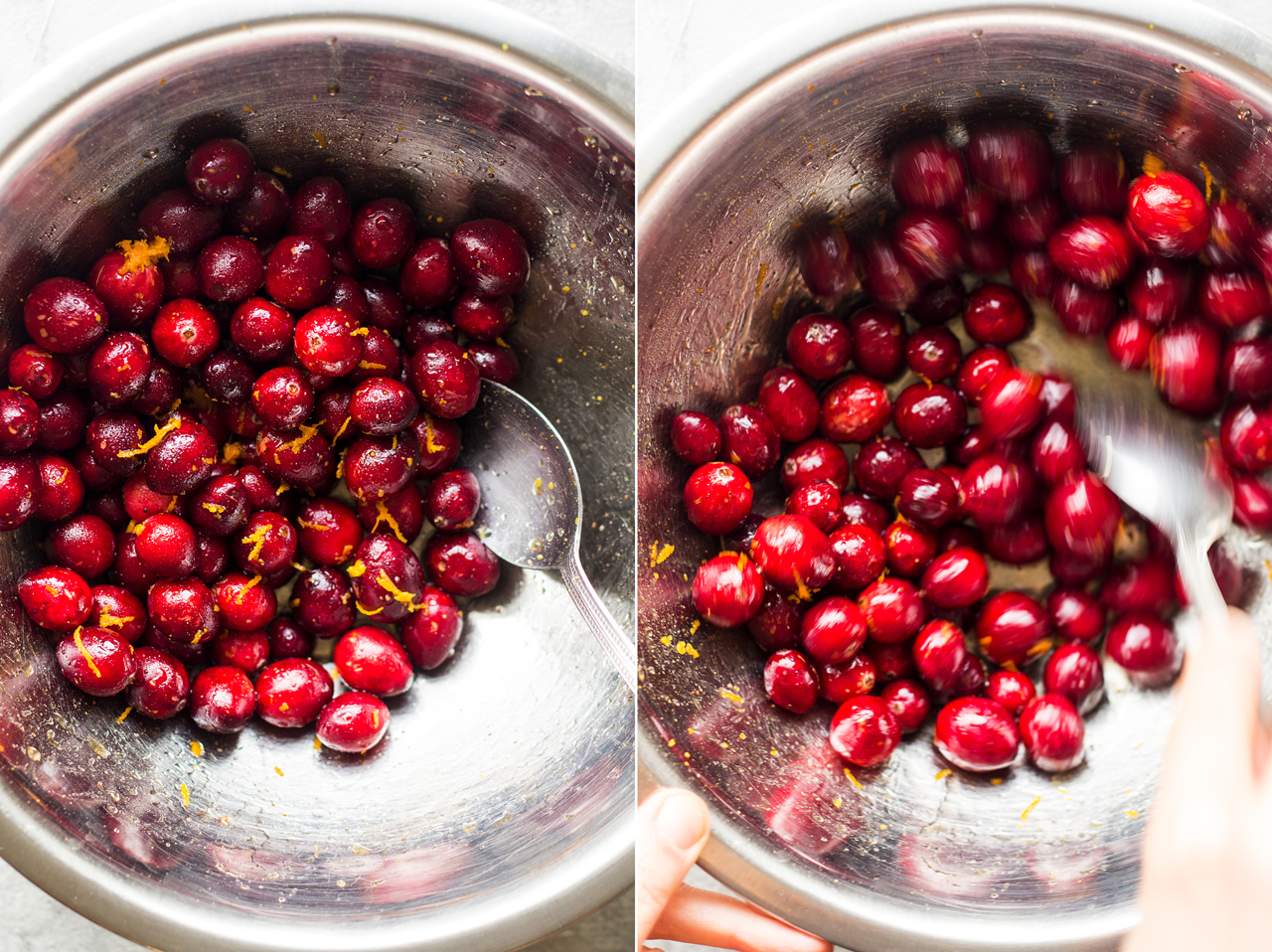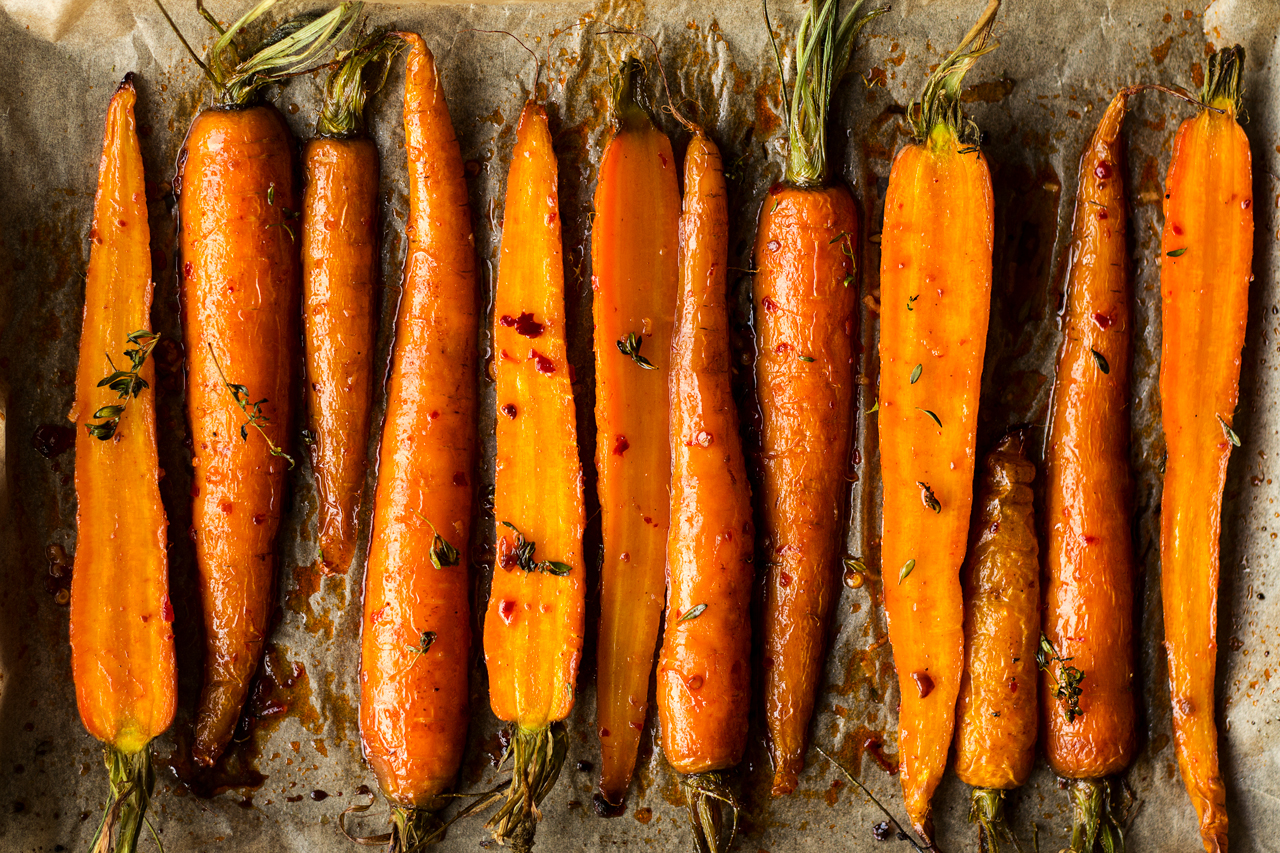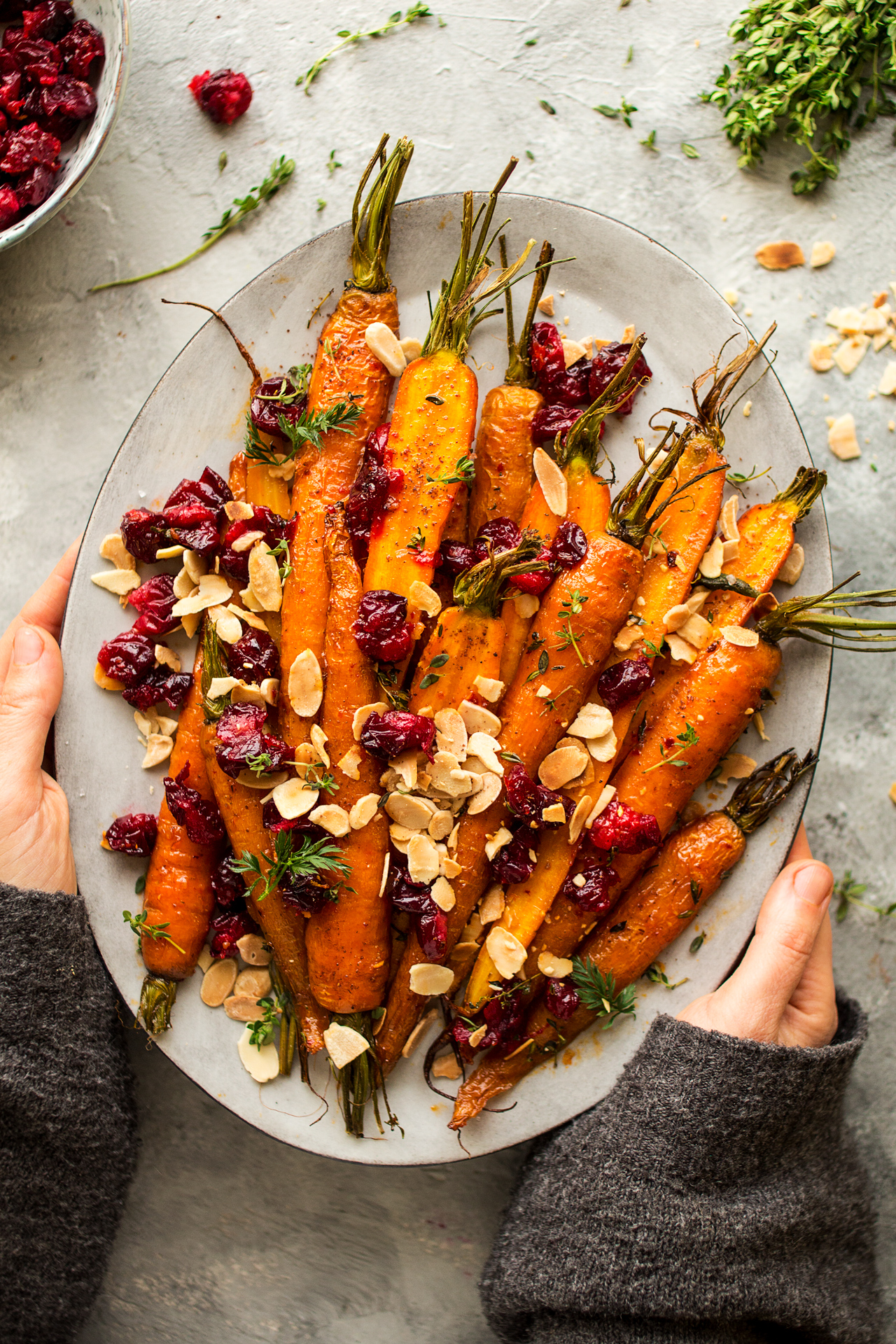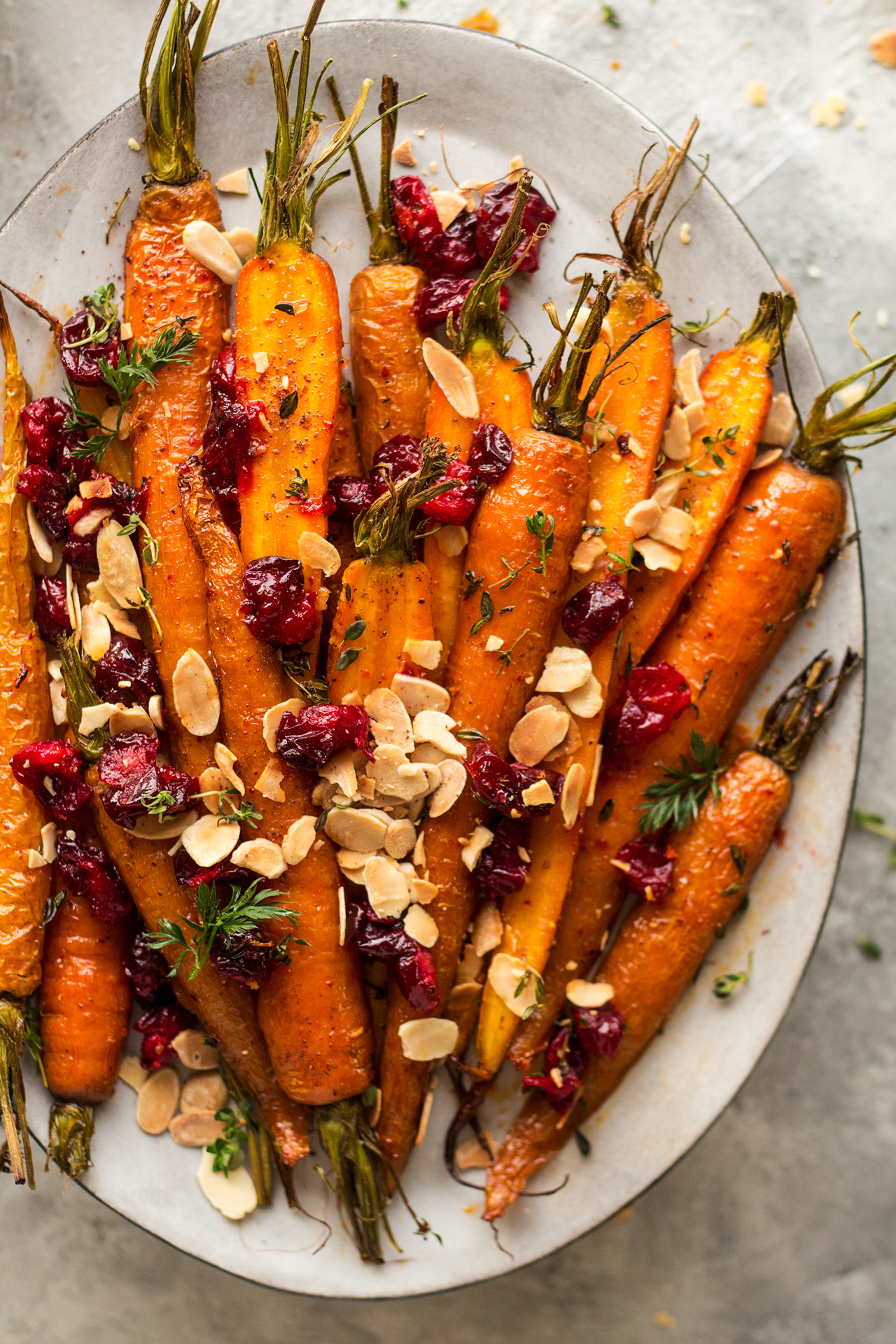 500 g / 1.1 lb / 17 oz medium young carrots, scrubbed clean
100 g / 3.5 oz fresh cranberries*
60 ml / ¼ cup maple syrup, divided
zest of ½ large orange
30 ml / 2 tbsp olive oil
3 tsp harissa paste**, adjust to taste (strength varies!)
a few springs of thyme or lemon thyme
1 garlic clove, finely grated
½ tsp salt, adjust to taste
black pepper, to serve
20 g / ¼ cup almond flakes
METHOD
Set the oven to 170° C / 340° F fan forced (or 190° C / 375° F no fan) and line one large baking tray (or two smaller ones) with baking paper.
Trim the green tops off the carrots (you can make pesto out of them or add them to soups) and cut carrots into halves lengthwise.
Coat cranberries in 1 tbsp of maple syrup and mix in orange zest.
In a separate bowl, combine olive oil, 3 tbsp maple syrup, harissa paste, thyme leaves (about 1 tbsp), garlic, salt and a good pinch of black pepper.
Coat dry carrots in the maple and harissa mixture (keep any leftovers) and space them out on a large baking tray,. If you have a large tray, place cranberries at the other end, if not use two separate trays.
Roast for about 20-25 minutes, until carrots are tender and the exterior slightly caramelized and cranberries are soft and jammy. If cranberries are done sooner, remove them from the tray with a spatula and set aside. If you have any leftover carrot marinade, apply it with a brush again half way through the baking time.
Toast almonds lightly in a hot pan until lightly browned and fragrant.
Place roasted carrots and cranberries on a large serving platter. Sprinkle with toasted almonds and fresh thyme or finely chopped carrot tops (but go easy on them as they taste bitter).
NOTES
*You can use dried cranberries instead but roasted from fresh are so much nicer! If using dried dried, there is no need to bake them and you may also want to add a touch of lemon juice to your carrot marinade to maintain the balance of flavours. I also tend to soak dry cranberries in warm orange juice to rehydrate and make them more plump, but that's totally optional.
**If you don't like harissa, skip or use a mixture or one of these dry spices such as cumin, coriander, cinnamon, sweet smoky and hot paprika (or chilli) instead.