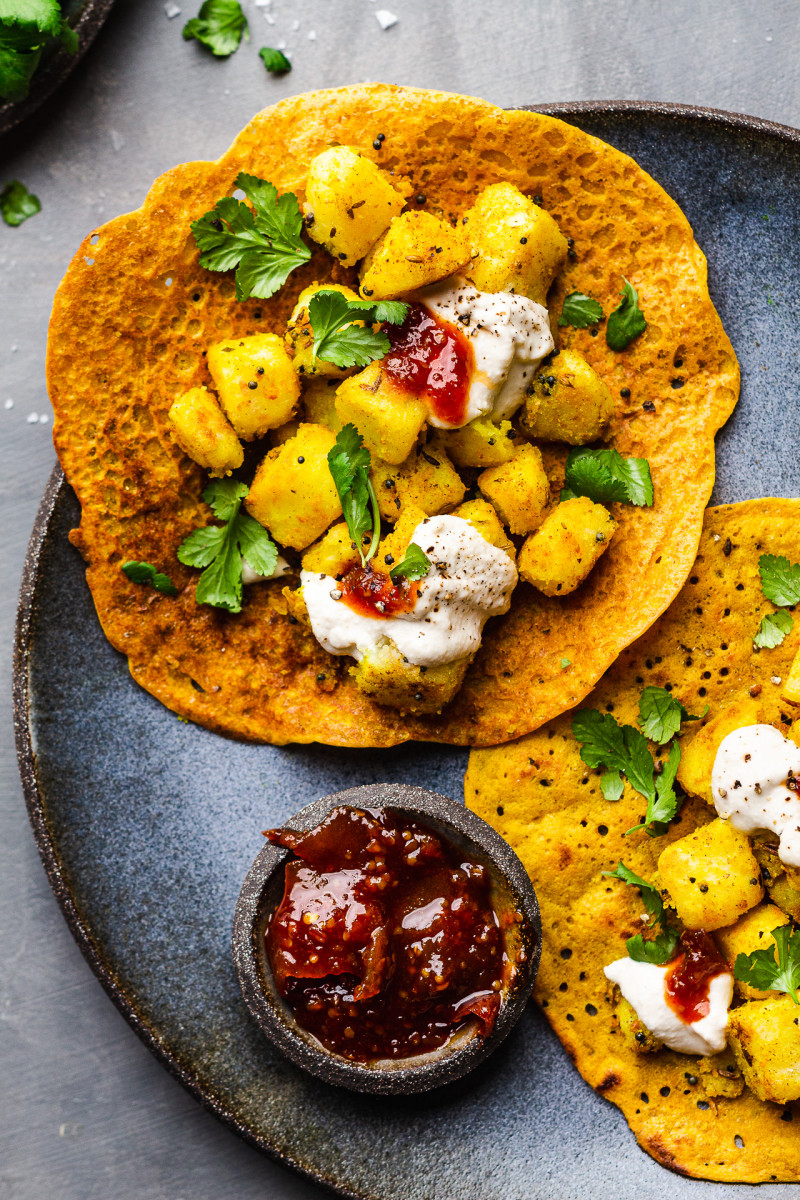 This is my favourite version of the Indian-inspired red lentil pancakes that I tend to gravitate towards in the cold winter months. Not only is this dish super colourful, which I find very mood boosting, it's also comforting, filling, nutritious and exciting to eat – full of contrasting flavours and textures that play off each other in your mouth. On top of that it's easy to make and absolutely perfect for bulk meal prep.
I tend to make the pancake batter and cook the potatoes at the beginning of the week and store them both in the fridge with a view to having them for lunch on a busy workday. These make a fantastic meal regardless of the time of the day – I could happily have them for breakfast, lunch or dinner. Thanks to a combination of red lentils and potatoes, this dish is really filling and satisfying, packed with plant-protein that will stave off hunger for hours.
They are really easy to make and while the recipe is simple, it can be simplified even further to suit your needs:
*POTATOES: This dish is great for using up leftover potatoes. You could also use sweet potatoes too if you prefer, but if you do make sure you steer clear of sweet chutneys (like the mango one would probably be too sweet) and pair them up with something sour instead. If you are cooking potatoes for this dish, allow them to cool off before frying them in spices.
*RED SPLIT LENTILS: Make sure to rinse them really well (in several changes of water) and soak overnight before blending into a pancake batter. Soaking will soften the lentils allowing the pancakes to cook quicker and will help your body digest them too. You can make these really simply, with just salt and not much else, or you could flavour the batter with dry spices and aromatics if you prefer.
*TOPPINGS: Having some sort of wet element, like vegan yoghurt or homemade cashew cream is essential in this dish. It provides a much needed sauciness to the filling and a nice cooling effect against spicy chutney, which gives these simple midweek pancakes exciting pops of intense flavour and a bit of a kick.
Create smooth pancake batter by blending drained lentils with other ingredients and plenty of water.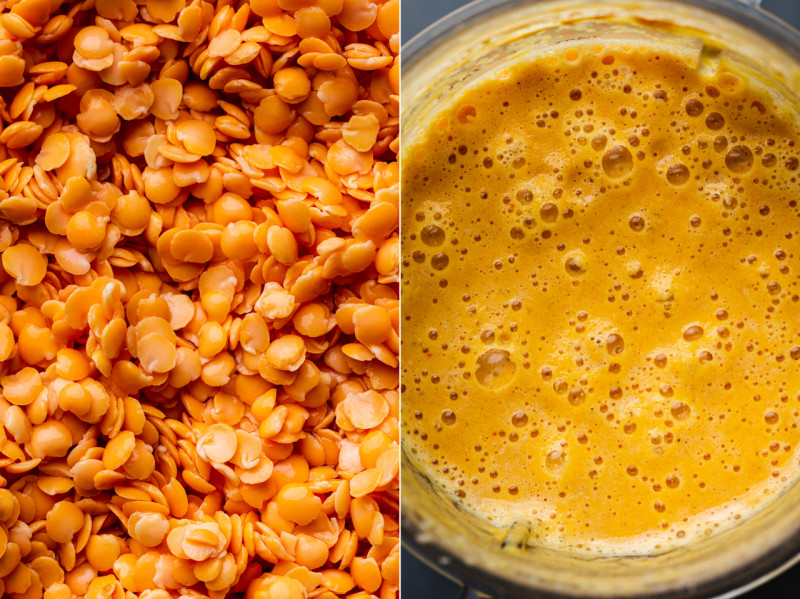 Transfer the mixture to a mixing bowl and ladle the batter onto a hot and well-greased non-stick pan, spreading the batter thinly with the back of the spoon. Cook each pancake for about 3 minutes on each side.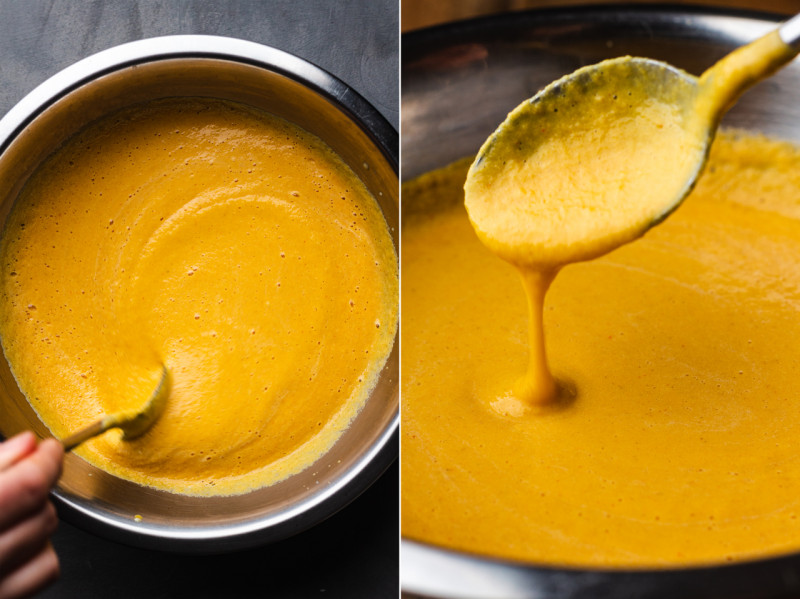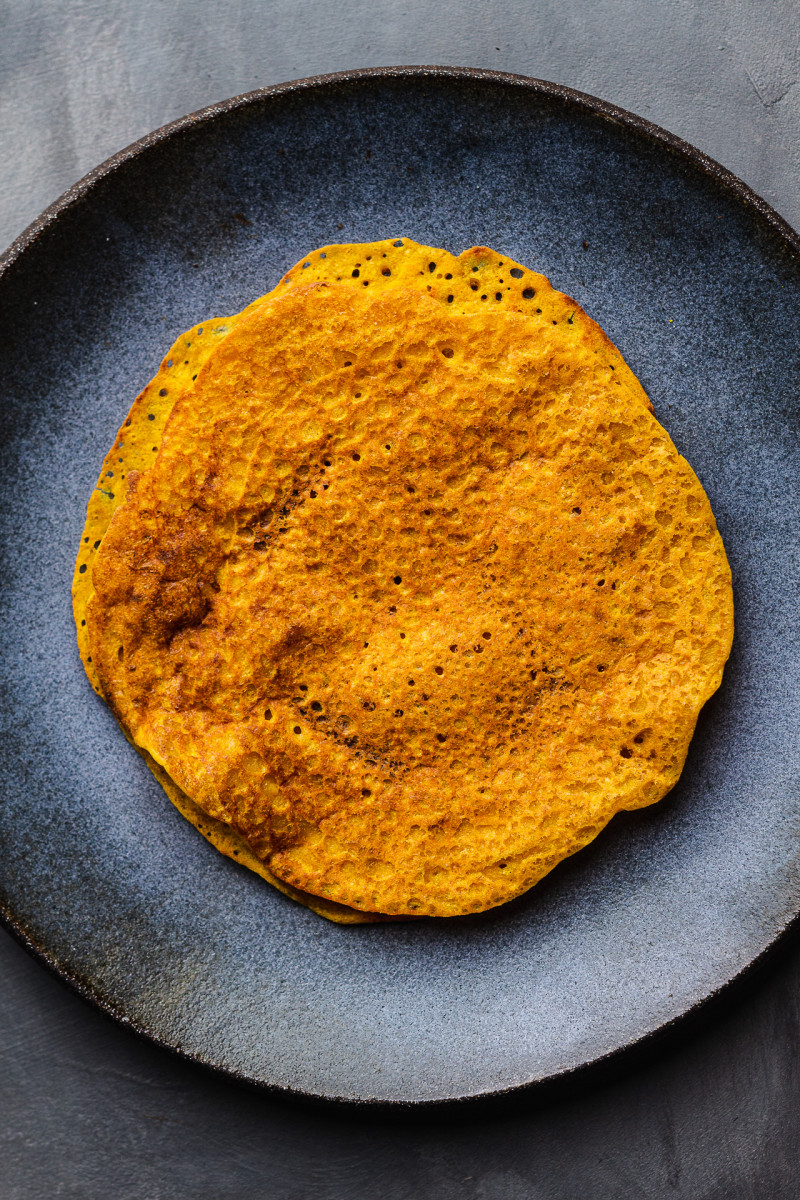 Fry cooked, cold potatoes in a little oil and some spices. Season well.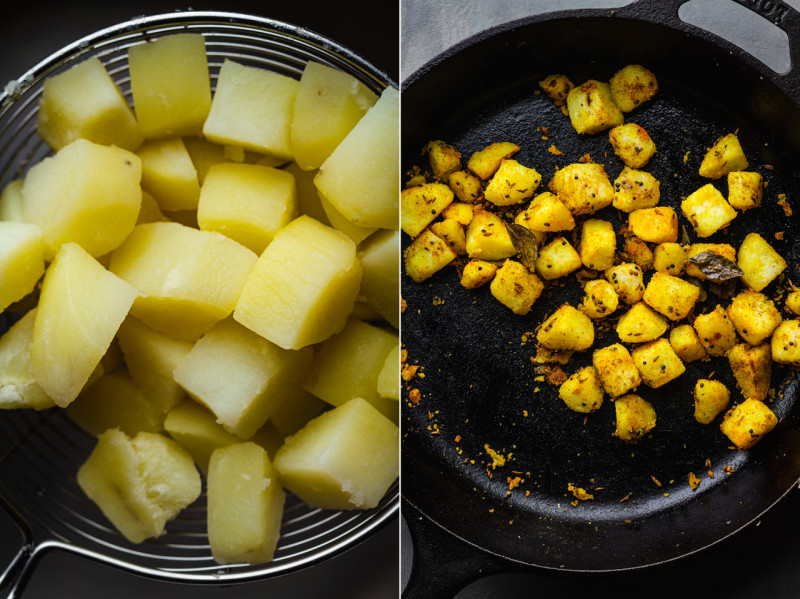 Serve warm pancakes filled with masala potatoes, tangy cashew cream, sharp and spicy chutney and lots of fresh coriander.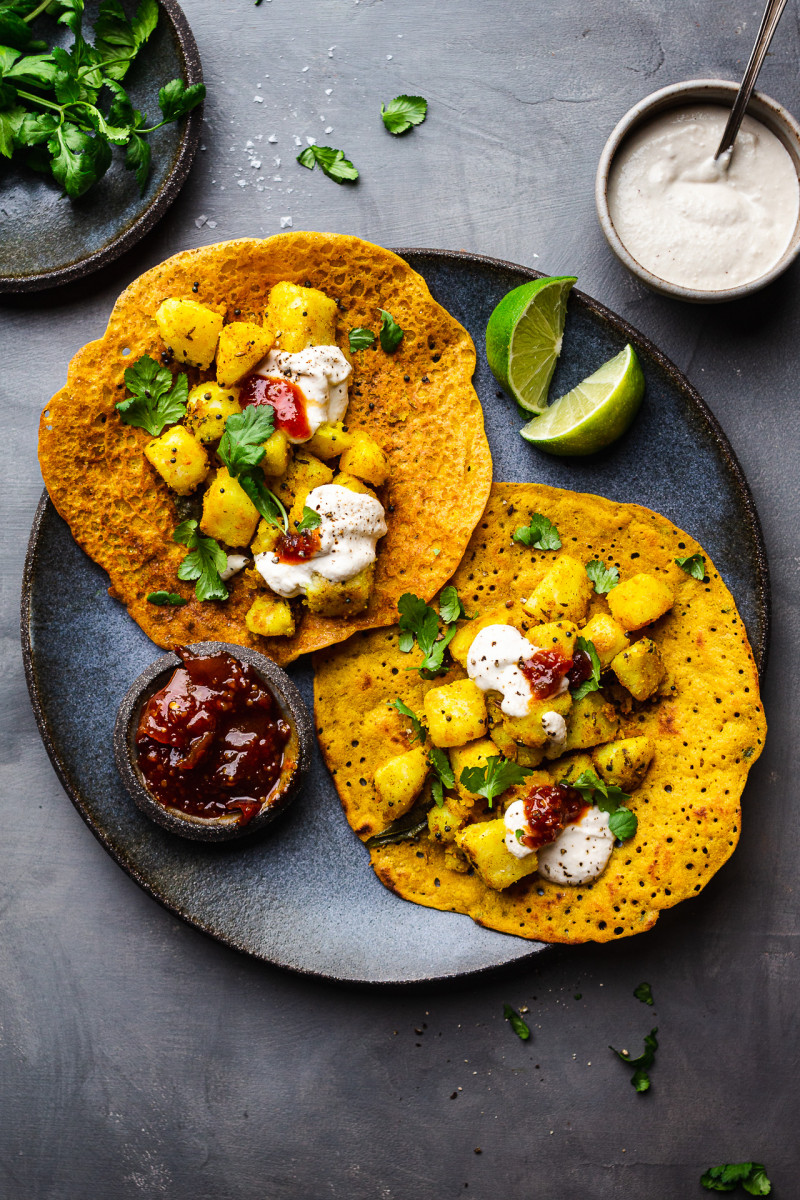 MASALA POTATOES + TOPPINGS
650 g / 23 oz raw potatoes (or 500 g / 17½ oz cooked)
15-30 ml / 1-2 tbsp frying oil
1 tsp black mustard seeds
1 tsp cumin seeds
salt, to season
8 dry (or fresh) curry leaves
1 tsp ground turmeric
1 tsp garam masala
thick vegan yoghurt / sour cream, shop-bought or see below
shop bought chutney
small bunch of coriander / cilantro, chopped
RED LENTIL PANCAKES
165 g / 1 cup red split lentils*, soaked overnight
scant 1 tsp salt
½ tsp baking powder*
1½ tbsp chickpea (besan) flour*
OPTIONAL: 1 tsp each cumin, turmeric, coriander and ½ tsp ground chilli powder
OPTIONAL: garlic clove + thick slice of ginger
vegetable oil, for frying
HOMEADE CASHEW CREAM (optional)
70 g / ½ cup raw cashews, soaked for 20 minutes in boiling water
½ lime, zest and juice (about 2 tbsp)
salt and pepper, to taste
METHOD
MASALA POTATOES
You can use yesterday's cooked potatoes for this. Otherwise, peel your potatoes, cut into 1.5 cm / 0.5″ dice and boil in salted water until cooked but holding their shape (about 8 minutes for the starchy Maris Piper variety). Drain and allow them to cool off completely (overnight is ideal).
Heat up a pan – I used a cast iron skillet – on a low-medium heat. Once hot add the oil and mustards seeds. Allow mustard seeds to crackle, then add cumin seeds, curry leaves and a generous pinch of salt to the oil. Fry for a few seconds before adding cubed potatoes.
Fry the potatoes until uniformly browned, giving them a good stir from time to time.
Dust finished potatoes with turmeric, garam masala and more salt if needed. Stir well to coat for a few seconds and switch the heat off so that the spices don't burn.
RED LENTIL PANCAKES
Drain and rinse soaked lentils.
Place drained lentils in a blender together with the rest of the ingredients (apart from oil) and approximately 300 ml / 1¼ cups of water – you may need a little less water if not using garlic or ginger. Process until smooth, the batter should be pourable but a little thicker than a crepe batter. You may need to add a touch more water if it's too thick.
Heat up a tried and tested (that's important) non-stick pan on a low-medium heat, brush it with a bit (I found ½ tsp to be enough on my ceramic pancake pan) of oil using a silicone brush.
Pour ¼ cup of the mixture onto the hot pan and use the back of the spoon to spread the mixture out in a circular fashion. Cook each pancake for about 3 minutes on one side and then flip. Cook for 2-3 minutes on the other side. If you like your pancakes crispy, spread the batter thinly and cook the pancake for a little longer.
Keep the cooked pancakes in a stack in a warm oven while making the rest.
Fill with masala potatoes, dollops of vegan cream / yoghurt, favourite chutney and heaps of fresh coriander / cilantro.
HOMEADE CASHEW CREAM (optional)
Place drained cashews, lime zest and juice, salt and pepper and about 45 ml / 3 tbsp water in a small blender (I use a Ninja blender for this).
Blend until smooth. If using a standard blender you may need to make a double quantity.
NOTES
*RED LENTILS: Make sure to rinse them really well, in several changes of water – until the water runs almost clear. Only then soak.
*BAKING POWDER: It's not absolutely necessary, but I recommend adding especially you prefer your pancakes a little thicker.
*CHICKPEA FLOUR: It's not absolutely necessary, but it makes pancakes a little easier to manage. Rice flour would be a good replacement.
FREEZING INSTRUCTIONS: The pancake batter can be frozen – if you intend to freeze it, skip the baking powder and add it just before making the pancakes.
NUTRITIONAL INFO
*per pancake, without chutney or yoghurt