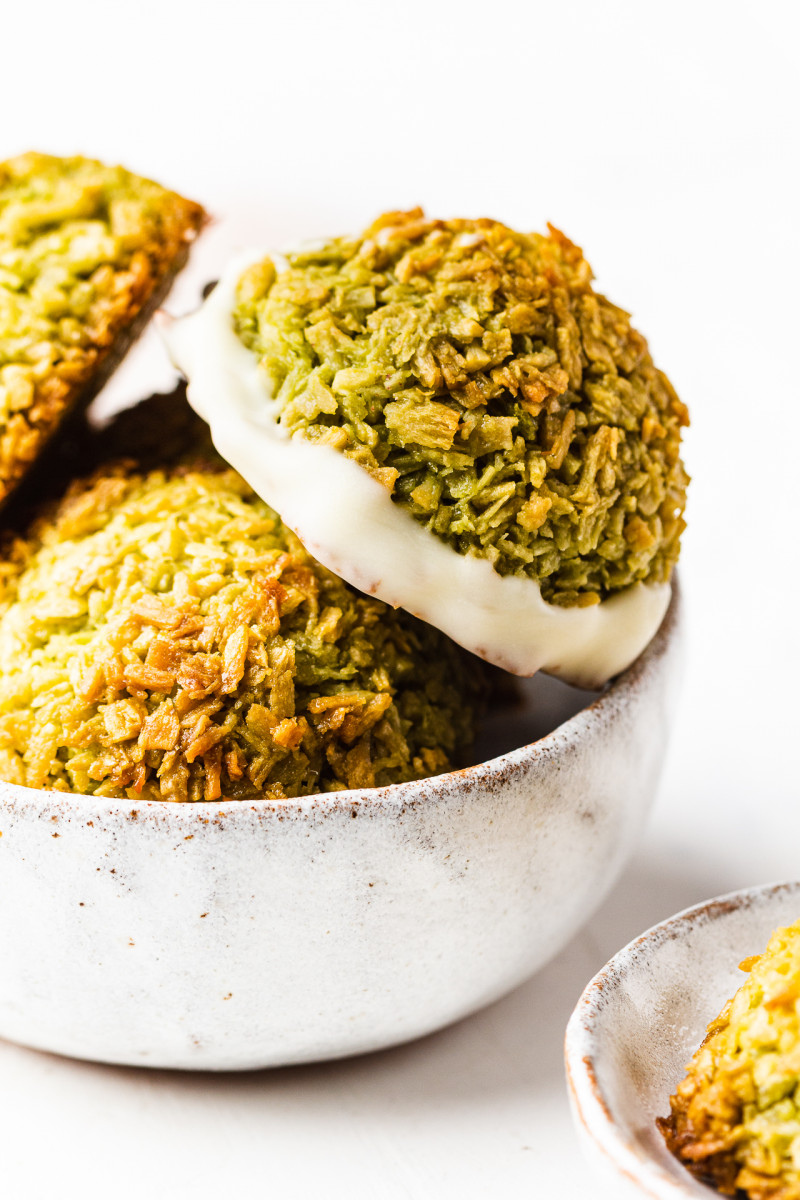 This past week has been a bit of a mare – most crucially our poor kitty has undergone a serious dental surgery and we were very anxious about her wellbeing (2 days in and she is getting better!) – so today's recipe is quick and easy, based on another one I published last year. I made matcha flavoured coconut cookies that require few ingredients and taste delicious.
They are easy to make if a little messy. The key thing is to compact the mixture well before baking so that you end up with a cookie that is crispy on the outside and chewy on the inside. I found that the best way to do that is to use your hands as an ice cream scoop does not exert quite the same pressure. If you don't mind getting your hands dirty for 10 minutes, this recipe is for you – with minimal and very straightforward ingredients and very little process, but slightly greasy hands. I'm in.
Since there are very few ingredients, there is not much to say about swaps but here are some further explanations in case you are wondering about something I have not yet covered:
MAPLE SYRUP: Yes, you can use any other liquid sweetener provided the taste does not detract from the flavour of the cookies. I would give date syrup a miss in this recipe, for instance.
COCONUT CREAM: I used coconut cream separated from a tin of chilled full fat coconut milk, but full fat coconut milk also works. This is what I used in my original recipe.
MATCHA: Matcha is powdered green tea leaves traditionally consumed in East Asia. Its slightly bitter taste provides a nice flavour contrast against sweet coconut. Matcha and coconut is a classic Asian flavour pairing that works particularly well in desserts, but if you are not a fan, why not use a bit of instant coffee instead? You could also skip it completely, but in that case, I would take the maple syrup down to about 1/3 cup / 80 ml (any less and there won't be enough moisture to bind the coconut together).
DESICCATED COCONUT: Please note that I used finely shredded desiccated coconut that's the standard type of desiccated coconut available in the UK. If that's unavailable to you and your coconut is not as finely shredded, your cookies may fall apart too easily. In this case, sub approximately ½ cup of the coconut with almond flour – this should make the cookie mixture less prone to crumbling (you may need a touch more coconut cream if the mixture is too dry).
Simmer maple syrup in a medium pot, add coconut cream and simmer the two together until bubbly and thickened.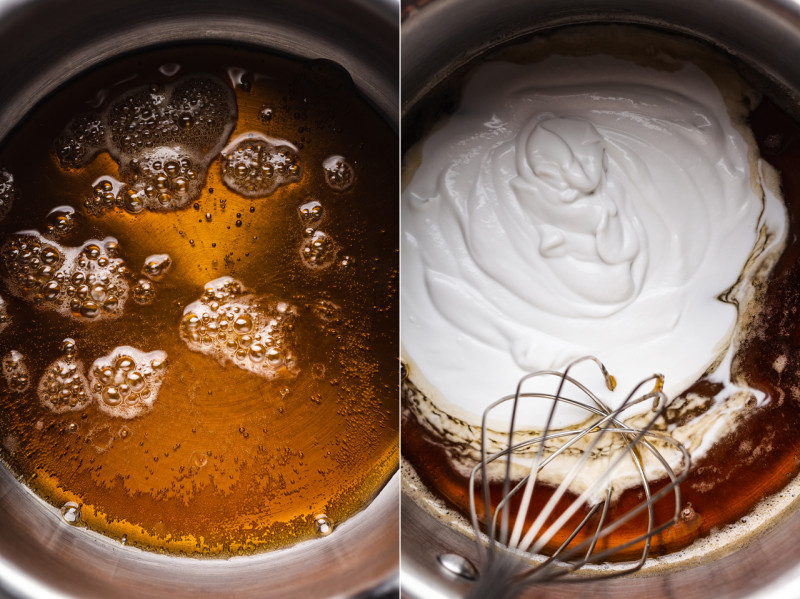 Add desiccated coconut, salt and matcha powder. Mix really well. Allow the mixture to cool down.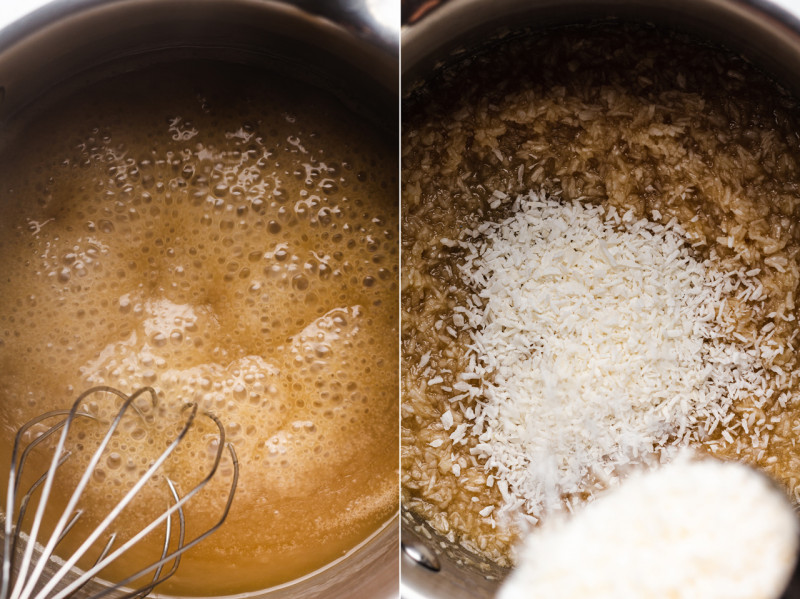 Portion the mixture out using a spoon or a small ice-cream scoop and form the cookies in your hands, making sure they they are well compacted. Bake in a low oven for about 20-24 minutes, until lightly toasted. Cool down before dipping in melted white chocolate.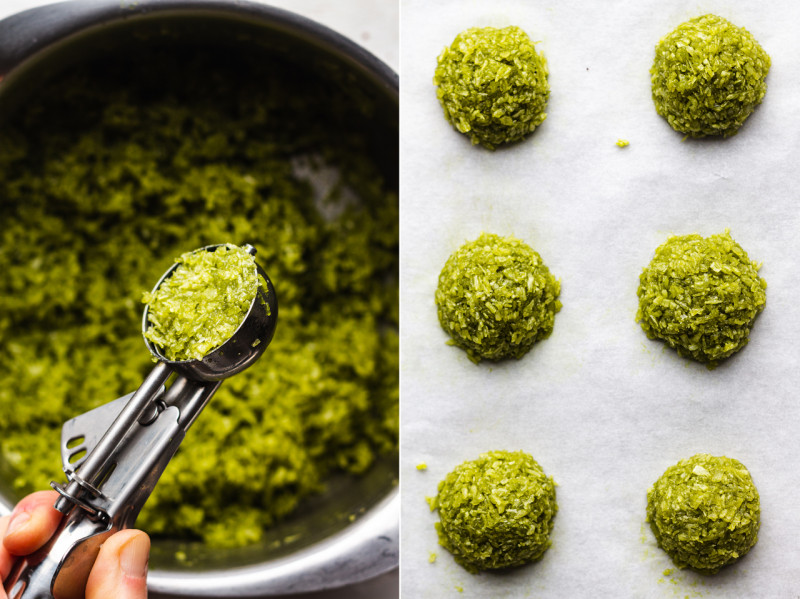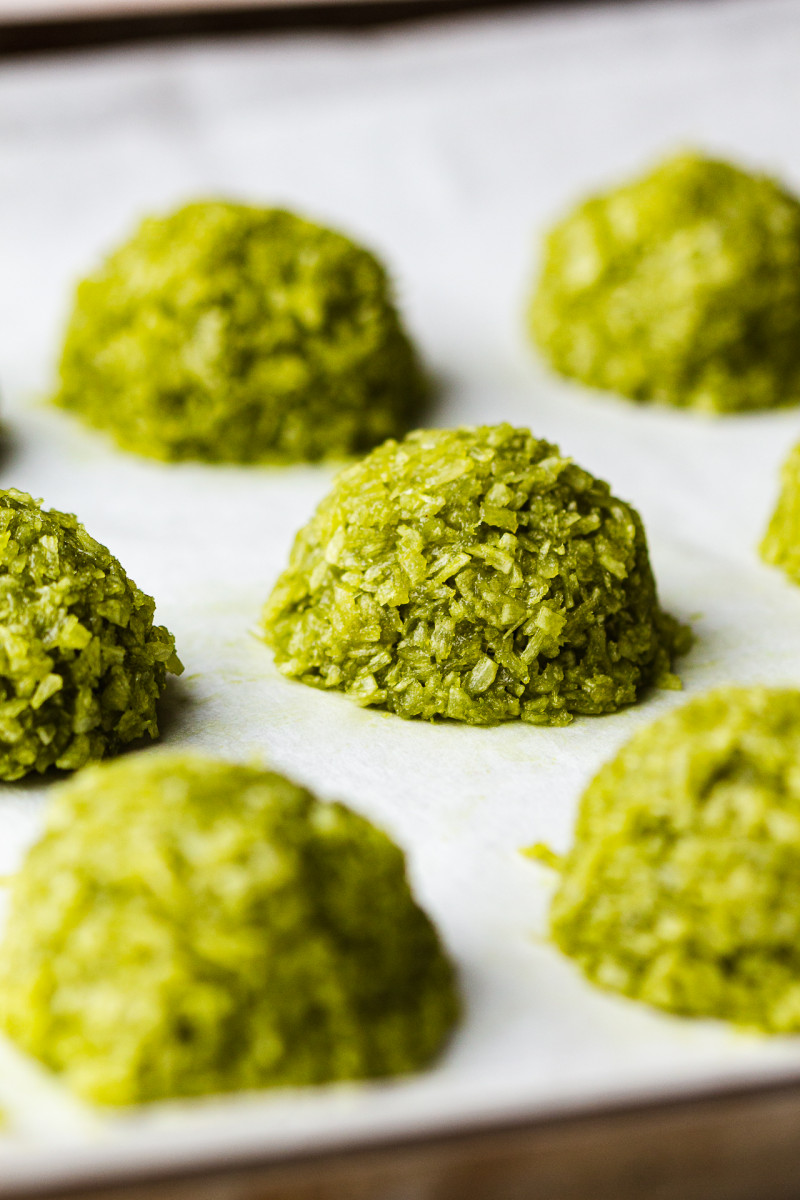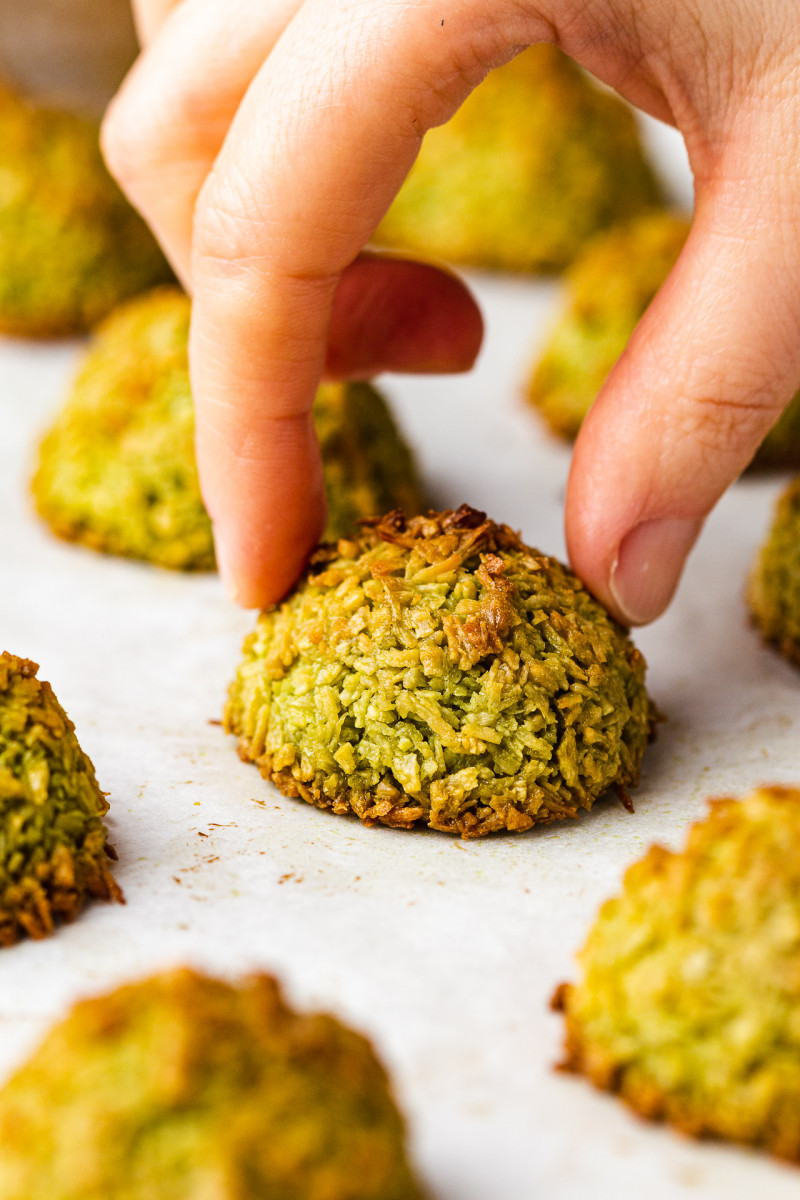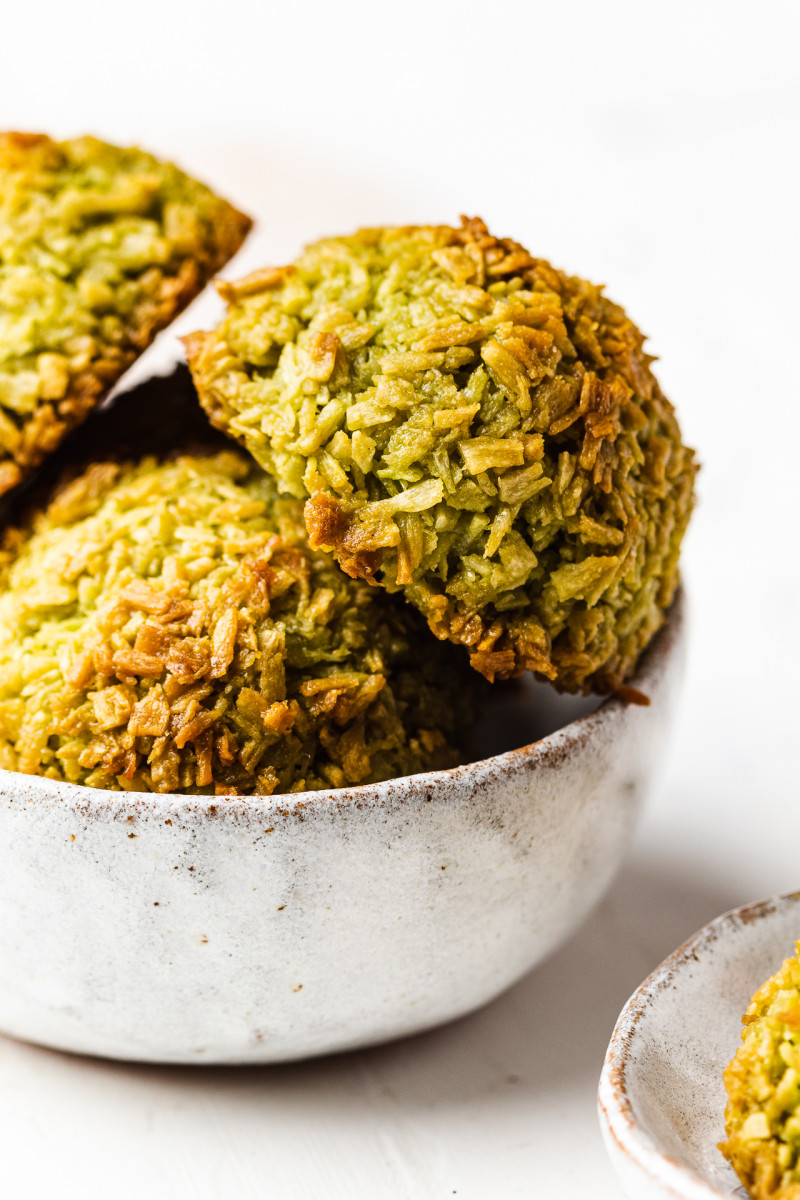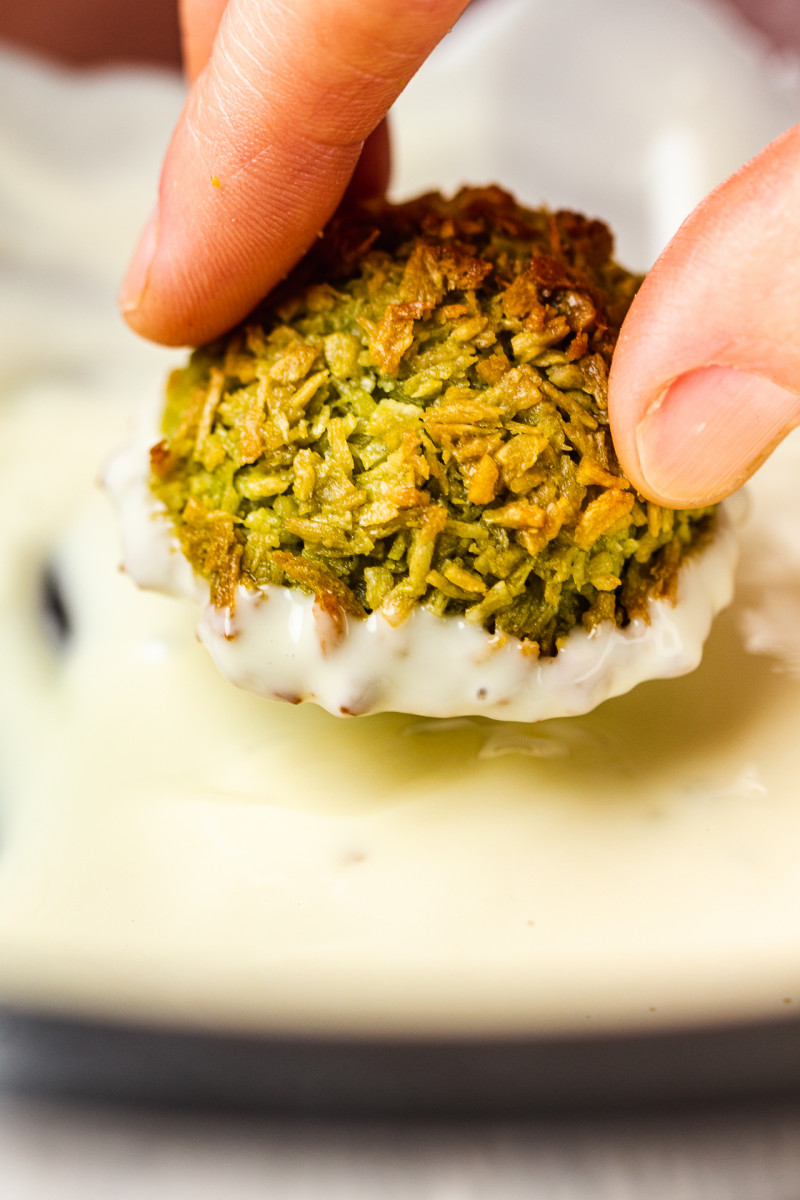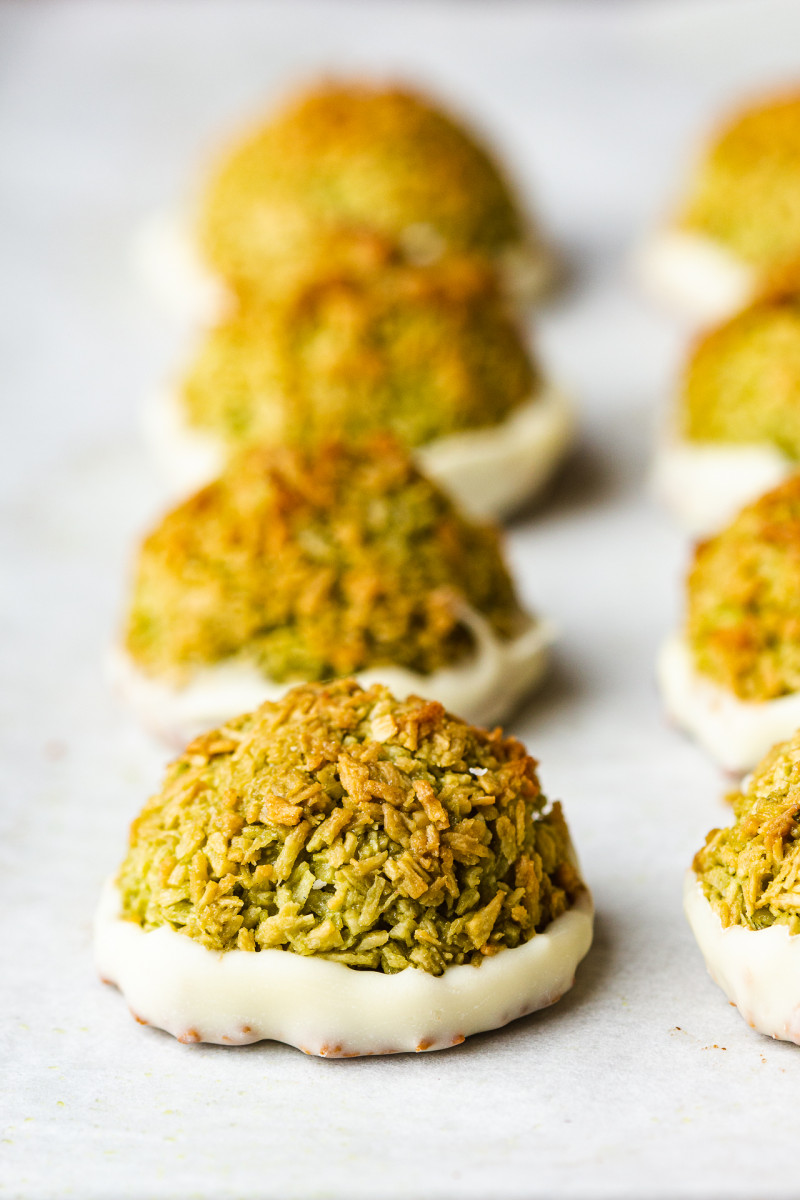 95 ml / 1/3 cup + 1 tbsp maple syrup or other liquid sweetener
120 ml / ½ cup canned coconut cream*
1/8 tsp fine salt
1¼ tsp food grade matcha powder, more to taste
150 g / 1¾ cups desiccated coconut
100 g / 3½ oz vegan white chocolate (optional)
METHOD
Heat up maple syrup in a small pot, on a low heat.
Allow it to simmer gently. When it starts to bubble vigorously, whisk in coconut cream.
Allow the mixture to come to a simmer and to bubble gently for 2-3 more minutes stirring frequently so that it doesn't boil over. Take off the heat.
Stir in salt, matcha and desiccated coconut until you get a homogenous mixture. Allow the mixture to cool down.
Measure out 1 tbsp portions of the mixture (I used a 20 ml ice cream scoop to measure the mixture out). Squeeze portions of the mixture between your fingers and shape them into compact mounds using your hands (yes, your hands will get a bit messy but that's the best way to shape these, trust me). Ensure the mixture is well compressed so that the cookies hold their shape well after baking.
Bake in a 160° C / 320° F oven for about 20-24 minutes (start checking after 20 minutes), until the cookies are lightly toasted and golden. Remove from the oven, gently compress them down a little whilst still warm and allow them to cool down completely to harden.
OPTIONAL
Melt white chocolate very slowly in a mixing bowl over a water bath. Allow it to cool down before using.
Dip cool cookies into the cool chocolate briefly. Arrange them upside down on the plate to allow the chocolate to set completely – putting them in the fridge will speed this up.
Store in an airtight container, in the fridge. These cookies will keep for 6 days, but their exteriors are most crunchy on the day they've been baked.
NOTES
*COCONUT CREAM – I used coconut cream separated from a tin of chilled
full fat coconut milk
, but full fat coconut milk also works.
NUTRITIONAL INFO
*per cookie (including chocolate coating)