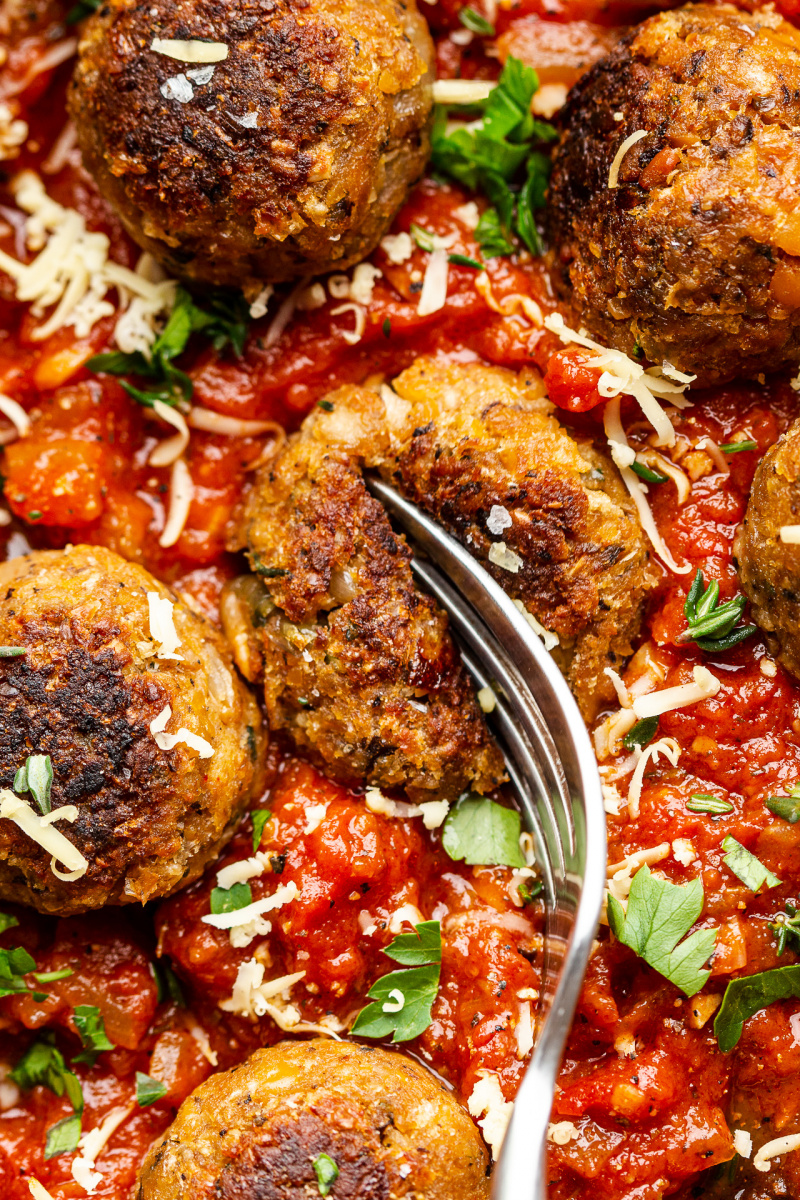 If good meatballs don't scream romance, I'm not sure what does 😉 . I was fretting a little that my vegan meatball recipe that I had planned for today isn't very Valentine's Day suitable so I added a little red tomato sauce to them and voila, the recipe is very current again.
In all seriousness, we have been enjoying these new vegan meatballs for a while now and I think they may be my favourite 'meatballs' on the blog so far, so I thought I would share so that you could experience a little meatball love yourself 🙂 . These have been inspired by IKEA meatballs, which we both really enjoyed but which I was dismayed to discover contain a lot of fat – like 'you don't need to add any oil to the pan to fry them' amount of fat. I did enjoy them and I am not vowing not to have them ever again, but certainly not that often.
This discovery has prompted me to experiment. What I really liked about them was a bit of chew and resistance that is hard to replicate with plants without using something like vital wheat gluten, which would render these not gluten-free. IKEA achieves it using pea protein but as I didn't have any, I thought that it may be worth trying with psyllium husks which are used to replace gluten in gluten-free baking and I had it in my cupboard. It worked a charm once I played around with the quantities.
I used two different shiitake mushrooms, fresh and dried. The former contribute texture and flavour as they are famous for their depth of flavour and meatiness, the latter, which was originally a leftover from a mushroom stock I made for a mushroom risotto, contributes even more flavour and tackles waste, which I personally like. Whenever I make something that calls for mushroom stock like my vegan ramen, risotto or bolognese and I cannot be bothered to chop rehydrated mushrooms finely, I freeze them and then add them to my meatballs to enhance their taste and nothing gets thrown away. I hate waste so that kind of efficiency really appeals to me.
These guys are flavoursome, meaty with a bit of a chew – perfect over a saucy pasta or in a sandwich. I hope you'll give them a try and enjoy them as much as we have!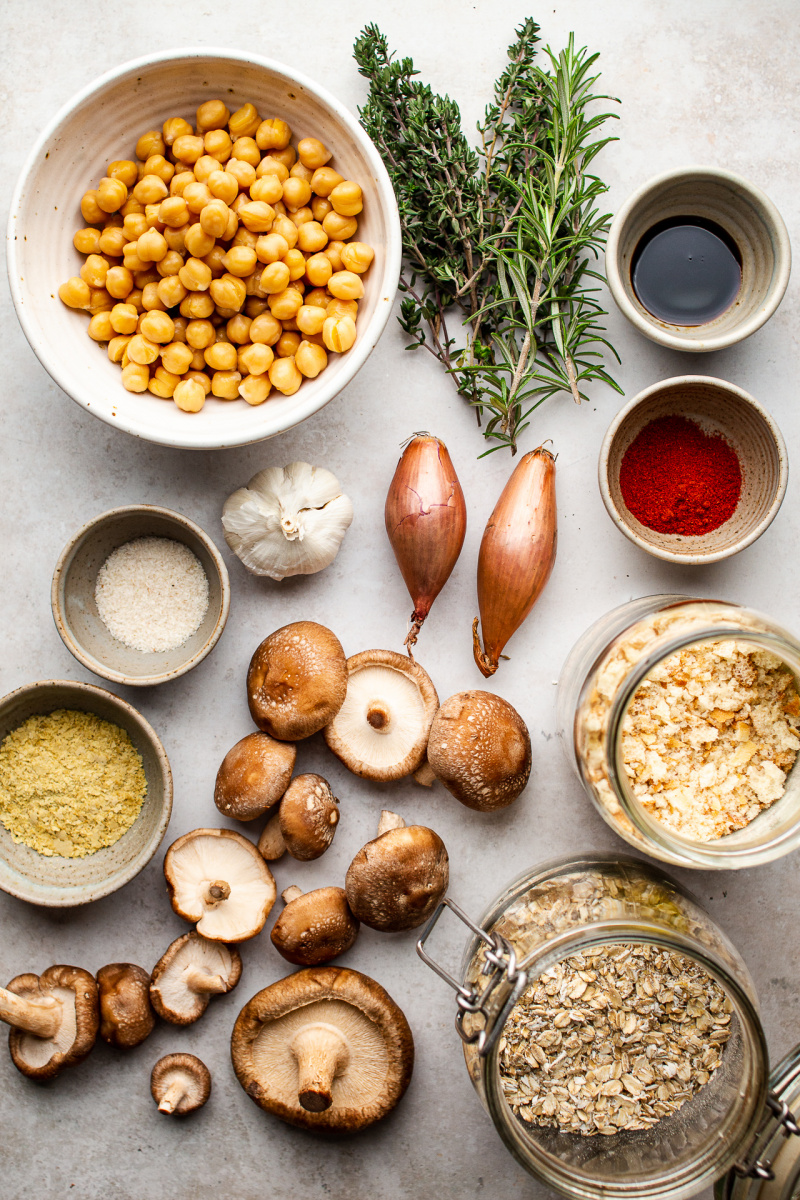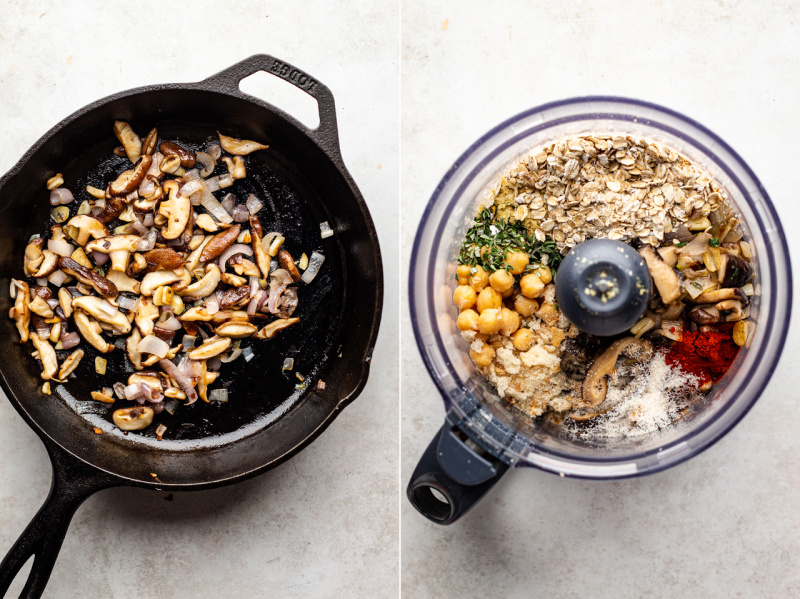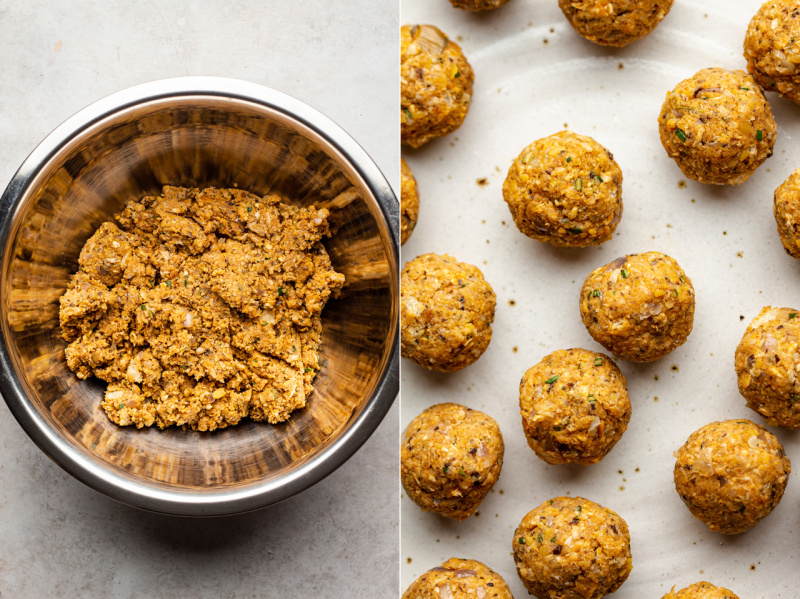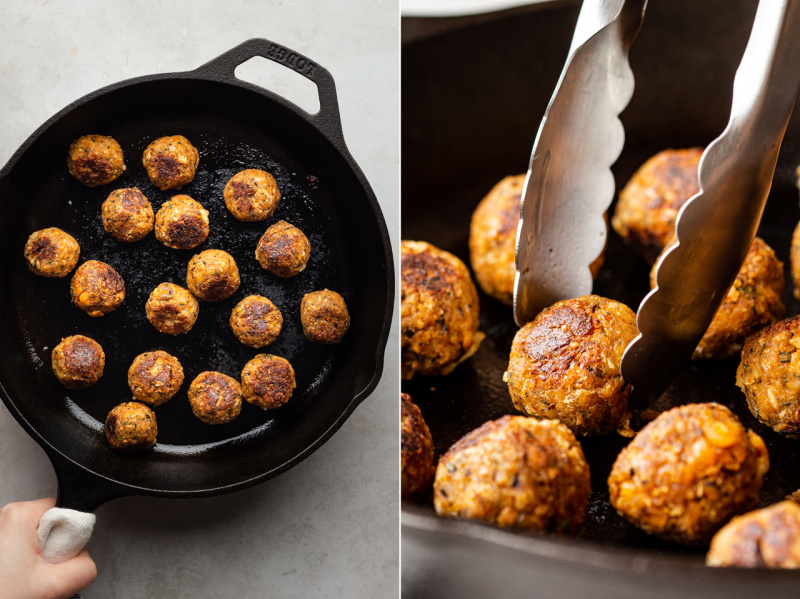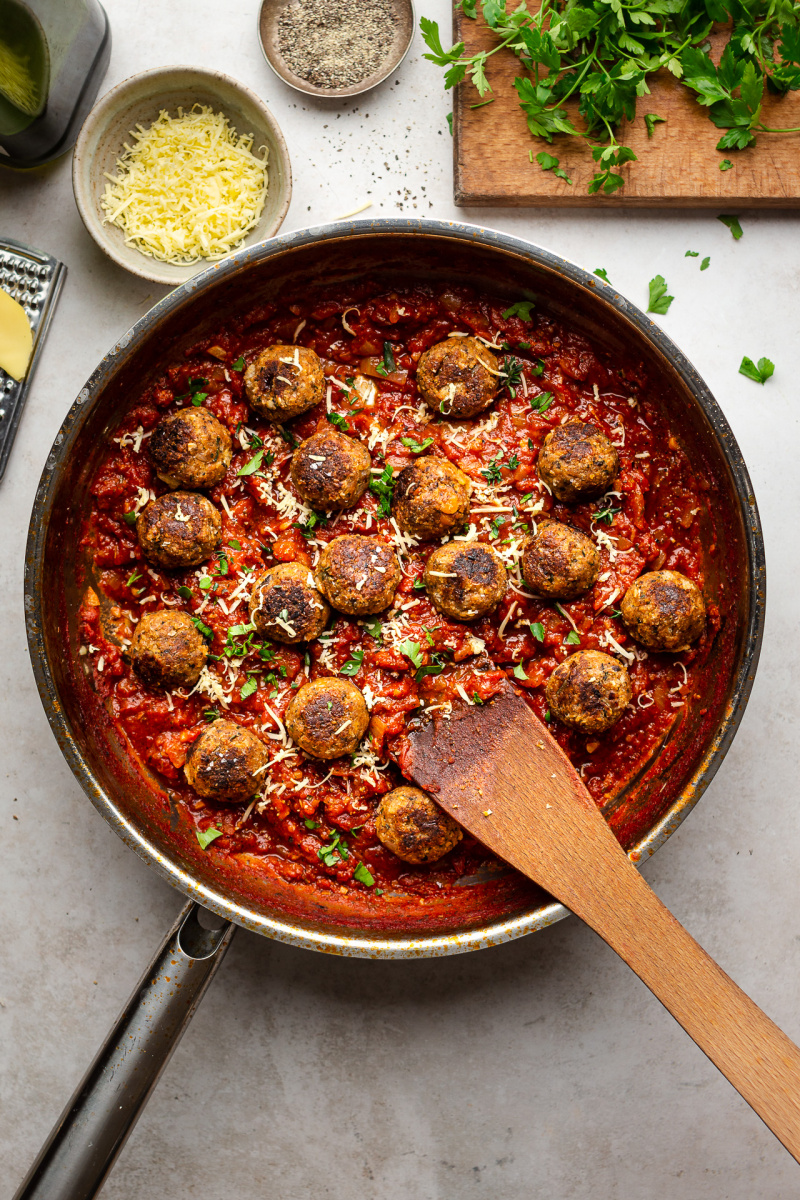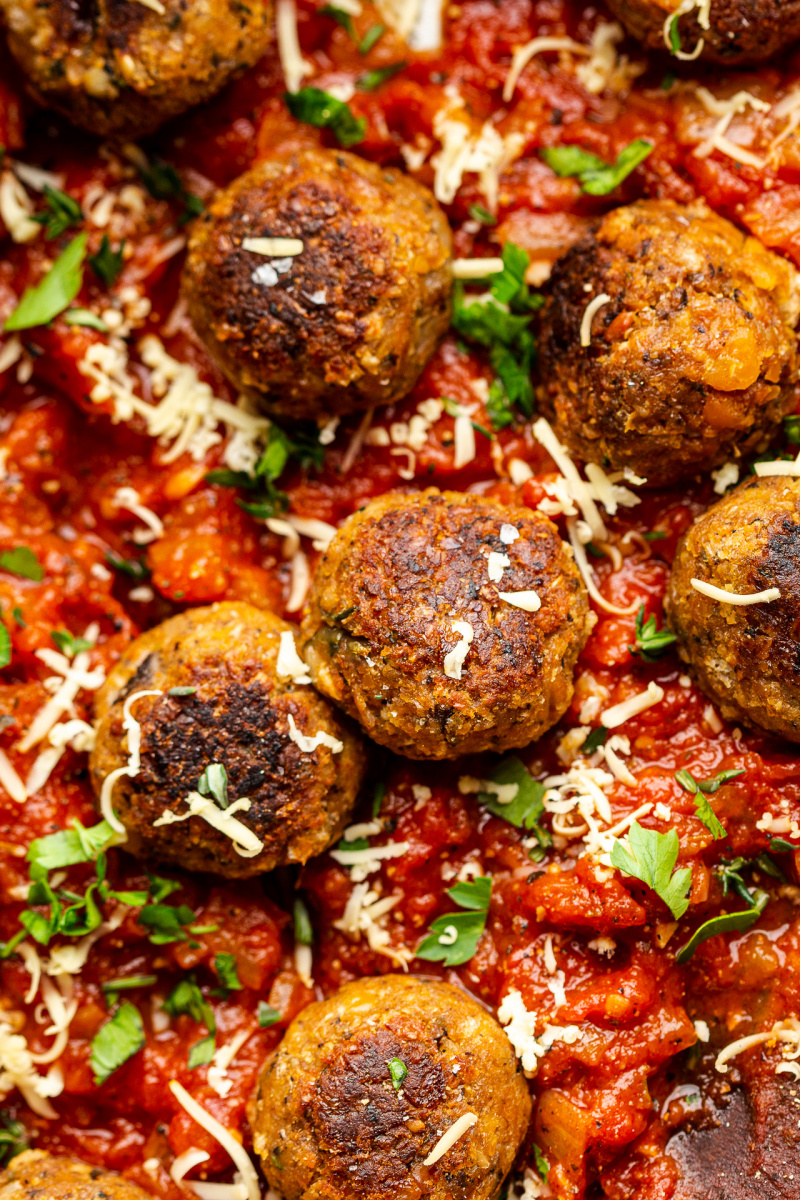 MEATBALLS
2 medium (10 g / 0.35 oz) dried shiitake caps, rehydrated in boiling water (or sub with more fresh)
15 ml / 1 tbsp vegetable oil, extra for frying
2 large shallots / ½ medium onion, chopped roughly
4 garlic cloves, sliced roughly
125 g / 4½ oz fresh shiitake mushrooms*, sliced
130 g / ¾ cup cooked chickpeas or cannellini beans
2 tbsp nutritional yeast
1 tsp fresh thyme leaves or ½ tsp dried
1 tsp chopped fresh rosemary leaves or ½ tsp dried
1¼ tsp smoked sweet paprika
½ tsp black pepper, to taste
heaped ½ tsp salt, adjust to taste
10 ml / 2 tsp balsamic vinegar
3 tsp / 1 tbsp psyllium husks**
20 g / ¼ cup oats (GF certified if needed)
15 – 30 g / ¼ – ½ cup coarse breadcrumbs (or sub more oats)
TOMATO SAUCE
30 ml / 2 tbsp vegetable oil, extra for frying
1 medium onion, diced finely
4 garlic cloves, diced finely
2 x 400 g / 14 oz plum tomatoes
2 tsp Italian herbs or ¼ dried thyme, basil, parsley, rosemary, marjoram and ¾ tsp oregano
¾ tsp salt, adjust to taste
½ tsp black pepper, to taste
a good pinch chilli flakes (optional)
½-1 tsp sugar (optional)
METHOD
MEATBALLS
Rinse dried shiitake and cover with boiling water (weigh the shiitake down or else they will float) to soften. Keep immersed in water for as long as possible. I tend to use rehydrated mushrooms leftover from a mushroom stock.
Heat up a bit of oil in a skillet and add roughly chopped shallots and garlic, fry gently for a few minutes, stirring frequently. Next add in sliced fresh shiitake mushrooms and sauté until fully cooked and there is no moisture in the pan, a little caramelisation is nice too.
Cut off stems from rehydrated shiitake and discard them, slice the caps and add to the food processor together with all the remaining ingredients – if baking your meatballs use only 15 g / ¼ cup breadcrumbs. I recommend not adding chickpeas yet and processing them separately to retain a bit of texture (but that's optional).
Process the mushroom mixture until everything is well chopped, transfer to a large mixing bowl.
If you haven't already, add your chickpeas to the food processor and pulse a few times until processed but there is a bit of texture left.
Add chickpeas to the mushroom mixture and incorporate them together well with your hands.
Squeeze portions of the mixture in your palm to make it stick to itself and then roll into balls (mine were 20 g / ¾ oz each) in your hands.
Chill the meatballs in the fridge for a few hours (overnight is best if you have time), especially if frying them.
FRYING: Heat up a tablespoon of oil in a heavy skillet or pan and once the oil is hot, arrange chilled meatballs in a circle in a clockwise fashion. Give them a minute or two on one side, lift gently and fry on the other size until browned and crispy on the outside.
BAKING: Preheat the oven to 180° C / 355° F. Brush a little bit of oil under each meatball and brush the tops with a little oil also. Bake for about 20-25 minutes, flipping them once halfway through. Use a flat spatula to gently prise them off the tray if they stick.
TOMATO SAUCE
Heat up olive oil in a large frying pan.
Add diced onion and sauté until softened and translucent stirring regularly (about 5 minutes on a low heat).
Add diced garlic and sauté for another 2-3 minutes, until fragrant, stirring very frequently.
Next, add in plum tomatoes and squash them gently with a spatula before adding in a can's worth of water.
Season with dried herbs, salt and pepper and a pinch of chilli flakes if you enjoy a little heat.
Allow the sauce to bubble gently for about 45-60 minutes until the tomatoes break down completely and the sauce thickens. Keep an eye on the pan, giving it a stir now and then and top up with more water if the sauce is starting to look dry while the tomatoes are still too chunky.
Once the sauce reaches the desired consistency, adjust the seasoning to your taste, adding a dash of sugar if the sauce tastes too acidic.
NOTES
*You can use other mushrooms, but I find that shiitake mushrooms add the most flavour and they also have a better texture.
**Psyllium husks are what help these bind together and gives them, together with shiitake, their meaty texture. You can sub with 2 tbsp ground flax or chia seeds but the texture won't be quite the same.