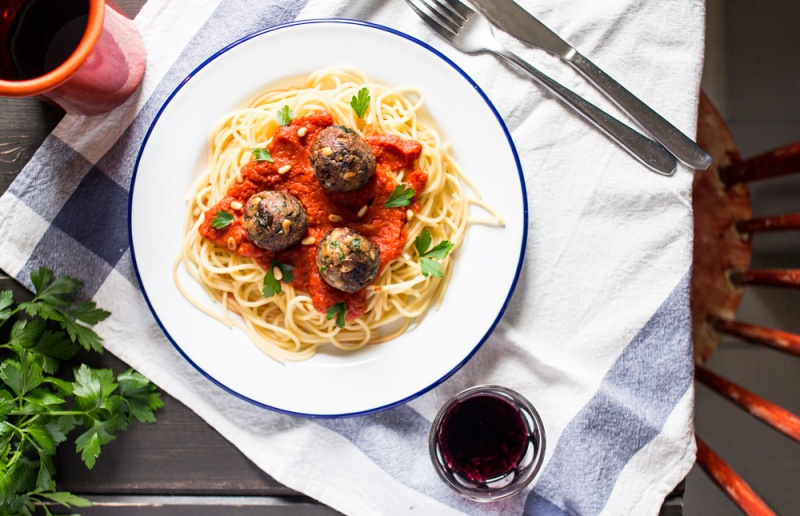 My dad once asked me why vegans are often so desperate to recreate typical meat dishes – burgers, meatballs, pâté etc. My answer was that most of us did not give up meat because we don't like its taste (I was never a massive red meat lover as an omnivore, but I did use to like chicken and fish).
We gave meat and dairy up because we do not feel that our appetite should come before another being's right to live. If I can have my meatballs and not hurt a thing, I am a happy bunny.
Today's recipe does exactly that. These easy vegan meatballs are a true labour of love as I made so many different variations in the past two weeks that I've lost count. Duncan was in heaven and often wolfed them down so quickly that when I asked for feedback between two different recipes, his answer was:
"They were really good!"
"Which ones though? There were two different types on your plate."
"Were there? I was too busy enjoying them to notice."
"Doh!"
Oh well, the easy vegan meatballs in front of your eyes are crispy on the outside and soft on the inside and they owe their 'meatiness' to my beloved aubergine. They go superbly well with a plate of simple tomato sauce pasta and a cheeky glass of red.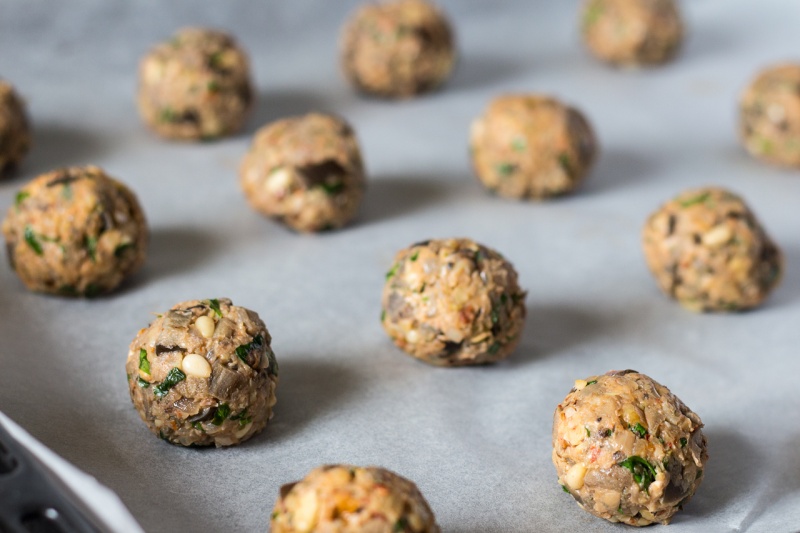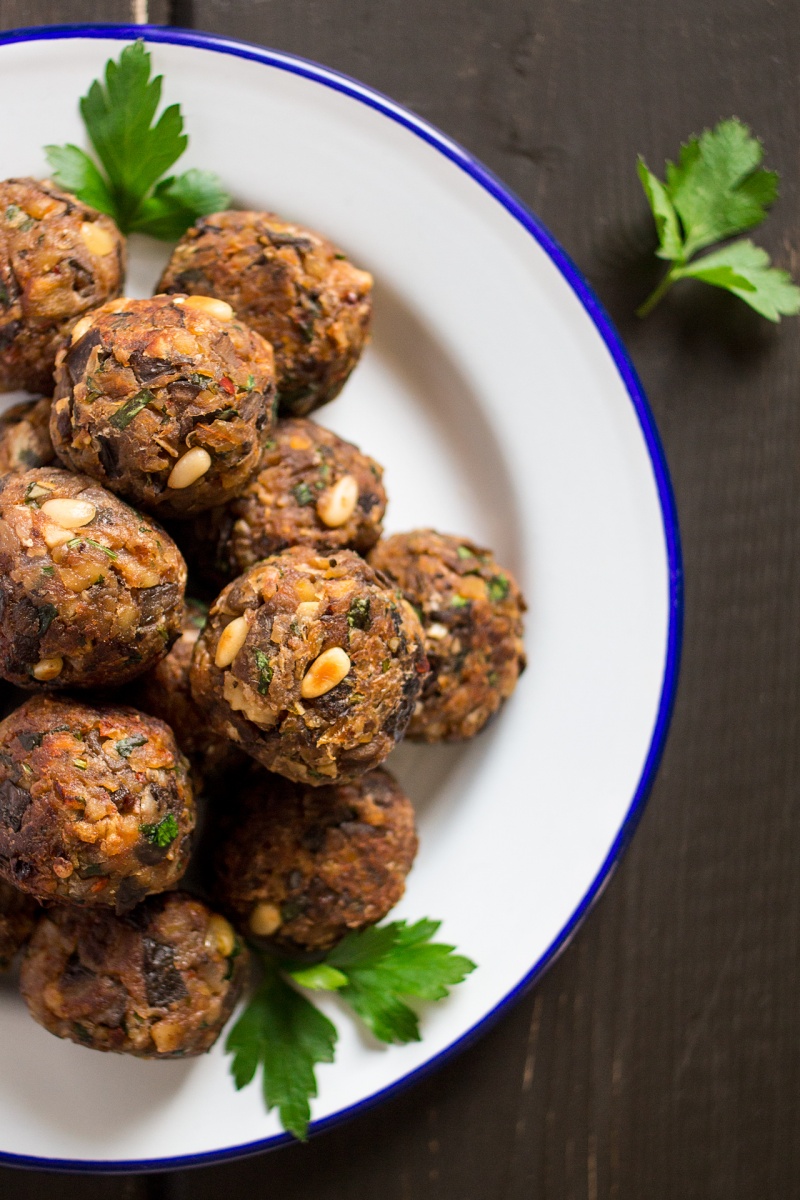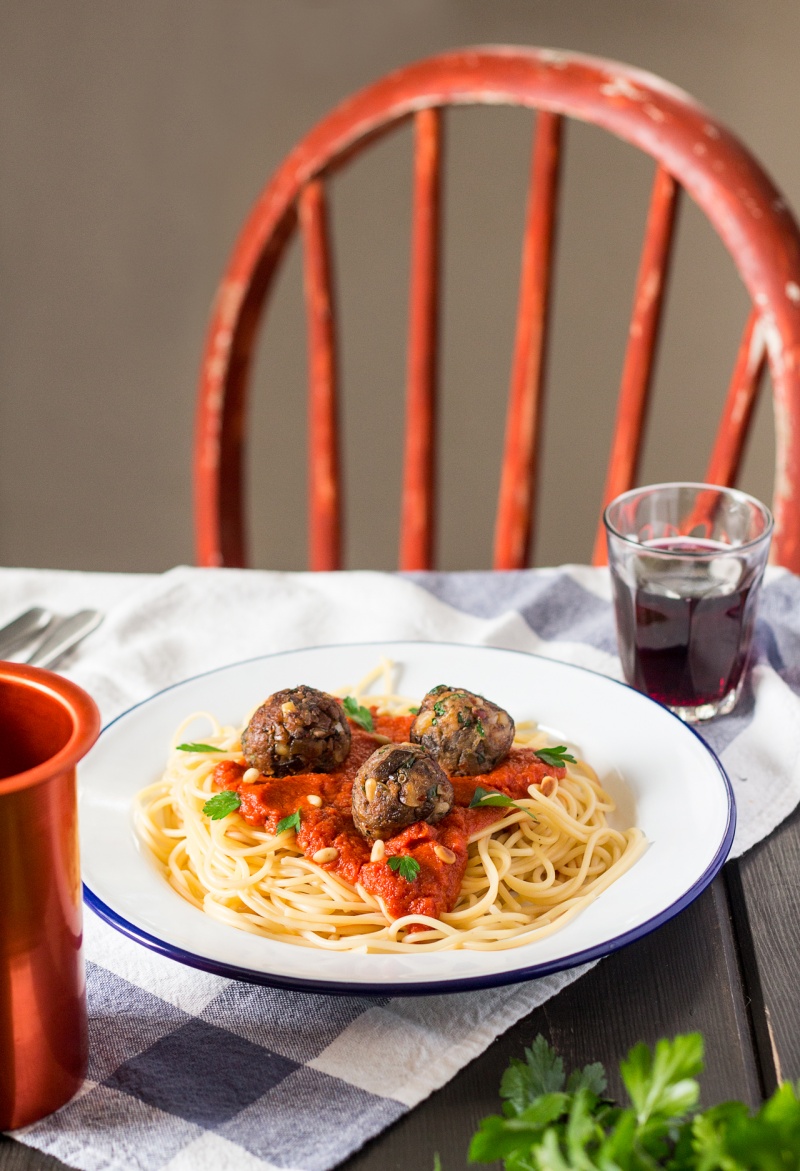 MEATBALLS
1 large aubergine
1 cup of cooked chickpeas
30 g / 2 tbsp walnuts, chopped very finely
2 banana shallots, chopped very finely
2 garlic cloves, chopped very finely
20 g / 5 sundried tomatoes (not in oil), soaked in boiling water (optional)
½ tsp hot chilli (or skip if you don't like spicy food)
2 tsp dried oregano
1 tsp lemon zest
3 packed tbsp fresh parsley and /or basil, chopped finely
1 tbsp / 15 ml lemon juice
1 tbsp / 15 ml chickpea brine / aquafaba*
1 ½ tbsp rice flour (or regular flour if not GF)
pepper
salt
a handful of pine nuts (optional)
oil for baking / sautéing
METHOD
Slice your aubergine lengthwise, into thin (0.5 cm / 1/8″) slices. Sprinkle them generously with salt and set aside for an hour or two. This is meant to get rid of the bitterness that some aubergines have. Apparently, these days bitterness is not that common (as farming techniques have changed) so you may be able to skip this step, but do that at your own peril:).
Heat up 1 tbsp olive oil in a small frying pan. Add chopped shallots and garlic and fry them, stirring regularly, until shallots are translucent and garlic is soft.
Shred your chickpeas finely in a food processor. After 10 mins, take sundried tomatoes out of the soaking water, squeeze out the excess moisture and chop them into a very small dice.
Rinse the aubergine slices very thoroughly to get rid of excess salt and then chop them into a very fine dice. Heat up 1 tbsp olive oil in a frying pan and fry them gently until they are cooked.
In a large mixing bowl, combine chickpeas, aubergine, sun-dried tomatoes (if using), shallots, garlic, walnuts, chilli, dried and fresh herbs, lemon juice and zest. Season with a good grind of black pepper. If you salted your aubergines, there is no need to add any more salt as there is always some residue salt left on them. If you did not salt the aubergines, season with salt to taste.
Using your hands combine all the ingredients thoroughly so that they are evenly distributed throughout the mixture. Now add aquafaba and rice flour and mix again. If not using sun-dried tomatoes (which bind the mixture a bit more), you may need to increase the amount of aquafaba and rice flour a little bit. Once mixed, set aside for an hour or so for the mixture to bind better.
Before you are ready to make your meat balls, heat up your oven to 175º C / 350º F and line a baking tray with a piece of baking paper.
Using your hands, shape small amounts of mixture (I used 20 g for each meatball) into balls. You should get 20 meatballs out of this recipe. I studded the outside of the meatballs with a few pine nuts when shaping them so that they look nicer – you can totally skip this step (I know, pine nuts cost a small fortune).
Brush each meatball with a small amount of olive oil and spread them on a baking tray. Bake for 15 mins, then turn over and continue baking for another 15 minutes. You could also pan-fry them if you prefer, but handle them with care.
NOTES
*Aquafaba is chickpea brine obtained from a tin of chickpeas or you can make your own. When making your own, soak chickpeas in lots of water overnight, rinse and put in a large pot with lots of water. Bring to the boil and then simmer for about 1 hour (until beans are soft). Remove cooked chickpeas with a slotted spoon and what's left in your pot is aquafaba. If it is too runny (ideally it should resemble egg whites), you can concentrate it a bit by simmering it on a low heat (without a lid) until it reaches the desired consistency. Cool it down before using.