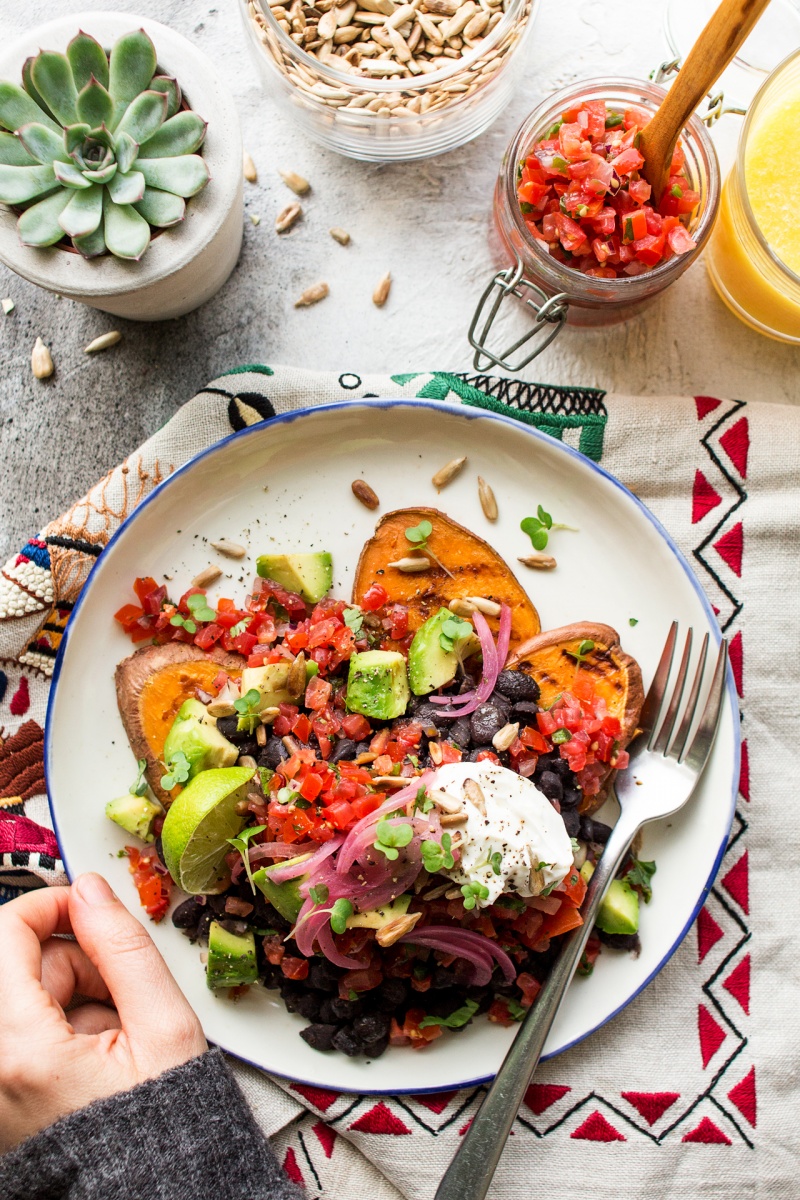 Here we go again, another Tuesday has rolled in. I am about to celebrate with a haircut – my fringe is so ridiculously long I cannot see anymore – and by catching some sun in my garden.
The weather gods must have heard my prayers (or swearing 😉 ) and we are having a few more sunny days this week. Woop woop! I'm excited as I am going for a holiday to Greece in two weeks time and I don't want my white flesh to scare the fish.
Today's recipe is a simple vegan breakfast or brunch mish-mash that's a nod to Mexican cuisine. It's sweet potato toast (or regular sourdough toast) topped with refried black beans and other delicious goodies.
It's super easy to make and perfect for big batch cooking, which is great when you are strapped for time in your day-to-day. The dish is simple yet with bags of flavours and textures and pretty to look at, which is always a bonus. I hope you'll enjoy it as much as we did.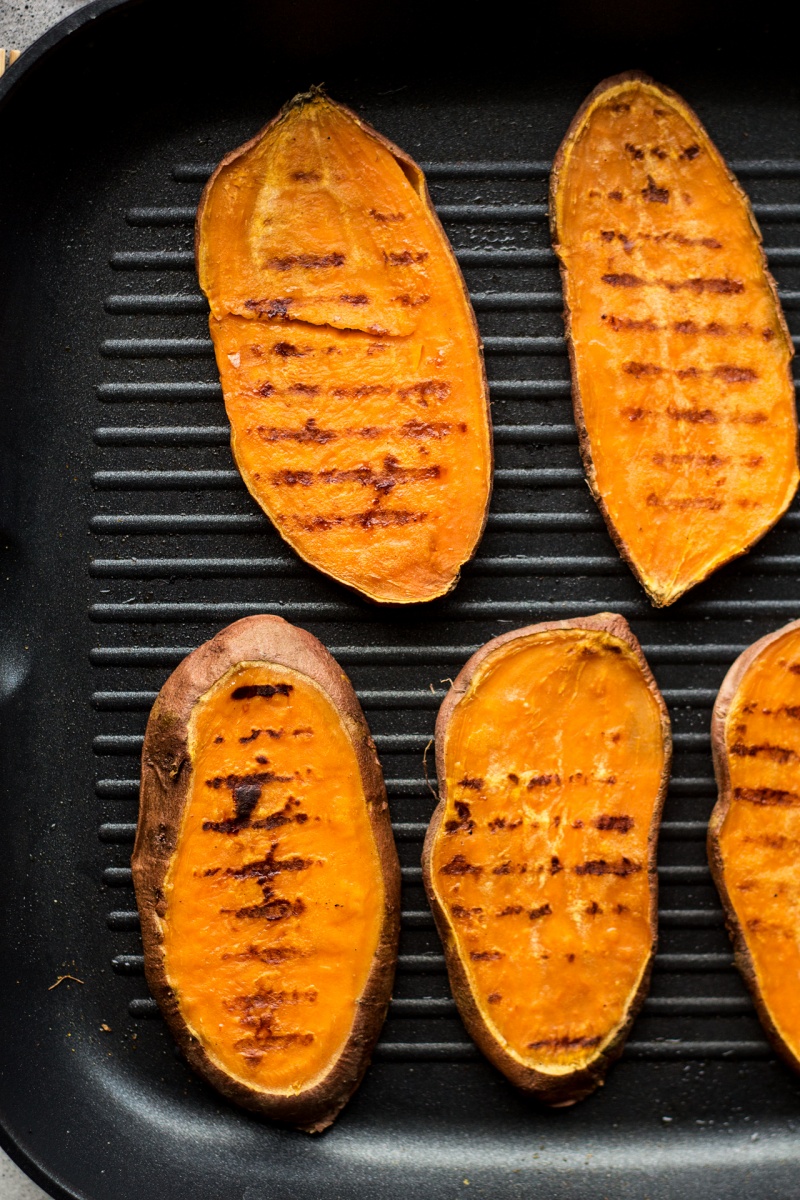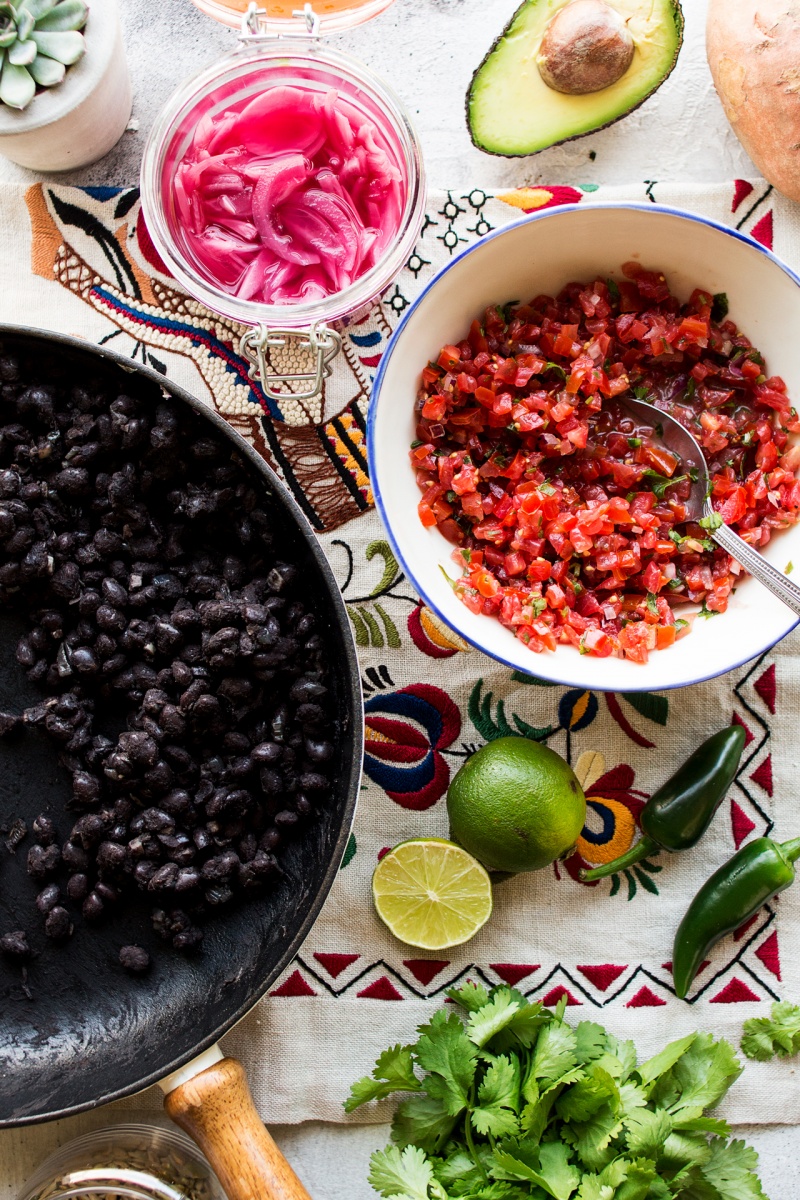 REFRIED BLACK BEANS
2 tbsp olive oil
1 small red onion, very finely chopped
2 garlic cloves, very finely chopped
1 tsp ground cumin
1 tsp smoked sweet paprika
2.5 cups black beans (1 cup raw), 2 x 400 g / 15 oz cans
½ tsp salt
1 tbsp lime juice, to taste
RED TOMATO SALSA
15 cherry tomatoes, very finely chopped
½ small red onion, very finely chopped
½ fresh jalapeno pepper, very finely chopped
fresh coriander, very finely chopped
2 tsp olive oil
1 tbsp lime juice, to taste
salt and pepper
METHOD
RED TOMATO SALSA
In a small bowl, mix together the chopped cherry tomatoes, red onion, jalapeno pepper and coriander.
Dress with olive oil and lime juice, season with salt and pepper and set aside.
REFRIED BLACK BEANS
Heat up 2 tbsp of oil in a heavy bottomed frying pan.
Add the diced onion and fry on a low heat until translucent, stirring regularly.
Add diced garlic and continue frying until fragrant and softened.
Mix in the spices and salt into the onion / garlic mixture. Allow them to fry off gently for a few seconds.
Add in the beans and a splash of water. Mash some (or most of if you prefer) of the beans up with a fork to create saucier beans.
Season with lime juice and more salt to taste.
SWEET POTATO 'TOAST'
Heat up the oven to 180° C / 355° F.
Clean your sweet potatoes and slice them into ½ cm / ¼" slices.
Place the potato slices on a tray and bake them in the preheated oven for about 25 minutes. Allow the slices to cool off.
Heat up a griddle pan and brush the pre-baked potatoes with a little oil. Place them on the hot pan and grill them for about 2-3 minutes on each side, until charred and fully cooked through (insert a toothpick to double-check).
ASSEMBLY
Place two sweet potato slices (or sourdough toasts) on each plate, top with black beans, salsa, chopped avocado, toasted seeds, pickled onions, vegan sour cream / creme fraiche and coriander.
NOTES