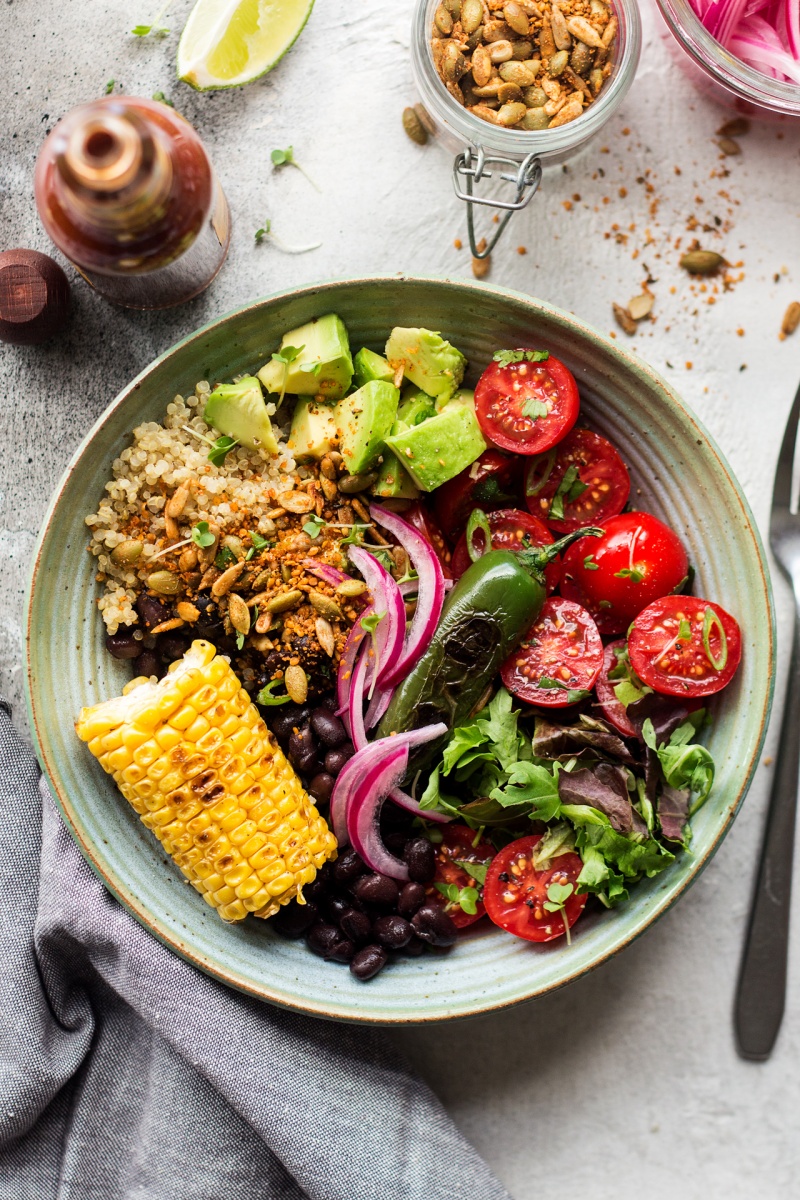 Hope you guys have had a good weekend?! We were both under the weather. Duncan was recovering from his 'nose job' (as he calls his sinus op) and I was nursing a cold, so we spent the weekend cooped up inside, eating food from our freezer and binge watching the new season of Orange Is The New Black 🙂 .
It's a shame as we were really looking forward to our weekend in Wales with friends, but we were in no state to socialise, so we had to cancel. And the weather taking a turn for the worse (it rained the entire weekend) softened the blow a little.
Today's recipe is a simple midweek lunch or dinner bowl, inspired by Mexican flavours. It's fairly quick and easy to put together and ideal batch cooking material. It's colourful, filling, full of plant protein, spicy and zesty!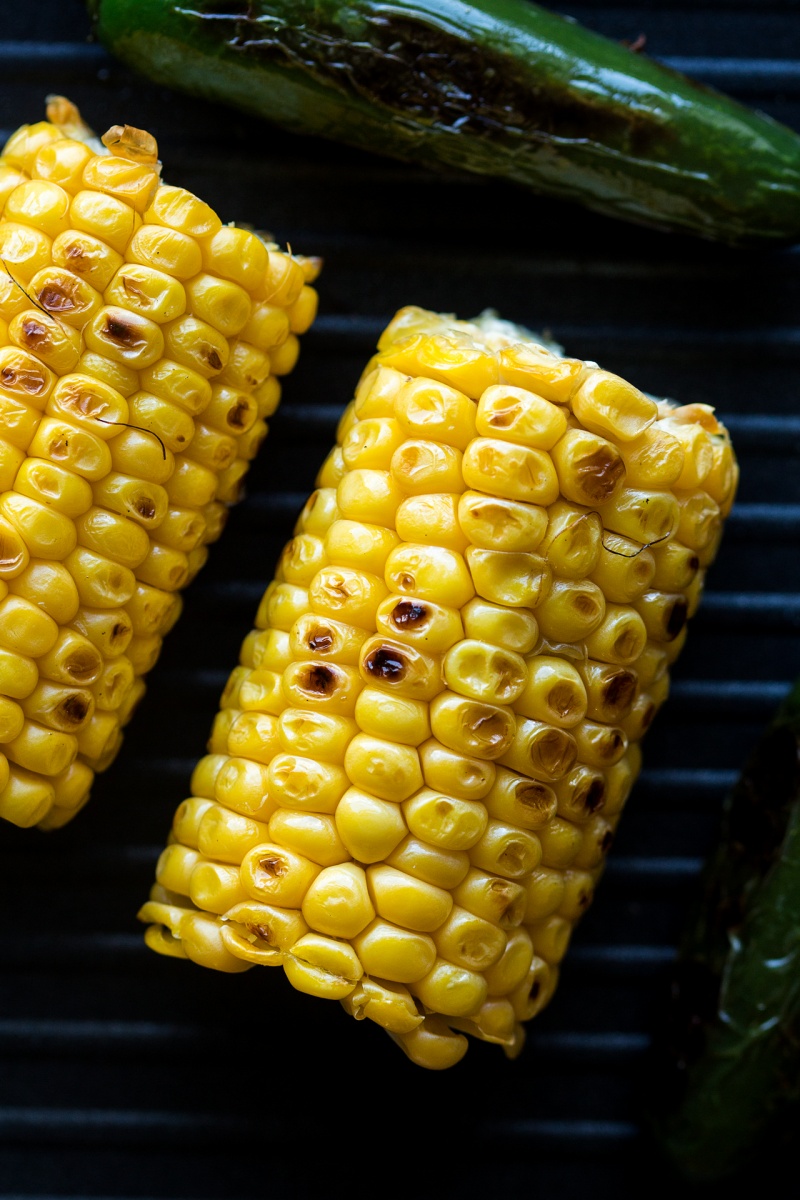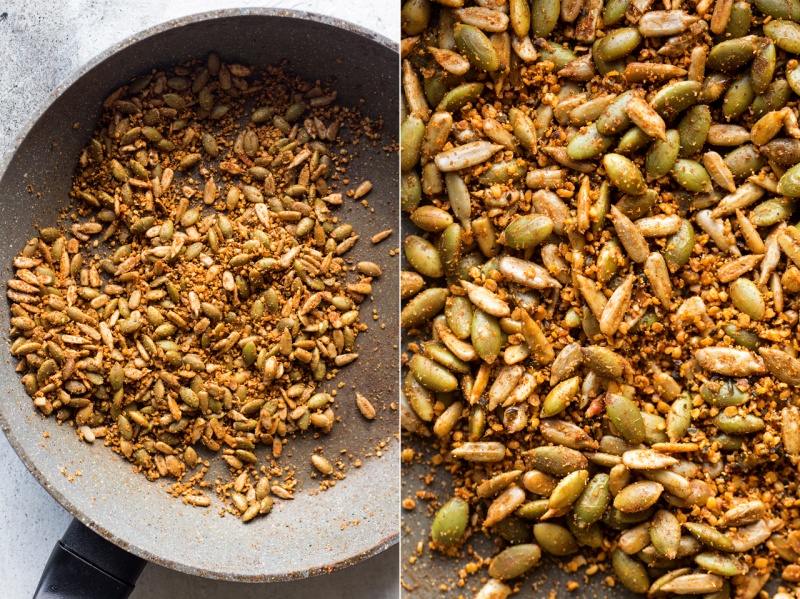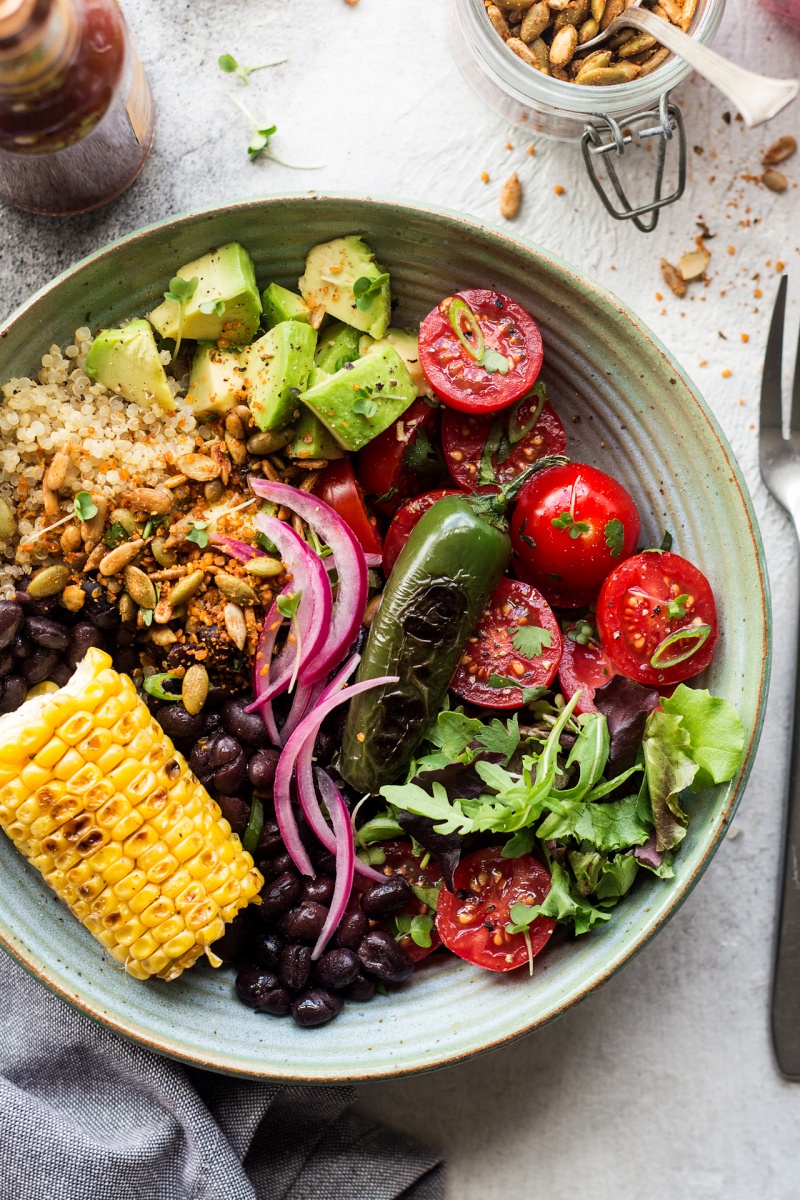 SPICY CRUMB
2 tsp oil (I used olive oil)
2 tbsp pumpkin seeds
2 tbsp sunflower seeds
1 tbsp hemp seeds
¼ tsp garlic salt (or regular salt + garlic powder)
½ tsp ground coriander
½ tsp ground cumin
½ tsp ground smoky paprika
¼ tsp ground cinnamon
REMAINING INGREDIENTS
1 ear of corn, halved
2 jalapeno peppers
a large handful of lettuce leaves, chopped
¾ cup cooked black beans (½ x 400 g / 14 oz tin)
1 cup cooked quinoa* or brown rice
10 cherry tomatoes, halved or quartered
½ ripe avocado, diced
a handful fresh coriander, finely chopped
1 spring onion, finely sliced
quick-pickled red onion (optional)
lime juice
METHOD
SPICY CRUMB
Heat up two teaspoons of oil on a small pan.
Add the pumpkin seeds and stir-fry for about 2-3 minutes.
Add the sunflower seeds and stir-fry until lightly golden (about 2 minutes).
Finally, mix in the hemp seeds and stir fry for another minute.
Switch off the heat and mix in all the dry spices. Stir the mixture around for a bit, the spices will toast gently in the residual heat.
GRILLED CORN AND JALAPENOS
Heat up a griddle pan on a medium heat. You can also use a BBQ for this.
Brush the corn with a little oil and place it on a hot griddle pan. Grill until tender and charred, about 7-8 minutes, turning occasionally.
Place the lightly greased jalapeno peppers on the hot griddle next to the corn and allow them to cook until lightly charred and soft, turning occasionally.
Season the corn with a little salt and set aside. Deseed jalapenos if you prefer less heat.
ASSEMBLY
Divide the lettuce, black beans, rice (or quinoa), tomatoes and avocado between two bowls.
Supplement with a piece of grilled corn and a jalapeno.
Sprinkle the bowls with fresh coriander, the spicy crumb and a few strands of quick-pickled onion (if using) or spring onion.
Drizzle with chipotle sauce and a squeeze of lime.
NOTES
* I recommend cooking a larger amount of quinoa and storing it in an air-tight container in the fridge for the week (it keeps for about 5 days). Here is how I cook quinoa – I rinse it well, place it in a pot with a 1:1½ quinoa to water ratio (1 cup of quinoa to 1 ½ cup of water). I cover the pot and set the hob to a low heat. I let the water come to the boil and then simmer until all the water has been absorbed (I check by tilting the pot slightly and seeing if any water flows from underneath the quinoa). Once all the water has been absorbed, I switch the heat off and keep the quinoa covered for another 5 minutes so that it finishes off cooking in its own steam.