A typical Greek island winter has no shortage of sun accompanied by strong winds and an occasional ferocious storm. My biggest challenge is fitting my running sessions in around the blustery days. This is my standard conversation with Duncan, who, bless his socks, runs with me on his recovery days, 3 times a week.
"Are you coming running today?"
"Don't think so, it's too windy, I shall do some pilates inside instead."
"Nah, it's not that windy at all. It's a bit gusty, but you'll be okay."
"You really think so? All right then…"
Half an hour later as we are trudging along a windswept beach against the headwind so strong that you can barely hear what the other person is saying, I crack the s***s a little.
"What were you thinking?? You told me the wind wasn't THAT BAD. This is torture!"
"It must have picked up a little…"
Yeah, right! Admittedly, once we finish the run I'm always super happy I did go out and, let's be honest, without this little white lie, I would have certainly stayed at home. Running against the elements takes a lot more energy so once you've showered you tend to get ravenously hungry. All you want to do is to curl up on the sofa with a nice recovery meal and maybe a small glass of wine for all your effort. This is where today's Mexican potato skins come into play. You can prepare their components well in advance, in fact the dish will taste better if you do that. It's a filling and satisfying meal that combines a healthy dose of carbs, protein, fibre, good fats and antioxidants – a perfect package to help your beat up muscles recover as fast as they can. If you, like me, adore vibrant Mexican flavours and crispy potato skins, you'll be craving this simple dish on your recovery days too.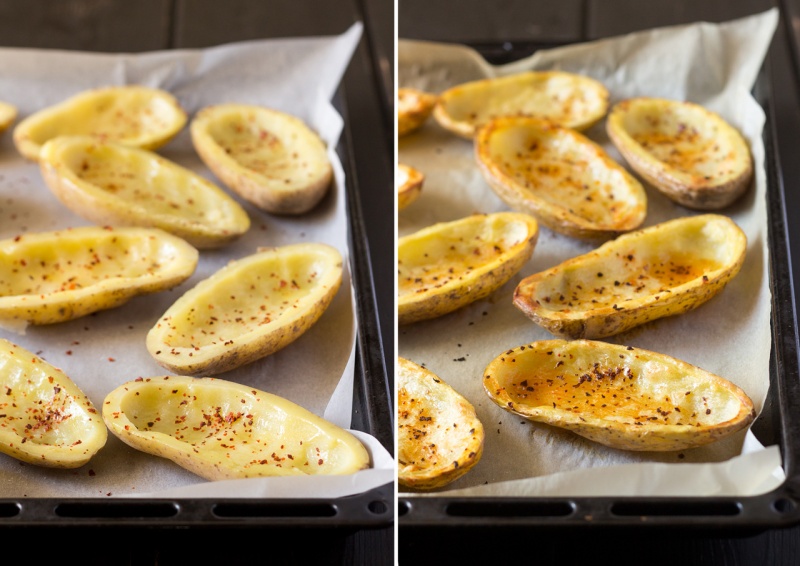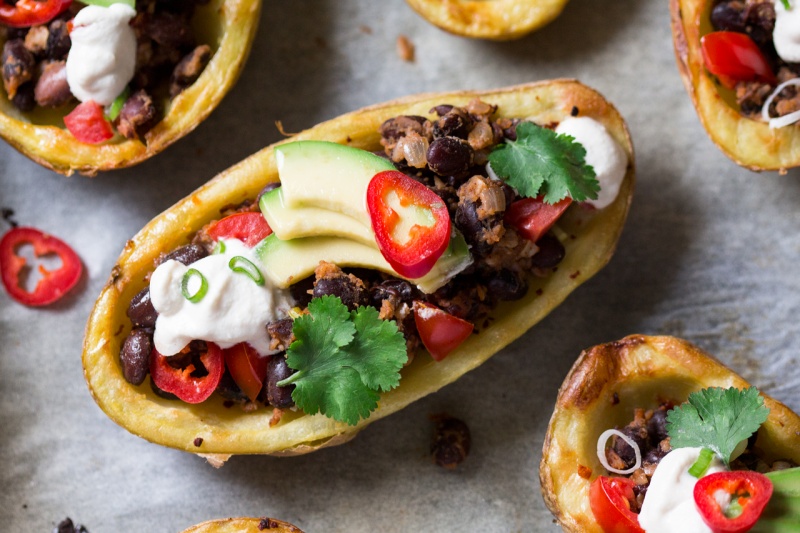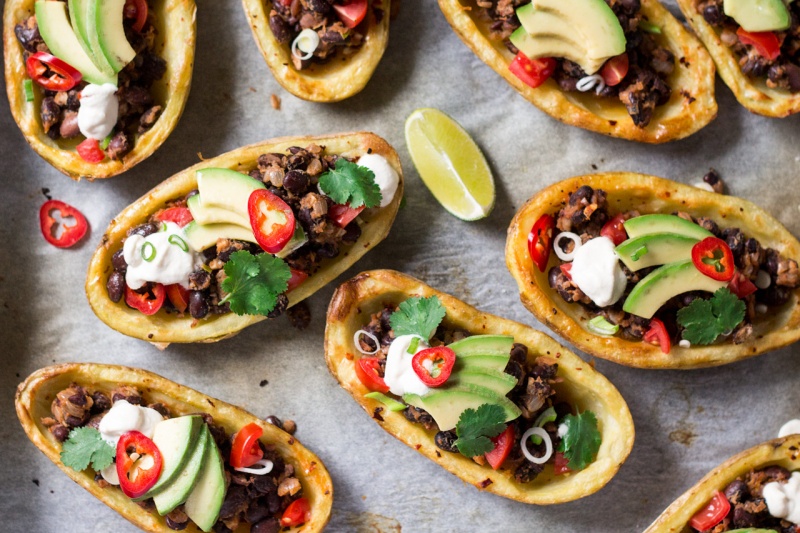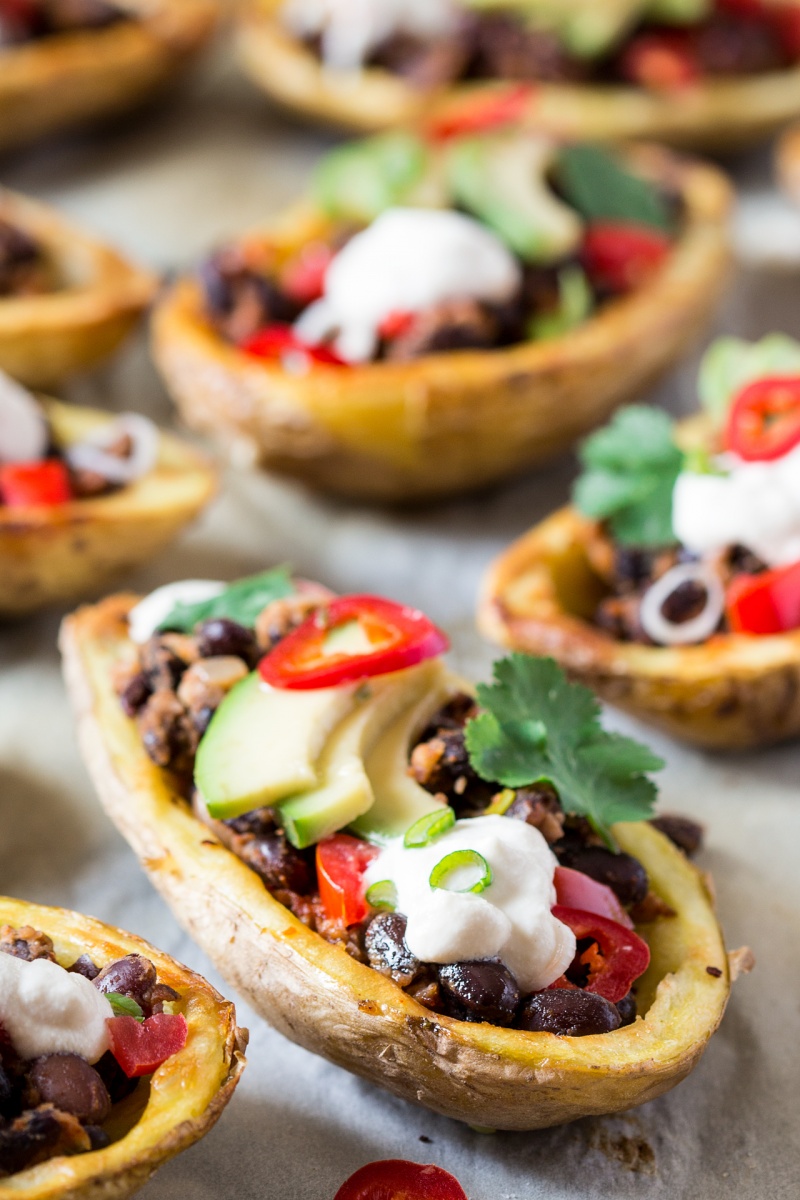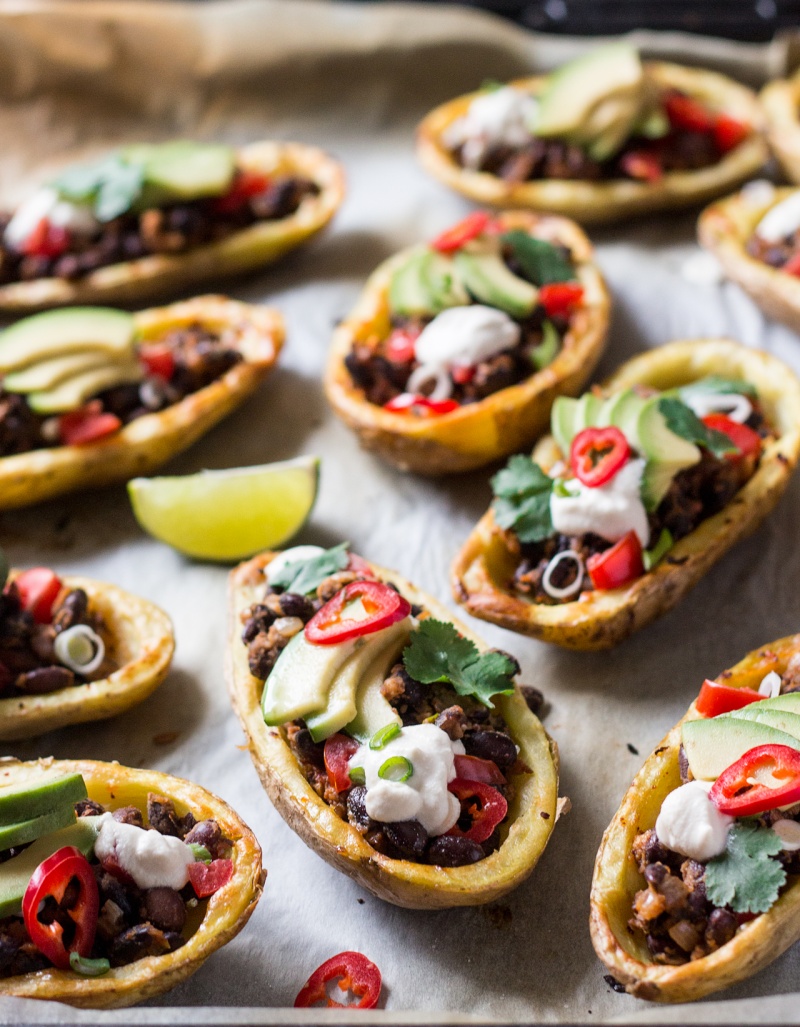 SOUR CASHEW CREAM
½ cup raw cashews, soaked in water for 8 hours
salt, to taste
lemon or lime juice, to taste
POTATO SKINS & BEAN FILLING
6 large potatoes
3 cups of cooked black beans
2 shallots, finely chopped
1 large garlic clove, finely chopped
2 level tsp cumin
1½ tsp smoked paprika
½ tsp cinnamon
½ tsp hot chilli powder
juice of ½-1 lime
sprinkle of pul biber / mild chilli (optional)
½-1 tsp salt
1 avocado, sliced
1 spring onion, sliced
a few cherry toms, chopped
a handful of fresh coriander, to serve
olive oil
METHOD
SOUR CASHEW CREAM
Rinse the cashews well and put them into a blender with a splash of water. Start blending. You will need a silicone spatula to scrape the walls of the blender regularly.
Add just enough water to make the cashew cream thick and smooth. Season with lemon juice and some salt. It is best to make the cream in advance and put in the fridge for a few hours as this will thicken as it chills.
POTATO SKINS & BEAN FILLING
Scrub the potatoes well and parboil them for about 15 mins. Once parboiled, pour hot water out of the pot and fill it with cold water to stop the potatoes from cooking any further.
Heat up the oven to 175° C / 350° F and line a baking tray with a piece of baking paper.
Cut cooled-down potatoes into halves lengthwise (cut them so that the resulting halves are stable). Using a melon baller or an apple corer, scoop most of the flesh out leaving about ½ cm / 1/8″ of flesh all over*.
Brush exposed potato flesh with a little olive oil, sprinkle with salt and optionally pul biber (or mild chilli). Bake them for about 20 minutes, then turn the oven up to 250° C / 480° F and move the tray with potatoes up one notch. Bake for another 10-15 mins, until the rims are nicely browned.
While the potatoes are baking, heat up 2 tbsp of olive oil in a pan. Fry shallots and garlic until shallots are translucent and garlic soft. Add all the spices (cumin, chilli, cinnamon and smoked paprika) and coat shallot and garlic mixture in them. Fry for another 2 minutes stirring frequently so that the spices do not burn. Smash half the black beans with a potato masher. Add all of the black beans (whole and smashed) into the pan with a few splashes of water. Cook on a gentle heat for a few minutes until beans start bubbling gently (add a touch more water if the mixture is too thick). Season with salt and lime juice.
Fill baked potato skins with refried beans, sprinkle with chopped tomato, spring onion and fresh coriander. Serve with avocado slices and cashew cream on top.
NOTES
*DON'T THROW AWAY scooped out potato balls – they make the most delicious fries! Coat them in some olive oil, season and bake in 250° C / 480° F oven until browned and crispy. We had them the next day with leftover toppings.