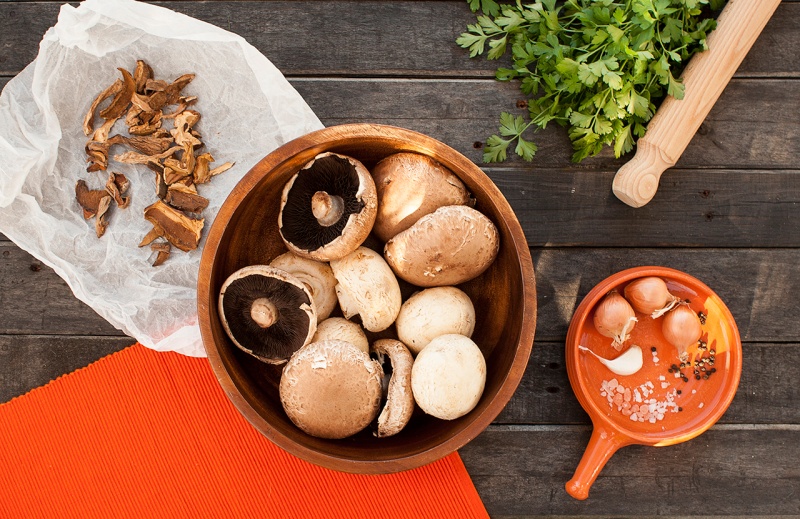 We are big on mushrooms in Poland. When I was little, my friends' parents used to take us to pick wild mushrooms in the forest. Although I loved mushrooms, the forest and the process of foraging for my own food, there was always a certain amount of trepidation that the delicious mushrooms that we were feasting on would be the last thing we ever ate. Foraging for mushrooms is like the Russian roulette of snacking: in one hour you could be relaxing with a nice full belly or you could be heading to Accident and Emergency!
Despite their potential danger, I love mushrooms and the smell of mushrooms sautéed in a pan reminds me of home. My mum used to make us a simple yet cracking mushroom dish of whole mushroom cups sautéed in butter, garlic and herbs with fresh bread. We used to fight over who will get to mop up the last bit of the sauce with their slice.
The smell of these little mushroom parcels remind me of that time. The forest-like smell permeates the house as soon as the ingredients hit the pan. The fragrant filling is encased in a pizza-like dough, the edges of which crisp up in the oven nicely. I love having these for lunch with a cup of steaming hot barszcz on cold winter days.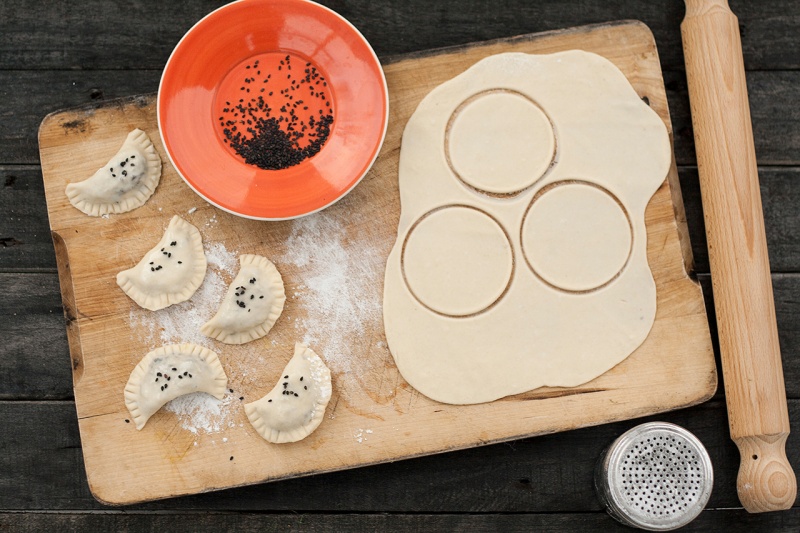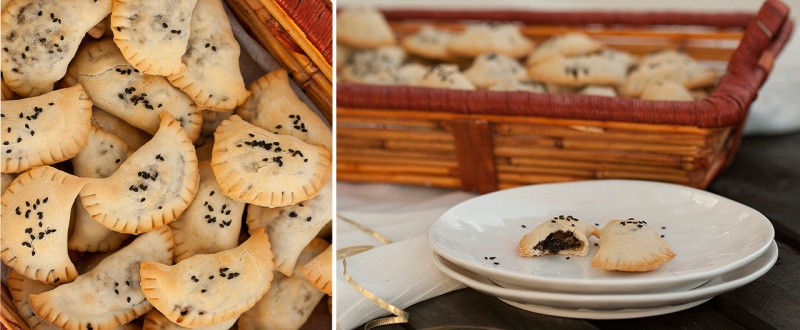 Filling
700 g of mushrooms (roughly 9 very big mushrooms, I used chestnut and regular)
3 tbsp of olive oil
5 shallots, finely diced
2 garlic cloves, finely diced
20 g dried wild mushrooms, rinsed, soaked in water overnight
1 tsp dried oregano
½ tsp dried thyme
1 tsp salt, adjust to taste
generous amount of ground pepper
3 tbsp of breadcrumbs
Dough
250 g regular flour
250 g bread flour
1 cup of water
1 tsp active instant yeast
2 pinches of sugar
1 tsp of salt
5 tbsp olive oil
METHOD
Filling
The day before, rinse dried mushrooms well. Put them in a bowl of water and leave to soak overnight. Next day, bring the mushrooms and their soaking water to boil and simmer gently until the mushrooms are soft. Chop them up finely and reserve the mushroom water for use in stock or soups.
Clean the mushrooms and chop into a fine dice. Heat up olive oil in a large pan. Once hot, add in shallots and stir-fry for a few minutes until they become translucent. Add in the garlic and keep on stirring so that it doesn't burn. Add in chopped mushrooms and wild mushrooms. Cook the mushrooms on a medium heat until all the water cooks out. Add in salt, herbs and pepper and cook some more until the mixture is nice and dry. Let it cool down. Add in breadcrumbs and give the mixture a good stir.
Dough
To activate the yeast, warm up water till just warm, whisk in yeast and sugar. Continue whisking until the yeast has fully dissolved. Leave it in a warm place covered with a kitchen towel for 10-15 min covered to activate.
Once activated (you will see some bubbles appear on the surface and the mixture will smell very yeasty), add activated yeast to flour and salt.
Mix with your hands until rough dough forms and add in olive oil. If the mixture is too dry, dribble in a touch more water. Be careful not to overdo it, it just needs enough to be workable.
Knead the dough for about 10 min on a lightly floured surface. In order to activate gluten in the dough, stretch the dough ball in all directions, Don't worry if it tears – that's good – as long as it binds together again.
Form the kneaded dough into a ball and put in a lightly greased bowl. Brush a bit of oil over the top of the dough to prevent it from drying out. Place a kitchen towel on top of the bowl and rest the dough in a warm place for about 1 hour (until the dough doubles in size). This stage is called proofing.
Once the dough has proofed, knock the air out and roll the dough on a floured surface with a rolling pin. Cut out small circles from the dough with an upside down glass.
Pre-heat the oven to 180° C.
Place each dough circle into the palm of your hand, place a teaspoon of filling in the middle. Fold the circle in half and pinch the edges of the dough together.
Place on a lightly oiled baking tray. Once you have a full tray, brush each mushroom calzone with a bit of olive oil, grind some sea salt on top and place a few black sesame seeds on top.
Bake for 15-18 min, until the calzone gets a bit of a golden tan.