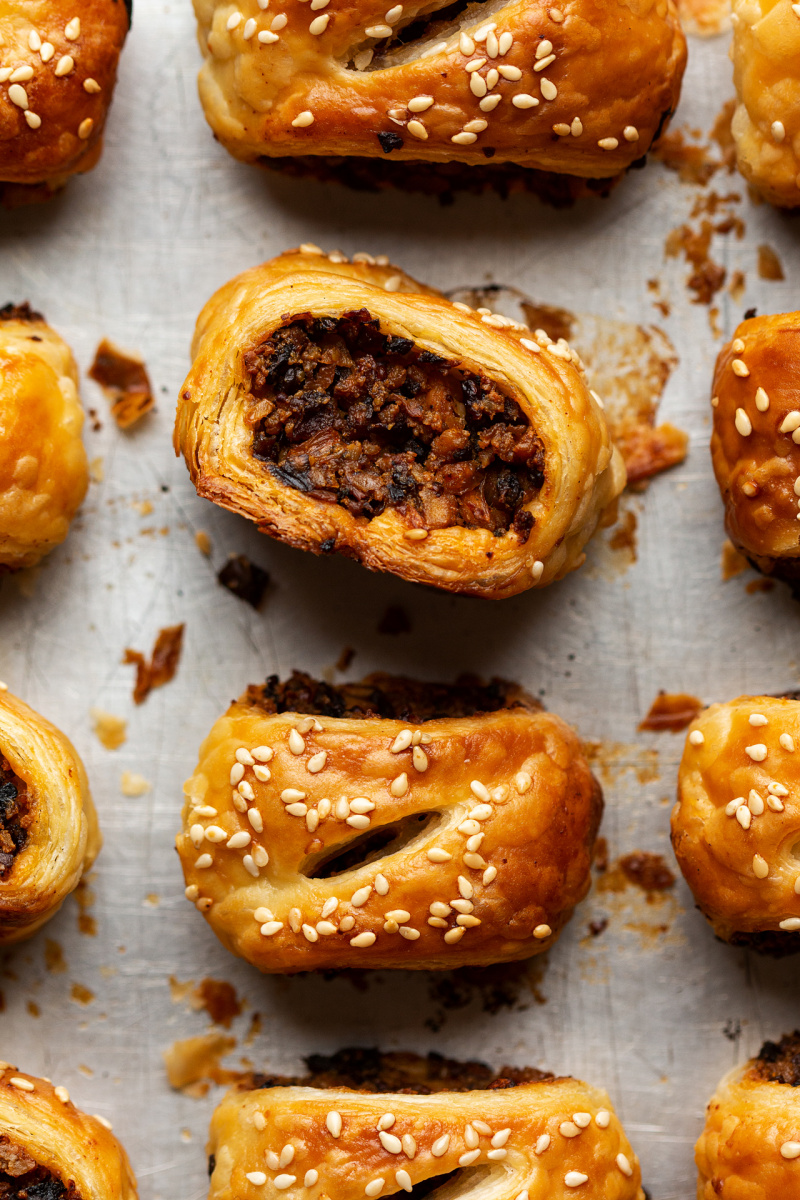 Have you woken up from your post-Christmas food coma yet? We returned to Bristol last night, definitely a little heavier and with a firm resolve to kick sweet things to the curb for the next two weeks at the very least. Christmas at my parents has definitely proven to me, once more, that a sweet tooth is something that runs in my family – the amount of sweet things my mum made has at least equalled the amount of savoury dishes on offer.
And the trouble is that every time you sit down at the kitchen table to have a coffee or tea, a platter full of all sorts of cakes and cookies turns up in an instant and you never find yourself having just one thing. It was delicious while it lasted but now that Xmas is over and we are at home, we have decided to try to curb our sweet tooth a little as it feels a bit out of control. Tough (withdrawal) times ahead!
We had a lovely time in Poland, enjoyed catching up with friends and family, delicious vegan food in Krakow and my mum's food, but we did miss our little four pawed rascal – Tina – so we are happy to be home. She welcomed us last night with an obligatory sulk, but it didn't last very long. After about 5 minutes, she rolled on her back as a sign that she is now ready to receive plenty of tummy rubs that she has missed out on. She then slept between us, her tiny little frame sprawled so far and wide that I nearly fell off the bed in the middle of the night. It's always a special time after we return home to her, so it's all forgiven.
Today's recipe is a bit of a mash-up, it's my take on a British classic – sausage rolls, made vegan. They are in part inspired by a Polish delicacy of 'paszteciki', which are bite-size savoury pastries filled with mushrooms and sauerkraut – doh, most things are filled with cabbage and mushrooms when it comes to Polish winter dishes! They are a bit of what I feel like inside, in part Polish and in part English 😛 – 'immigration rolls', if you like.
Having lived here for almost my entire adult life, I don't feel 100% Polish anymore, I also do not feel (or am) British. I am a strange amalgamation of things with a bit of Greekness thrown in from our 4 years in that beautiful country. Having said that, these have been dutifully tested by Duncan's workmates, most of whom are English BTW. He presented them as 'vegan sausage rolls' and they were very warmly received, apparently. No one made a peep about their dubious credentials… Jokes aside, they are really nice, savoury, smoky, a little spicy and easy to put together. They make a great New Year's Eve snack so if you plan on hosting this year, make them, enjoy and Happy New Year!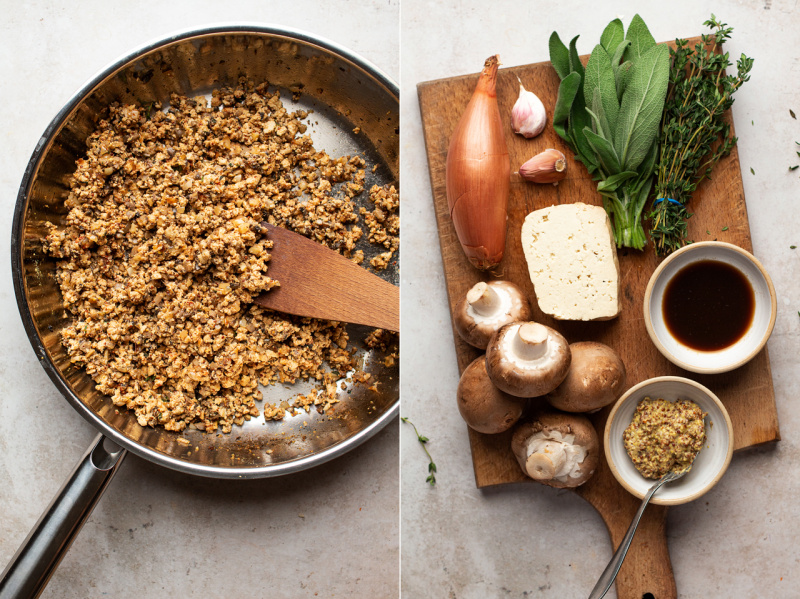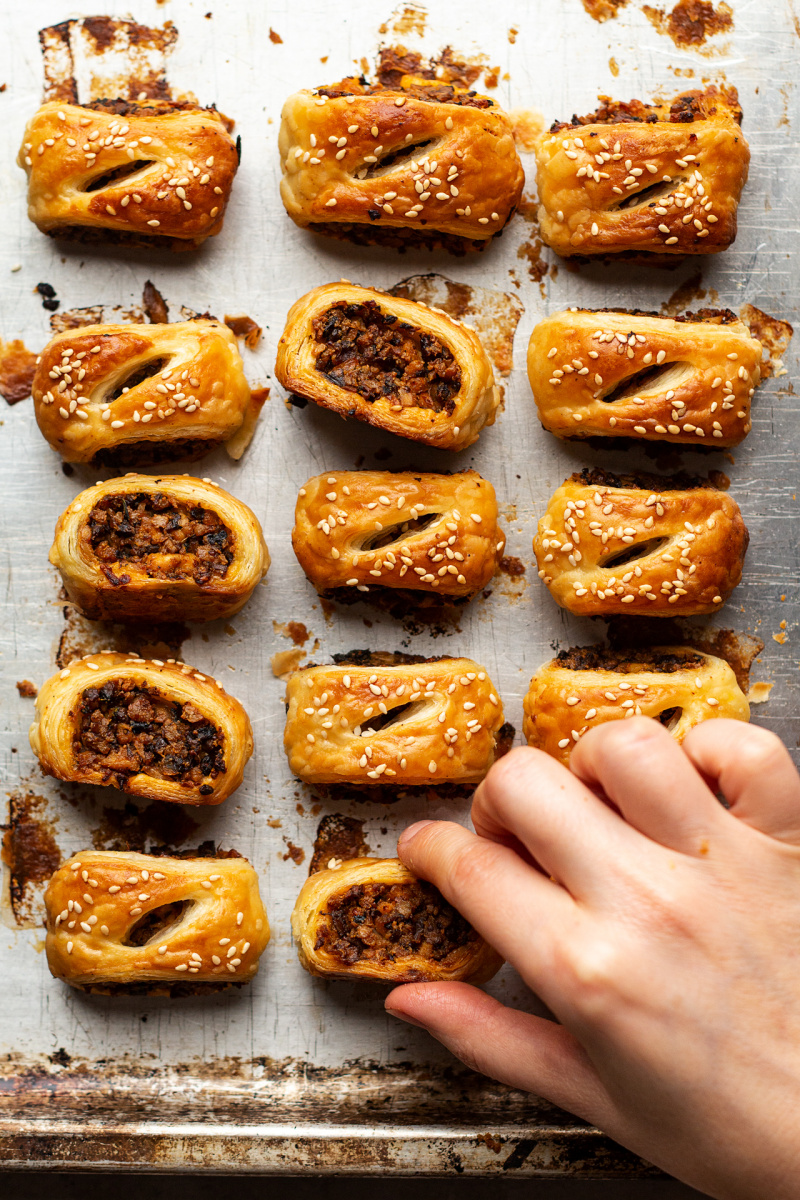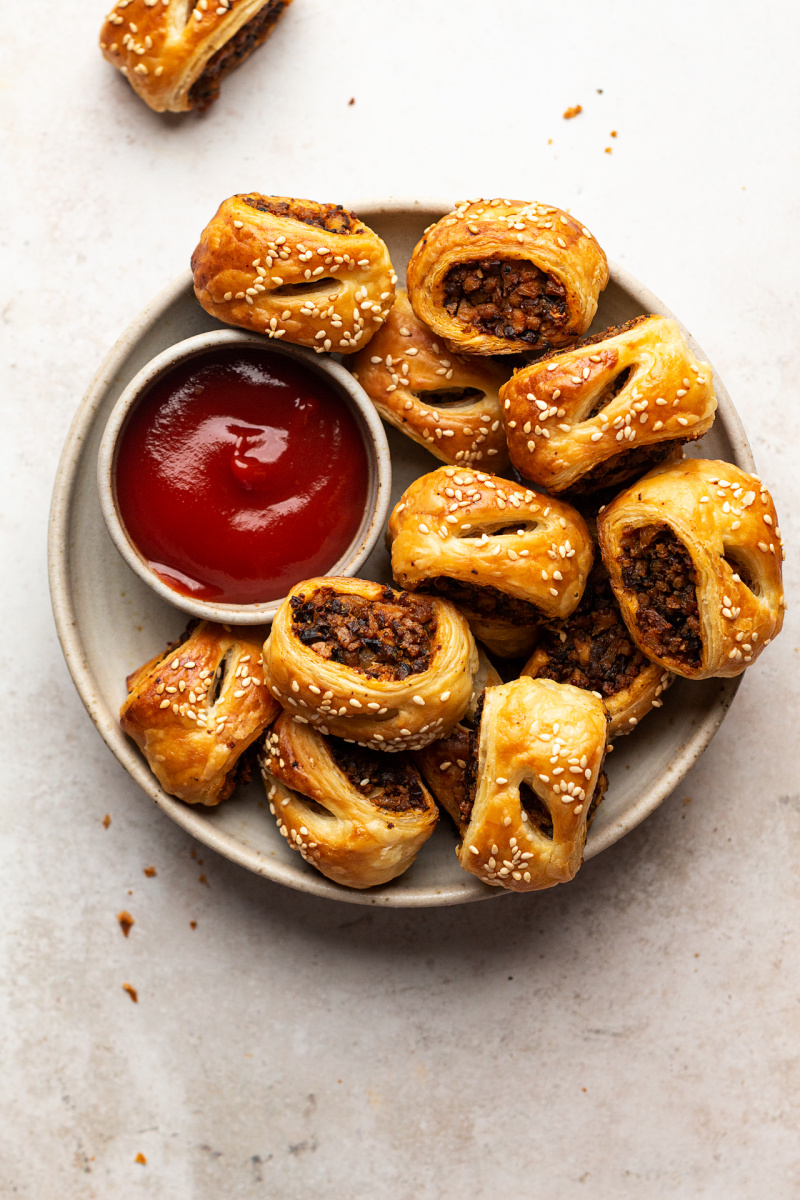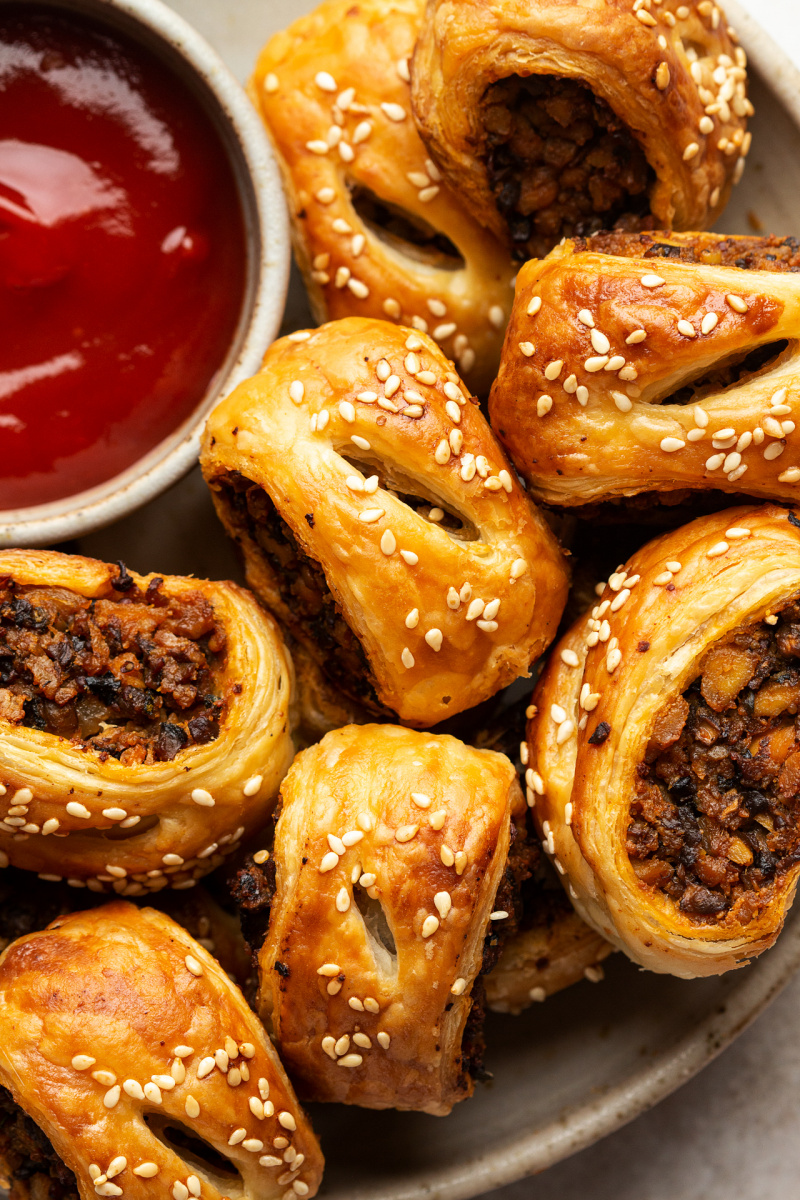 250 g / 9 oz chestnut or portobello mushrooms (large if you can get them)
225 g / 8 oz smoked firm cotton tofu OR 175 g / 1 packed cup cooked brown rice
3 tbsp olive oil
2 large shallots, finely diced
3 garlic cloves, finely diced
8 fresh sage leaves and 4 thyme springs, leaves picked
4 tsp vegan Worcester sauce
2 tsp mushroom soy sauce or plain soy sauce / tamari (for GF version)
¼-1/3 tsp salt, adjust to taste
generous grind of black pepper
2 tbsp nutritional yeast
2 tsp tomato paste
1½ tsp wholegrain mustard, more to taste
1 tsp smoked sweet paprika (if using rice), more to taste
1 sheet vegan puff pastry*
vegan egg wash: 2 tsp plant milk, 1 tsp olive oil + 1 tsp maple syrup or sugar
1 tbsp sesame or poppy seeds, to decorate
METHOD
Heat up the oven to 200° C / 390° F (180° C / 355° F fan) and line a baking tray with a piece of baking paper.
Chop mushrooms into very small dice and mash drained (no need to press it) tofu with a fork. You can use a food processor for the mushrooms, but I don't like doing that as it is too easy to overprocess them and lose all the texture.
Heat up olive oil in a large frying pan. Add shallots and fry until translucent, stirring from time to time.
Add garlic, chopped up sage and picked thyme leaves. Fry until garlic softens and becomes fragrant, stirring often.
Add chopped up mushrooms and let them sauté until they are cooked and all the excess water cooks out.
Add in mashed up tofu (or cooked, cooled-down rice), vegan Worcester sauce, mushroom soy sauce, salt, pepper, nutritional yeast, tomato paste and wholegrain mustard. Mix everything really well. Taste and adjust the seasoning to your liking (I used ½ tsp salt). If there is still some moisture in the pan, make sure you allow it to cook out before cooling the filling.
Take the puff pastry out of the fridge for about 10 minutes before assembling the rolls so that it's more pliable.
If you are using a sheet of similar dimensions to mine (I used Jus Roll puff pastry), cut your pastry into 3 equal portions widthwise – you should end up with 3 rectangles of roughly the dimensions 23 cm / 9″ by 12 cm / 4.75″. If using a different size pastry sheet, decide what makes the most sense and divide the pastry and filling accordingly.
Place one third of the filling in the middle of the first rectangle of pastry and shape it into a long sausage using your hands. Fold the pastry over the filling and seal it well using your fingers. Gently flip the roll so that the seam is at the bottom.
Mark where you are going to cut this one long roll into smaller sausage rolls (mine were just under 3 cm / 1″) and using a sharp knife make little slits on the top of each individual sausage roll so that the steam has an opening to escape through during cooking.
Glaze the roll with vegan egg wash and sprinkle with sesame or poppy seeds.
Using a sharp knife (I like to use a serrated knife for this), gently cut the roll into small portions according to the marks you've made earlier.
Proceed in the same way with the two remaining sausages and leftover pastry.
Arrange sausage rolls on a paper-lined baking tray (glazed side up) and bake for about 25 minutes, until the pastry has puffed up and become golden brown.
NOTES
 *Most shop-bought puff pastry is accidentally vegan unless the packaging clearly states 'all butter'. I used Jus Roll puff pastry (which is also available in a gluten-free version in the UK). Please do check the packaging to be sure you are buying a vegan product.