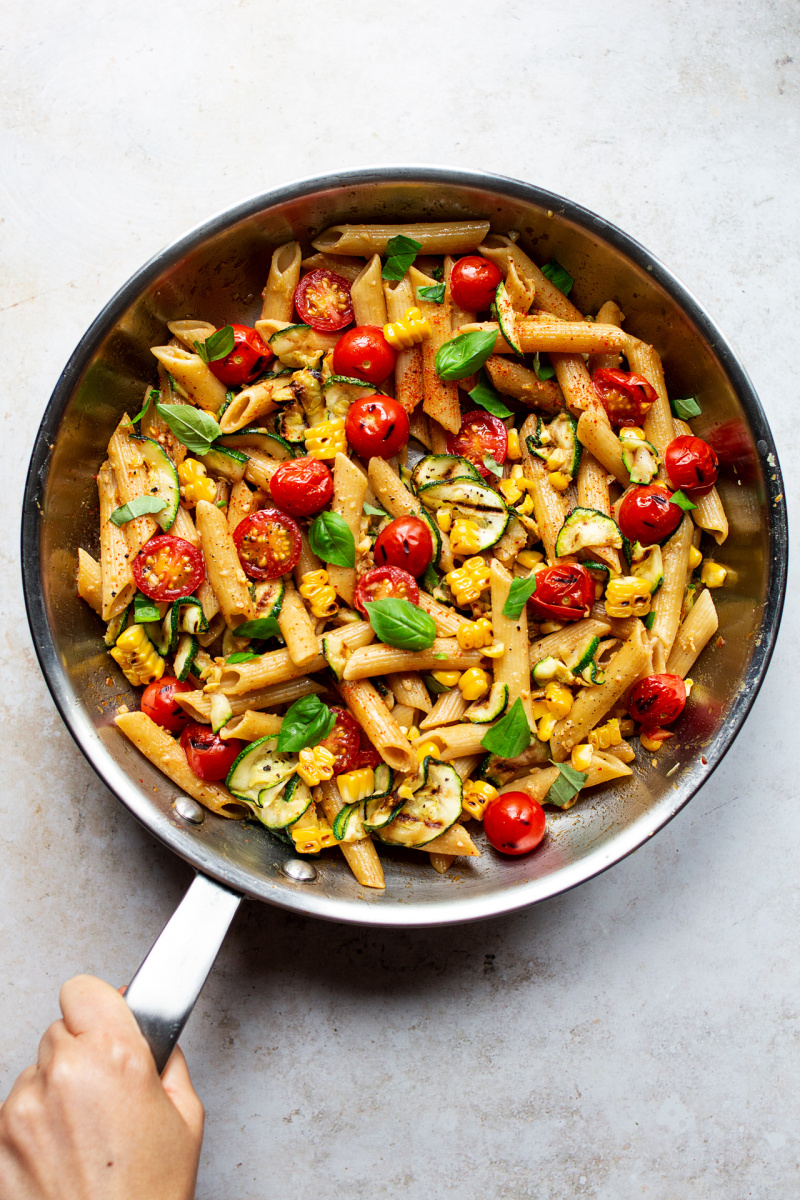 Hope you guys had a nice weekend? Ours was great, it was a day longer than usual (you gotta love Bank Holidays!) and the sun was shining beautifully so my faith in the world has been restored 😉 . We managed to combine some socialising, a fair amount of active rest and some lying around in the sun with a book (me) and cricket + book (Duncan) too, so we felt happy going to bed on Monday night.
We went out with friends on Friday, ran first thing in the morning on Saturday, followed by a long walk with a local vegan meet-up group and the next day we cycled to Bath and back (40 km / 25 miles all in). On Monday, we picked and processed some more apples from our tree, lounged in the sun for hours and I also managed to do a test cook, which doubled up as our dinner on Monday night. I love weekends like these, with a bit of everything!
Our bike excursion to Bath was a lot of fun. We had been planning to do that for a while as we literally live on the bicycle and pedestrian-only path that connects the centre of Bristol with the centre of Bath, where an old railway track used to be. The path is really pleasant, mostly shady and although some motorway noise bleeds into it at a few points, most of it is peaceful, almost completely flat and, most importantly, devoid of any car traffic. It really makes you wish there were more places like that! It's perfect for a relaxed bicycle jaunt with a nice lunch punctuating the day at the halfway point, before embarking on the journey back home.
This certainly was my idea for this trip which is why I wore floppy cotton shorts, a linen T-shirt and Toms. I got a bit suspicious the moment I saw Duncan sporting his pro-cycling clothes, with the exception of shorts, but it was too late to change. This discrepancy should have given me an inkling that my idea of ambling along the path at a leisurely pace is not quite what he has in mind for this trip. Granted he did not leave me for dead and made sure he could see me behind him at all times, but I was not doing as well as he thought. As it was a very sunny day and the path was very busy with both pedestrians and cyclists, he simply assumed that I was a little less skilled at manoeuvring past everybody, which is why I was a bit behind.
One third into the trip, I gave it my all and I finally managed to close the gap between us. Drenched in sweat and looking like a flattened Pluto, I asked him if we could possibly take down the pace down a little, but it turns out that while I was killing myself, Duncan was finding the pace painfully slow. He was expecting us to be 'cruising' (his exact words) at 20 kph (12.5 mph) while we were barely doing 18 kph (11.2 mph). I was bewildered – wasn't it supposed to be a relaxed ride, I asked? Well, it is, he said. Hahaha, at least we know how our cycling ability compares now. We managed to work out a compromise and we did have fun. We plan to do it again, in autumn, when it gets a little cooler and there are fewer people on the path, although I might have to train a little more first 😉 .
Once we got home, I jumped straight into the shower and into the arms of my hammock, while Duncan headed out for a long run! I know! He is such an endorphin junkie! I often feel like a lazy slob by comparison, even though I exercise on a regular basis myself. That evening, we were both really hungry, so I made a mountain of pasta with my favourite late summer produce charred on a griddle pan. It's easy to make, full of flavour, looks like sunshine on a plate, keeps you full for longer (if you use wholewheat pasta like me) and will certainly be a welcome meal after you've worked your butt off on a bike. Enjoy! x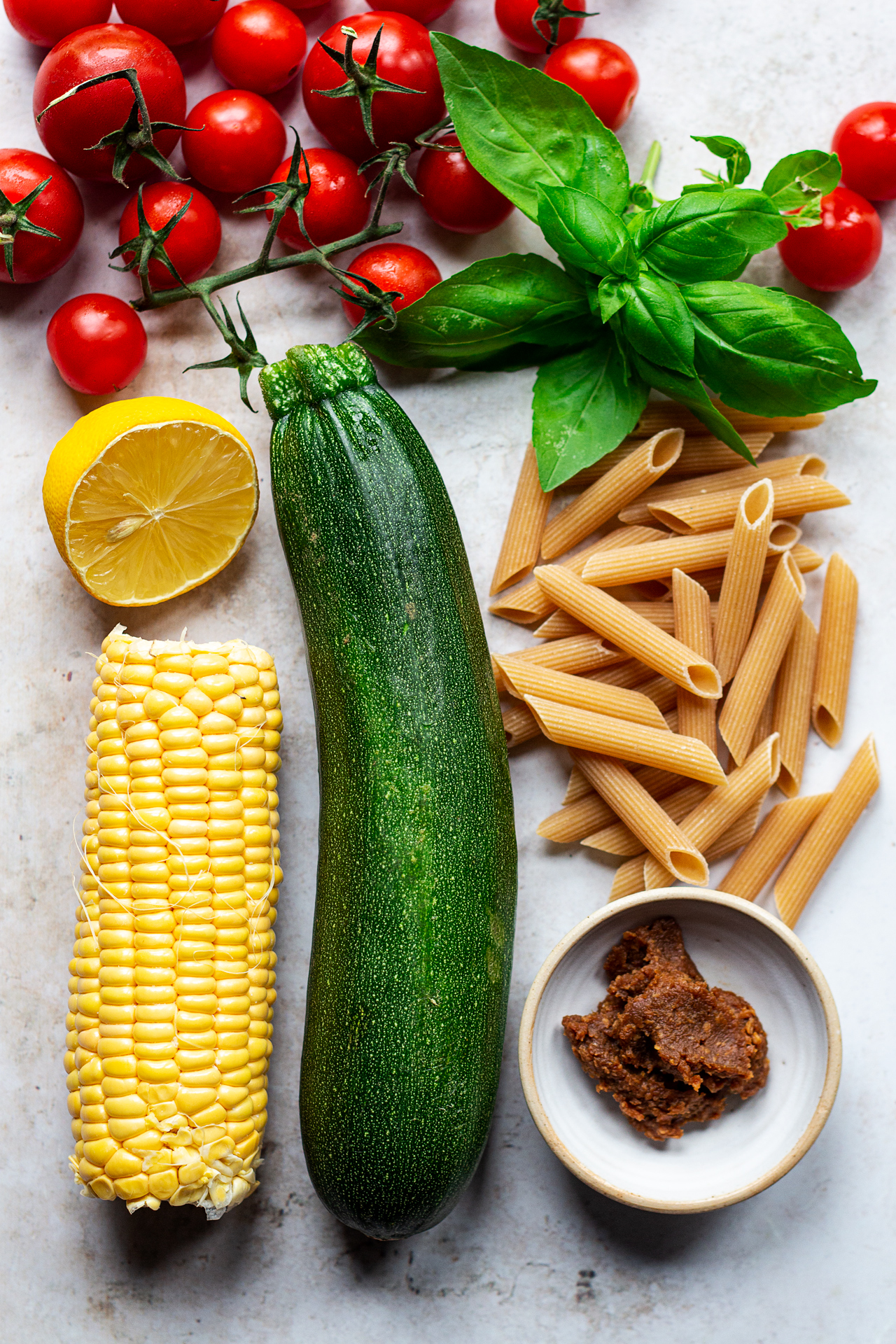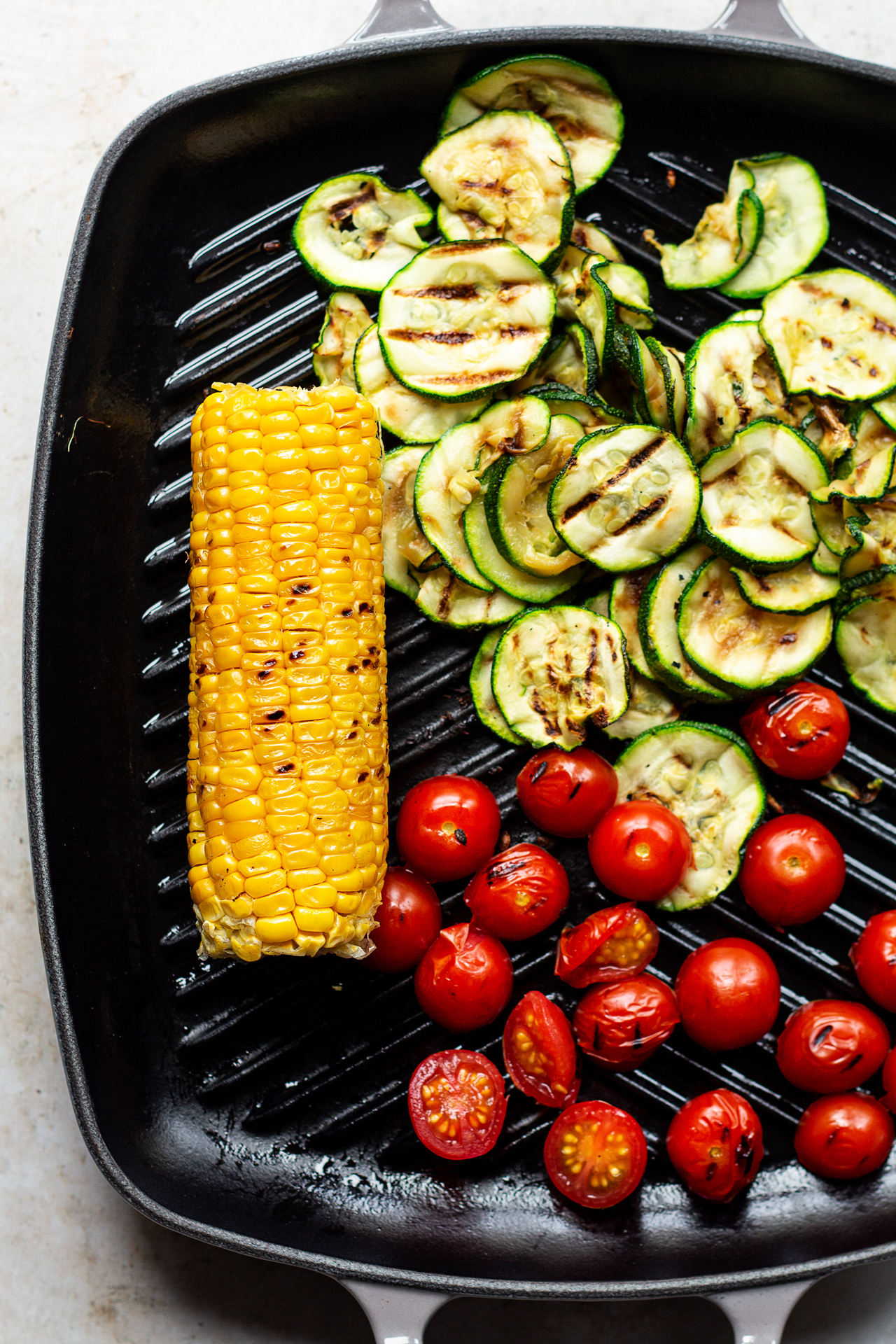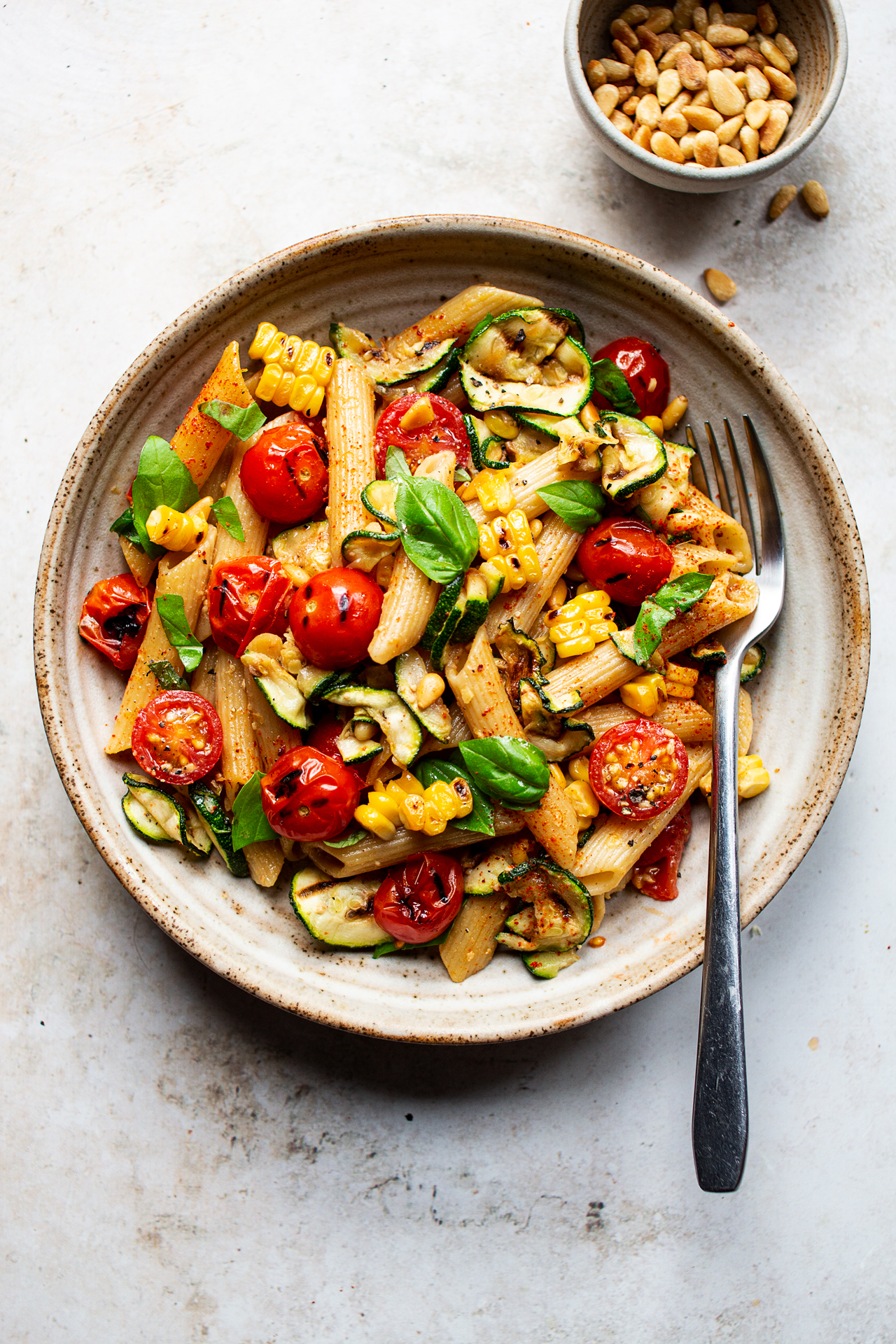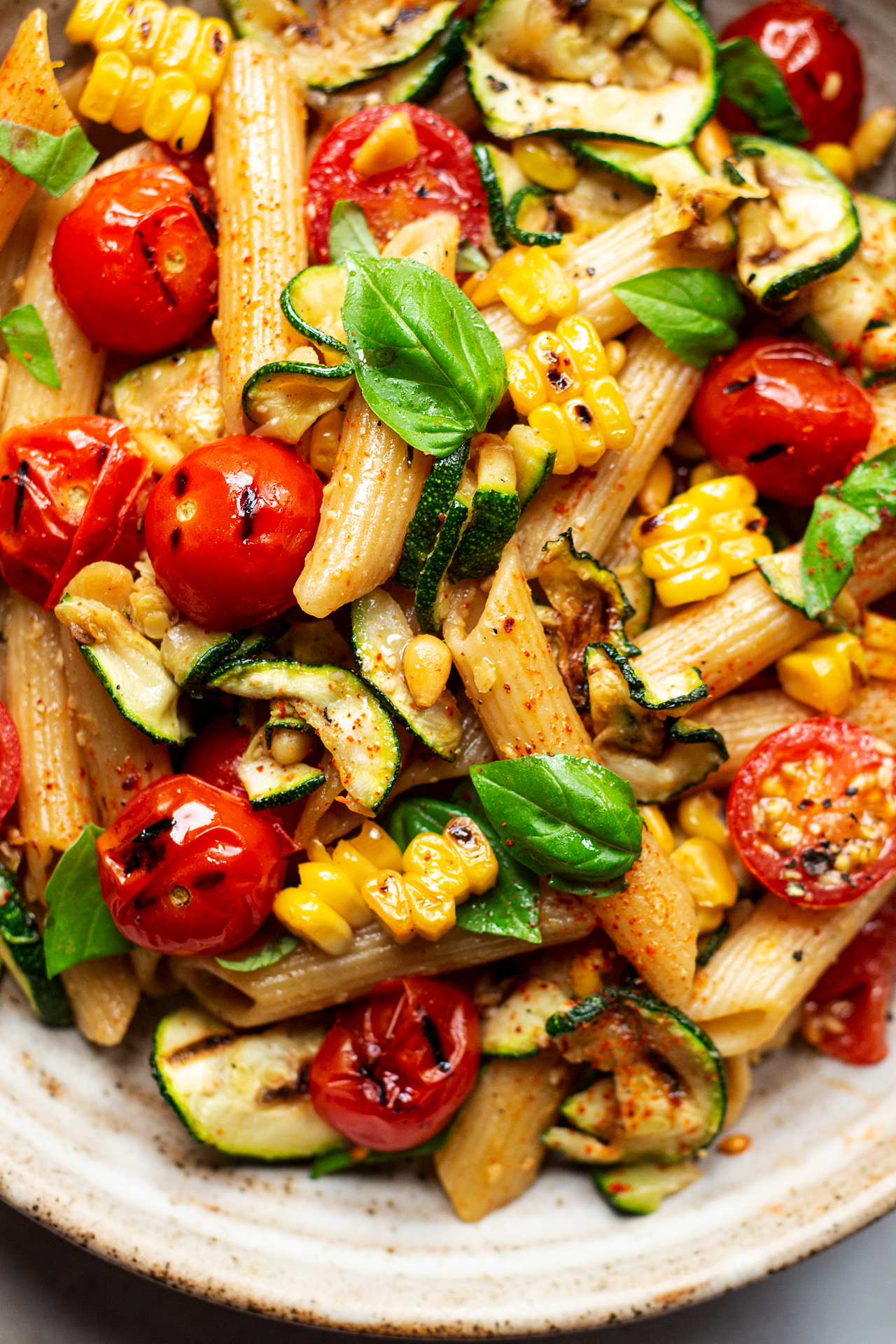 200 g / 7 oz penne pasta* (GF if needed), I used wholewheat
45 ml / 3 tbsp extra virgin olive oil
200 g / 7 oz courgette / zucchini (1 medium), cut into thin slices
1 corn on the cob
12 cherry tomatoes, halved
1 large garlic clove, finely diced
1 heaped tbsp miso paste** (I used red)
1 tbsp nutritional yeast
1-2 tbsp lemon juice
salt and black pepper, to taste
a good pinch of chilli flakes (I used fine Korean chilli flakes)
2 tbsp toasted pine nuts, to serve
fresh basil leaves, to serve
METHOD
Cook the pasta just short of al dente (the pasta I used takes 10 min to cook al dente, I cooked it for 9 min) following the instructions on the packet, saving about 60 ml / ¼ cup of cooking water just before you drain your pasta.
Heat a griddle pan. Brush it with 2 tsp of olive oil and throw zucchini slices on it (it's fine it they overlap – just make sure you rotate them now and again), corn and cherry toms, skin side down.
Allow the vegetables to char turning the corn every few minutes, keeping an eye on the zucchini slices (keep on taking the ones that have been done off the pan). Take the tomatoes off the pan as soon as you see char marks on the bottom.
Heat up 2 tbsp oil in a non-stick pan (I like to use a stainless steel one for this dish).
Add the garlic and allow it to fry on a very low heat, stirring frequently. Do not let it brown as it will make it taste bitter.
While the garlic is frying, dissolve miso paste in 2 tbsp of the pasta cooking water you saved earlier.
Once the garlic is softened and fragrant, add in dissolved miso paste and nutritional yeast and a squeeze of lemon, and a pinch of salt – stirring everything together so that you get a light emulsion that will coat your pasta.
Add drained pasta to the sauce and a bit of pasta cooking water if dry. Coat the pasta in the sauce, season well, including a sprinkle of fine chilli flakes (if using).
Add charred veggies to the pan, give the pasta a good stir, adjust the seasoning.
Divide between two bowls, garnish with pan-toasted pine nuts and torn basil leaves.
NOTES
*This also works rather well with cooked chickpeas and quinoa for a nutritional gluten-free version.
**If wanting to keep this dish gluten-free, make sure to use a gluten-free miso paste – made with chickpeas, rice, millet, amaranth or quinoa instead of wheat, barley or rye.