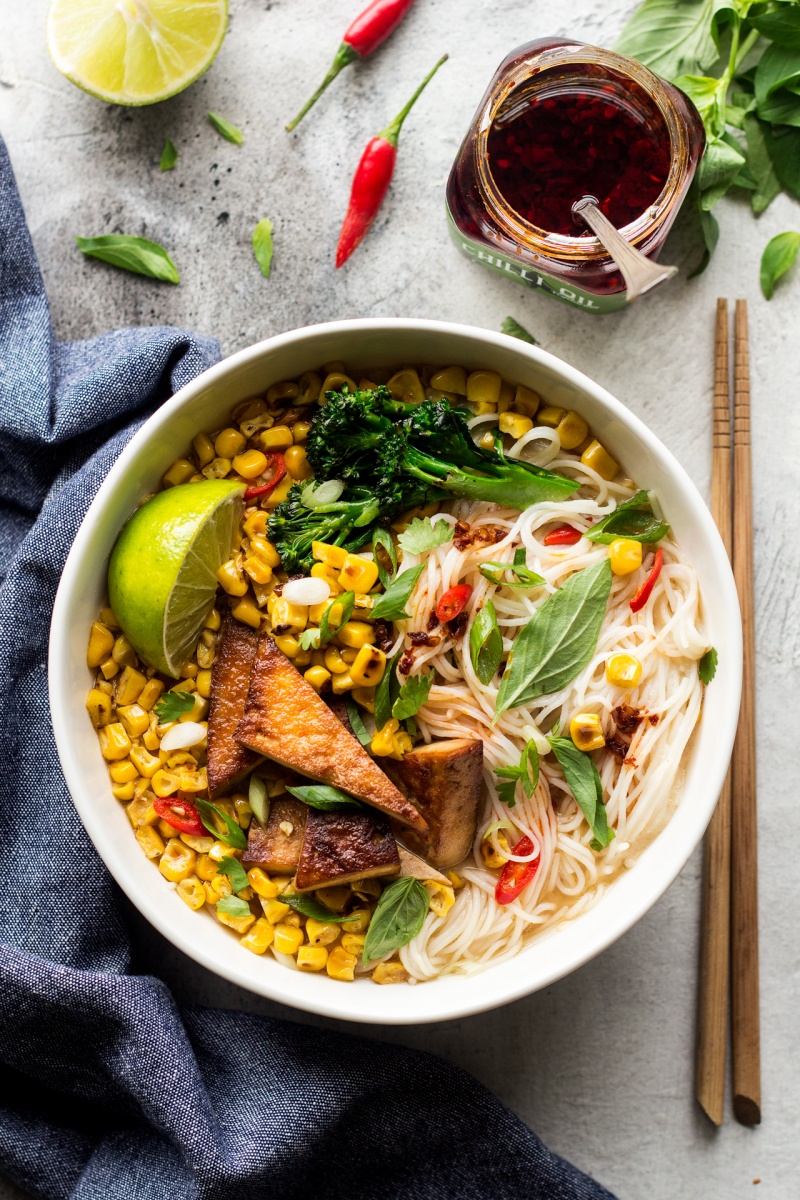 Today has been a day of good news and no, we did not get the house we were bidding on last Friday. The good news I am talking about is about something way more important. Duncan had a post-op checkup with his ENT specialist and he was relieved to hear that he is healing extremely quickly and is almost completely recovered. The doctor was very confident that all of Duncan's health troubles that have been plaguing him for the past 3 years are finally behind him. We are both so relieved, especially that only a week ago it seemed like, inexplicably, the symptoms suddenly got worse and we started thinking that yet again the diagnosis has not been correct.
The excruciating experience of suffering from a chronic illness that no one is able to diagnose accurately has given us both a renewed appreciation of the value of health. The doctor confirmed that it was a deviated septum that was the culprit behind the mould poisoning that Duncan suffered from for the last 2 years of us living in Greece. The mould spores thrived in his constricted nasal cavities and kept on poisoning him from the inside for months on end. I cried a little when I heard that this is finally over as it was such a hard time for both of us, and to finally have an explanation for why this was all happening felt so amazingly freeing.
When living on Paros, we were both going out of our minds as to what was wrong with Duncan. His blood tests were all exemplary and no one could explain the symptoms he was feeling (constant fatigue, pins and needles, dizziness) or how to cure them, yet he felt ill and weak every single day. We tried everything, but nothing was helping and every step in the right direction was always countered by two steps back shortly after. We both started to think the worst and depression started to percolate in both our heads. Duncan could not cope with going from someone who wins running races to not being able to get out of bed. And I found it hard to cope with his (understandable) despair and outbursts of anger and nihilism that followed. It was by far the most testing time we've had to endure as a couple and we are so relieved to be on the other side of it, finally.
Our decision to move back to the UK was motivated by this illness to a large extent. Being far away from quality medical care and family when you suffer from an undiagnosed illness feels really scary and hopeless. We figured that we needed to move out of our mould infested rental and to have advanced medical care at our fingertips to be able to pursue getting the correct diagnosis with more determination. Luckily, a few weeks after moving to Bristol, his symptoms miraculously went away and we were really happy. This feeling did not last long, as a few months later a new nightmare ensued, his sinus issues started and would not let up for months on end. Little did we know the two illnesses were connected. Once he got his deviated septum diagnosis, the operation was promptly scheduled and now 4 weeks down the line, Duncan is back running and feels better than he had done in ages. Just to be sure, his doctor stuck a camera up his nose today and was able to confirm that it's looking almost completely healed. We are overjoyed!
Today's recipe is a simple bowl of corn and miso soup inspired by August's bounty. While the rest of Europe is still basking in the summer sunshine, the UK has started to feel a little more like autumn, so I don't feel like I'm speaking out of turn here. And if it's hot where you are, make less broth and simply treat it as a dressing. This soup is a warming concoction of umami-filled miso and aromatics married with sweet, charred sweetcorn, smoky tofu and oodles of rice noodles. It's really enjoyable and light, yet filling and nourishing.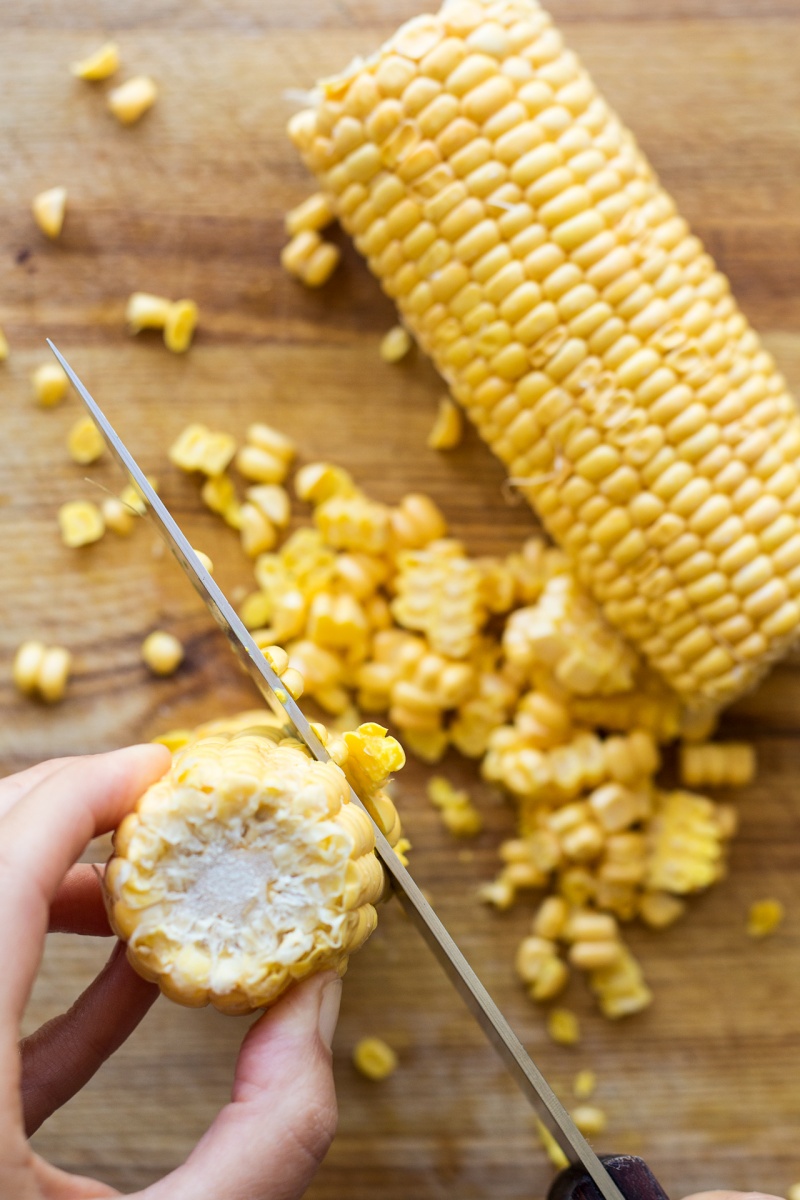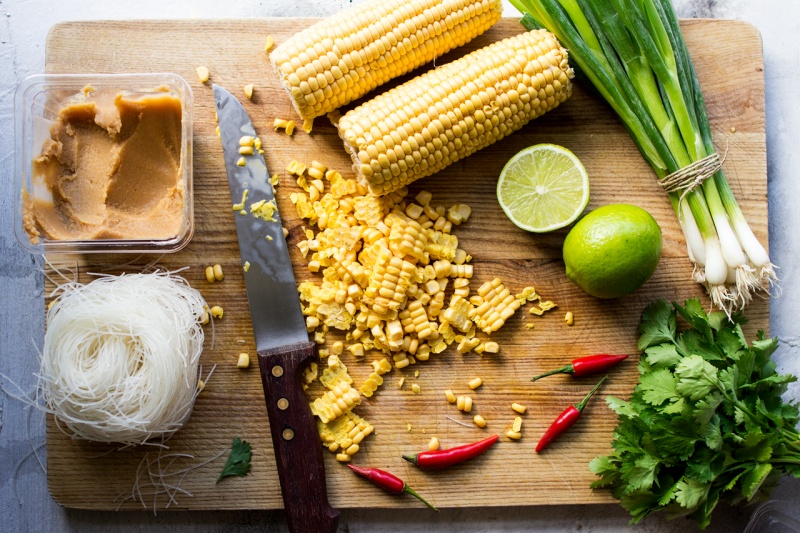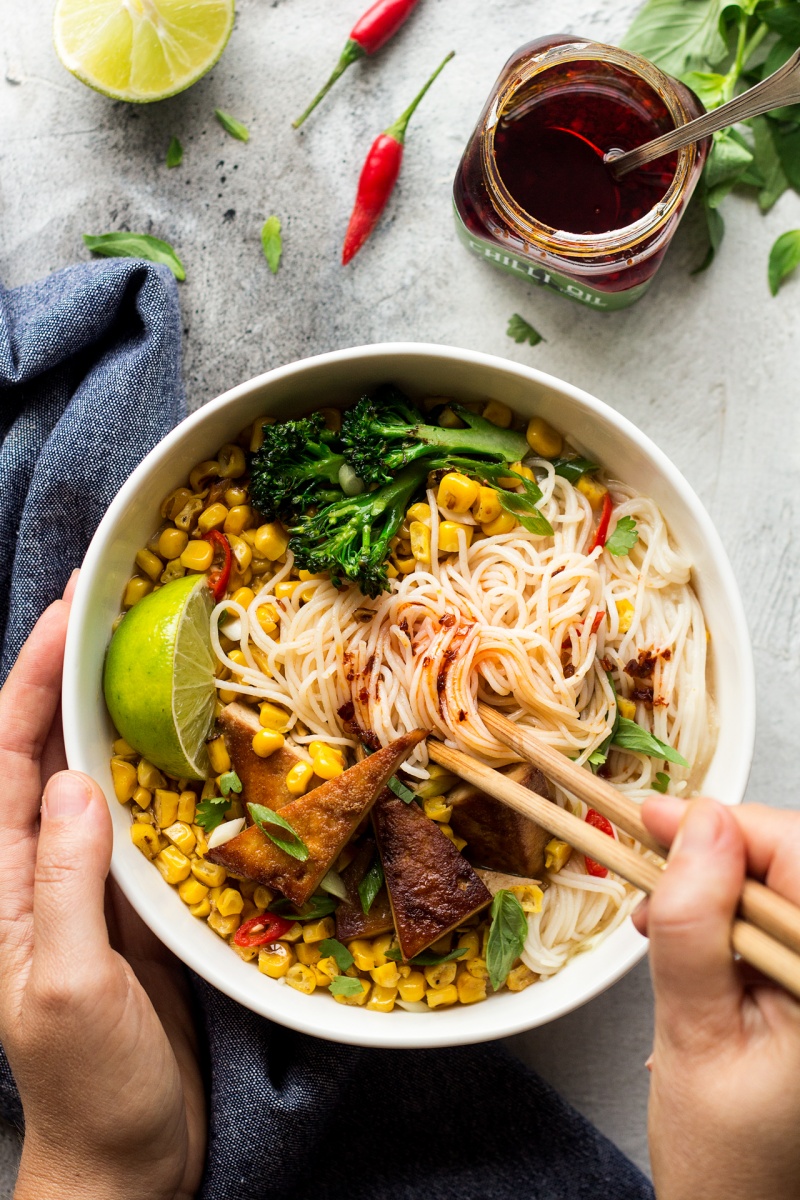 TOPPINGS
200 g / 7 oz firm or extra firm tofu, I used smoked (pressed)
2 tbsp soy sauce or tamari (if GF)
2-3 tbsp neutral tasting oil (I used rice bran oil)
100 g / 3 oz vermicelli noodles, cooked
100 g / 3 oz tenderstem broccoli, stir-fried or steamed
2 ears of corn, kernels sliced off
sliced spring onions / scallions, to serve
fresh coriander or Thai basil, to serve (optional)
BROTH
METHOD
Cut the tofu into same size pieces and place in a small bowl. Pour 2 tbsp of soy sauce (or tamari) over the tofu and let it marinate for as long as you can, giving the contents a stir now and then.
Heat up 1 tbsp of oil (I used rice bran) in a heavy-bottomed pot. Once the oil gets hot, throw in the diced shallot, garlic and ginger. Sauté them on a low heat, stirring very frequently, until they have softened and released their aroma (it takes about 5 minutes).
Whisk 2 tbsp miso with 2 tbsp water.
Add about 2 cups / 500 ml water (or veggie stock if you have any to hand) to the pot along with the diluted miso paste.
Simmer gently for 10 minutes and season with rice wine vinegar, mirin, toasted sesame oil and soy sauce (or tamari).
While the soup is simmering, prepare the noodles according to the packet instructions and fry the tofu in a small amount of oil. You could also bake it for about 20 minutes at 180° C / 355° F.
Heat up another tablespoon of oil in a wok and stir-fry the broccoli for 2 minutes and then add in the corn kernels and stir fry for another 2-3 minutes.
Divide the soup and all the toppings between two bowls. Garnish with chilli oil (or slices of hot chilli) if using, spring onions and herbs.