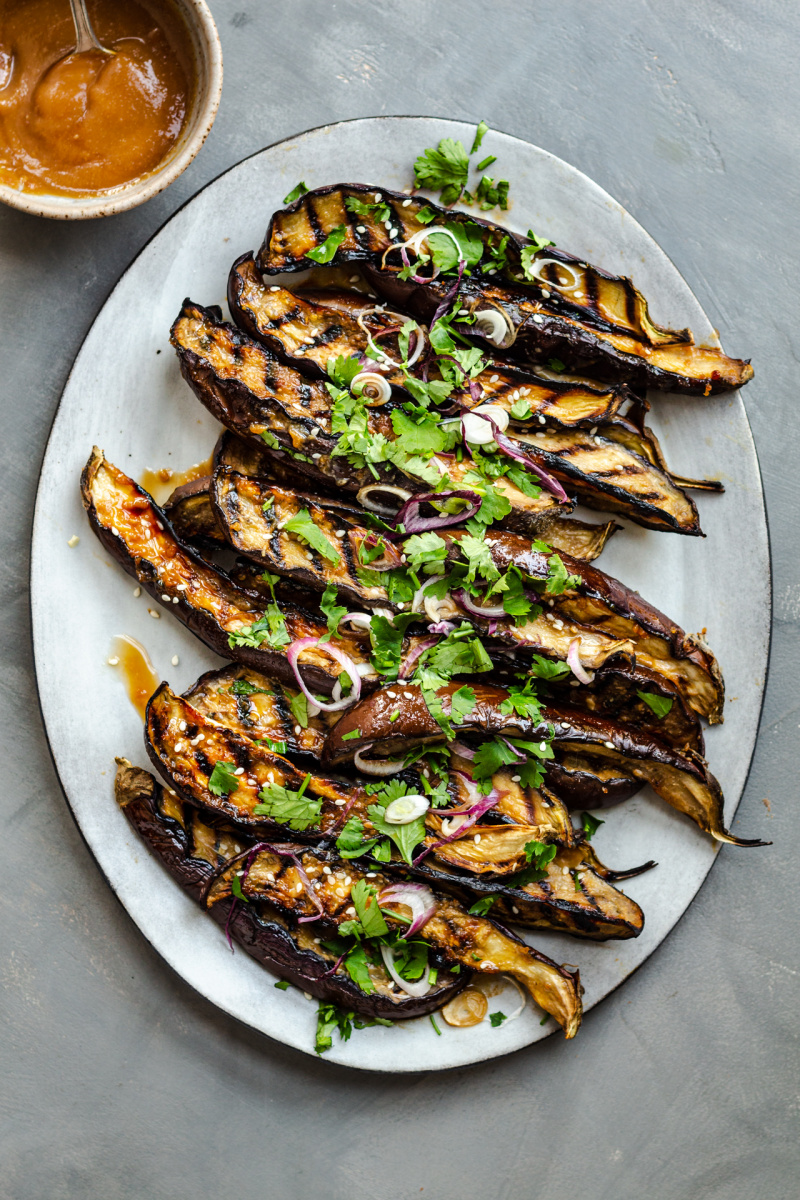 After me moaning about the lack of summer for weeks, I've had my wish – it's been mercilessly hot around these parts lately. Hot and still and it becomes very hard to get some sleep. I wish there was a giant thermostat here somewhere so that I could turn the heat down just a scooch. Humans, eh? Never happy!! Oh well, the upside is that I've been making lot of sorbets and ice cream lately and if today's final test goes well, I may be able to share an exciting vegan ice cream recipe with you this Friday, fingers crossed.
After years of wishing we had an ice cream maker when the weather gets hot for 2-3 weeks a year, I finally bought one and despite worrying that it might have been a bit of a fad purchase, I have been churning some finger-licking mixture in it most days. I am loving playing an ice cream wizard and 'sampling' the outcomes in equal measure. I'm currently making a peach sorbet to keep us going and as soon as I hear a ping, 'your sorbet is ready for you, Madam', I will be working on perfecting my ice cream recipe for the blog.
Cookingwise, I am doing the bare minimum I can get away – for obvious reasons – so today's recipe is as simple as they come yet still really satisfying. It uses very seasonal aubergines (or eggplants), which can be cooked almost entirely on a BBQ if you have one going or on a cast iron griddle pan, on the stove top. Once cooked through, they get basted in the Japanese-inspired miso marinade, which is a heady concoction of miso, mirin, sake and sugar and I like to add a slash of vinegar for some relief. It tastes rather strong straight from the jar but once brushed onto cooked aubergine and caramelised under a grill, it transforms bland eggplant into a real delight. It can be enjoyed on its own, as part of a varied lunch spread or with a bowl of plain rice (or sesame-oil flavoured noodles) for a quick (yet flavourful) dinner.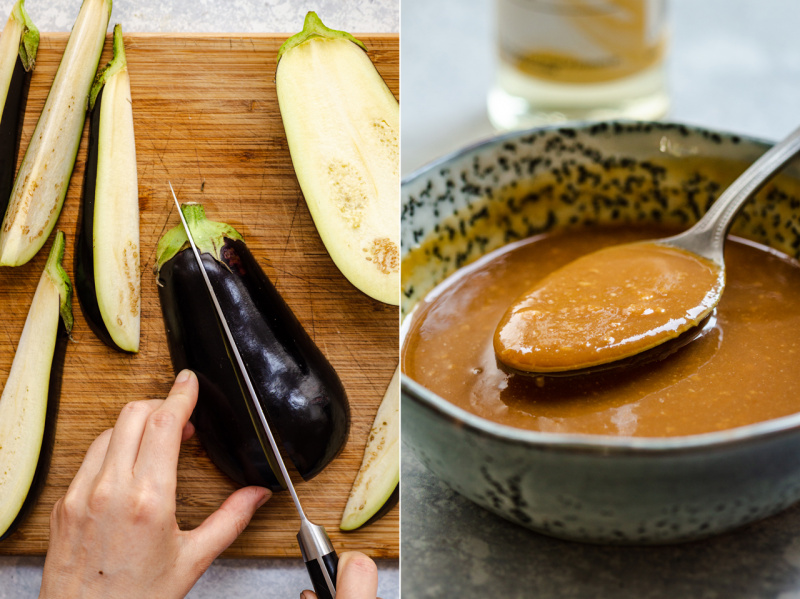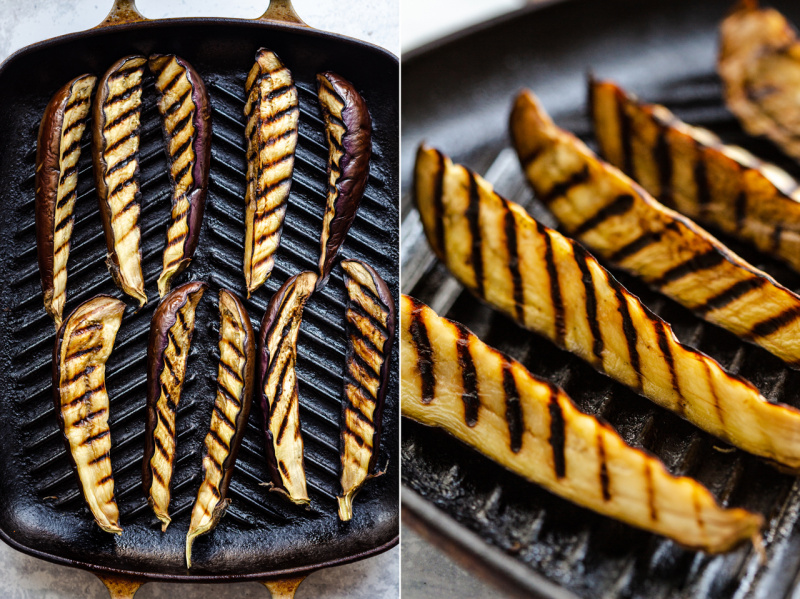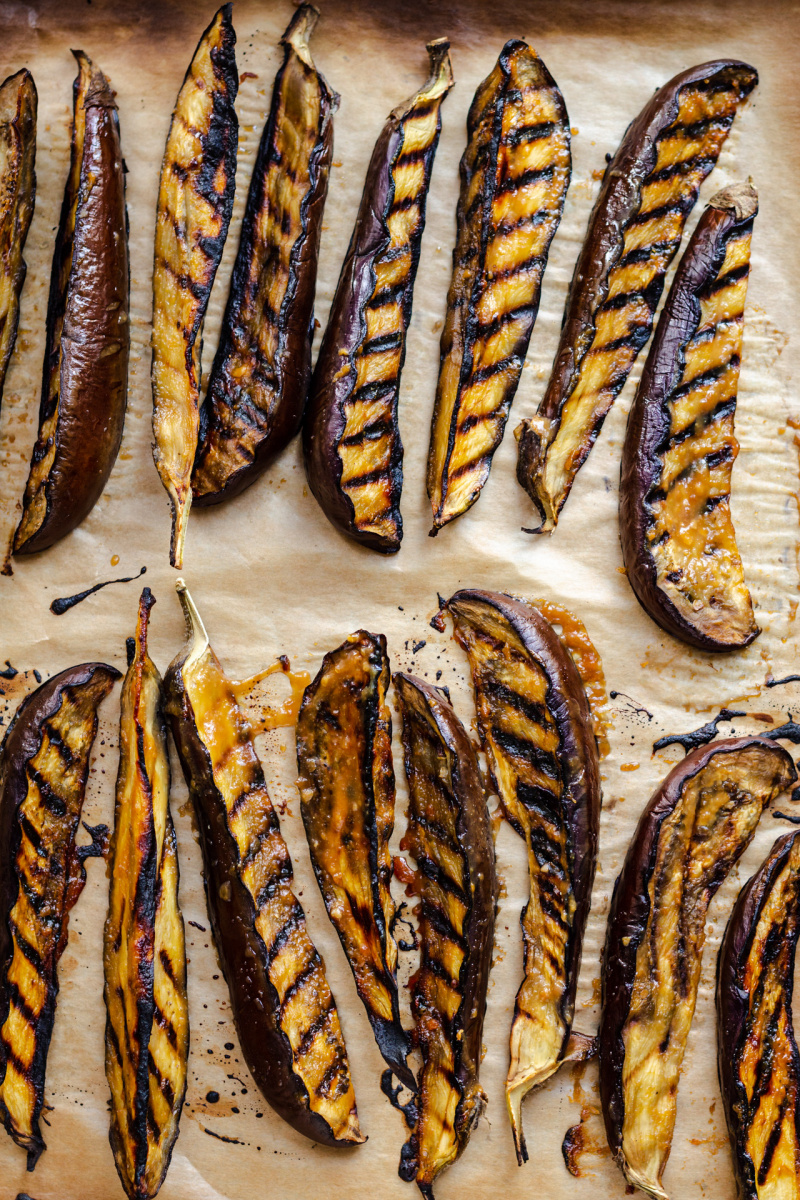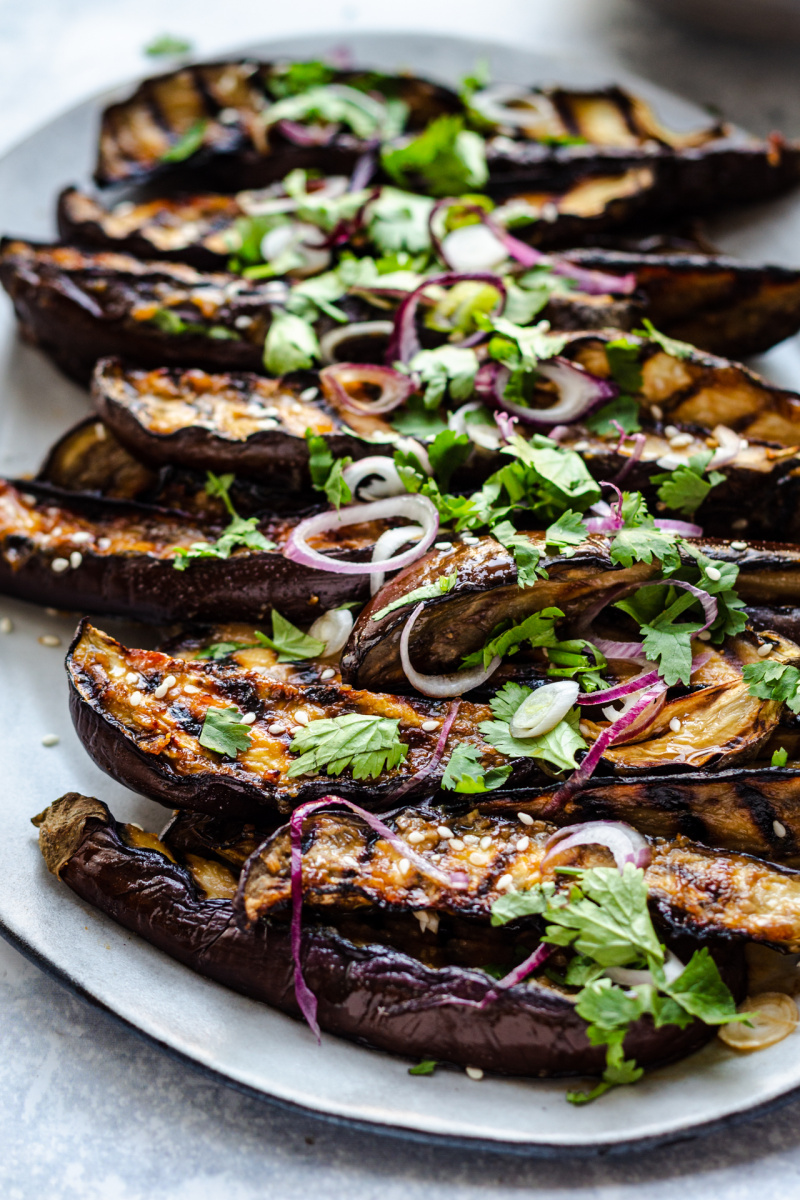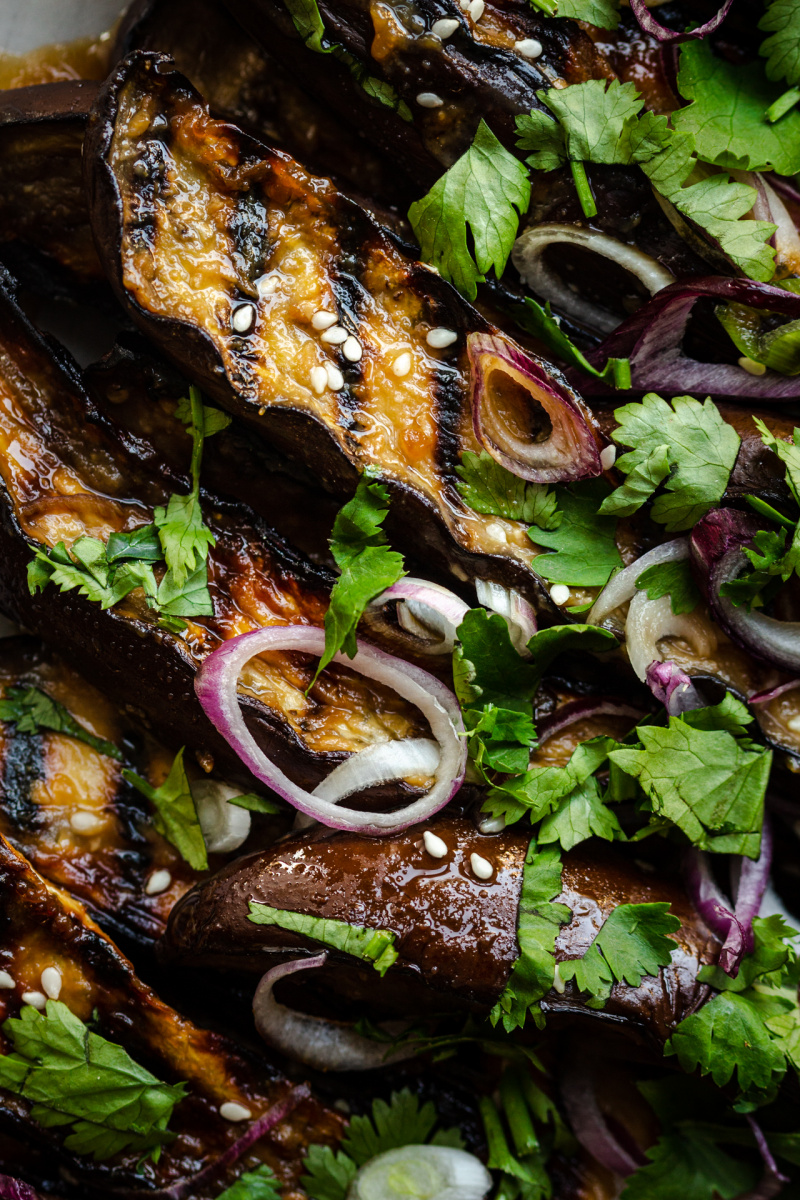 4 medium bulbous aubergines*
neutral tasting (I used peanut) oil, for brushing (optional)
fresh coriander, to garnish
spring onion, to garnish
sesame seeds, to garnish
MISO MARINADE
90 g / 1/3 cup white miso or red miso paste* (I like a mixture of both)
15-30 ml / 1-2 tbsp maple syrup or sugar, adjust to taste
30 ml / 2 tbsp mirin
30 ml / 2 tbsp cooking sake (or water)
15 ml / 1 tbsp rice vinegar (optional, not traditional)
METHOD
Cut your aubergines into eights (or quarters if really small), lengthwise. Make sure the wedges are as even as possible so that they require the same amount of cooking. If you would rather make this recipe without any oil, use method 1-2 from this recipe.
Heat up a griddle pan (you can also cook them on a low BBQ) and once hot, brush exposed aubergine flesh with oil and lay the pieces on the grill / BBQ grate flesh side down. Decrease the flame to low-medium and leave undisturbed for about 8 minutes so that they have a chance to cook through fully as well as develop beautiful char lines. Meanwhile, make the marinade.
Once done, brush the other side with oil and flip the pieces to the other side. Allow to cook on the other side for another 8 minutes – until charred and cooked all the way through – check the thickest place by the skin.
Brush cut surfaces of the aubergine wedges with miso marinade and place them under a grill / broiler for a few minutes (about 5) to allow them to caramelise nicely. Keep on eye on them as this marinade contains a lot of sugar so has a tendency to burn easily.
Serve as part of a lunch spread or on top of plain rice for a very satisfying simple meal.
MISO MARINADE
Whisk miso, maple syrup (or sugar), mirin, sake and rice vinegar until you get a homogenous mixture. If using sugar dissolve it in the other liquid ingredients over a little heat. This marinade has a very assertive salty taste but don't judge it too early – once it's brushed on cooked aubergine and caramelised, it delivers just the right amount of flavour.
NOTES
*MISO – for a gluten-free version of this dish, make sure to seek out a gluten-free miso paste that is based on rice, adzuki beans or chickpeas rather than on wheat.
There are a variety of ways to prepare the aubergines for this dish. You could cut them in half, score them with a knife and cook them in a skillet (face down) or on a BBQ, glaze and grill / broil at the end, if that's what you prefer.