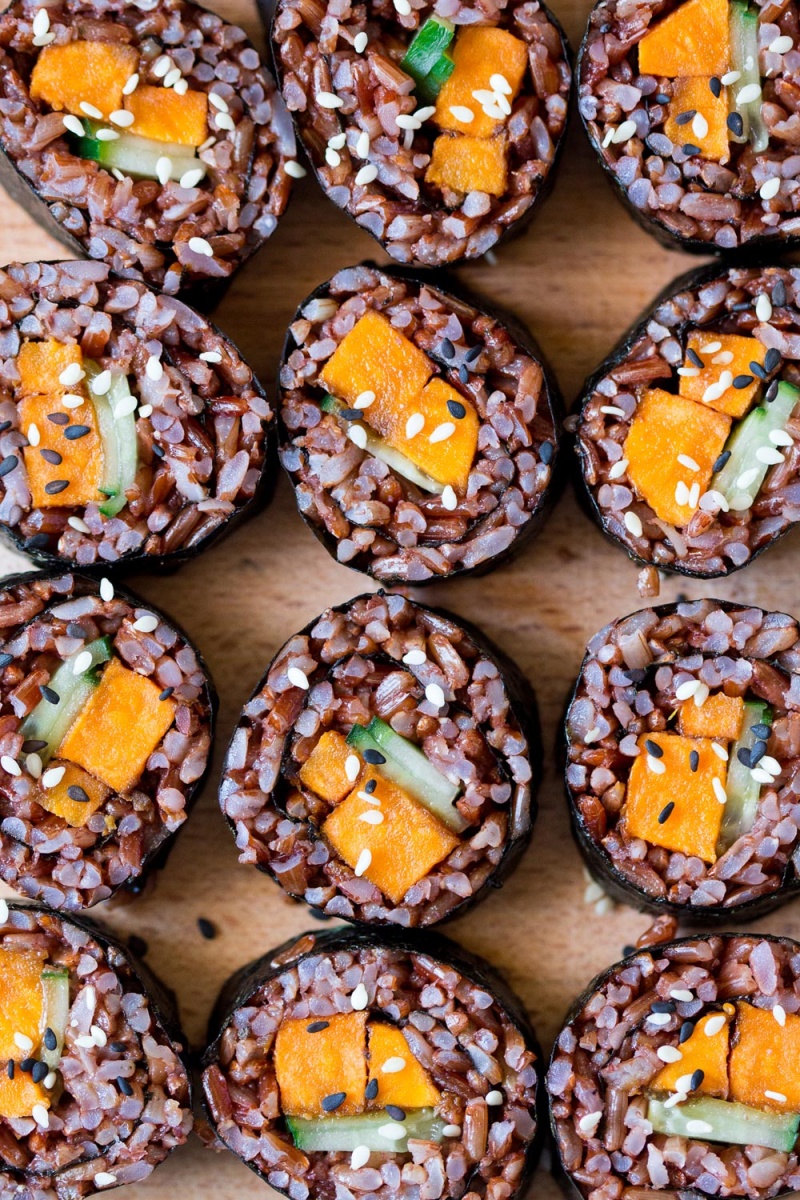 I've always loved sushi, but eating so much white rice always makes me feel a bit guilty. My today's take on sushi is a tad healthier yet just as tasty. It features red Thai rice, which is certainly way more nutritious. According to this website, it is very rich in manganese, magnesium, phosphorus and molybdenum (each cup providing between 80-20 percent of the daily value for each of those minerals). It also contains useful if smaller quantities of zinc and potassium, plus a lot of fibre. Knowing this makes me feel less guilty about scoffing a plate of red rice futomaki rolls for my lunch or dinner.
Sweet potato sushi is super simple to make. I've stuffed the sushi with sweet potato generously coated in a miso marinate and added some raw cucumber slices for some freshness and extra crunch. While traditional sushi rice gets seasoned with quite a bit of sugar, I went easy on sugar here as sweet potatoes are sufficiently sweet themselves and it is this natural sweetness that provides such a delectable contrast with salty soy sauce, spicy wasabi and ginger. Go on, give them a go – you won't regret it, promise!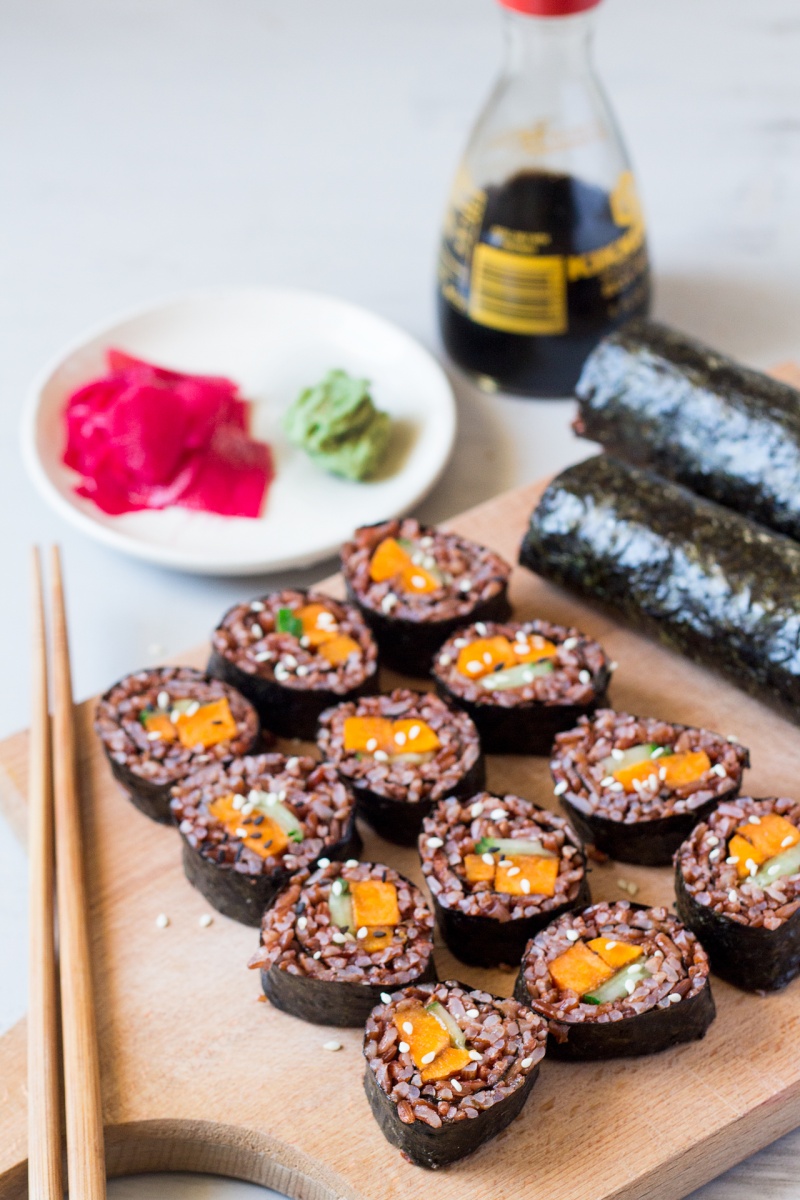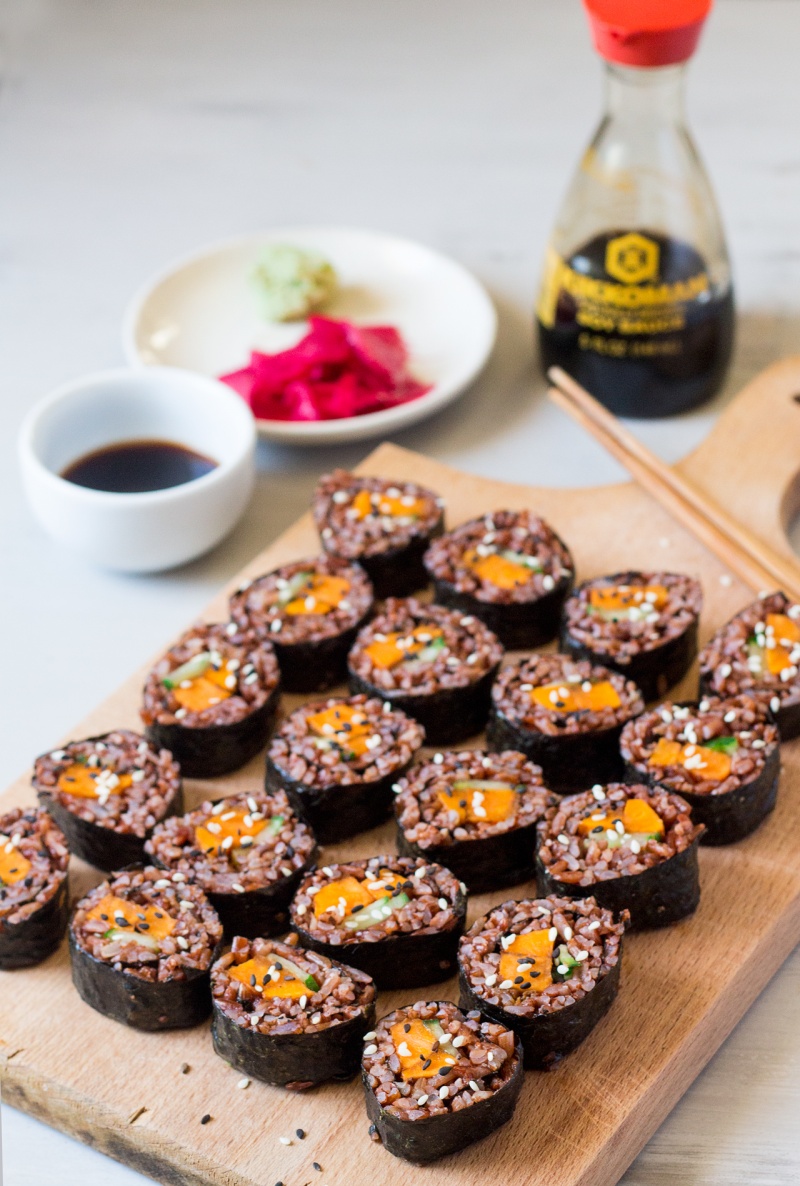 SUSHI
2 cups red Thai rice
1 medium sweet potato (about 450 g / 15 oz)
½ large cucumber, cut in half-moon slices
4 tbsp rice vinegar
1 tbsp maple syrup
tamari (for GF version) or soy sauce
pickled ginger, store bought or homemade
MISO GLAZE
METHOD
Heat up the oven to 190º C / 375º F and line a baking tray with a piece of baking paper.
Rinse your rice. As opposed to sushi rice, red rice doesn't need a lot of repeated rising, just one rinse will do. Put it into a pot (with a see-through lid) with 1:1.25 water ratio. Pop the lid on the rice and let the water come to the boil. Once it does, turn the heat down to low and cook the rice until it absorbs all the water. Once it has absorbed all the water, turn the heat off (DO NOT LIFT THE LID) and let the rice finish off cooking in its own steam, about 5-10 mins.
Peel sweet potato and cut them into thick matchsticks. Mix all the miso glaze ingredients together and marinate cut potatoes in it. Leave leftover marinade for brushing baked potatoes with it again.
Bake miso-glazed sweet potatoes for about 20 minutes, turning them onto the other side halfway through cooking. Once baked, brush the potatoes with some more miso glaze.
While the rice is cooking, combine 4 tbsp of rice vinegar, 1 tbsp of maple syrup and 1 tbsp of soy sauce in a bowl.
Once the rice is ready, transfer it to a large pyrex dish or a clean tray so that it cools down really quickly. Trickle the vinegar mixture over it and gently fold it in with a wooden spatula / spoon making a cutting motion, like you would cut into a moussaka.

STEP 1 (If you are new to sushi making, see this recipe for step-by-step photos) Wrap your sushi mat (bamboo mat or folded kitchen towel) in a large piece of cling film. Put the mat down, put a nori sheet on top of the mat, shiny side down. Grab some rice with a spoon and spread it evenly on the nori sheet leaving a 1 cm margin at the very top. As well as spreading the rice evenly, keep on pressing it into the mat with the back of a spoon.
STEP 2 Place a double row of cucumber half-moons on the bottom and sweet potatoes on top.
STEP 3 Using the mat, slowly start rolling the roll squeezing it tightly with both hands as your roll. Go back every now and then to make sure everything is tightly bonded.
STEP 4 Once you get to the end, dip your finger in water and brush the water on the margin to seal the roll. Finish rolling and set the roll aside. Repeat last 4 steps with the remaining nori sheets.

Once you've rolled all sushi rolls, cut them into 1 cm slices with a sharp knife. Serve with pickled ginger, wasabi and a side of tamari (or soy sauce).