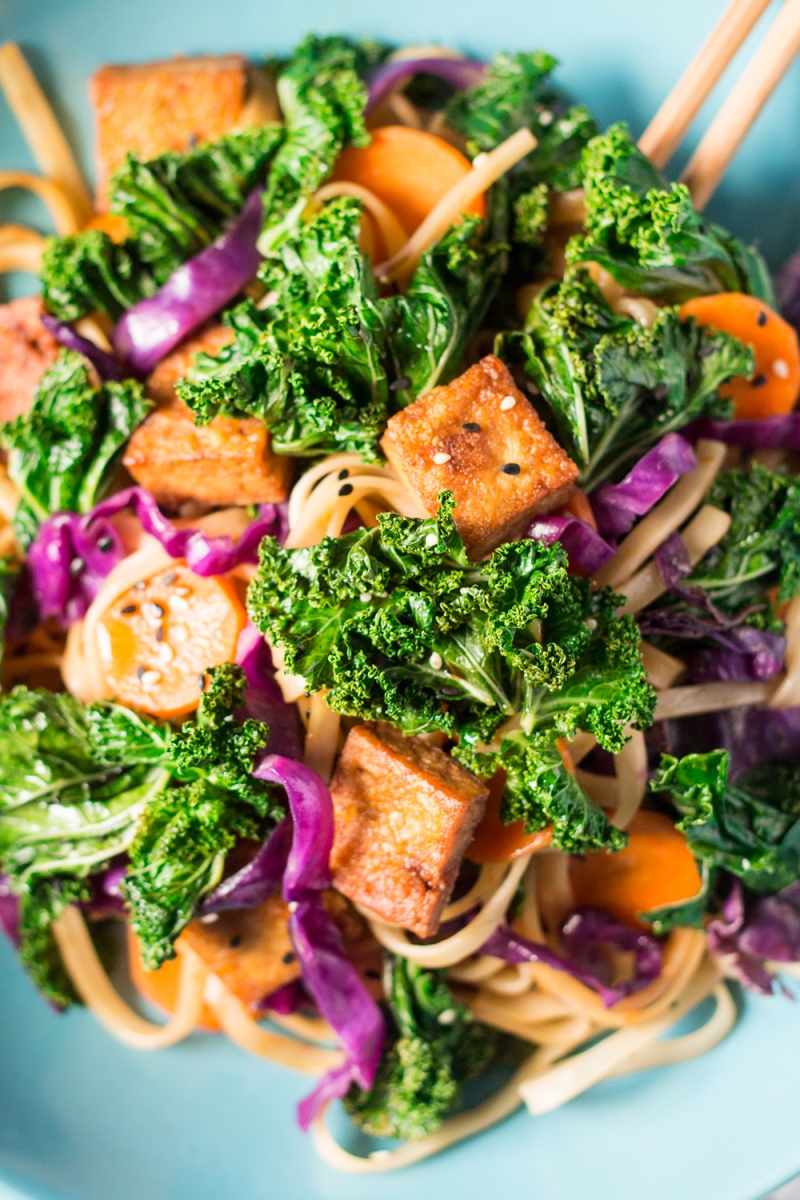 As you might have noticed, up until last week there was a conspicuous lack of kale recipes on the blog. I am a fan of kale, but it does not seem to be very popular with the locals and so I was not able to find it anywhere on the island.  Then, out of the blue, I heard from a lady called Barbara who had some kale for sale. She had a brilliant idea of bringing kale seeds with her from Germany and somehow managed to persuade one of the local farmers to grow this superhero of a vegetable. Turns out it grows beautifully here too, but that's no surprise – almost everything does!
Barbara told me to turn up at the veg stall by the road where I often shop for vegetables and ask for 'Barbara cabbage' (Greeks don't have a special name for kale, they simply call it cabbage – 'λάχανο'). As soon as I said the words, the stall owner jumped on his motorbike parked nearby and off he went. I was a tad confused until minutes later when I saw him coming back with a beautiful canopy of kale freshly pulled out from the ground. It was a fine looking and tasting specimen and I'm definitely going back for more. I hope you like kale as I am keen to make up for the lost time. Kale cupcakes, anyone?:)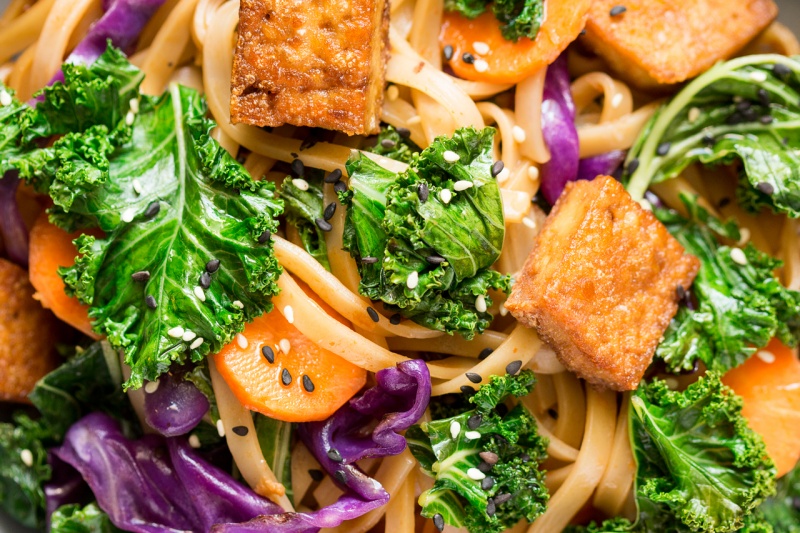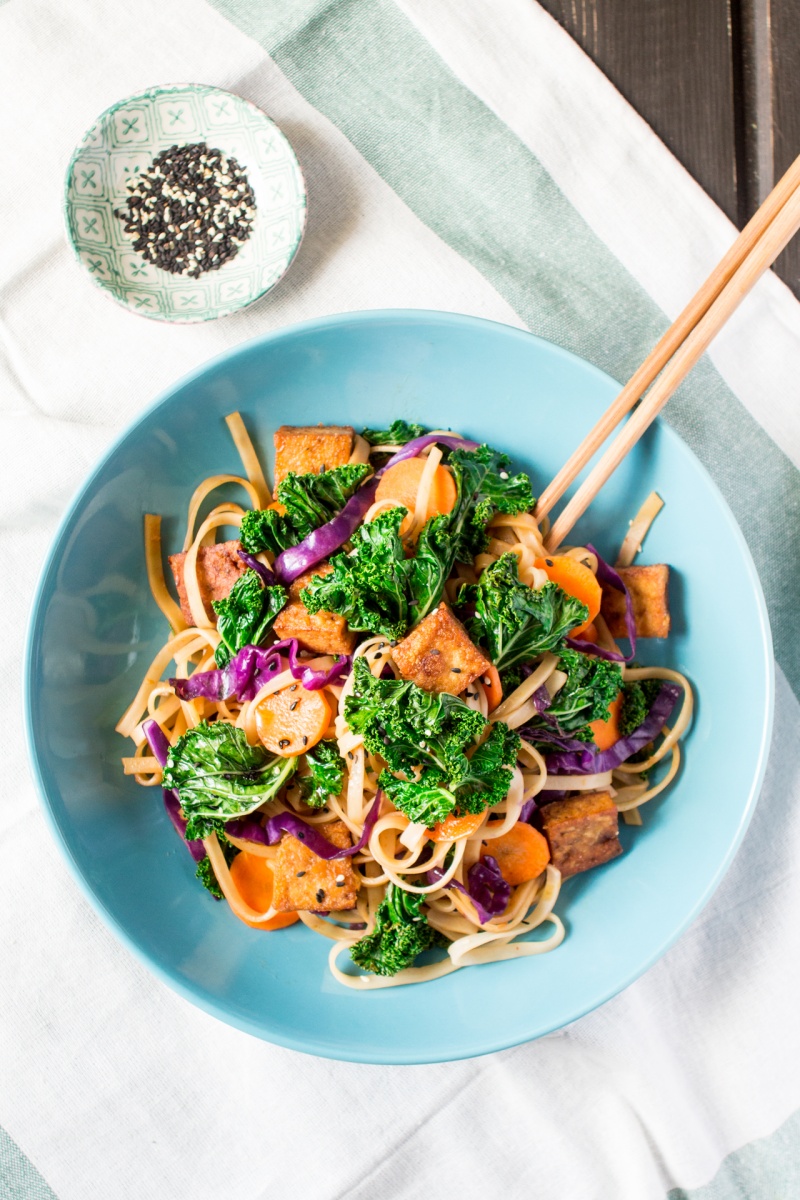 200 g rice noodles
100-200 g firm tofu, pressed*
200 g / 3 large leaves of curly kale
2 small carrots, sliced
a wedge of red cabbage, sliced into thin strips
2 tbsp of oil with high smoke point (I used peanut oil)
soy sauce (or tamari for GF)
about 1 tbsp of corn starch
SAUCE
2 tbsp white / shiro miso paste + 1 tbsp water**
1 tbsp soy sauce (or tamari for GF)
1 tbsp maple syrup
2-3 tsp grated ginger (depending how much you like it)
1 garlic clove, pressed
1 tbsp rice vinegar
pinch of hot chilli flakes
1 tsp sesame oil
½ tbsp frying oil
METHOD
Cut drained tofu into 12 or 24 equal sized cubes (100 g gives 12 cubes, 200 g gives 24 cubes). Place them in a shallow dish and pour soy sauce over it. Leave to marinate for about 30 mins, flipping the pieces 15 minutes in.
Prepare rice noodles according to instructions. Make sure you do not cook them fully though as you will want to warm them up in a pan later, which will cook them for a further minute or two. I immersed mine in boiling water for 8 minutes for al dente (although the packet said 10 min). To minimise clumping, put your noodles into the pan a few at a time and stir them once or twice once they soften. After soaking, run some cold tap water through them, then spread on a large plate/tray and mix a tiny bit of oil through them to keep them separate.
Mix all sauce ingredients (apart from 1 tbsp of oil) together in a bowl.
Prepare the vegetables. Remove tough stems from the kale and chop it into equal sized pieces. Slice carrots and cabbage.
Place marinated tofu on a large plate. Sprinkle with generous amount of corn starch, flip over and sprinkle the other side too.
Heat up 2 tablespoons of oil in a wok (or pan). Once the oil is hot, put tofu pieces on it and let them sizzle for a few seconds, start flipping them to the other side once they are done on one side. Remove them from the oil using kitchen tongs and place on a piece of kitchen towel to soak up excess oil.
Stir fry all the vegetables in the following order (with one minute increments): red cabbage, kale, carrot. Once done remove the veggies from the wok.
Heat up another tablespoon of oil in the pan and once warm add the sauce and cook for 5 seconds (stirring constantly). Put noodles in the pan, mixing them around so that warm sauce coats them and helps them separate. Now add the veggies and tofu back in. Cook for 1-2 minutes on medium-to-high heat (stirring constantly).
NOTES
* To press the tofu, you either need a special tofu press or you can do it with a bunch of kitchen towels and a heavy weight. Wrap your tofu in a paper towel, place it on a plate and weigh it down with something heavy (like a can of coconut milk, for example). Once the paper towel becomes wet, change it for a new one. Repeat a few times until the paper towel stays almost dry. Pressed tofu is tastier as it absorbs flavours better.
** If you want to make this recipe gluten-free, make sure your miso paste is gluten-free and substitute soya sauce for tamari.