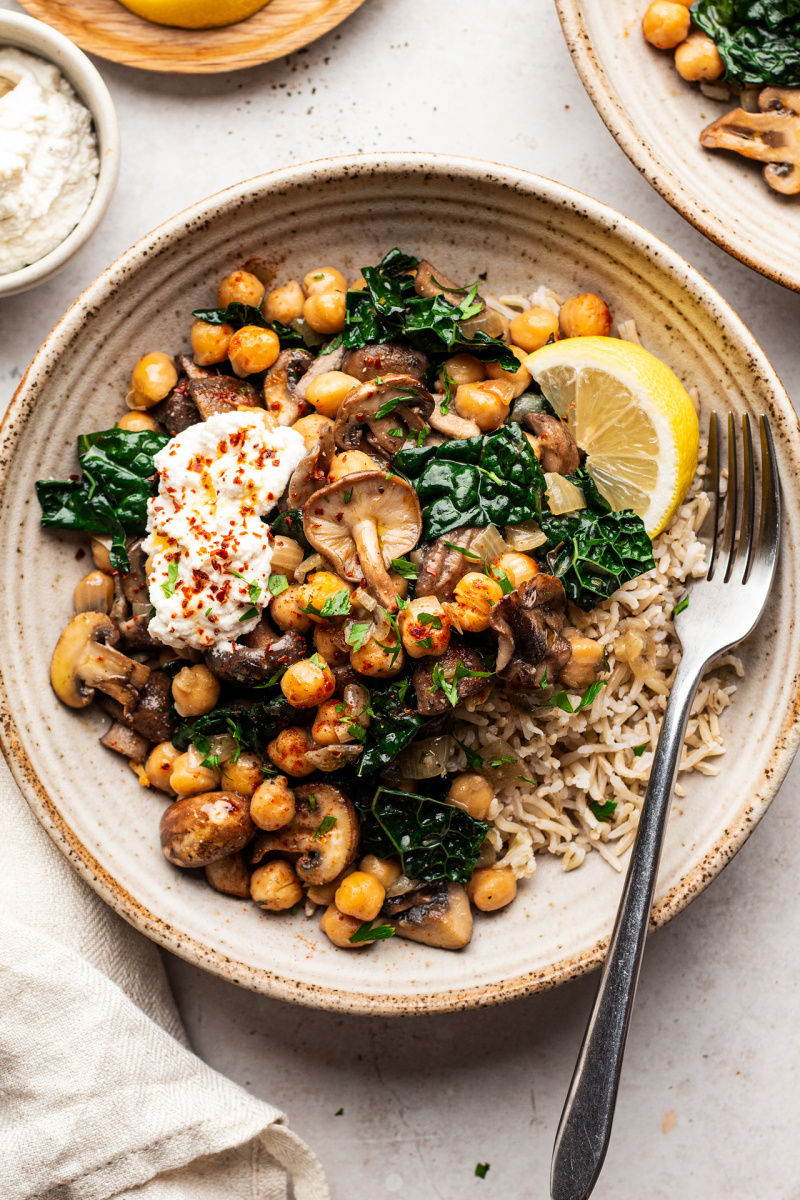 Hello and apologies for going quiet on social media and not replying to comments for a few days, but I have been caked in sanding dust and covered in paint splatters. No, I am not at some fancy art class, I wish. This is much less fun. When we decided to leave the drizzly British shores for sunny Greece several years ago, I became an accidental landlady. I loved my little flat and I was really sad to hand it away to a couple of strangers but it was that or not going to Greece, which I am totally glad we did.
So my tenants moved out this Saturday and I've been in a bit of a mental hell hole since then. There is so much to do and so little time (despite what many people may think I do have a job) and there are so many fires (metaphorical, thankfully) to put out that I was getting really overwhelmed and my anxiety was through the roof.
Luckily, I have the ever pragmatic and philosophical Duncan, my lovely mom who offered some words of comfort and zen (as she has become a bit of a zen master in her old age), another landlady who owns the flat above mine and several kind friends who allowed me to vent my frustration and offered emotional support. I am on day two of my grand redecoration project and things seem a little easier. I got less done than I was hoping to but still moved things forward a fair amount. As a treat, I walked down to my local high street in search of a good mop (turns out my hoover did not survive the new owners) and to do some food shopping. Even though it sounds lame and it was drizzling the whole way, I really enjoyed looking around and doing something other than cleaning, caulking, sanding, painting on repeat – you get the picture.
Once I have made a bit more progress, I plan to see several of my friends while I am here and I am really looking forward to it, as I have not seen them in years! I also look forward to revisiting my old hangouts as much as possible given that it is a pandemic after all and I hope to be back in Bristol in 3 weeks at the latest. It is incredible how long these things take. Duncan is joining me at weekends, bringing useful stuff and his good sense of humour, both of which are very appreciated. And helping out, which is even better. I look forward to us strolling through London in the evenings and reminiscing about many many happy years we spent here. I still love this city for its vibrancy and its tolerance, especially so right now (as I am in the process of applying for a settled status and the 'computer says no' type of process is already fraying all my goodwill).
So anyhow, this is one of the dishes I made in anticipation of this recipe development hiatus. It's easy and quick to make, tasty, nutritious and makes for a fantastic weekday dinner. It simply marries some of my favourite things together: mushrooms, miso, chickpeas, green leafy veg (cos they are antioxidant powerhouses). It's suitably seasonal and can be made in advance too. I hope it will make one of your weekday dinners better.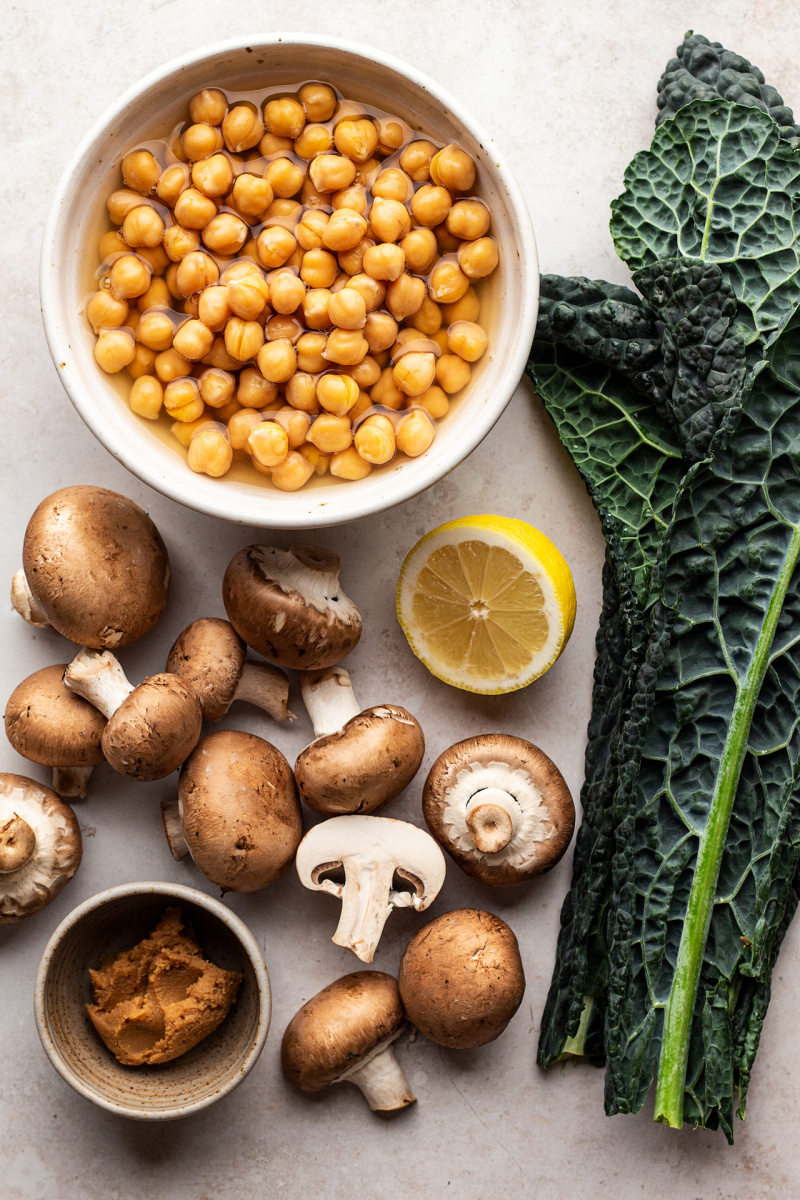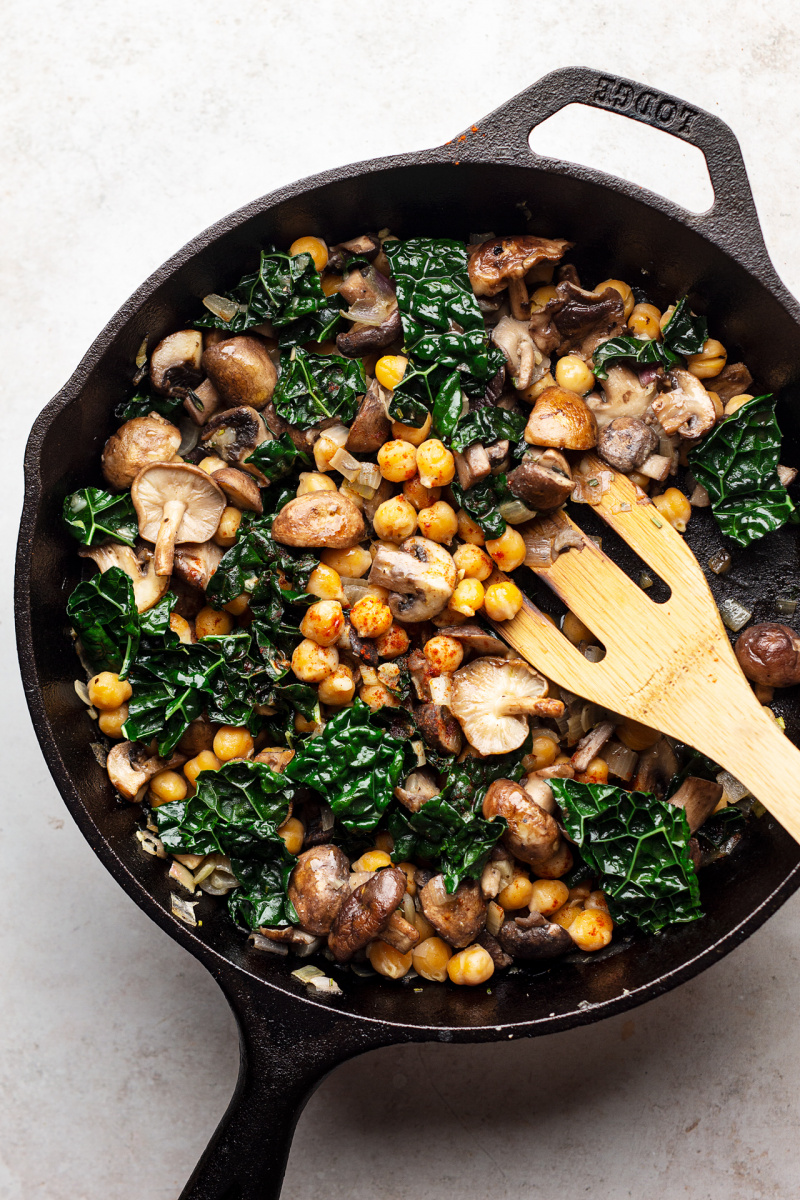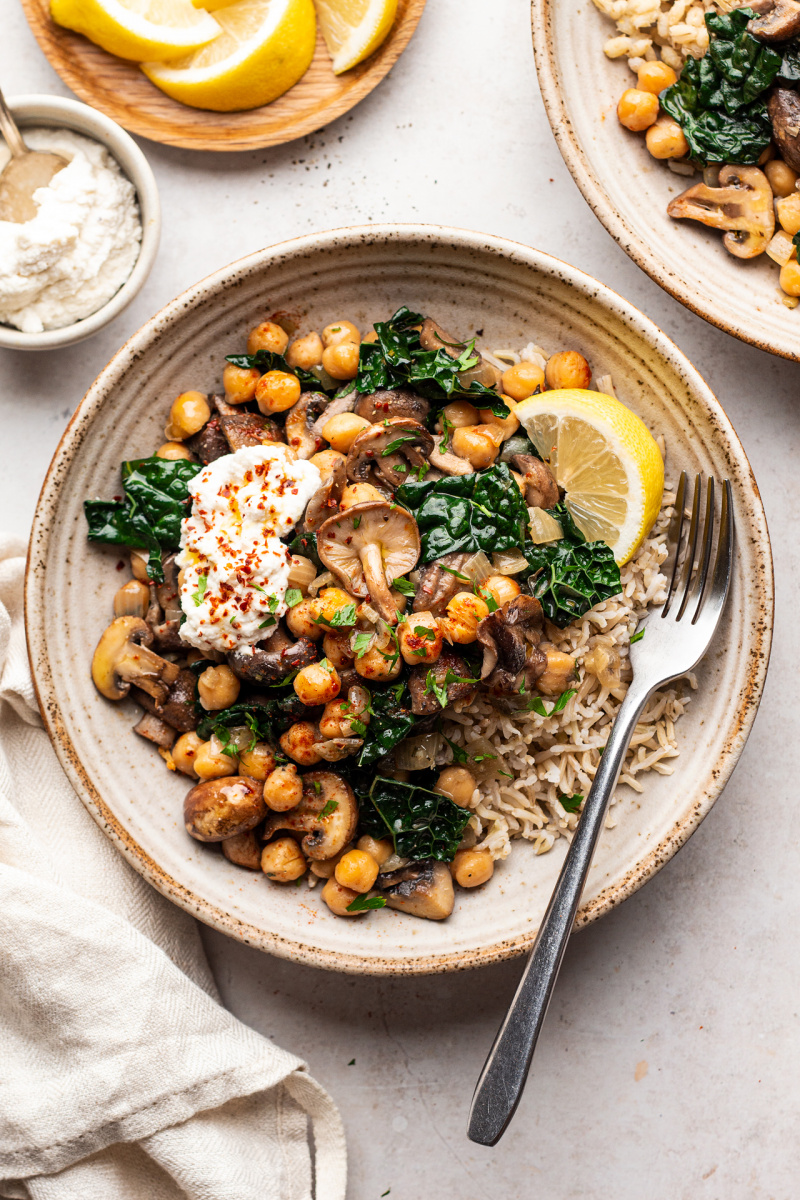 30 ml / 2 tbsp olive oil
300 g / 10½ oz mushrooms (I used a mixture of chestnut and shiitake), quartered
1 large banana shallot or small onion, finely diced
2-3 garlic cloves, finely diced
a few fresh thyme springs
6 lacinato kale leaves, de-stemmed
1 tbsp white miso paste
approx. 250 g / 1½ cups cooked chickpeas + 120 ml / ½ cup aquafaba
salt and pepper
lemon zest and juice
a dash of smoked paprika
pinch of chilli flakes (I used Turkish chilli, pul biber)
cooked rice, pearl barley or crusty bread, to serve
METHOD
Heat up 2-3 tsp of oil in a large (I used stainless steel) frying pan.
Add chopped mushrooms to the pan. Fry them for a few minutes until browned, stirring frequently.
Add shallots, garlic and thyme leaves, the pan may need a touch more oil at this point, and sauté them until shallots become translucent and garlic soft and fragrant. Be sure to stir often.
Next add chopped kale, sauté for a few minutes.
Finally add miso dissolved in a bit of water so that it doesn't clump in one place, chickpeas and their liquid.
Allow everything to bubble for a few seconds, season with salt (if needed, miso delivers quite a lot of salt), pepper, lemon juice, zest, smoked paprika and chilli if using.
Serve with rice or other grain (pearl barely works really well) or good quality bread like sourdough, toasted if liked. I topped mine with a dollop of almond ricotta.
NOTES