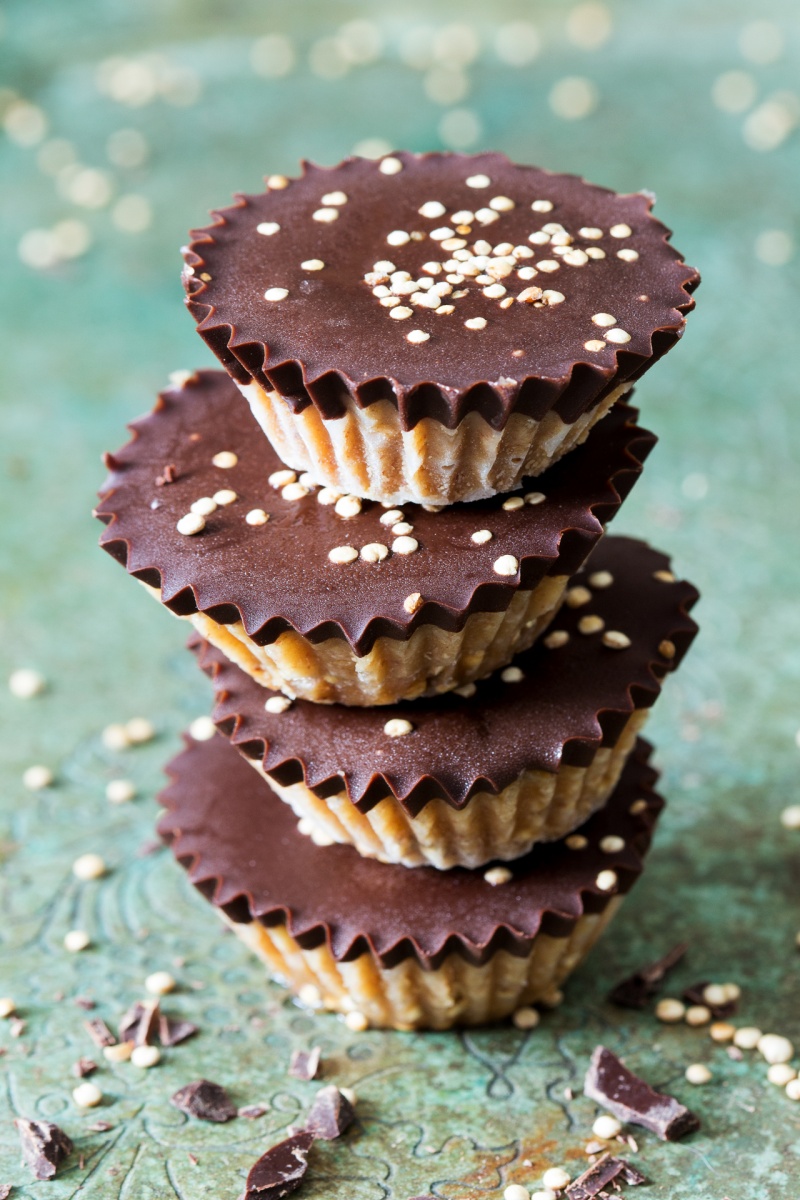 Hands up who likes peanut butter? Yes, just as I thought…
How about chocolate? Yup, expected outcome.
How about miso paste? If the last ingredient comes as a bit of a surprise, don't worry, I have tested it more than I probably should have and it does work a treat with the peanut butter and chocolate combo. Try it!
To add a bit of crunch to these innocent looking (yet lethally addictive, sorry) cups, I've toasted a bit of quinoa and embedded it in the creamy miso peanut butter fudge. Quinoa gives these babies some much needed texture and also amplifies their health food credentials, right? I mean it's a superfood and all that jazz 😉 .
These cups are super easy to make and they will disappear quickly, so if this combo has your name written all over it, make a double batch…Duncan and I must have consumed well over a hundred of these cups in the past two weeks and we are sad to see them go. They were such a welcome addition to our afternoon espresso…something we looked forward to since breakfast!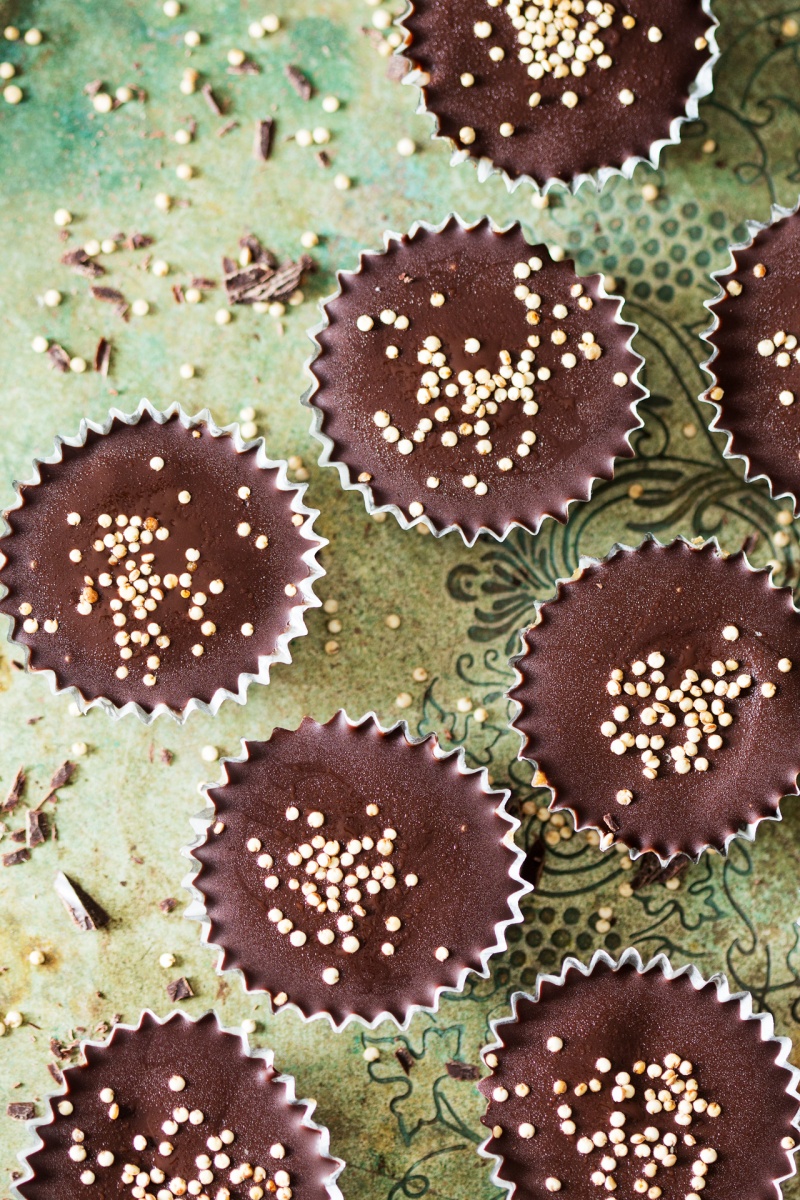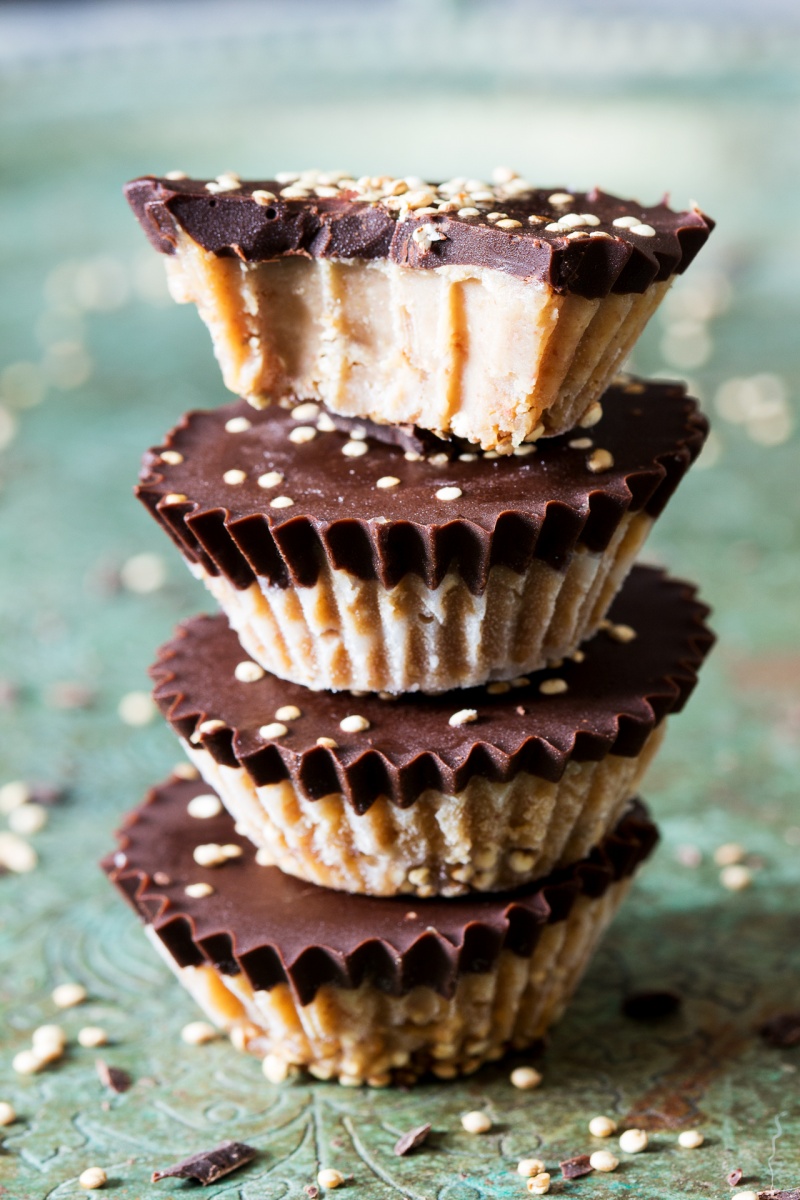 150 ml / ½ cup + 2 tbsp unsalted smooth peanut butter*
120 ml / ½ cup coconut cream (tinned)
2½ tbsp maple syrup
4-5 tsp shiro / white miso OR salt, to taste
¼ cup quinoa
125 g / 4.5 oz dark (70% cacao) chocolate**
METHOD
OPTIONAL STEP: Rinse quinoa well, drain it and spread on a baking tray to dry it off. Pop it into a 100° C / 212° F oven for about 15 mins or so.
Place peanut butter and coconut cream in a small pot or bowl. Gently (handling the mixture too much sometimes causes it to split) stir with a hand whisk until combined. Season with maple syrup and miso (if using) or a few pinches of salt.
Gently toast quinoa on a hot skillet until lightly browned. Make sure you move it around the entire time as it tends to burn easily.
Place a single layer of toasted quinoa at the bottom of each cup. You could also mix some of the peanut butter mixture with the quinoa and place that mixture at the bottom of each cup, it will ensure that the quinoa is distributed more uniformly throughout the cup.
Spoon the peanut butter mixture on top leaving a bit of room for the chocolate and pop in the freezer for 20 mins or so for the peanut mixture to set a little.
While the cups are in the freezer, gently melt the chocolate over a water bath (bain maire).
Take the cups out of the freezer and pour about ½ teaspoon of melted chocolate over each cup. Sprinkle with some toasted quinoa and pop back into the freezer. Keep in an air-tight container in the freezer.
NOTES
*If using peanut butter that has been salted or sweetened, you may need to adjust the amount of miso (or salt) and maple syrup to taste.
** To make these 100% raw, make your own chocolate layer by adding raw cacao powder to melted cacao butter OR coconut oil (1:1 ratio, adjust the amount of cacao to taste). Add some maple or agave syrup to sweeten.
I used mini paper cups for these cups. The dimensions were as follows: 2.5 cm / 1″ diameter bottom, 4.5 cm / 1.75″ top and 2 cm / 0.8″ of height.