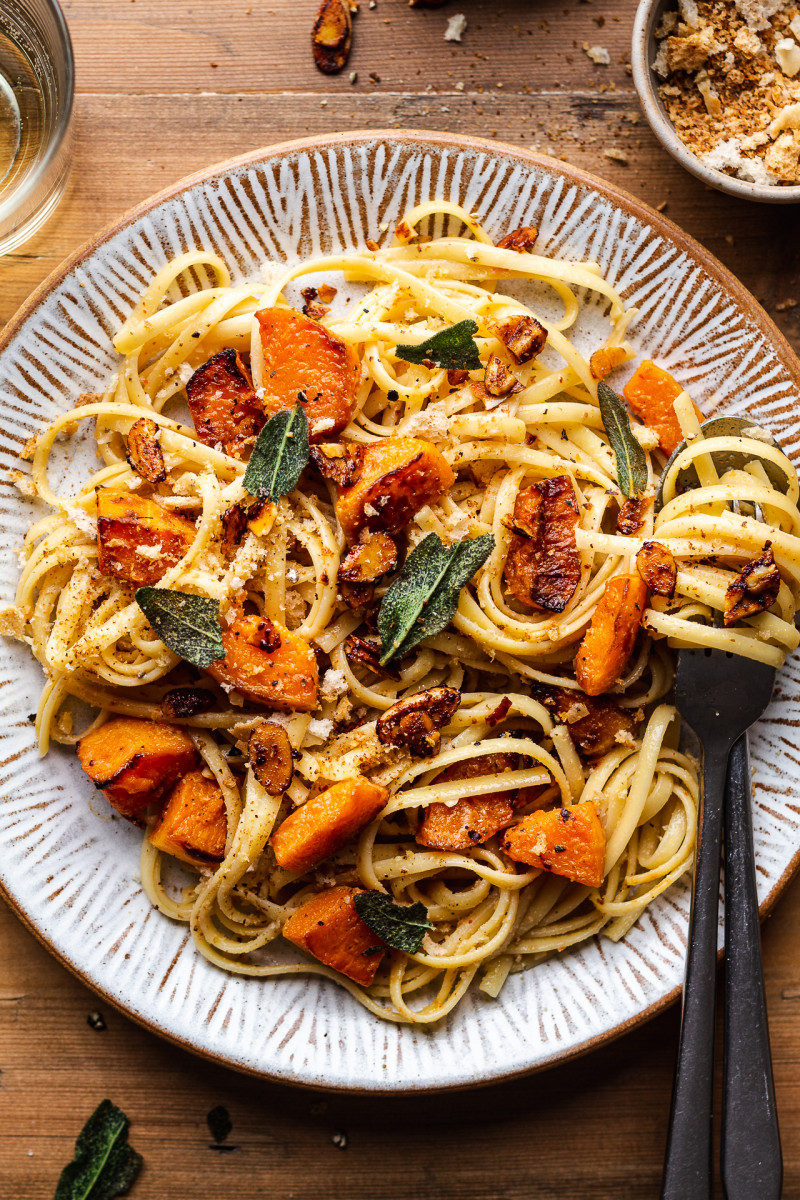 Hope you are doing well and if you celebrated Thanksgiving this year, you enjoyed your time off with family and friends. While I have a plan to pump out some Xmas-worthy recipes very soon, today's one is a simple plate of comfort food that is ideal weekend or midweek fare featuring some of my favourite winter flavours. If you've followed me for a while you might have noticed that I am a massive pasta lover and that's something I would struggle to live without.
Pastas of all kinds and shapes (and that includes Asian noodles and Polish pierogi) are my favourite comfort foods. I know that some low-carbers have a bee in their bonnet about pasta being unhealthy but I am of the opinion that it really depends of what goes with it and how much variety there is in your diet in general. I'm naturally quite oil averse so I'm fairly stingy with olive oil and I love vegetables so they are always prominent. I don't eat pasta every day, but there are weeks where I will have it 3 times a week and my body seems happy with that.
This pasta combines some of my favourite flavours – pumpkin, miso, lots of garlic (some roasted and some sautéed) and a touch of lemon. It may look complicated but it's really quite simple to make. While the pumpkin is getting roasted and caramelised in the oven, there is enough time to cook the pasta and make the sauce, including roasting your pecans. I like that as I always multitask in the kitchen and hate standing around waiting for stuff to finish off cooking, so if I can get on with something else in the meantime, that's what I will do. Hope you'll enjoy this simple meal as much as we do.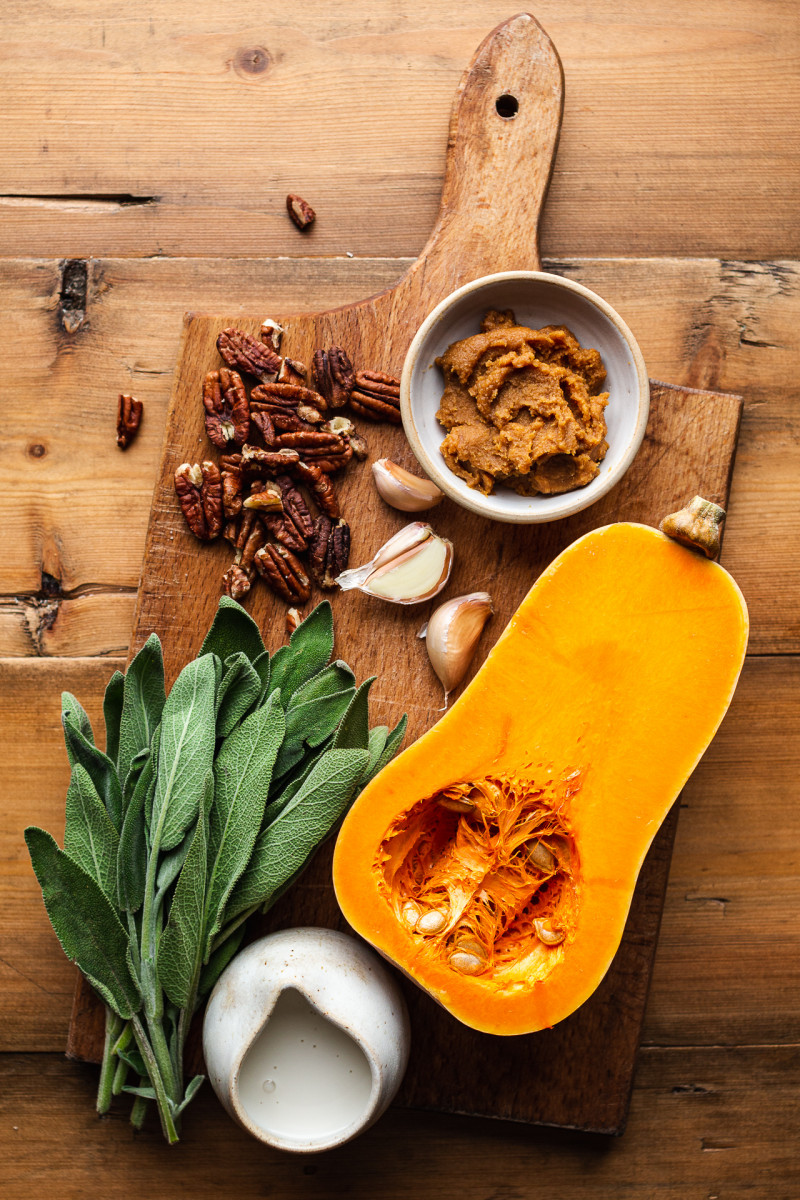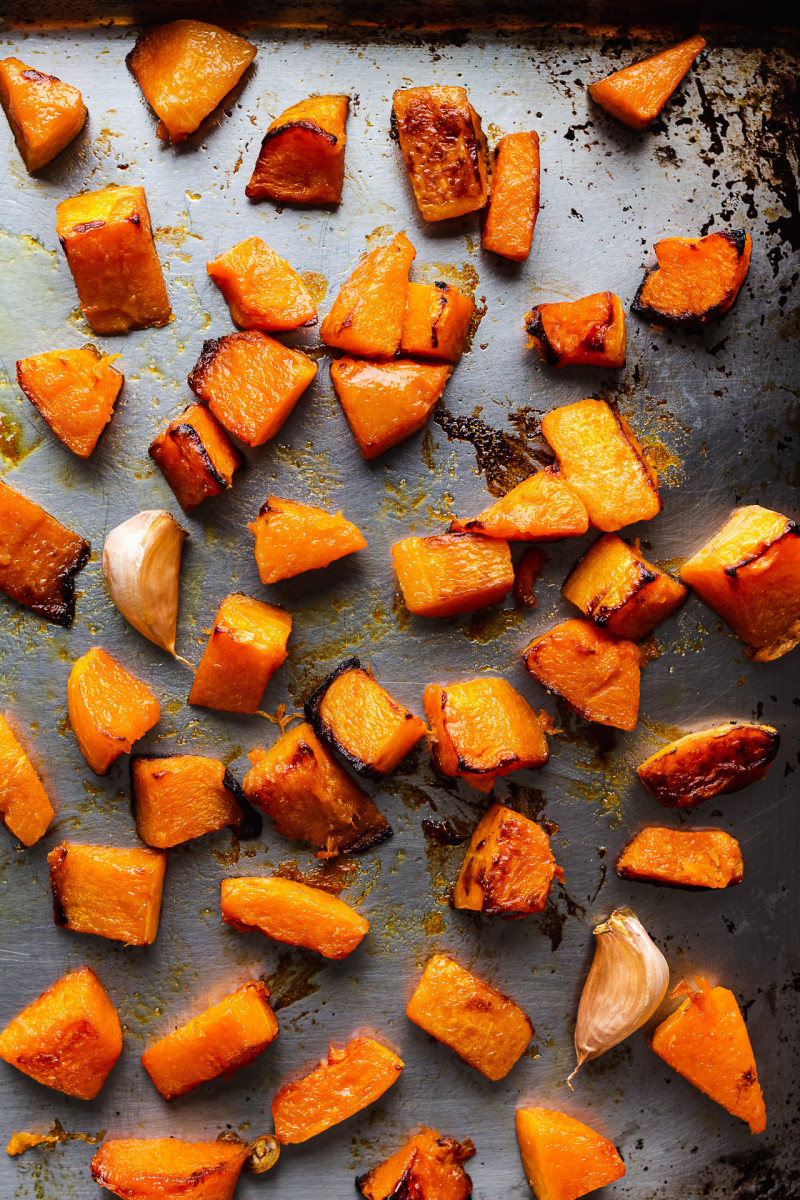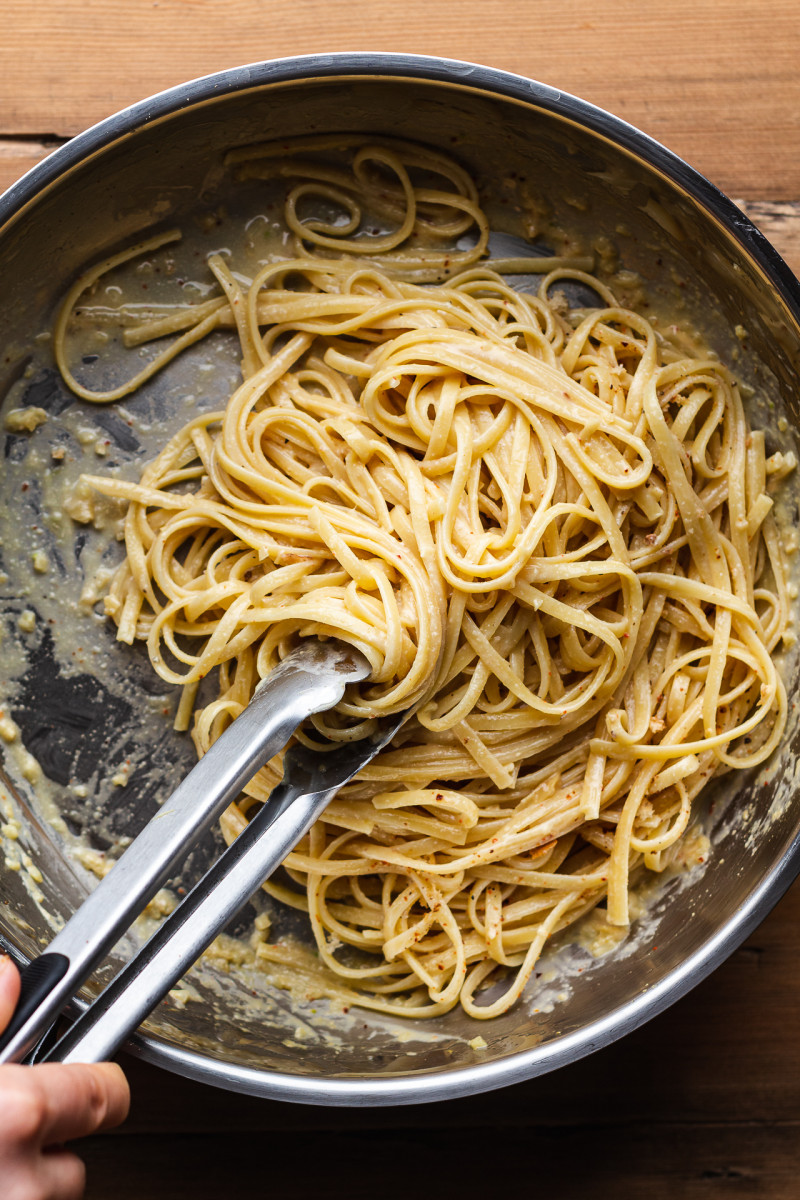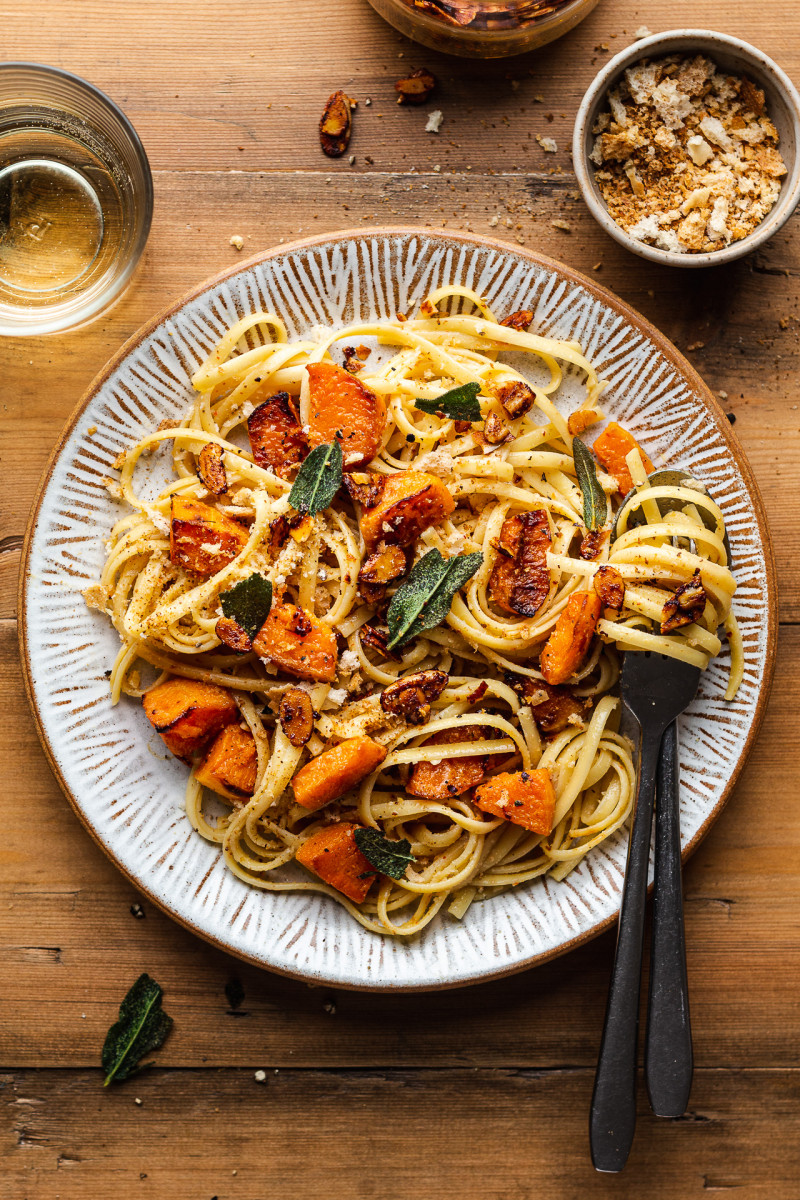 400 g / 14 oz butternut squash / pumpkin or other firm pumpkin you enjoy
30 ml / 2 tbsp olive oil, divided
2 garlic cloves skin-on + 2 cloves diced finely
200 g / 7 oz linguine or spaghetti* (GF if needed)
25 g / 1 oz pecans (or almond bacon)
1 heaped tbsp white miso paste
2 tbsp nutritional yeast*
approx. 80 ml / 1/3 cup vegan single cream (I used Oatly)
salt and pepper, to taste
10 ml / 2 tsp lemon juice or balsamic vinegar, adjust to taste
toasted breadcrumbs (optional)
fried sage* (optional)
METHOD
Heat up the oven to 220° C / 425° F and grab a medium baking tray.
Prepare your pumpkin by cutting it into a 1.25 cm / ½" dice. Coat it in 10 ml / 2 tsp of olive oil, season lightly and place on the roasting tray with 2 garlic cloves. Roast the pumpkin for about 25 minutes, flipping the pieces once halfway through (SEE NOTES for extra flavour trick). Remove the garlic after 15-20 minutes or so (pierce it to see if it's done – it should be soft).
Cook pasta (according to the packet instructions) 1 minute under al dente. Reserve ½ cup (120 ml) of pasta cooking water just before draining.
For toasted pecans, heat up a large frying pan. Add pecans and roast them on a low-medium heat until lightly toasted and fragrant, tossing now and then. Remove from the pan and chop up small. Wipe the pan clean and allow it to cool off a little.
Squeeze two roasted garlic cloves into a small bowl, using a fork mash them with 1 tbsp miso paste, nutritional yeast and about 30 ml / 2 tbsp pasta cooking water.
Heat up the remaining 20 ml / 1½ tbsp of olive oil in the frying pan you used to toast pecans in. Add diced garlic to the pan. Sauté on a very low heat until soft and fragrant – don't let it brown as it will make the pasta taste bitter.
Once the garlic is done, add roasted garlic / miso sauce to the pan together with vegan cream. Whisk it into a homogenous sauce, taste and adjust the seasoning to your liking. I like to add a touch of acidity (a squeeze of lemon juice) at this point.
Toss the cooked pasta in the sauce, allow to finish off cooking. You may need to add a small splash of pasta water if the pan is looking dry – don't overdo it though as you'll end up with a watery dish.
Divide pasta and pumpkin pieces between plates. Garnish with toasted pecans. I also like to add toasted breadcrumbs to my pastas, which I have handy in a jar on my counter.
NOTES
*PUMPKIN: Optionally, mix 2 tsp of miso with about 1 tsp of lemon juice and 1 tsp maple syrup in a bowl and once pumpkin is almost fully cooked (20 minutes in), toss it in this marinade and return to the oven for another 5 minutes – just until it is caramelised.
*NUTRITIONAL YEAST: It gives the sauce a slightly cheesy (umami) flavour. Skip if you don't have it, there is a lot of flavour in this pasta so it will still be delicious.
*SAGE: I used fried sage for decoration mainly, but if you are a fan, fry a few leaves in step 6, ahead of sautéeing the garlic. Once fried, fish it out and place on a paper towel to crisp up. Sauté garlic in the remaining oil – you may need to add a little extra as sage will soak some up.