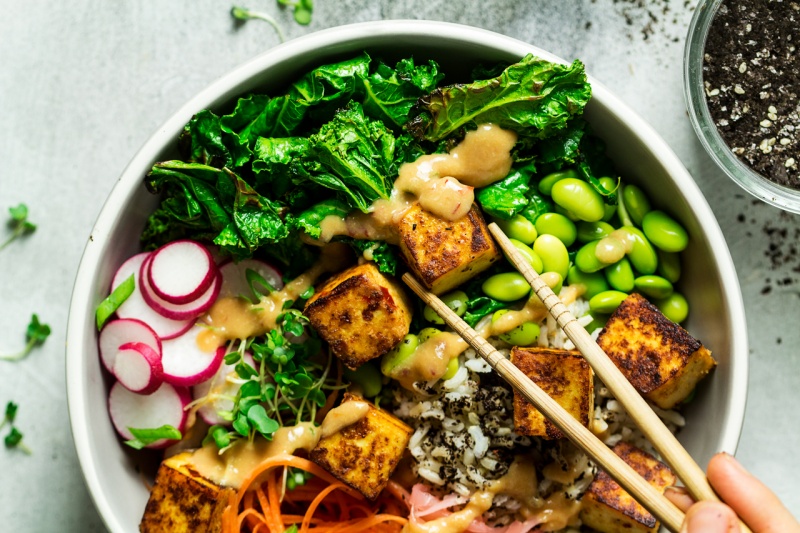 I've written before about being a visual eater. I've always been drawn to colour, ever since I was a child. I dreamt of going to an art school when I was younger, but never quite had the confidence to go through with it. Lack of confidence is something I have struggled with for all my life.
After years in a job role that went against my nature and cost me a great deal of stress (and culminated in a serious bout of depression), I found my true calling by complete accident. I often ponder the fact that what started off as a bit of a necessary sacrifice borne out of deep conviction, has given me a completely new lease of life and paid me back in plenty of fulfilment and immense job satisfaction. I can now play with colour all I like and I get to call it my job. I count myself very lucky indeed.
This colourful miso tofu bowl is my latest lunch obsession, variations of which I have been having a lot lately. I even smuggled a lunch box full of it and a pair of chopsticks in the sleeve of my winter coat on an EasyJet flight this week as I wasn't sure if they were gonna let me bring a metal fork with sharp prongs and I wasn't going to risk having nothing to eat my lunch with. Food is a serious matter to me, never come between me and my food!
This pretty, Japanese-inspired lunch bowl is full of flavour and texture. It features brown rice seasoned with homemade furikake, edamame beans, stir-fried kale, radishes, carrots, spring onion, pickled ginger and miso tofu that can be either pan-fried or baked. All of this gets an extra drizzle of miso dressing on top. It's fresh, filling, crunchy and soft all at the same time. It's easy to throw together and travels well (including crossing borders with ease 😉 ).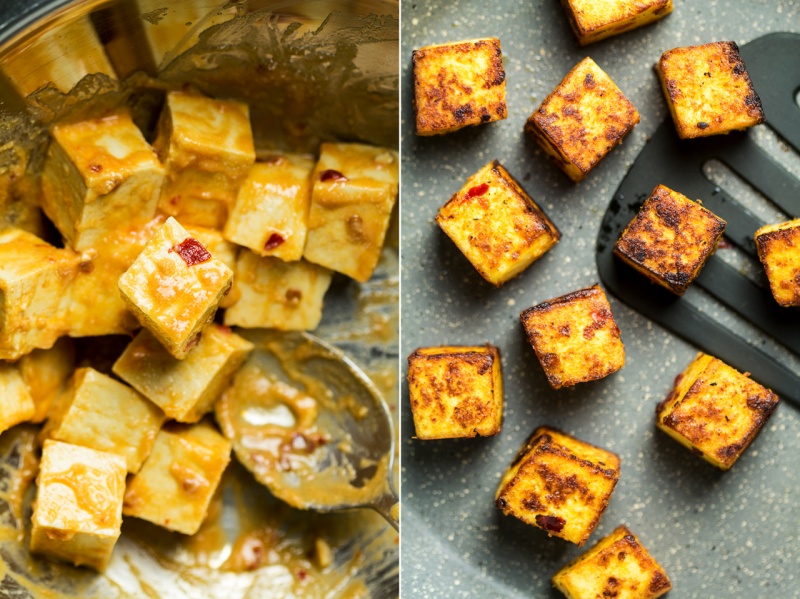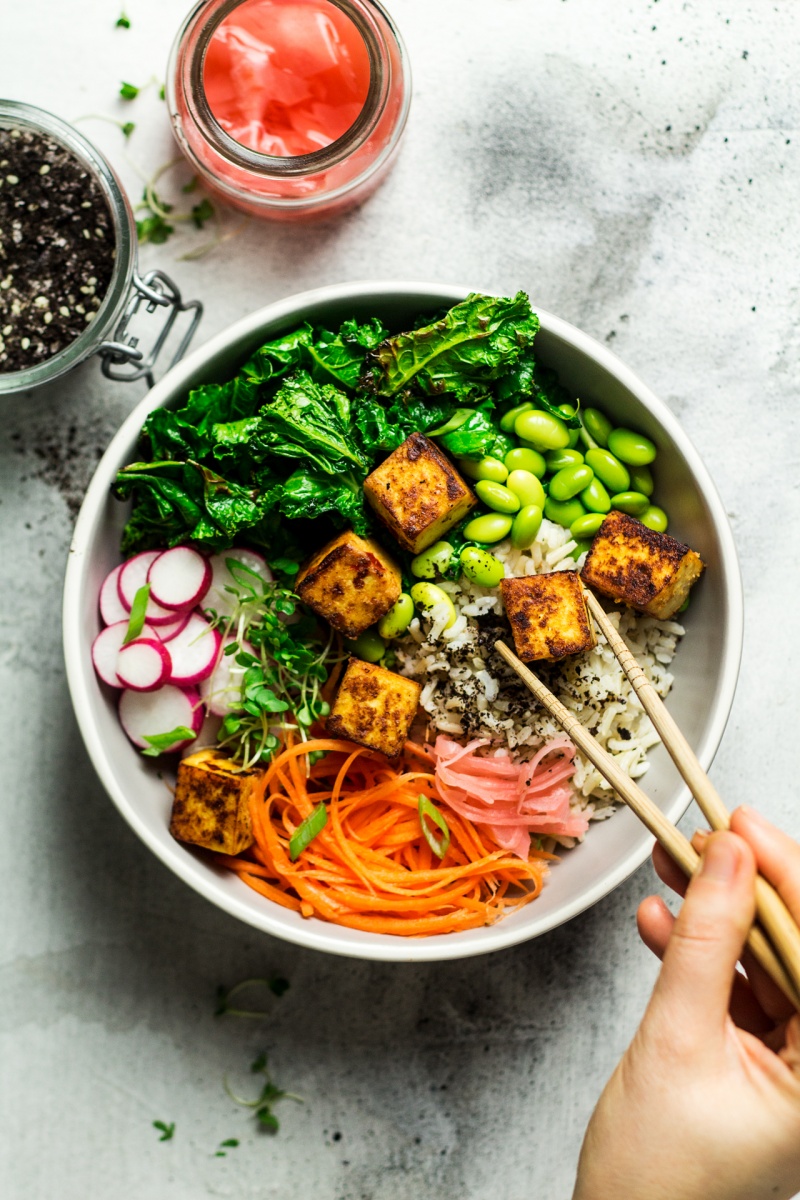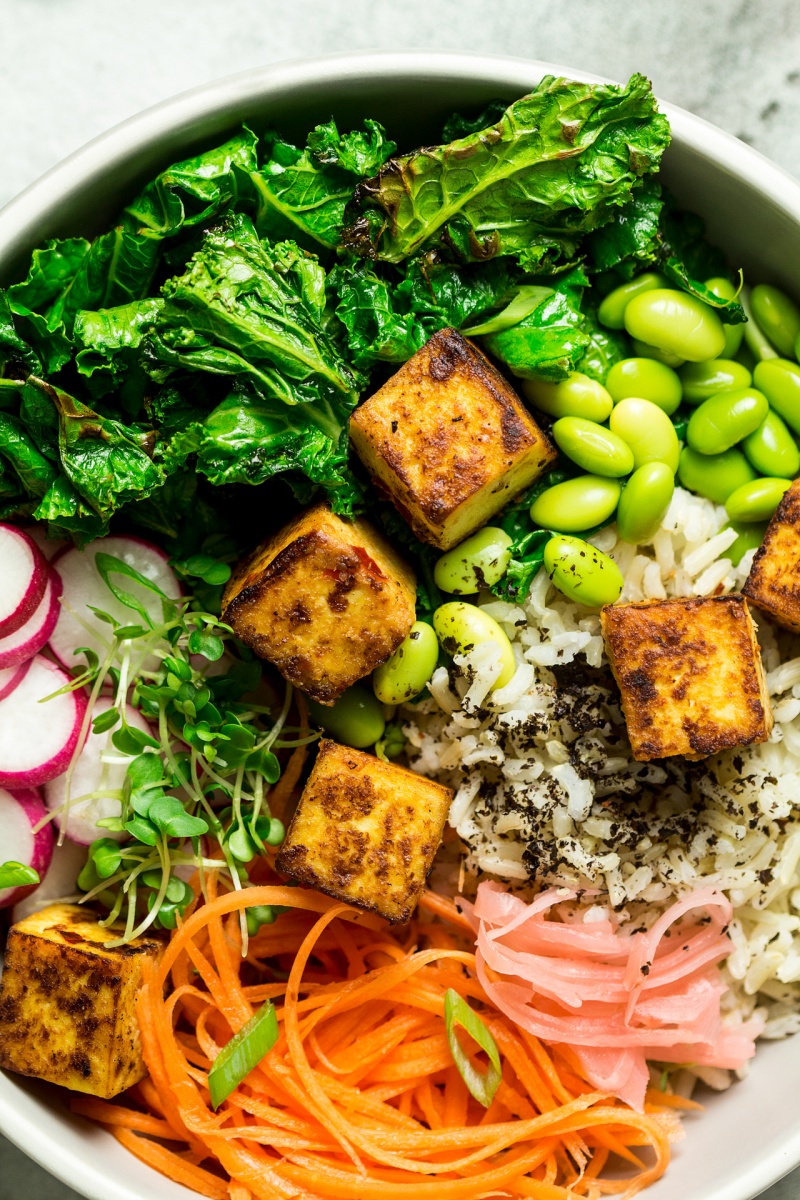 BOWLS
200 g / 7 oz firm non-GMO (cotton not silken) tofu, pressed
100 g / 3½ oz curly kale
8 radishes, finely sliced
1 carrot shredded (optionally pickled)
100 g / 3½ oz edamame beans
1 cup brown rice, cooked
a few slices of pickled sushi ginger, finely sliced
1 spring onion, finely sliced
baby cress, to decorate (optional)
2-4 tsp oil (I used rice bran oil)
HOMEMADE FURIKAKE
30 g / ¼ cup sesame seeds
salt, to taste (optional, I didn't add any)
MISO MARINADE & DRESSING
METHOD
TOFU
Cut a pressed block of tofu into equal size cubes – I got 12 out of mine.
Whisk all the marinade ingredients (apart from the water) together in a medium size bowl.
If you have a non-stick pan, you can pan-fry the tofu. To do that, place the tofu cubes in marinade and heat up 2 tsp of oil on a non-stick pan. Place the marinated tofu cubes (leave the rest of the marinade for the dressing) into the hot oil. Fry, turning frequently until browned on all sides. Be careful as the tofu is likely to splatter a little bit initially.
If you don't have a non-stick pan or want to reduce the amount of oil you consume, you can also bake the tofu. Set the oven to 180° C / 355° F and place naked (unmarinated) cubes of tofu on a baking sheet. Bake for about 20 minutes, turning once, halfway through. Switch the oven to the grill / broiler function. Coat the baked tofu cubes in the marinade, return them to the baking sheet and grill them for about 5 minutes, until browned.
HOMEMADE FURIKAKE
Tear the nori sheets into smaller pieces with your hands and place them in a coffee grinder. Grind them into small pieces.
Add sesame seeds and salt (if you wish). Store in an airtight jar in a dry cupboard.
ASSEMBLY
Destem the kale and chop it into small pieces. Heat up 2 tsp of oil in a wok. Once the oil gets hot, throw in the kale and stir-fry for about 5 minutes. Season with a pinch of fine sea salt.
Take the leftover miso marinade and add a splash (approx. 1 tsbp) of water to create a quick dressing.
Divide the kale, radishes, carrot, edamame, and rice between two bowls. Season the rice with a pinch of furikake. Top the bowls with tofu, chopped-up sushi ginger, spring onion and cress. Drizzle with miso dressing.
NOTES
*These days you can find varieties of
gluten-free miso
if you would like to keep this dish gluten-free.