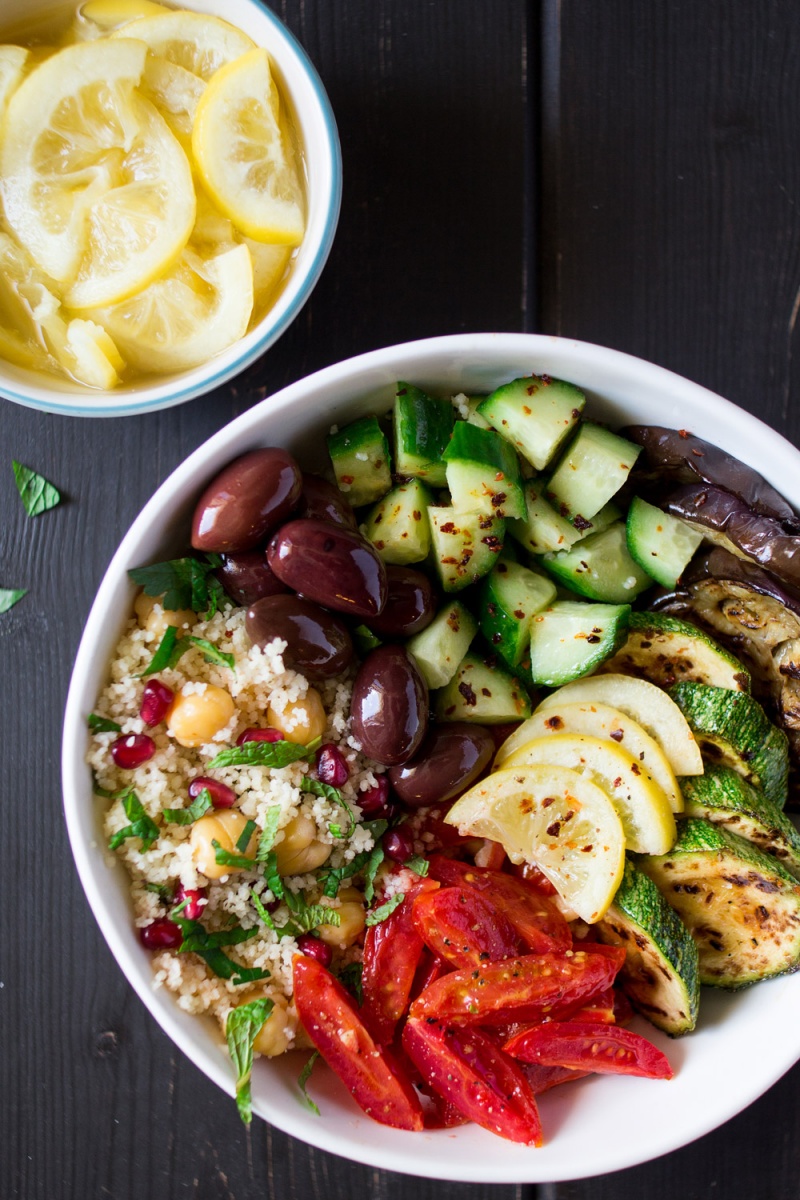 Laters, I am off for a quick sojourn to Morocco… I wish! At least my tastebuds are though. After the indulgence of Duncan's famous chocolate and orange twists and 6-stage testing for another sweet recipe (coming soon), I thought it is time to do something healthy again.
As you know, I am a big fan of having goodness bowls for lunch and this one, inspired by the Moroccan flavours, is my latest favourite. I tuck in daydreaming of a trip to the colourful Marrakesh market.
Sometimes, living on this small, remote island makes me miss travelling, especially that we didn't manage to get away this winter. It's funny but when we lived in busy, grey London, a chilled-out Greek island with white-washed walls contrasting beautifully with the always blue sea seemed like a true paradise.
We still love living here but the honeymoon phase is over and we found that travelling to the more happening places is essential to break the monotony a little. There is one big difference though. When we lived in London, coming back from holidays was always a massive come down. Now, no matter how much we enjoy ourselves away, we always look forward to coming back to this beautiful island.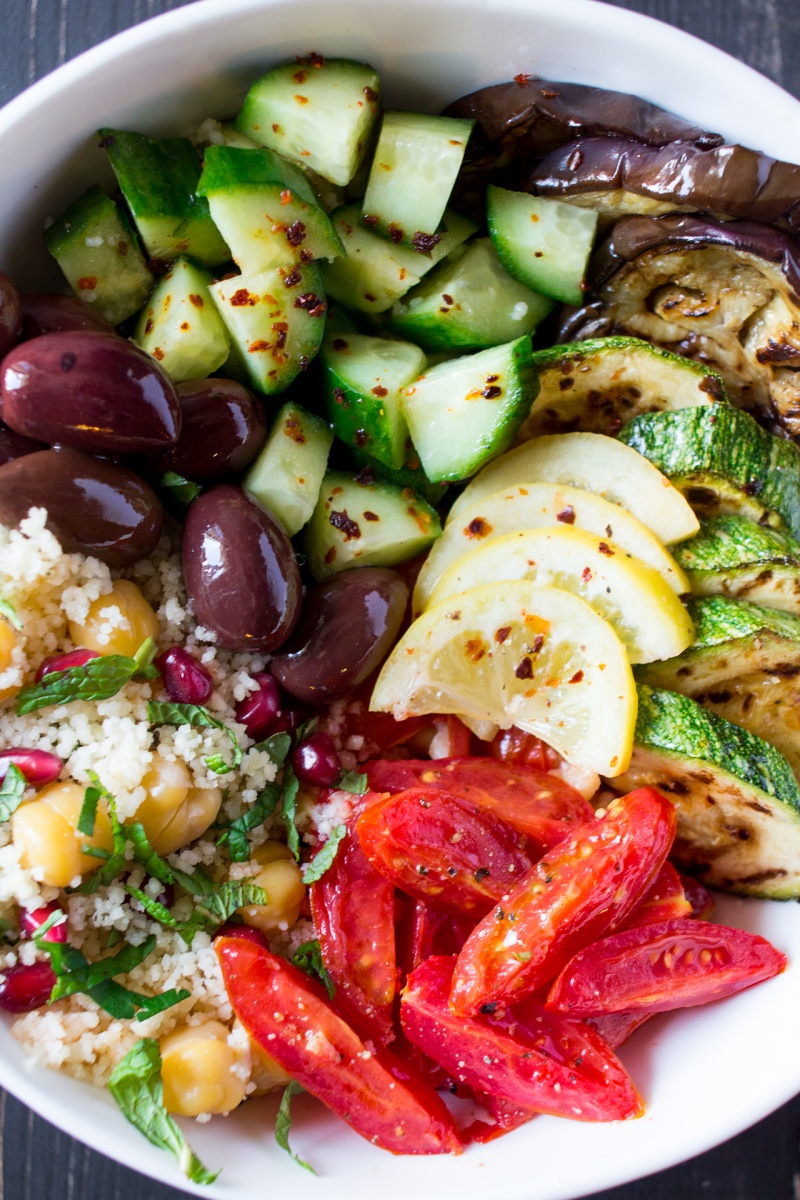 MOROCCAN BOWLS
½ cup uncooked couscous or quinoa (for GF version)
½ cup cooked chickpeas
20 cherry tomatoes, quartered
1 medium cucumber, diced
1 small courgette, sliced thickly
1 small aubergine, sliced thickly
15 black olives
handful of fresh mint, chopped thinnly
¼ pomegranate, seeds only
2 garlic cloves, finely chopped
salt & pepper
3 tbsp olive oil
½ tsp chilli
1 tsp cumin
1 tsp sweet paprika
a few slices of preserved lemons, store-bought or as per the recipe below
QUICK-PRESERVED LEMONS (optional) – make at least a day ahead
3 small unwaxed lemons
45 ml lemon juice
1 garlic clove, crushed with the knife edge
½ chilli, chopped (optional)
2 tsp sea salt
35 g sugar
METHOD
Put a kettle on. Place couscous in a small pot / container with a lid. Once the water boils, pour 150 ml (½ cup + 2 tbsp) of boiling water over the couscous and immediately cover with a lid. Set aside for 10 minutes. If using quinoa for a gluten-free version, prepare according to the cooking instructions on the packet.
Heat up 2 tbsp of olive oil in a small pan. Throw in chopped garlic and sauté on a small-medium heat, stirring frequently, until soft and fragrant. Chuck tomatoes in, season with a bit of salt and pepper and sauté them gently until they start releasing their juices, but take them off the heat before they start falling apart.
Brush aubergine and courgette slices with a little bit of oil and grill them on a griddle pan until cooked on both sides. Sprinkle with salt, cumin, paprika and a touch of chilli afterwards.
Fluff up cooked couscous with a fork, mix it with chickpeas, pomegranate seeds and freshly cut mint. Season with salt to taste.
Divide olives, grilled veg, raw cucumber, couscous and sautéed tomatoes between two bowls. Use garlicky oil and tomato juice as a dressing. Serve with a few slices of finely chopped lemon (I didn't chop mine just because it looks better in the photos 😉 .
QUICK-PRESERVED LEMONS
Scrub lemons very well. If they have a wax coating, immerse them in boiling water for a few minutes to dissolve it. Cut them into half lengthwise and then into very thin slices, as thin as you can.
Pound 1 tsp of salt and chilli in a pestle and mortar until you get a thick paste.
Place chilli paste, the rest of the salt, sugar and lemon juice in a bowl. Add lemon slices and rub the sugar-salt mixture into them. Stick crushed garlic clove into the mixture. Cover and refrigerate for at least one day prior to using.
NOTES
The recipe for quick-preserved lemons is based on Ottolenghi's recipe from one of his gorgeous cookbooks, 
Jerusalem
.