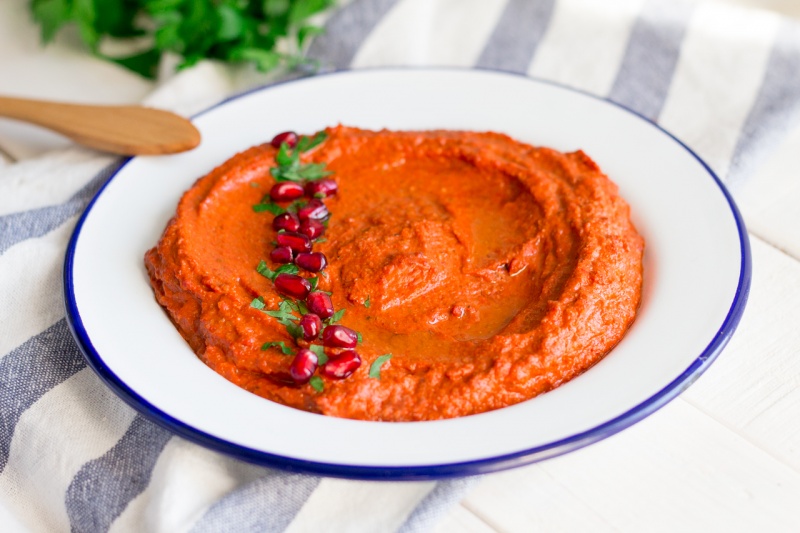 This recipe is dedicated to my lovely mum, firstly because I think she would really like the taste of this dip (in fact, I'm going to make it for her when I visit in August). And secondly, because my mum is the person who instilled the love of vegetables in me and my brother, for which I'm forever grateful.
Despite having a full time job when we were little, she always made sure we had AT LEAST one vibrant salad with all our suppers, which we had to eat. She was renowned in our family for snacking on what some people would refer to as 'rabbit food' – pieces of raw carrot, peppers, raddishes, kohlrabi, cucumber and even cauliflower and that's way before it became a common health trend and dietary advice.
Even though we were not that keen on crudités back then (candies were more to our taste), it has definitely rubbed off on us both and we never found eating greens a chore.
Muhammara is a Syrian dish and, like many dishes from that region, it is to die for. It comes together very easily and it's a flavour sensation, in my books. It gets a bit of sweetness from oven-roasted peppers, a bit of earthiness from walnuts and a touch of tanginess from pomegranate molasses.
Please excuse me for there being an oven involved, especially if you happen to attempt this on an extremely hot day, but there is no way round it unless you want to fire off a BBQ. Actually, there is – you can buy ready roasted peppers, I suppose, but really…don't. Make them yourself – not only will they taste better, it will also save you money.
The best way to enjoy this dip is to have it with toasted pita bread and a few other mezze dishes. To my mind, mezze is the best thing in the world. It gives you a chance to have a truly varied meal, to experience small amounts of different flavours or textures in a good company.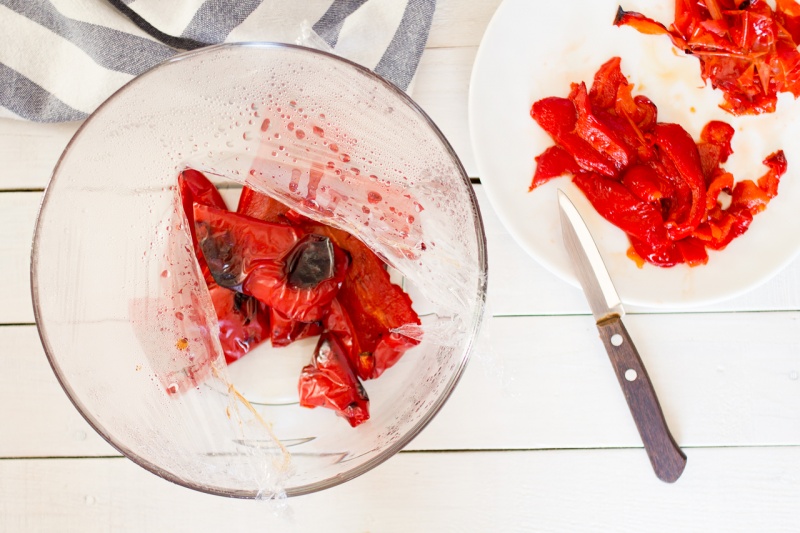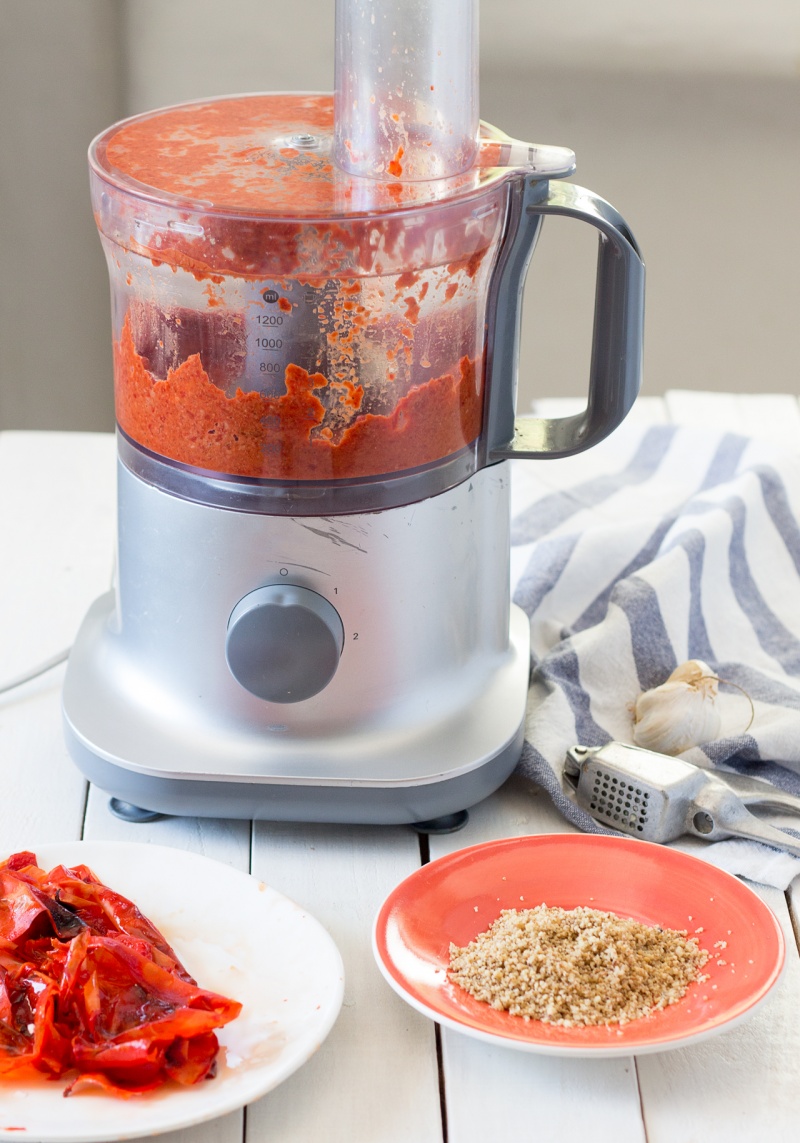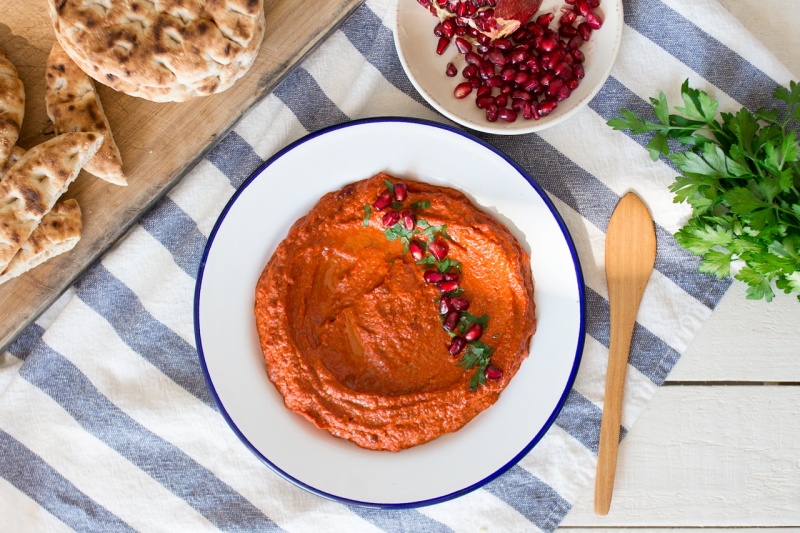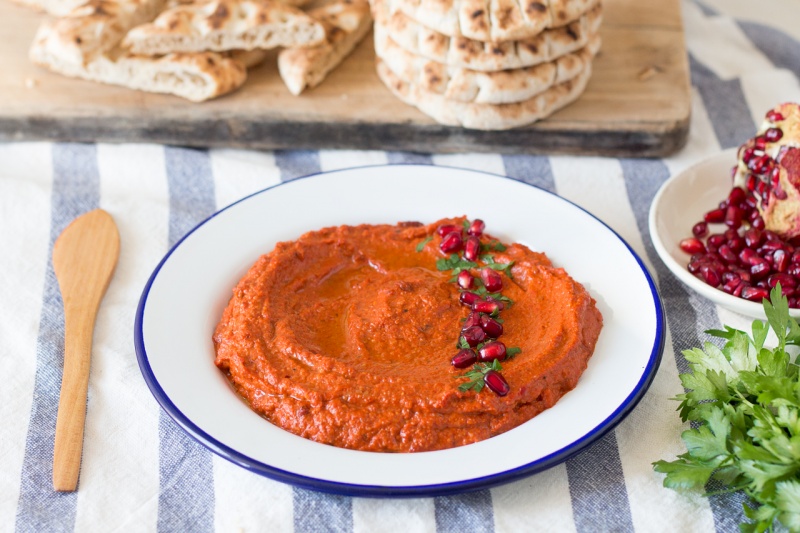 3 red bell peppers (400 g once seeds and cores removed)
60 g walnuts
15 ml / 1 tbsp pomegranate molasses*
¼-½ tsp hot chilli flakes (depends on your preference)
1 tsp ground cumin
1 tsp tomato paste
¾ tsp fine sea salt
1 small garlic clove, pressed
a handful of breadcrumbs, to thicken (optional)
1 tbsp extra virgin olive oil, to garnish (optional)
METHOD
Set the oven to 200º C / 390º F. Wash the peppers, cut into halves, remove seeds and membranes and then cut into halves again. Put the peppers skin down on a baking tray and into the oven for 40 mins. 30 mins in, turn them over (skin-side up) for another 10 mins.
While the peppers are roasting, take a dry pan or skillet and gently roast walnuts stirring often so that they don't burn. They will be slightly darker when done and will release their beautiful aroma.
Get a large glass or ceramic bowl, BBQ tongs and a cling film (glad wrap for the Aussies) ready. As soon as the peppers are done, grab them and chuck them all into the bowl. Wrap cling film tightly around the bowl – you can also use a plastic bag. The point is to let the hot peppers sweat for a few minutes as this way their skin will come off much more easily.
After about 15 mins, tear the cling film open and let the peppers cool down so that you don't burn your fingers. Once the peppers are cool enough, take the skin off – the best way to do that is to start from the pointy bit of each pepper.
Chuck roasted walnuts into a food processor and process until you have a coarse meal. Add in peppers, chilli flakes, ½ tsp of salt, garlic, cumin, pomegranate molasses, tomato paste and process. Make sure you close the chute as this dip is runnier than hummus and can attempt an escape:). If you want a thicker dip and are not worried about gluten, add breadcrumbs to thicken it up.
Transfer the dip to a small plate and pour a bit of olive oil on top to stop it from drying out and to give it an extra shine. Enjoy with toasted pita bread, other mezze-style dishes and salads.
NOTES
*Pomegranate molasses have a sweet-tangy taste. If you cannot find any where you live, I would substitute it with 1 tsp maple syrup for sweetness and 2 tsp balsamic vinegar for tartness.