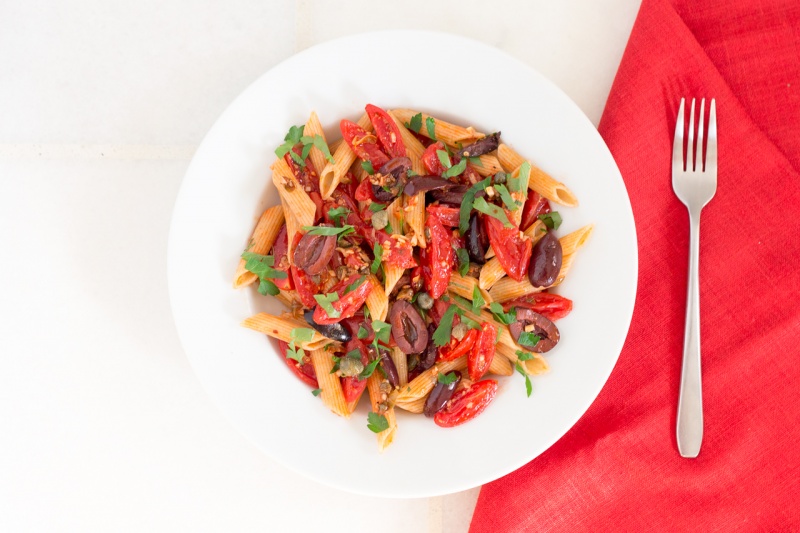 Today's recipe is hands-down our favourite pasta dish. I have also cooked it for many of our friends who came to stay (or whose kitchens I invaded in an attempt not to make our veganism a complete pain in the neck) and they were all pretty impressed with the flavours of this dish. It is my take on a famous Italian classic – pasta alla puttanesca – in this case I'm calling it vegan puttanesca. It has a perfect balance of sweetness and acidity, warmth of garlic and a potent chilli kick. It's filling yet light at the same time, ideal for a lazy summer supper and quite easy to scale up or down if you need to accommodate some hungry last minute guests. And the colours are not bad either, are they?
The real secret here is using good quality tomatoes. I find cherry tomatoes the best option as they tend to be much sweeter than their full-grown equivalents and keep their shape better when cooked. It is that sweetness contrasted with acidity and saltiness of capers and black olives what makes this dish so pleasing on the palate. The tomatoes are sautéed lightly in a mixture of garlic, chilli, capers and olives and it is the juices from the tomatoes mixed in with olive oil that make a light pasta sauce that tastes and smells of summer.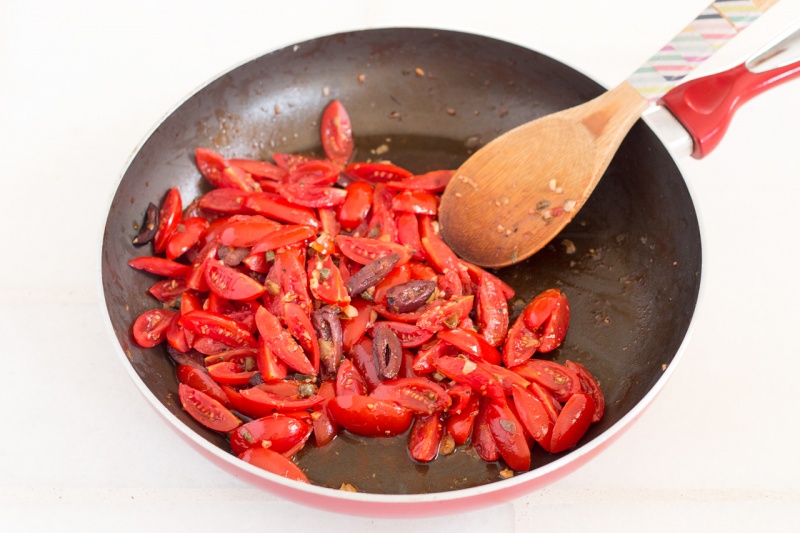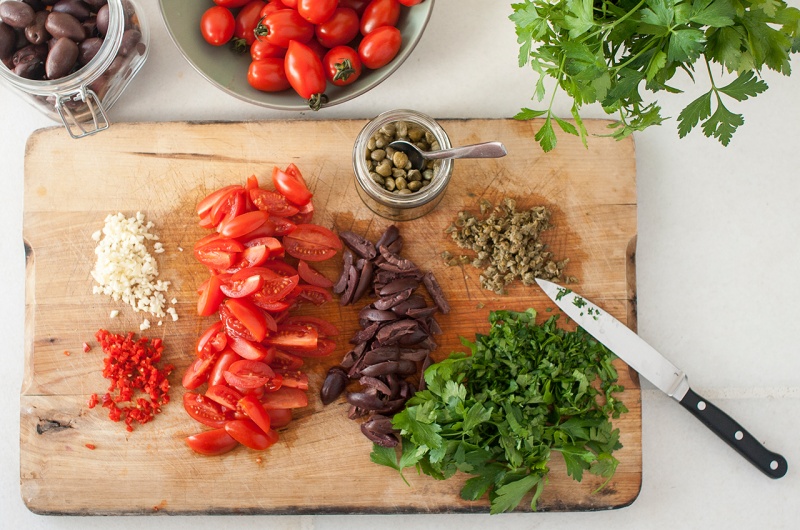 340 g gluten-free penne pasta (I used wholemeal)
3 tbsp / 45 ml olive oil
3 garlic cloves, finely diced
600 g / 50 large cherry tomatoes, quartered
2 tbsp capers, chopped
30 Kalamata olives, de-stoned and quartered
½ tsp hot chilli flakes or ½-1 fresh red chilli
½ tsp sugar
salt and pepper, to taste
fresh parsley, chopped finely
METHOD
Boil a large pot of water and cook your pasta al dente, following instructions on the packet.
Heat up a pan over low-medium heat. Add 3 tbsp of olive oil to the warm pan and swivel it around the pan. Add finely chopped garlic and some of the chilli and fry it gently for a few minutes. Make sure you stir frequently so that the garlic doesn't burn. Add in chopped capers and fry for another 2 minutes.
Add tomatoes, olives and sugar. Sautée gently for a minute or two until tomatoes start releasing their juices. Taste, add more chilli if needed, season with salt and pepper.
Drain your pasta reserving 3 tbsp of cooking water in case you need to add more moisture to the sauce.
Put drained pasta into the pan with cherry tomato sauce. Mix through well. Season to taste and if the pasta is too dry and some of the reserved pasta cooking water. Mix well.
Serve immediately, garnished with fresh parsley.