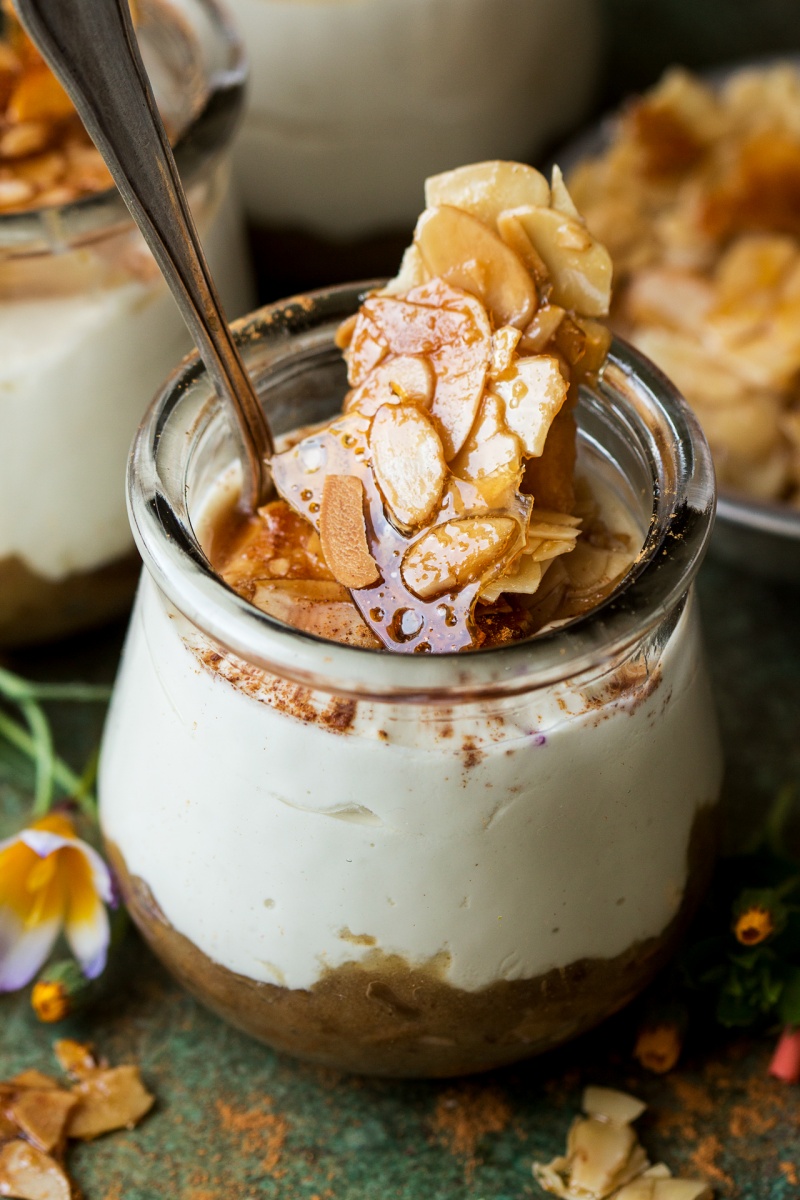 We've been down this road before, haven't we? I swore that I was kicking sweet things to the curb and barely a week goes past and I'm at it again 😉 ! Oh well! I don't think I've ever made my sweet tooth a secret, have I? Plus, to be honest, this particular dessert is a distant memory now anyway as I shot the photos a few weeks back, which is what I tend to do if I am in my well-organised mood, so technically I'm still TRYING to stick to my promise… Although I've just baked a cake…
Speaking of being well-organised, Duncan usually cleans up after our dinners as I tend to cook them. He is very diligent about it and sometimes, I try to corrupt him by saying 'don't worry about it, we will do that tomorrow – I will help you' to which he replies 'no, I've got to do that now 'cos tomorrow's Duncan will appreciate today's Duncan for not having to wake up to a messy kitchen'. Awwww…Sometimes I wish I could adopt that philosophy when it comes to eating cake, for example. 'No, don't have another slice, Ania! Tomorrow's Ania (or even an hour later Ania!) won't appreciate feeling like a 2 tonne truck 😉 .
Anyway, I digress while there are important things to point out about the cheesecake situation. This recipe makes 5 small cheesecakes and believe me, that's a perfect size! They seem pretty innocent on the account of consisting of healthy wholefoods and containing no refined sugar, but you can totally overdose on them too. Duncan found out the hard way after he demolished a double portion in one sitting 😉 .
The key to getting the cheesecake layer beautifully creamy and fairly firm is to add as little moisture to the cashews as you can, which is easier said than done if your blender is a bit rickety, like mine. Don't worry, I have that bit covered. If you don't panic and follow my instructions, you'll end up with a lush cheesecake layer without the need for any agar agar or any coconut oil.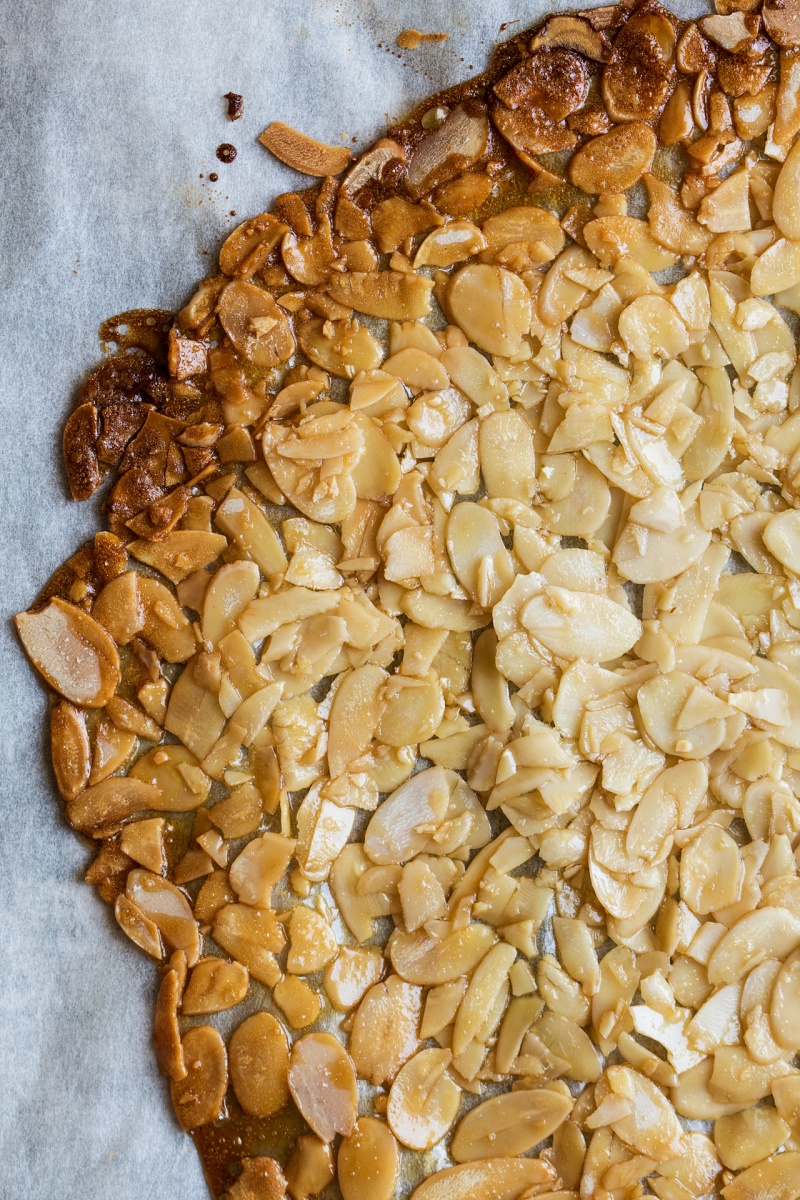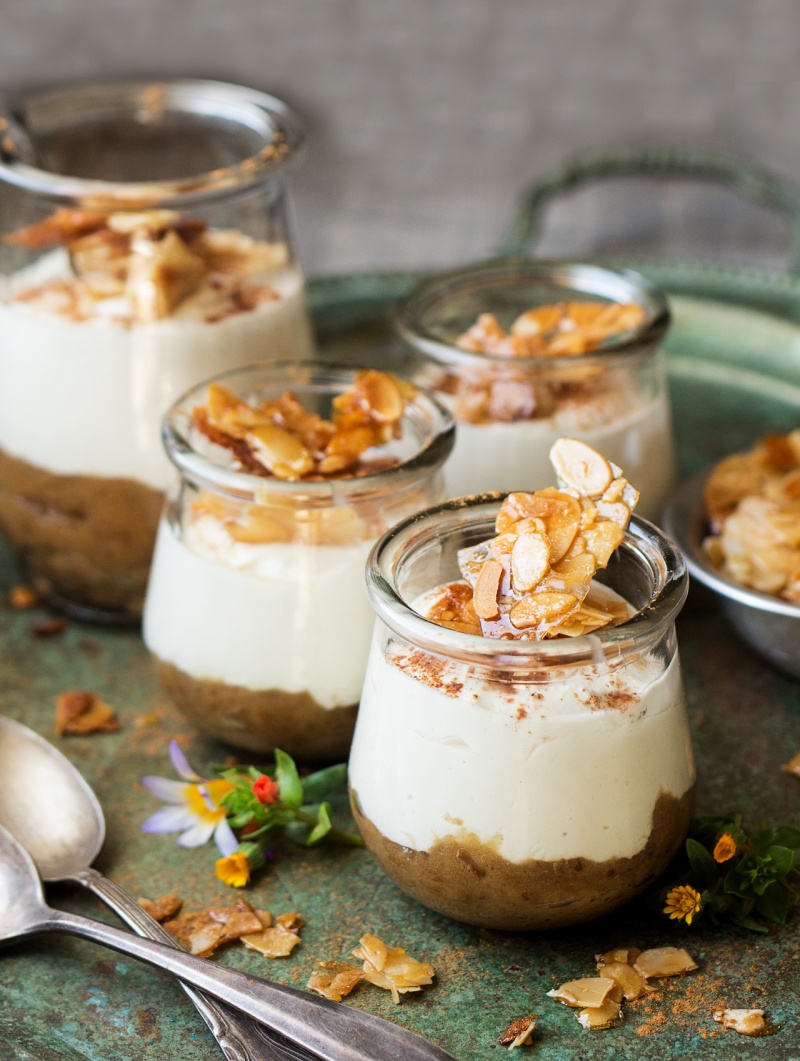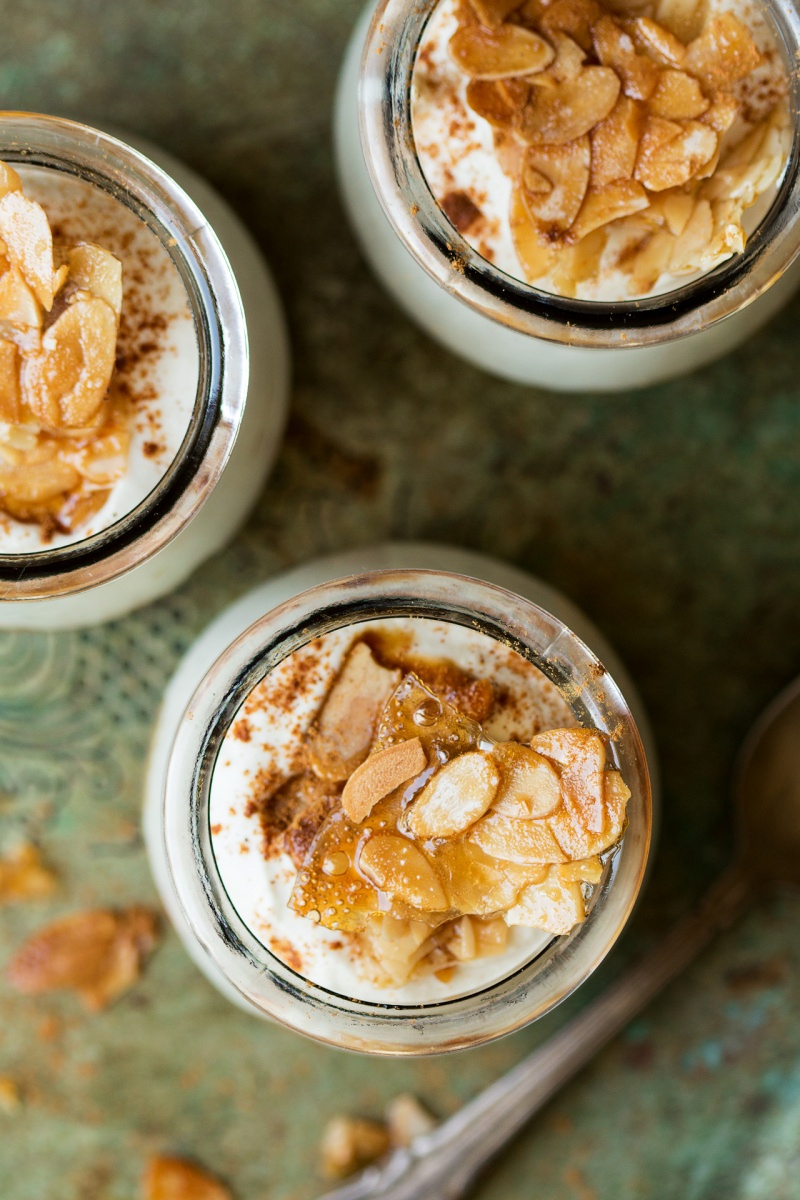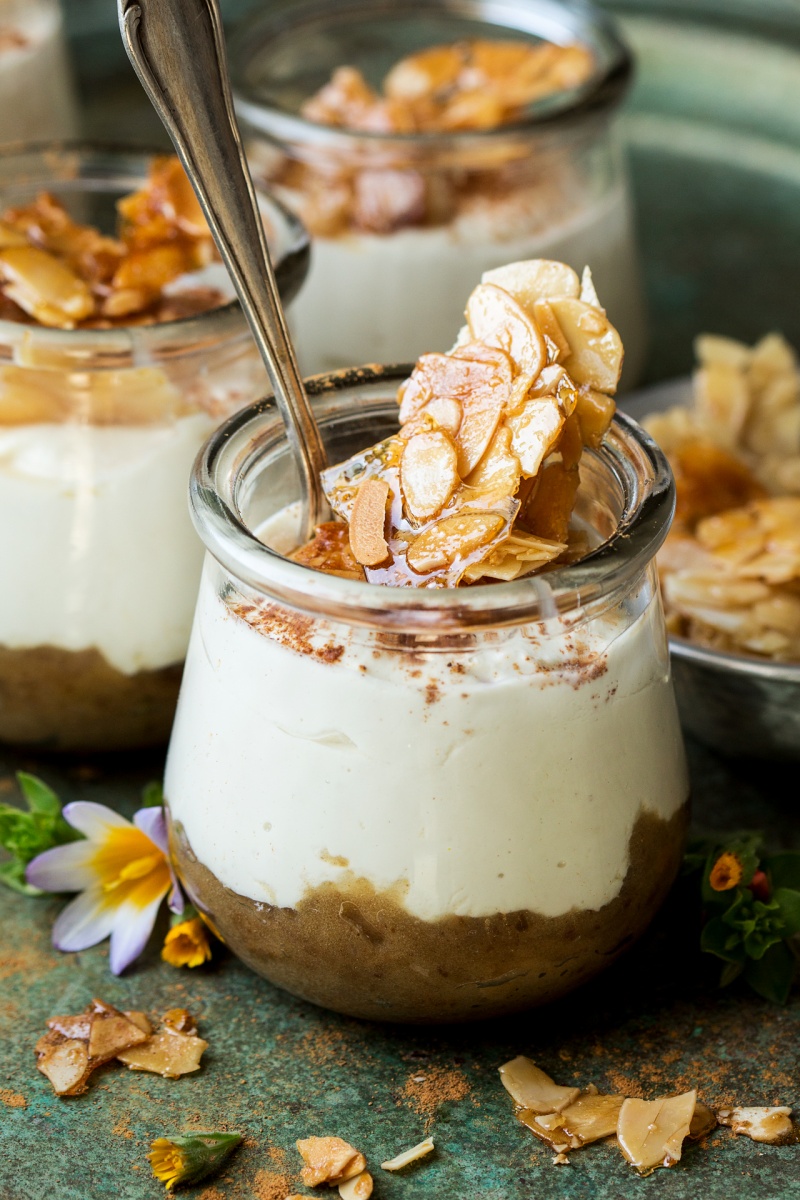 DATE CARAMEL
240 g / 1½ cups dried dates, pitted and soaked in boiling water
pinch of salt, to taste
1-2 tbsp strong espresso (optional)
GINGER CHEESECAKE LAYER
225 g / 1½ cups raw cashews (soaked overnight)
120 ml / ½ cup coconut cream (from a tin of full fat coconut milk, I use this brand)
6 tbsp lime or lemon juice, adjust to taste
approx. 2½ tbsp finely grated ginger, adjust to taste
1 tbsp maple syrup
ALMOND BRITTLE*
½ cup almond flakes
2 tbsp maple syrup
fine sea salt
2 tsp olive oil (optional, SEE INSTRUCTIONS)
a pinch of ground cinnamon or ginger, for serving (optional)
METHOD
DATE CARAMEL
Drain the dates and place them in a food processor. Process until smooth and creamy. Add a trickle of coffee or water to help the mixture to process and season with a touch of salt to taste. Set aside.
CHEESECAKE LAYER
Rinse the cashews and chop them roughly. If you own a very powerful blender (like a Vitamix or Blendtec) this step may be completely redundant, but with my low range (and fairly old) blender this is the only way I can achieve smooth consistency without adding too much liquid.
Divide the chopped cashews into roughly six portions. Chuck one sixth of the chopped cashews into a blender with all of the coconut cream, half of the lime juice and maple syrup. Process until super smooth.
Once smooth, add another sixth of the chopped cashews. Process until smooth and repeat until you've used up all of the cashews. Towards the end, the mixture will become very thick and heavy and your blender may struggle to turn. To remedy this, start making circles on the surface of your mixture (in the direction of the turning blades) with a spatula to prevent air pockets forming under the mixture's surface. Be careful not to dip the spatula in too deep as you don't want to accidentally touch the turning blades. If you follow the technique I've described above, there should be enough moisture in this recipe (from coconut cream, lime juice and maple syrup if using) not to have to use any water, which means you'll end up with a smooth and creamy cheesecake mixture.
Adjust the amount of lime juice to taste and season the mixture with freshly grated ginger. I like a strong taste of ginger so I used a lot of it, but I recommended you adjust the amount to your taste. At this point the mixture should be quite tangy and gingery – a flavour which will mesh really well with the other two sweet components – date caramel and almond brittle.
ALMOND BRITTLE*
Heat up the oven to 175° C / 350° F and line a baking tray with a piece of baking paper.
Put ½ cup of almond flakes in the middle of the tray and pour 2 tbsp of maple syrup and optionally 2 tsp of olive oil (I found that olive oil renders the brittle a litter crunchier) over the almond flakes and quickly mix the two liquids into the flakes. Season with a little bit of sea salt and spread the mixture in a single layer on the baking tray.
Pop the mixture into the oven and bake for about 8-10 minutes. The edges will brown sooner then the middle (that's normal) so you want to remove the brittle from the oven when the edges are lightly browned but not burnt. Take out of the oven and allow it to cool and crisp up.
ASSEMBLY
Place date caramel at the bottom of each glass (I divided the mixture between 5 small glasses). Top up with the cheesecake layer and pop in the fridge for about 2-3 hours for the cheesecake layer to firm up.
Top with shards of almond brittle or almond flakes (for raw version) and a dusting of cinnamon or ground ginger just before serving.
NOTES
*If you want to keep this dessert 100% raw, skip this step and garnish the dessert with a small amount (1-2 tsp) of maple syrup and some untoasted almond flakes.
My recipe is inspired by this recipe.