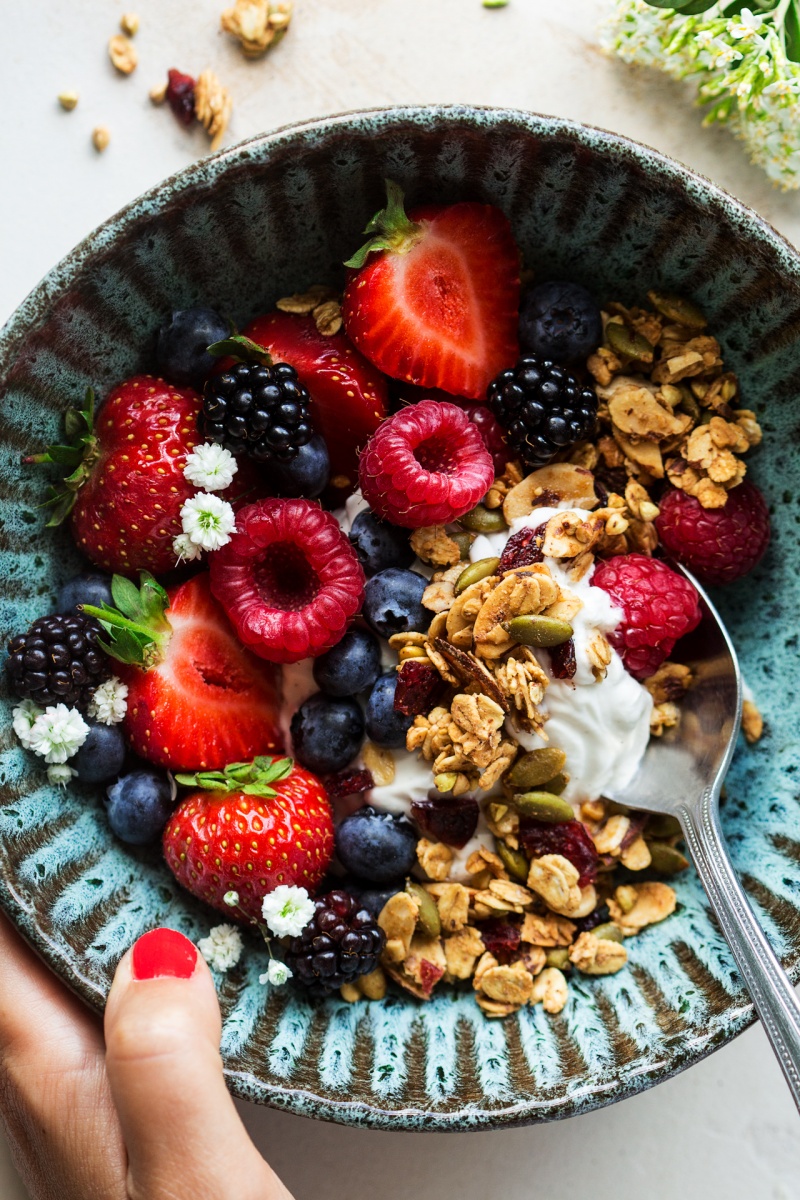 Good weekend, y'all? We've had a really good, relaxing weekend spent outside in the glorious weather enjoying the company of good friends, good food and insane amounts of iced coffee. We even managed to put up my hammock in the garden yesterday, which took a while as we both seemed to have forgotten our knots and the first attempt to sink into it ended up with me on the floor…
Now that we have finally got married, we decided it's time to get serious about finding our first home, as we are a bit sick of renting and feel the need to have a space we can call and make ours at last. We've been looking for months now (although not very intensely) and it wasn't until yesterday that we spotted a house that seemed to tick all our boxes and did not require any major, structural work, which we don't feel like taking on right now. Unfortunately, I have just found that the house is under offer, which I am gutted about as it had an amazing open plan kitchen with a huge entertaining area and I could so imagine myself bringing creative havoc to it 😉 . Oh well, we have another hopeful viewing tomorrow, fingers crossed.
Today's recipe is a simple and delicious (yet considerably healthier) take on granola. I don't tend to have granola for breakfast, but I often use it (alongside coconut yogurt) to top delicious summer berries with. It makes for a healthier summer dessert and leaves me satisfied, yet without any regrets about overindulgence.
Having said that, I find these crunchy, nutty clusters so addictive that I don't even need anything to put my granola on. I simply eat it straight from the jar by the handful, so that's possibly why I felt the need to make it a bit healthier, ha ha. Busted!!
Typically granola relies on fat (usually oil) and sugar (maple syrup or honey are often used) to give the cereals, nuts and seeds a delicate coating of sweetness and a satisfying crunch. Old-fashioned recipes often include egg whites instead of oil, which is what gave me the idea to use aquafaba in the first place.
First off, I used a combination of maple syrup and aquafaba (chickpea brine), the chemical properties of the aquafaba resembling egg whites. This simple combo renders the granola golden and crunchy and way healthier than standard alternatives.
Then, I made another version where I replaced half of the aquafaba with almond butter (peanut butter or tahini would work beautifully too) for a slightly more indulgent take on this good guy. I personally like that version the most as it has a beautifully nutty taste and uses nutrient rich nut butter instead of nutritionally void oil. I hope you decide to try them and if you do, I am curious to know which version was your favourite?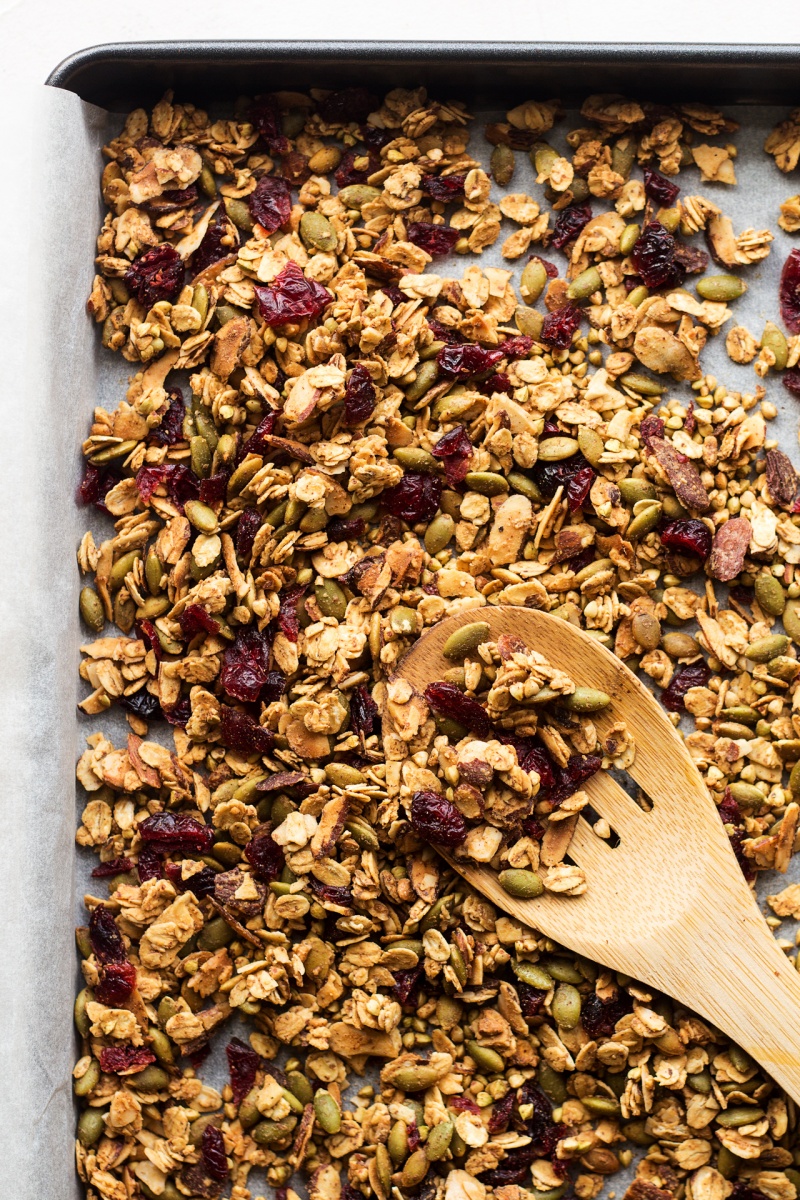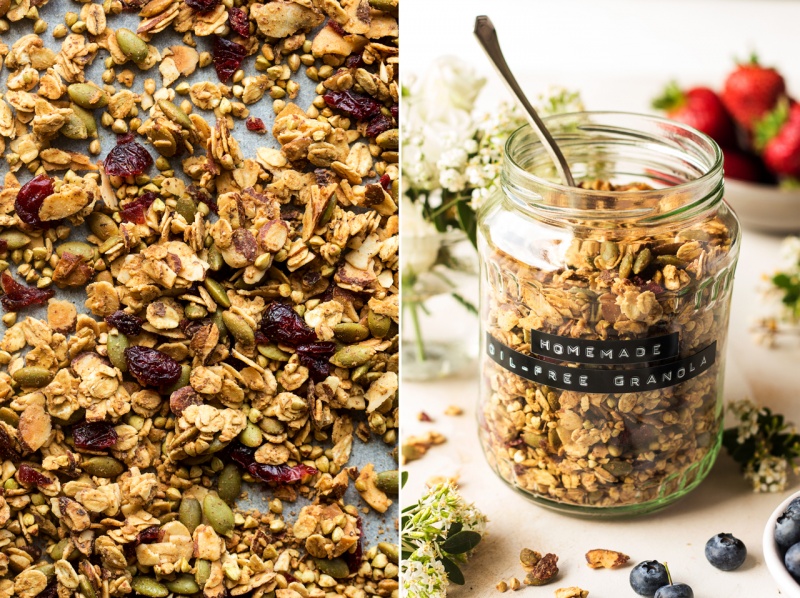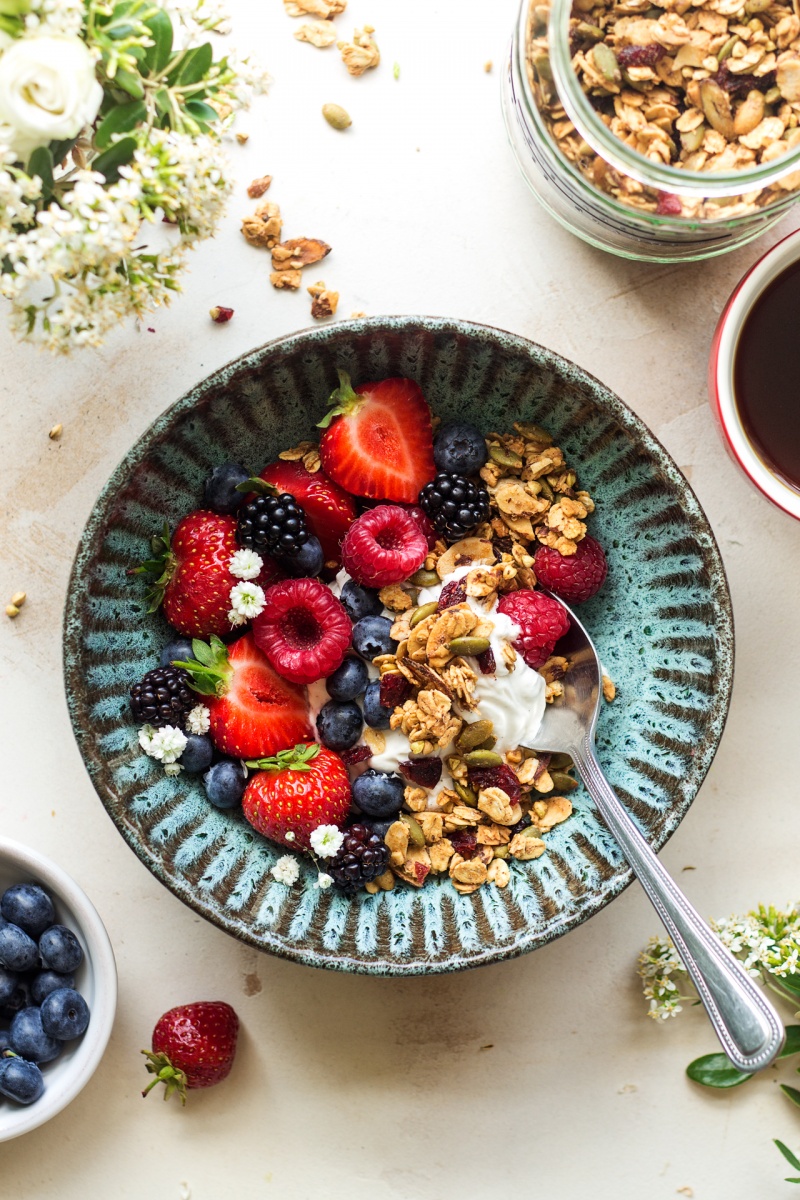 DRY INGREDIENTS
90 g / 1 cup rolled jumbo oats (gluten-free certified if required)
40 g / ¼ cup raw buckwheat groats (gluten-free certified if required)
30 g / ¼ cup raw pumpkin kernels
40 g / ½ cup flaked or silvered almonds
30 g / ¼ cup dried unsweetened cranberries, chopped roughly
½ tsp cinnamon
a good pinch of fine sea salt
WET INGREDIENTS
METHOD
Preheat the oven to 160° C / 320° F and line a large baking tray with a piece of baking paper.
In a large bowl, mix all the dry ingredients apart from the cranberries.
In another bowl, whisk the maple syrup and nut butter (if using) until smooth.
Whisk in aquafaba (if using).
Mix all the wet ingredients into the dry ones.
Spread the granola mixture on the prepared baking tray and bake for about 30-35 minutes (stirring it every 15 minutes) until it gets crispy and golden brown. Fold in the chopped cranberries 25 minutes into the baking time.
Allow the granola to cool down (it will crisp up) and store in an airtight container. Use within a few weeks.
NOTES