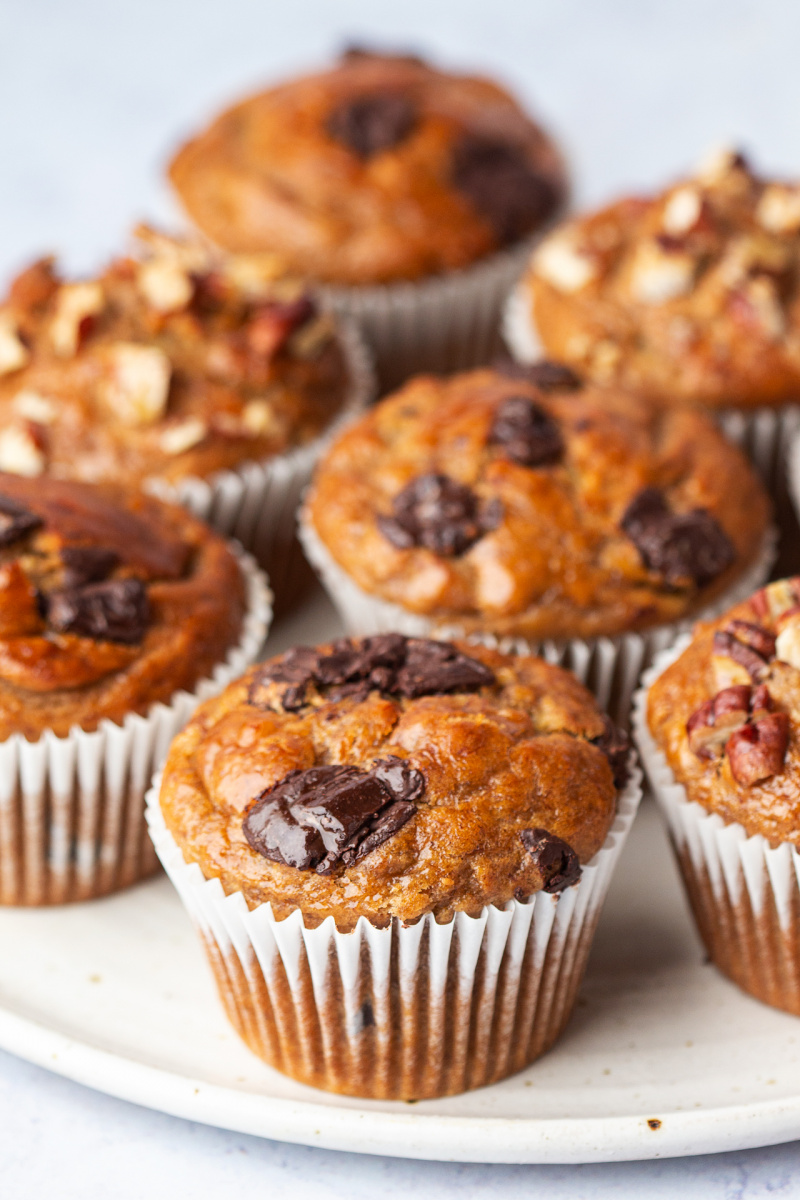 Hope your week has been peachy, guys? I'm very happy to say that I have just put the first week of braces behind me and I am beginning to feel better about my decision to get them done! It was such a pain, but not in the ways I was expecting, which is why I felt so low about the whole thing, I think. I was expecting pain, physical pain and while there was a bit of that, I've only had to take pain killers on two occasions so it wasn't nearly as bad as I expected.
What I was not expecting was how utterly miserable the eating experience was going to be. I started hating meal times – something totally unheard of before as I love food and usually as soon as I finish one meal, I am really looking forward to my next…which is why I ended up doing THIS for a living, I guess. And I started fretting that I will not be able to come up with new recipes and the blog will die a slow death. I felt so unenthusiastic about food that it felt like a lie telling you how much I love my next recipe and I didn't think I would be able to keep it up.
Luckily, I am feeling much better about it all. I managed to have a bit of pasta yesterday and I also had these soft peanut butter banana muffins, which I baked for a guest and they were nice to eat once I broke them up with my hands first. I have also started seeing a difference in my teeth already, which is astounding and immensely motivating at this point. My bottom front teeth, which were only slightly crooked are pretty much straight already and my top front tooth, which bothered me my entire life has also shifted enough that floss goes in much more easily now. They are small wins, but they gave me a mental boost I really needed and I'm grateful.
I try to learn from Duncan who, while not always Mr Yoda, is generally more patient about big things in life than I am. I like when he tells me 'patience, grasshopper!' as I know that he knows that I am about to fall into despair, lose interest and hop off to the next best thing. While he can be refreshingly silly at times, he is wise when it counts. I am grateful for him.
So recipewise, I thought you might enjoy a tray of fluffy and light peanut butter banana muffins as they are really easy to make, contain no oil or margarine, can be sweetened with nothing but dates (if you are into that) and make for a perfect vegan (and gluten-free if need be) weekend treat. They travel well too so if the sunshine is out in your part of the world, pack them up with a couple sandwiches and go on a hike in nature – that will make them taste ten times better – promise!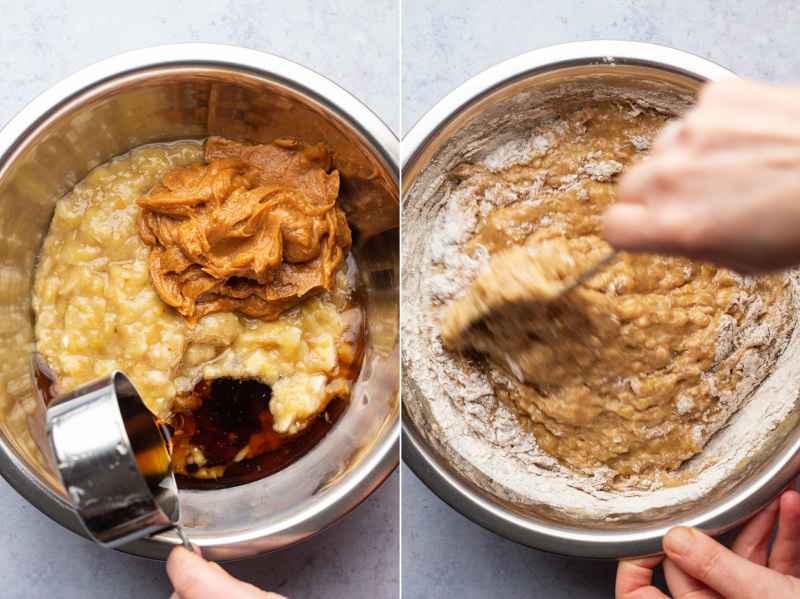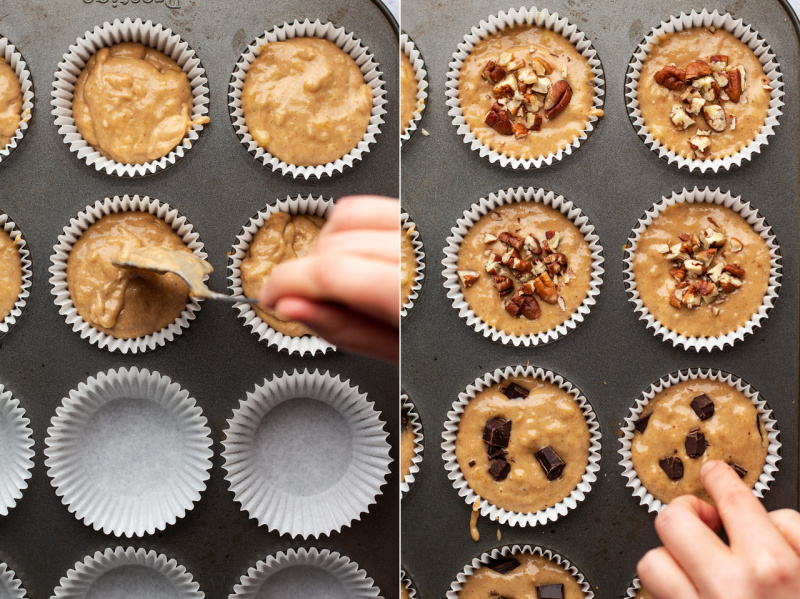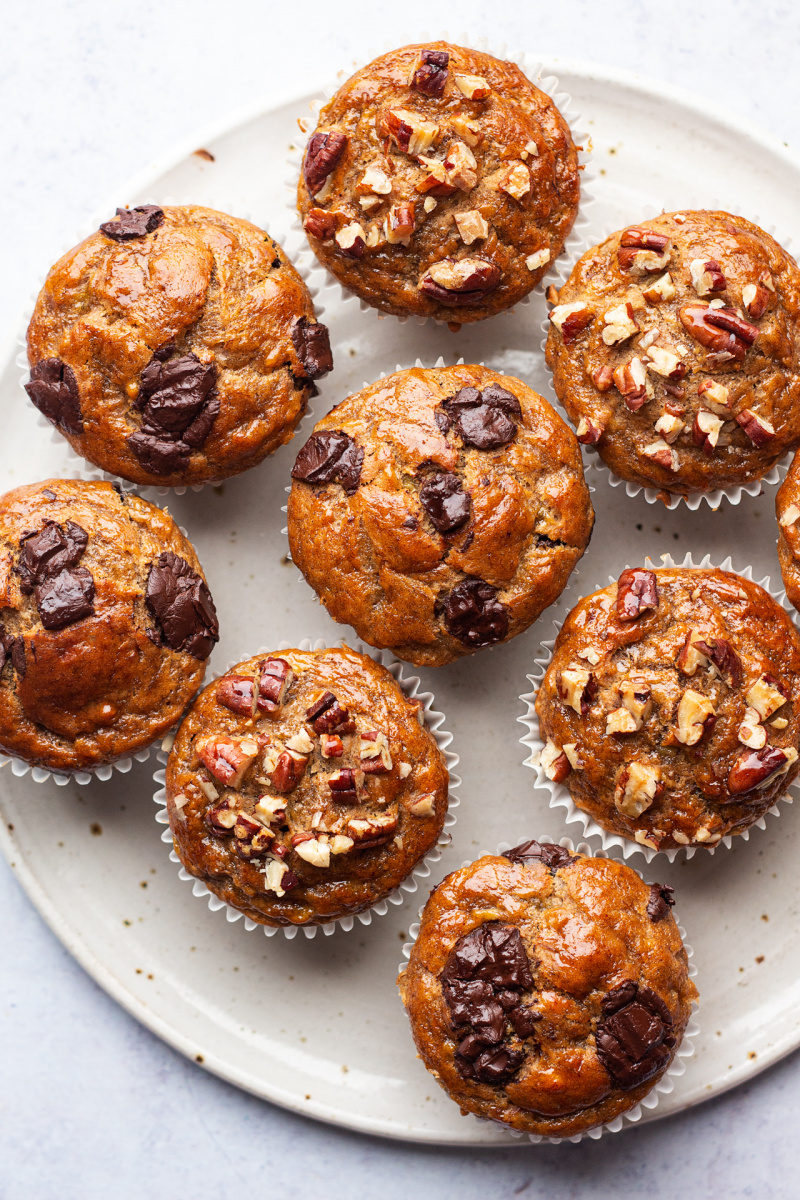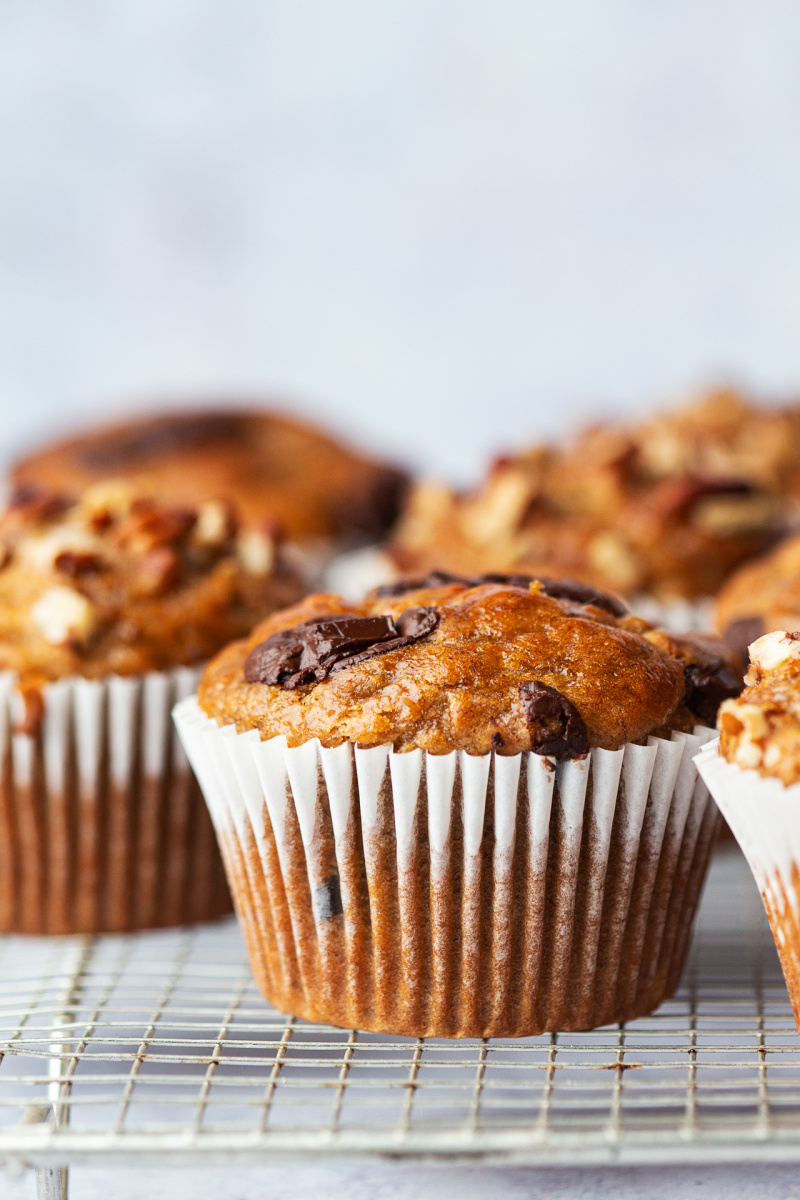 WET INGREDIENTS
120 ml / ½ cup maple syrup* OR 250 g / 8.8 oz dates, pitted and soaked in boiling water for 20 minutes
150 g / ¾ cup peanut butter** (I used 100% peanuts one)
450 g / 2 cups mashed up overripe bananas (approx. 700 g / 25 oz in skins – depends on size)
2 tsp lemon, lime juice or neutral vinegar
DRY INGREDIENTS
180 g / 1½ cups all purpose wheat flour or tested GF flour mix (I use this one)
1½ tsp baking powder
¾ tsp baking soda
1-1½ tsp cinnamon
¼ tsp fine sea salt
OPTIONAL EXTRAS
100 g / 3.5 oz vegan chocolate chips or vegan chocolate, chopped
100 g / 3.5 oz pecans or other nuts, chopped
METHOD
Warm up the oven to 180° C / 355° F (or 160° C / 320° F on a fan setting) and line a muffin tray with paper liners or grease with a little oil.
IF USING DATES instead of maple syrup, squeeze the excess moisture out of the soaked dates and place them in a food processor with peanut butter, bananas, 2 tbsp hot water and lemon juice. Process until smooth.
IF USING MAPLE SYRUP, loosen up peanut butter by gradually mixing it with maple syrup and 30 ml / 2 tbsp of water, using a fork. Add well mashed up bananas and lemon juice (or alternative) until the mixture looks uniform.
Place a sieve over the wet ingredients and sift in (recommended but not necessary) the dry ingredients, folding them in gently just until there are no flour pockets left.
Stir chocolate or nuts through the batter if using, reserving some to decorate the tops.
Divide the batter between 12 cupcakes using a spoon. Decorate with chocolate or chopped nuts if using.
Bake for about 25-27 minutes, or until a toothpick comes out fairly clean. Remove from the oven. Brush with with a little maple syrup while the cupcakes are still hot to give the tops a nice shine, if you wish. Let the cupcakes cool down completely before eating (they will appear undercooked while warm).
NOTES
*You can use
agave nectar
or
brown rice syrup
instead.
**If you are allergic or do not enjoy peanut butter, you can use other natural nut or seed butter instead.
This recipe is based on my earlier peanut butter banana bread recipe that can be found here.