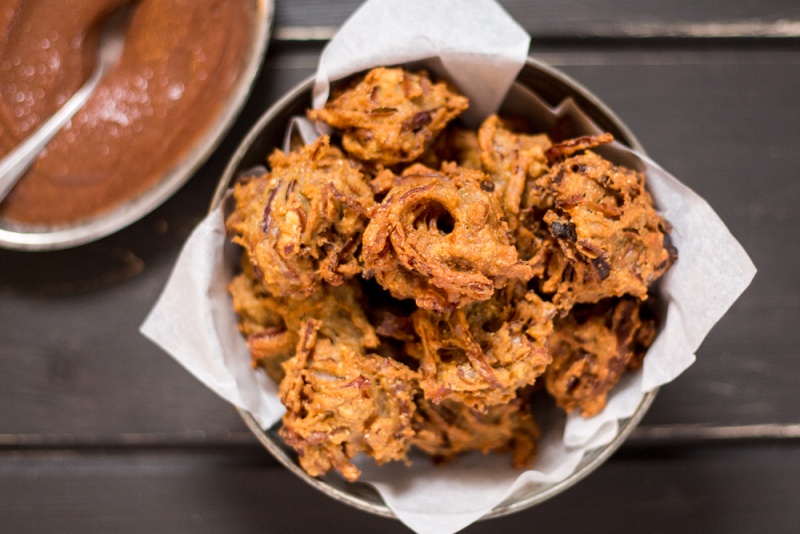 Regular visitors amongst you may be a bit surprised by today's recipe. I know that I often go on about my dislike for deep-frying things and always try to come up with an alternative cooking method so presenting you with a plate of fried onion bhajis may seem a bit out of character. Look, now and then I let Duncan, who runs so much that watching what he eats is the least of his worries, twist my arm (like when we did this recipe) and do something truly indulgent that does require a bit more oil. Easy onion bhajis are one of these things that just don't taste good baked. So there it is, I came clean. Despite my general love of healthy stuff, I do sometimes cut loose.
I am always amazed at what Indian cuisine can do with humble, everyday ingredients. I mean, who would have thought that fried onion balls can be so addictive. They are delicious still warm and when dipped in this sweet and sour chutney, they simply are heavenly. As my favourite Australian Masterchef judge, George Calombaris, would say (especially that him and other guys seem to have a penchant for deep-fried stuff) 'THESE ARE REALLY YUM!'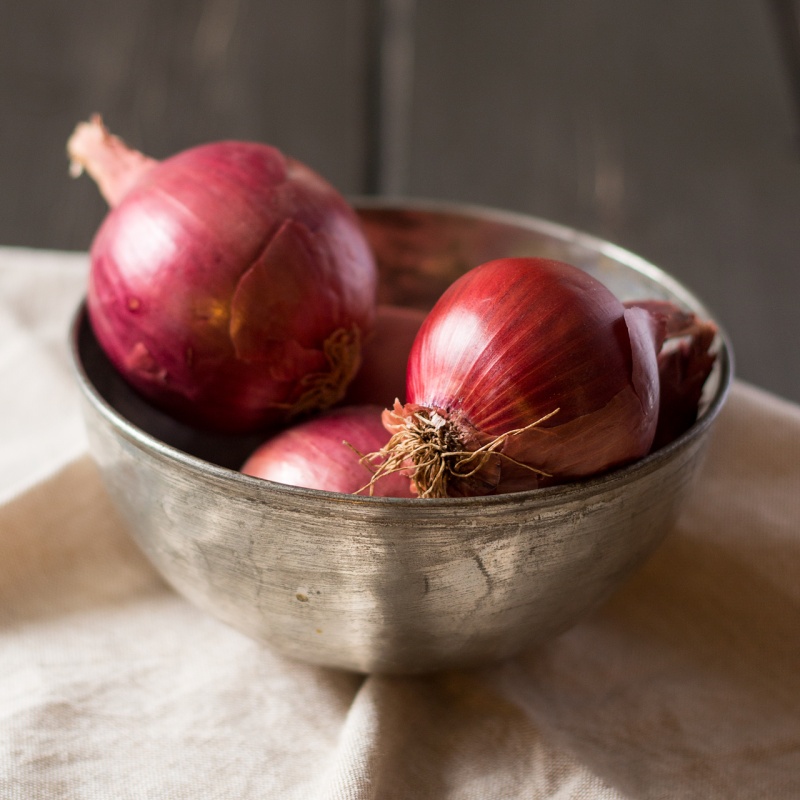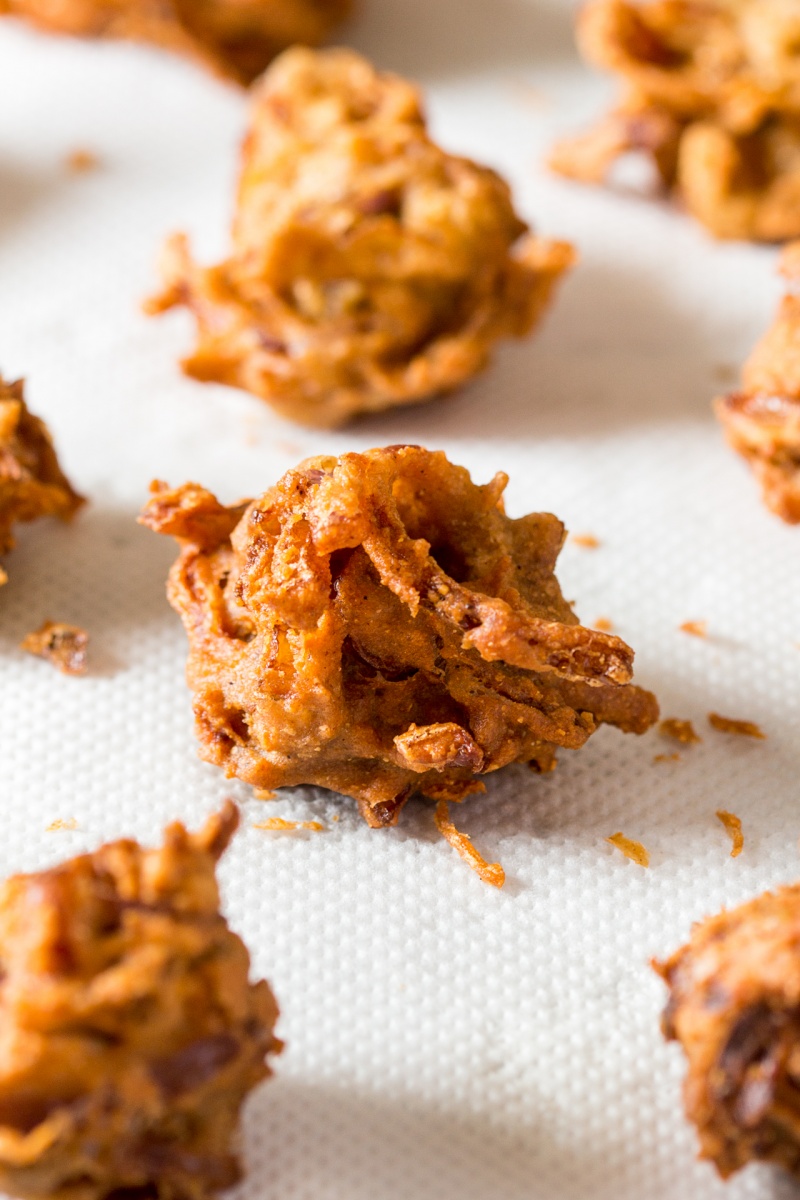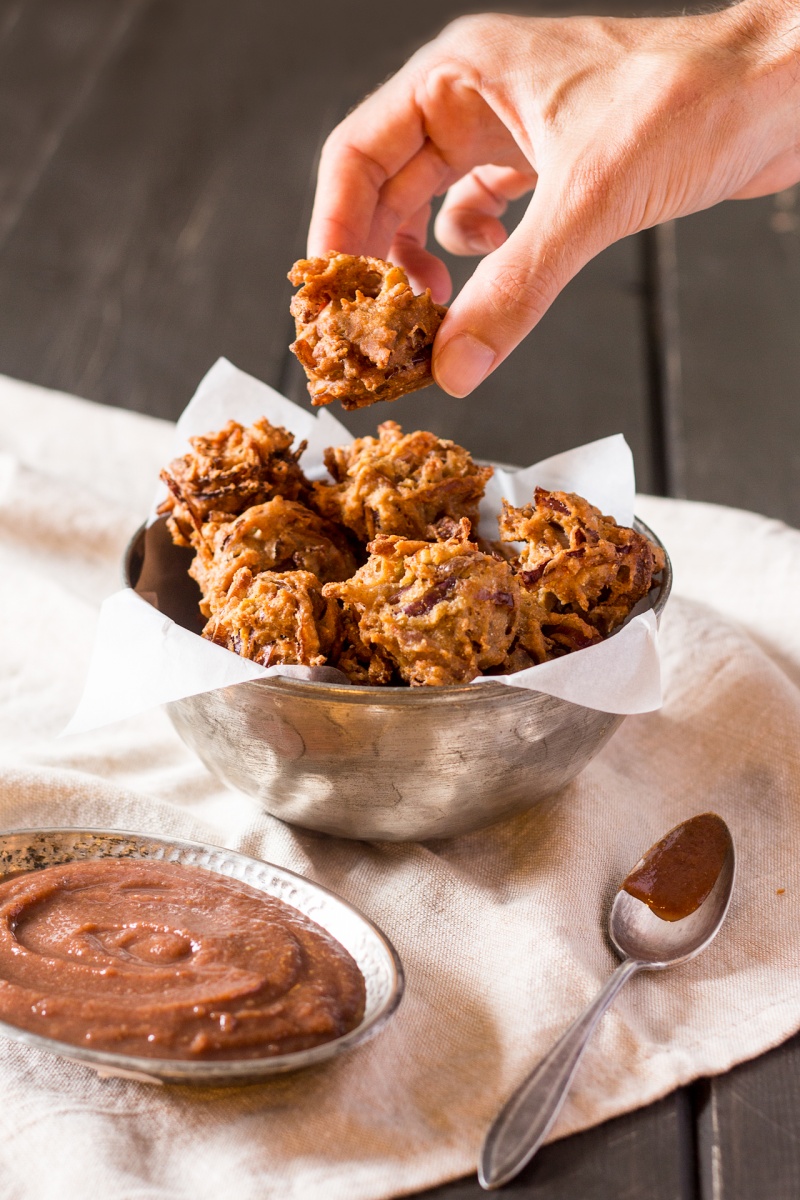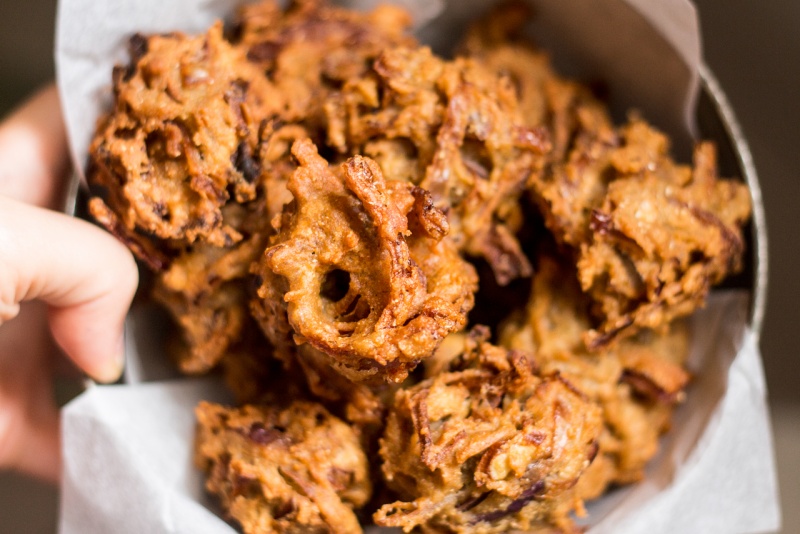 TAMARIND DATE CHUTNEY
15 dates, pitted & chopped
1 tsp ground cumin
½-1 tsp hot chilli powder (depending on your tolerance)
2 tbsp tamarind purée*
a bit of salt, to taste
ONION BHAJI
2 medium red onions
100 g / 1 heaped cup chickpea flour
1 garlic clove, pressed
1½ level tsp salt
½ tsp garam masala
1 tsp ground cumin
1 tsp ground coriander
½ tsp hot chilli
1 tbsp / 15 ml lemon juice
sunflower oil for frying
METHOD
CHUTNEY
Gently toast ground cumin and chilli on a dry pan for about 30 seconds stirring constantly. As soon as they release their aroma take the pan off the heat.
Put chopped dates, about ½ cup of water and 2 tbsp tamarind purée in a small pot. Cover with a lid and simmer gently until dates have softened completely.
Take off the heat, cool down and blend the chutney into a smooth paste with a stick blender, adding previously toasted spices. Taste and season with a few pinches of salt and maybe another tablespoon of tamarind if it's too sweet.
ONION BHAJI
Peel the onions, cut them into halves and slice finely (2mm). Blot sliced onions on a piece of paper towel to get rid of extra moisture.
In a large bowl, mix together chickpea flour, salt and spices. Once mixed well, add approximately 120 ml (½ cup) of water until you get a very thick batter. Add pressed garlic clove and lemon juice, stir well.
Slowly start heating up sunflower oil in a small pot until it reaches about 180° C / 355° F.
Now add sliced onions to the batter. Using your hands incorporate the onions into the batter mixture. If the mixture is too dry add a splash of water, but be careful – the mixture IS supposed to be very dry – otherwise you'll end up with soggy bahijs.
Once the oil comes to temperature, test it by dropping a piece of batter coated onion in. If it starts sizzling immediately, the oil is ready. Start dropping about ½ tbsp of mixture into the hot oil. Do not overcrowd the pan – if you use a small pot, drop only about 4 bhaji in at the time. If you want your bahijs to be round, best way is to form a ball in your hands before dropping it into the hot oil – drop it in from low height and very gently so that you don't get hot oil on your skin.
Cook them for 2-3 minutes and then turn and cook for another 2 minutes – until both sides are nicely browned. Once they achieve the desired colour, fish them out with a slotted spoon and place them on a piece of paper towel to drain any excess oil.
Serve warm with a side of sweet & sour chutney.
NOTES
*I used ready-made tamarind purée from Thai Dancer brand.